TV stand or Media center? Here's how to decide...
TV stand or Media center? Here's how to decide...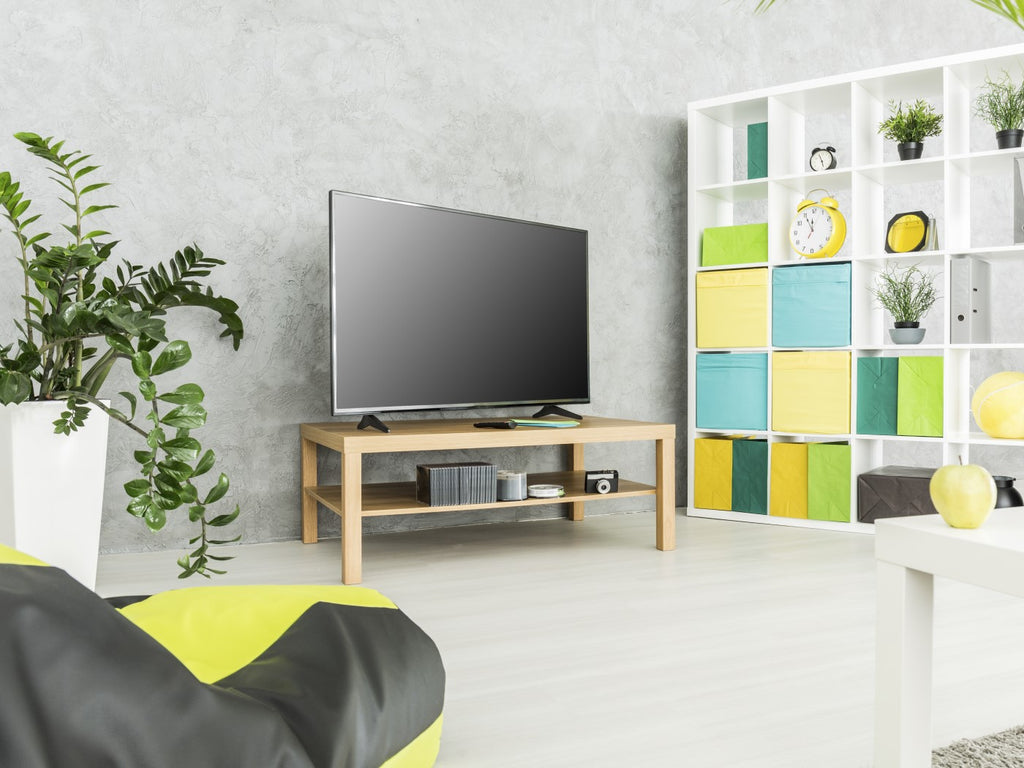 Unwinding in front of the TV is America's favorite pastime - and why shouldn't it be? There are more ways to be entertained in front of the screen than ever before - online gaming, HD streaming, the list goes on…
Since we spend so much of our time in front of a TV, it's important that it looks stunning, so choosing your TV furniture is paramount. The big question is: do you use a TV stand or a media center?
It's generally a very good idea to buy a new TV stand or entertainment center when purchasing a new TV. Always consider the space available in your home before buying a TV, don't go too large or too small! Be smart and measure the space before heading to the shop.
What's Your Décor Personality?
Your home is your little kingdom away from the stresses of the world. So you want it to be exactly how you like it. Before you decide which option to go for, think about how it blends with the room and how it meshes with your home's style.
Want to make it a focal point? If your room is large, a wall unit media center like the Milano Set 145EF-BK-BK Electric Fireplace Entertainment Center could work very well. Choose a large piece like this one to command the attention of the room and make an impact.
What's the current layout? Think about your current floor plan and the existing challenges and considerations of the room. Each home is different, so what's your unique situation? Do you often entertain? Have you got little ones to worry about? With children running around, media centers can be advantageous as they offer plenty of room for hiding trip-hazard wires and clutter away.
What's the vibe? By changing the furniture you can give a breath of fresh air to a space. This allows you to transform the atmosphere of the room, so which way do you want to take it?
TV Stands
The pros: 
TV stands tend to be much lighter than media centers and are easier to move around to try out new layouts. Either put your TV on the stand or mount it to the wall above to leave room for remotes or tech.
Your TV stand can live on long after its partnership with your TV has ended. It's small enough that if you decide to use it for another purpose it can fit into another room to be used as a dresser or bathroom addition.
Thanks to its lightweight size, it's easy to adjust for changing TV viewing angles.
The cons:
Not great if you're looking for a statement piece. The TV stand is usually small and discrete, so it won't make a big visual impact.
If you're wall-mounting with a TV below, you'll be committed to the space and won't be able to easily move the stand around.
Entertainment Centers
The pros:
Media centers are taller, reaching further to the ceiling. This creates a different look that makes a small room appear bigger.
A large entertainment center is a big statement maker that can create a massive visual impact on the room.
There's enough space in an entertainment center for hiding all manner of clutter and knickknacks.
The cons:
With great size comes great space requirements. Some rooms may be too small to fit a large entertainment center.
Some entertainment centers come with their own speakers. Great for if you need it, annoying when you want to use your own.
Unlike smaller TV stands, entertainment centers can be hard to move and may hold you back from experimenting with different setups.
Explore All TV Stand and Entertainment Center Options