Take Your Hallway from Ho-Hum to Happy!
Take Your Hallway from Ho-Hum to Happy!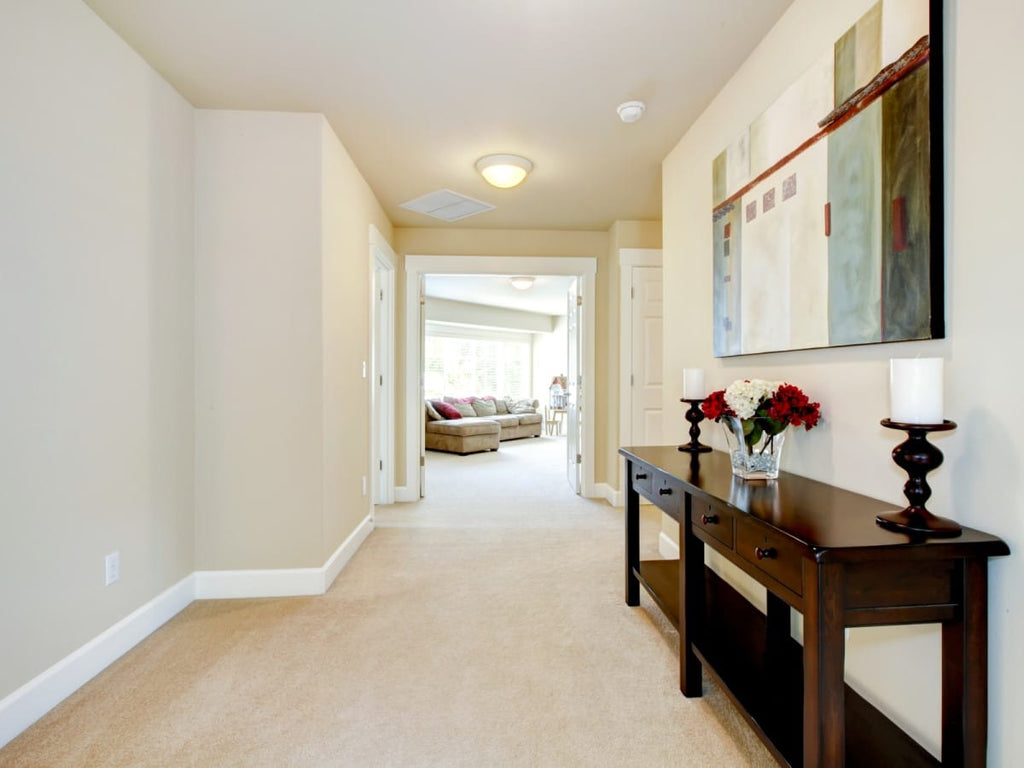 Let's talk about hallways. Some are short and narrow, and others are long and wide. Others are so large they resemble a room, while others are tiny and barely there.
But there's one thing they have in common: They could use a little TLC to make them a space worthy of the rest of your home. Check out these ideas.
Create a Mudroom or Foyer
Does your hallway have you coming and going? Turn it from a pass-through space into a practical and pretty area.
If the kids dump everything on the floor as soon as they come through the door, consider creating an organization station with a wall of cute cubbies.
Designate one cubby or basket for each member of the family (even the fur-kids). Wall-mounted hooks make it easy to hang coats and backpacks, and a boot bench with storage baskets underneath keeps shoes out from underfoot.
Another option that will keep clutter out of sight is installing a wardrobe with sliding doors. You can mount hooks inside and put baskets on the bottom. Slide the door closed, and the mess is out of sight.
No kids? No problem! Even grown-ups need a place to stash their stuff. Beautiful hall trees come in a variety of styles and sizes. (The name is a bit misleading because they don't look like a tree at all!)
These suggestions are practical, but there are stylish ideas, too.
Consider placing a narrow console table or small chest or sideboard against one of the walls. Hang a mirror for last-minute hair and make-up checks, add a pair of sconces or buffet lamps for illumination.
Finish the look with a pretty tray for mail or car keys. Situate a chair beside the table to sit on while sorting through the mail or removing shoes.
Curate an Art Gallery
Some hallways are simply too narrow for furniture. Instead, turn it into an art gallery!
Hallways are ideal for gallery-style rows or grids of photographs, especially family photos. The best part? Viewers will be closer to the art so that they can appreciate small details.
Hang your artwork at standing eye level, ideally 57 to 61 inches from the floor to the center of the piece. If you opt for a multi-tiered or grid art grouping, hang pieces so that the collection center is eye-level.
Build a Library
If you have a wide hallway, turn it into a personal library by installing bookcases on one or both sides.
A row of freestanding bookcases bolted to each other and the wall can cultivate this look. A lighter and airier alternative is to install floating shelves or floating bookcases.
Experts recommend a minimum of 36 inches of unobstructed hallway width between your bookcases; 42 inches of walkway width is ideal.
If your hall is a little too narrow, look for shallow bookcases or shelves.
Banish Boring with Color and Texture 
Since hallways are walk-through spaces, they're perfect for incorporating bold design ideas, such as large as a large-scale wallpaper pattern or intense paint color. A runner in a bright graphic pattern will add eye-catching interest. And here's the best part: Because the hallway is small, it doesn't take a lot of time, effort, or money to change it up.
No matter what you want to use your hallway for, these ideas can turn this functional space into one that's fantastic!