Open The Door To Great Furniture Layouts
Open The Door To Great Furniture Layouts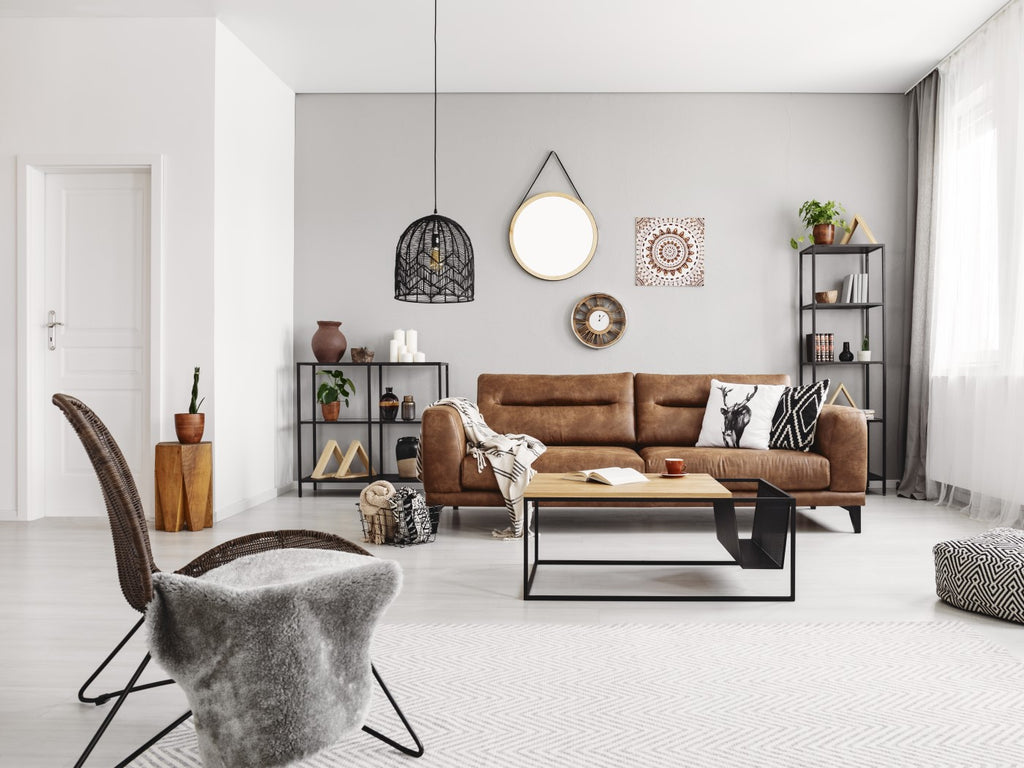 When arranging furniture, one of the biggest stumbling blocks is working with doors.
Closet doors, patio doors and even doors without a door (which are technically an entrance, but you get the picture.) can all be a little challenging.

So, consider these tips for arranging your furniture around entrances and doors...
The Living Room
A square room with only one entrance allows you to experiment with lots of different furniture layouts. But multiple entries can limit your options.
Your instinct is probably telling you to place furniture against the walls. But rather bring your furniture in toward the center of the room. By centering your main seating area, you create a cozy conversation space without breaking the flow of traffic between the doors in the room.
But a word of caution: avoid making it look as if you simply pulled the furniture away from the wall and into the center of the room.
Instead, experiment with diagonal arrangements such as angling the sofa toward the door that guests use when entering the space.
Another idea to arrange your furniture into groups to form separate areas.
Create a conversation area with seating positioned around a coffee table. Transform that awkward corner between two doors into a cozy reading area with a comfy chair and a small table with a reading light.
And look for furniture with built-in storage to stash floor pillows. This way, you've got seating when you need it and more space when you don't.
Take a look at all the furniture in your space. If it goes unused, move it around. For example: if no one uses the ottoman, but puts their feet on the coffee table, replace the coffee table with a large ottoman.
Too many pieces coupled with multiple doors will make the space seem cluttered. Area rugs will anchor your centralized furniture arrangement or designate your separate areas.
And if you're thinking, "What about lamps?", it's understandable, as electrical outlets are on the walls. However, an electrician can install outlets in the floor, making lamp or electronic placement easier.
Lastly, wall art and accessories add the finishing touch.
Perform one last check to ensure doors can be opened fully where possible and aren't blocked by furniture, or block entrances when fully extended.
What About the Bedroom?
Bedrooms can have several doors to contend with: The door into the room, closet doors (bi-fold, sliding, or traditional) or a door to the master bath.
And if opening any of them bumps the furniture or hits the bed, or if you can't open one completely because a piece of furniture is in the way, it's a recipe for design disaster.
Interior design pros recommend at least a 2-foot clearance around the bed to easily get in or out of it, or to make it in the morning.
You can arrange your bed under a window, float it in the center of a room, nestle it squarely into a bare corner, or place it diagonally across a corner.
Leave a 3-foot open area in front of sliding and bi-fold closet doors. And avoid placing furniture in a path that would hinder a standard, swinging bedroom door from opening or closing.
If bi-fold doors can't open freely, consider replacing them with sliding doors. Or consider removing the doors entirely and hang a curtain.
And because bedroom dressers and nightstands have drawers that must open, leave at least 2.5 feet of space in front to allow ample room for opening and closing drawers.
If this isn't possible, consider replacing your dresser storage with a platform bed with storage underneath. Or adjust your closet to include storage drawers and shelves.
Another option is to use a small-ish dresser as a nightstand to do double-duty. Or floating nightstands with multiple shelves instead of drawers are another option.
Follow these tips for working with the doors in any room and you'll soon enjoy open, harmonious spaces with plenty flow and "great vibe".
Hope that helps you!