How to Style and Organize your TV Stand
How to Style and Organize your TV Stand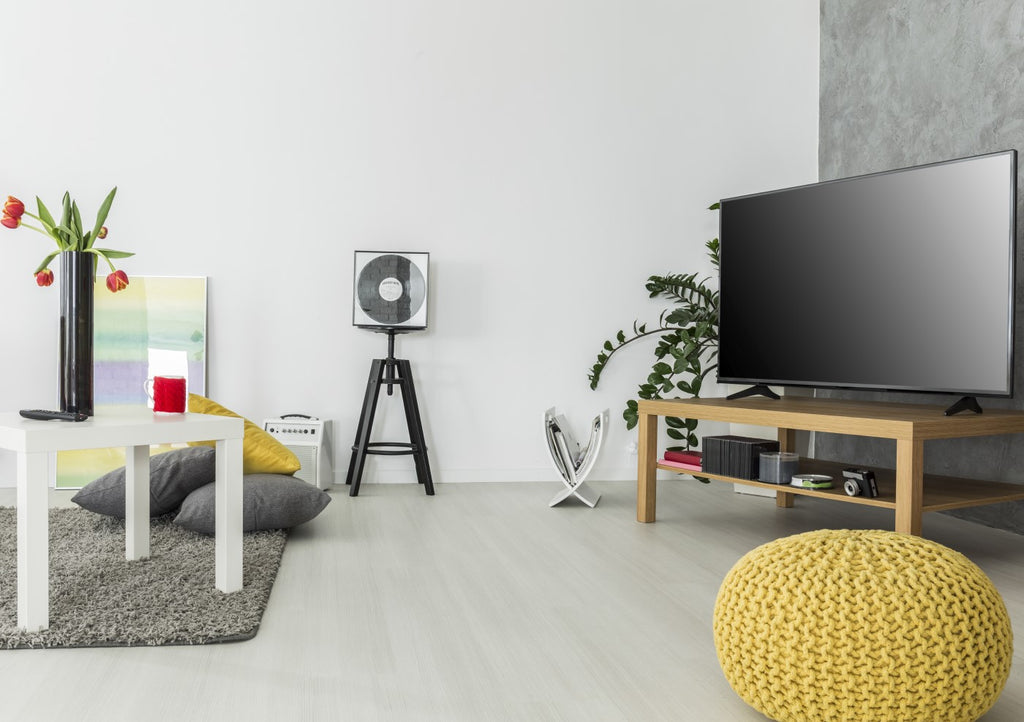 For many of us, our TVs are the focal point of our homes. That's why we love to help our customers build TV entertainment they can be proud of. There's more to it than buying any old stand and a big TV. Today, we'd like to show you how you can add style and character to your entertainment center. Read on to find out how.
Create balance with color
The finest designs are those that promote balance. You can create harmony throughout your room by focusing on different colors. If you've already been using a certain color for accent pillows, artworks, rugs, or other furniture, continue that in your choice of TV stand.
Get a stand with space for sound
When buying a TV, many think of sound as secondary to picture quality. But that changes when you realize your blockbuster movies' lackluster soundtracks and SFX are spoiling the experience. That's when it's time to upgrade. Make sure when buying your TV stand it's got room for adding a soundbar… or you may just have to dig out your old HiFi from the 90s.
Think about a TV unit that takes up an entire wall
While many opt for wall-mounted or smaller freestanding stands, an option with real 'Wow Factor' is a TV stand spanning the whole wall. We offer many like this, which not only present the TV wonderfully but also give numerous options for displaying ornaments, books, electronics, and offering space to conceal wires.
Color your shelving
Personalizing the TV area gives you a great opportunity to incorporate some brighter hues into your interior. With your TV unit and your surrounding shelving, consider some bright, light colors to contrast with the dark rectangle that TVs become when turned off.
Burn baby, burn
Homeowners should aim for interiors that are unique and memorable. And who can say they've seen many TV stands that incorporate a fireplace? Our electric fireplace TV stands are as unique as they come, bringing you the warmth of a fireplace with none of the hassle. Our stands even allow you to change the color of the flame, allowing it to set the mood or seamlessly match your home's atmosphere.
Keep clutter minimal
There's nothing better at ruining a room's decor than clutter and mess. But with wires, over-ornamentation, remotes, and the like, this is common near the TV area. To avoid this, make sure your TV stand and the surrounding areas have plenty of space to store things away and out of sight. Free your space from clutter so that nothing distracts from your interior's unique style.
Books, candles, and flowers
You can use your TV stand to create visual depth and show off your design tastes. Use items like books, candles, and flowers carefully placed around your TV to breathe character into the space. You'll likely want to experiment with "layering", by placing decor items on something like a book laid faced down.
The gallery wall
One design that never fails to make an impact is the pairing of a TV with a gallery wall. To get the right look, go for a low-lying TV stand like our Boston Electric Fireplace TV Stand that leaves plenty of wall space. You can then group different framed photos around the wall surrounding the TV. This creates a personalized and interesting effect that helps the TV gel with the room and become less overbearing. It also gives you a chance to show off your favorite art!
Have fun
The main thing is to enjoy yourself. Remember to relax and let your personal tastes shine. You'll have a TV set up you can be proud of in no time.

Need some fantastic options for high quality TV stands? Take a look at some of our bestsellers!