From Formal Dining Room to Favorite Family Room
From Formal Dining Room to Favorite Family Room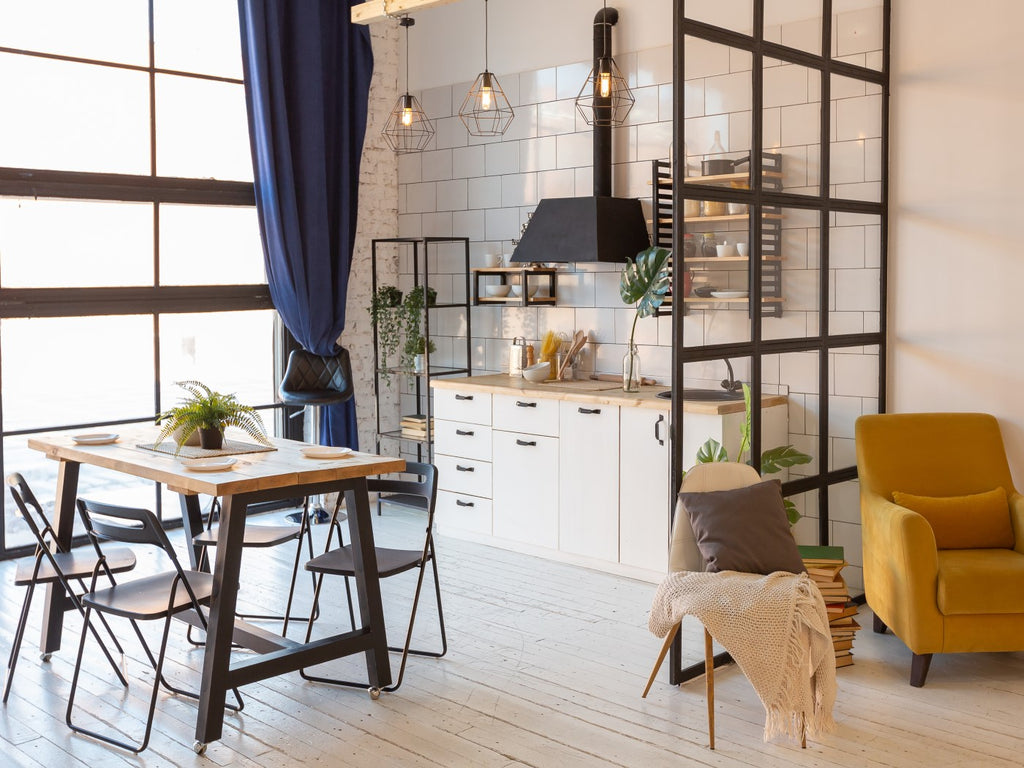 The Merriam-Webster dictionary defines a den as a comfortable room that's usually secluded. (See also "Man Cave.")
Although the word den might seem too masculine or outdated, the idea is the same: A cozy space for quiet recreation and relaxation.
If your home doesn't have a designated den for quiet time or relaxation, you can convert a little-used room into the perfect space. And when it comes to little-used rooms, a formal dining room is high on the list.
Let the makeover start!
Choose Your Den's Style
When you plan your new den, consider who will use the room and what they'll be doing there.
If you'd like your den to be a couple's retreat for reading, sipping wine, and listening to music, then you can include a sofa, chairs, and cocktail table in your plan.
If the space will become a family-friendly no-TV zone, your den needs plenty of seating and a large table for projects and quiet games. (And storage for projects and games, too.)
If the den is a cozy space for family movie night or listening to music, a good entertainment center is a must-have.
Regardless, measure the room and sketch a floor plan with rough furniture placement.
Make a Fresh Start
To begin the room's total transformation, remove the dining room table and chairs, china hutch, window treatment accessories...anything that says, "dining room."
Give the room a fresh coat of paint. Choose crisp cool colors if you're creating a crafting room or schoolwork space, or warm earth tones to create the feel of a classic, soothing den.
If your now-former formal dining room had wall-to-wall carpet, you've likely discovered numerous food stains and spills. You may want to consider removing the carpet and installing long-wearing vinyl plank flooring.
If you want to keep the carpet, after a good cleaning, warm up the floors with layers of area rugs in neutral tweeds or subtle patterns that coordinate with your color scheme.
Choose unfussy window coverings such as panels, shades, or shutters that provide privacy and let in natural light.
And that fussy over-the-table chandelier? Replace it with something less intrusive or consider a ceiling fan with lights. (A remote-control ceiling fan means you never have to leave the sofa.)
Furniture: Out with the Old … 
Ask yourself: Does your old formal dining room furniture fit into your overall vision? Sure, you could repurpose it, but is that really what you want to do?
Since we're all about fresh starts, call a consignment furniture shop and have them sell it, so you have a little cash in your pocket (and it's out of the house.) Thrift shops are always looking for donations, too.
In with the New!
(Our favorite part.)
Here's a quick overview of different furniture pieces that will look fantastic in your new space.
Sofa or Sectional: Should you choose a standard sofa or sectional? That depends on a few factors.
If your new den is on the smaller side, then a sofa is probably the best choice because you have more flexibility with your room arrangement.
If your room is large and can accommodate a sectional sofa, then this is a good option. But depending on your situation, you may not need all the space that a sectional provides.
You could purchase a sofa and add chairs or an ottoman for extra seating. However, if you have a family or host many gatherings at your home, then a sectional sofa has more seating for everyone.
When you have enough space to accommodate either a sectional or standard sofa, think about its function and the number of people who will sit on it.
And bonus! All Meble sofas and sectionals convert to sleepers, so you gain a guest room, too!
Entertainment Center: Will your new den be the TV room? Listening room? Both?
A new entertainment center can showcase your television, components, collectibles, books, or favorite décor and hide games, DVDs, cables, and more.
Whether you choose a freestanding unit or a wall-mounted grouping, it will likely be the focal point of your new space.
Hiding wires in the wall and installing new outlets nearby will create a cleaner, less cluttered look.
Other Cool Considerations
Bookcases: If your new den will be a place to curl up with a good book, floating or freestanding bookcases are a must.
Sideboard: Did your old china hutch store your larger serving platters and other pieces? A new sideboard can do the same — and more.
Our fabulous sideboards can double up as a bar, a display place for collectibles, or work as an accent table.
And get this: Some Meble sideboards also contain an electric fireplace! More storage and a fireplace, too? Yes, please!
Wardrobe: They're not just for storing clothes. Wardrobes are an incredibly versatile addition to any room.
If your new den is a crafting space or project room, a wardrobe can hold all your supplies.
Will your new den be the place where kiddos do their homework? Stash school supplies out of sight but in easy reach. No more, "Mom! I can't find a pencil!"
Home office workspace? A DIY hack can convert a wardrobe to a secret desk and a place for office supplies.
The Finishing Touches
Textured throw rugs or area rugs, lamps that provide appropriate lighting for reading, and artwork or floating shelves on the walls will complete the transformation.
And the best thing about converting your formal dining room to a den is this: You won't have to host Thanksgiving anymore!