Entertainment Centers: Big Impact in Small Spaces
Entertainment Centers: Big Impact in Small Spaces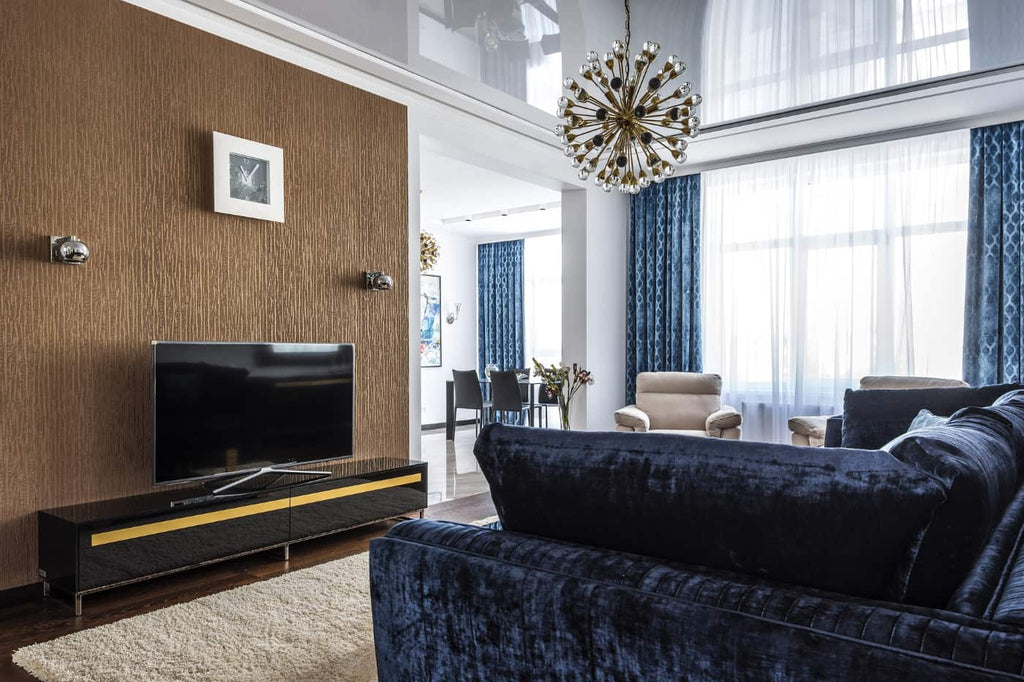 Let's begin with one thing we can agree on: Entertainment centers are fantastic.
Gone are the weird pseudo-early-American behemoths of yesterday. Today's entertainment centers are sleek and stylish.
But here's where we may disagree: They work in small rooms, too.
Yes, arranging large furniture pieces such as entertainment centers in a small room can be challenging, but with a bit of planning and decluttering, you'll be happier than you ever imagined.
Let's begin, shall we?
Step 1: Declutter
How many pieces of furniture do you have in your small space? Count them. (We'll wait.) 
Clutter is a buzz-kill. Shelves, TV stands, bookcases, storage units are all small items that can create a big mess. 
One beautiful entertainment center can function much better than all those little bits of furniture.
Therefore, pull everything out of the room that will go in your new entertainment center – and be amazed at how much larger the room seems already!
Step 2: Assess the space
You may think electrical outlets and floor vents limit your placement. But there are workarounds.
Plug a multi-outlet power strip in to "relocate" an outlet. Floor vent diffusers can redirect air 'out' instead of 'up.'
Step 3: Paint
Since you're removed the clutter from the room, repaint the walls in a bright, light, and airy shade to make it seem larger. 
If you'd like to add some visual interest, considering wallpapering the wall the entertainment center will go against. The paper will be visible through the openings.
Step 4: Measure
New furniture always looks overpowering the first time it's placed in a room. 
Here's a tip: Grab your measuring tape and some painter's tape. Mask off the area where you intend to place the unit. Don't just measure and tape off width. Include depth and height, too. 
Step 5: Rethink your existing furniture (AKA decluttering, phase 2)
We already told you to cut the clutter. Now, cut it further. For example, do you have a coffee table and an ottoman? Replace them with a single piece that does double-duty.
Do you have a chair that's only used when guests come over? Ditch it and stash a comfy folding chair in the closet for those occasional visitors.
Step 6: Explore your options
Meble Furniture's entertainment centers are available in a wide variety of colors and configurations. 
Some styles have components that sit on the floor and float on the wall. Some are narrow but tall, and others are low and wide. 
Some even include an electric fireplace! (Yes, you can have a fireplace in a small room, too!)
Shelves allow you to display books or decorative accessories, and some entertainment centers can also provide storage options in a small room.
Drawers are ideal for stashing away gaming equipment, DVDs, board games, cozy blankets, and anything else you want out of sight.
And yes, Meble carries entertainment centers that allow you to configure each piece around your wall-hung flat screen. How cool is that?
Throw in glass doors and recessed LED lighting, and presto! Your small space just became the most popular room in the house.