Create a Cozy Space Around Your Sectional
Create a Cozy Space Around Your Sectional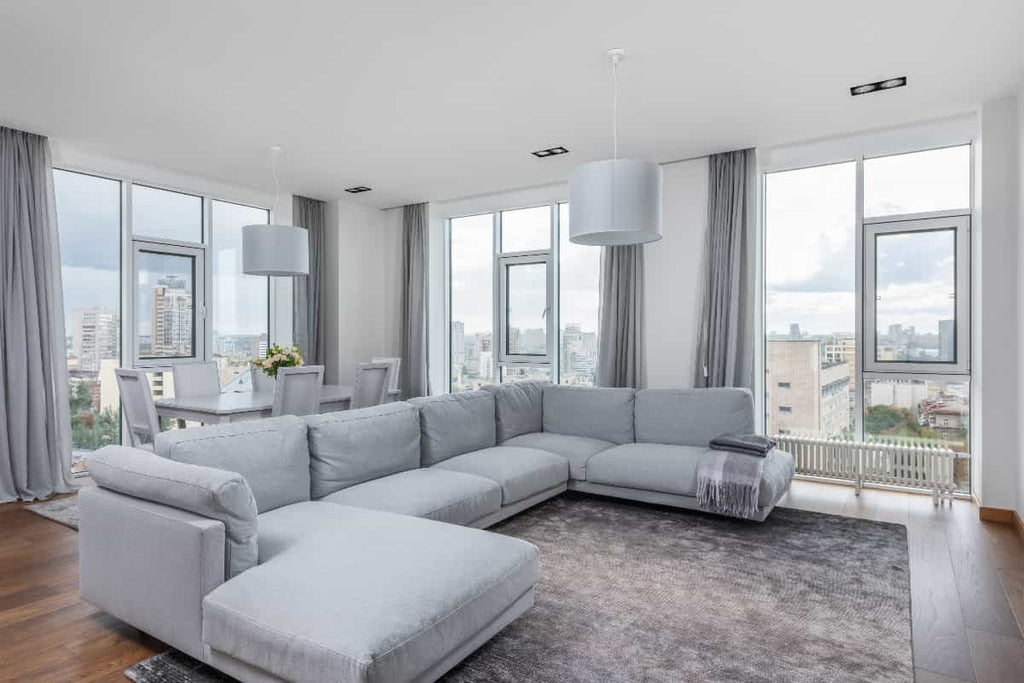 Sectional sofas are best known for their ability to seat a lot of people. They're also known for their comfortable practicality and their practical comfort.
But many people shy away from a sectional because they seem so big. Their scale tends to overwhelm most folks who do little more than plunk it down in the middle of the living room.
Sound familiar?
As with any piece of furniture, it's important to consider scale, placement, and accessories to tie in the sectional with the room's decor. 
Your first step before you buy is to put down painter's tape to mark the area where the sectional will go. This will help you determine the sectional's shape and configuration, as well as whether doors are blocked, and if you have a good room flow.
If you find yourself stepping over the tape, then you're going to be running into the sectional.
Live with the arrangement for a few days, then move to a different area to help you decide the best location. Failure to do this is why so many sectionals seem so big and out-of-place. 
Here are other things to consider.
A small, modest sectional will look dwarfed and lost in a big room. But, conversely, a substantial sectional can overwhelm a smaller space. (Another reason the tape trick is so important!)
Sectionals also come in various styles, textures, and colors, which will influence how you "see" it. For example, an overstuffed, rolled-arm sectional in black leather takes up more visual space than a clean-lined sectional of the same size upholstered in a lighter color of linen. 
Focal Point  
You should also determine the room's focal point when decorating with sectionals.
An entertainment wall is often a focal point as the sectional creates group seating for viewing the movie. But that's not always the case. Instead, you may want to place it facing windows or a fireplace. You decide.
Once you've done all these things and your new sectional has arrived and been set up, you need to accessorize. 
Accessorize, Accessorize, Accessorize 
The best accessories you can add to your sectional are pillows of different shapes, styles, colors, and sizes.
Throw pillows help avoid "mom; he's touching me!" when multiple people sit on it, as they make great armrests. They also add visual interest by breaking up the sofa's large expanse. 
Other essential accessories are a rug to define the seating area and coffee or side tables to hold a drink or snack when the family gathers for movie night. 
It's all About Balance 
It's very tempting to let the sectional be the only piece of furniture in the room, which is far from cozy.
Instead, tie the sectional into its surroundings. For example, a picture gallery on the wall behind it will balance its visual mass. Or you may choose to go with a single large-scale painting or impressive wall sculptures. 
If the sectional is free-standing, place a sofa table behind it and top the table with tall arrangements of flowers or vertical sculptural pieces. The table will also serve as a good place to put a book or a coffee mug.
Placing floor lamps at the corners of the sectional or on the sofa table for lighting is a great idea, but you want to avoid cords running through the room. Don't hide them under the rug. Instead, call an electrician and have some floor outlets installed.
Now, doesn't that feel cozy!