{"id":3946633986090,"title":"Moon TV Stand","handle":"moon-tv-stand","description":"\u003cul\u003e\n\u003cli\u003eMoon 40.5\"-81\" TV Stand - Modern TV Stand \/ TV Console \/ TV Cabinet \/ Central Entertainment Center\u003c\/li\u003e\n\u003cli\u003e40.5\" fits up to 45 inch TVs. 81\" fits up to 90\" TVs.\u003c\/li\u003e\n\u003cli\u003eHigh gloss fronts with matte body\u003c\/li\u003e\n\u003cli\u003eLED light system included with on\/off remote\u003c\/li\u003e\n\u003cli\u003eManufactured in and imported from the European Union\u003c\/li\u003e\n\u003cli\u003eModern and unique contemporary design\u003c\/li\u003e\n\u003cli\u003ePerfect for those in need of living room storage space\u003c\/li\u003e\n\u003cli\u003eFlat packed and ready to ship\u003c\/li\u003e\n\u003cli\u003eDimensions 40.5\": 15.75 inches height x 40.5 inches width x 15.75 inches depth. Dimensions 81\": \u003cspan\u003e15.75 inches height x 81 inches width x 15.75 inches depth.\u003c\/span\u003e\n\u003c\/li\u003e\n\u003c\/ul\u003e\n\u003cdetails\u003e \u003csummary\u003eInformation for California Residents\u003c\/summary\u003e\n\u003cp\u003eCalifornia Proposition 65 Warning: This product can expose you to chemicals including Diisodecyl phthalate (DIDP) and Diisononyl phthalate (DINP), which are known to the State of California to cause cancer and\/or birth defects or other reproductive harm. For more information go to www.P65Warnings.ca.gov.\u003c\/p\u003e\n\u003c\/details\u003e","published_at":"2019-08-21T05:17:21-04:00","created_at":"2019-08-21T05:17:21-04:00","vendor":"Meble Furniture","type":"Entertainment Centers \u0026 TV Stands","tags":["dimensions-15.75\" H x 40.5\"\/81\" W x 15.75\" D","sp","spo-disabled","TV Stands for TVs up to 60 inches","TV Stands for TVs up to 65 inches","TV Stands for TVs up to 70 inches","TV Stands for TVs up to 75 inches","TV Stands for TVs up to 80 inches","TV Stands for TVs up to 85 inches","TV Stands for TVs up to 90 inches"],"price":12900,"price_min":12900,"price_max":24900,"available":true,"price_varies":true,"compare_at_price":null,"compare_at_price_min":0,"compare_at_price_max":0,"compare_at_price_varies":false,"variants":[{"id":29490209914922,"title":"Black \/ 40.5\"","option1":"Black","option2":"40.5\"","option3":null,"sku":"MOON40BLACK","requires_shipping":true,"taxable":true,"featured_image":{"id":35657965928610,"product_id":3946633986090,"position":13,"created_at":"2023-07-19T21:10:14-04:00","updated_at":"2023-07-19T21:11:16-04:00","alt":"Moon TV Stand - Meble Furniture","width":1000,"height":1000,"src":"\/\/www.meblefurniture.com\/cdn\/shop\/files\/black_2bf28b80-1dad-4c7d-9294-e68bcba374cf.png?v=1689815476","variant_ids":[29490209914922]},"available":true,"name":"Moon TV Stand - Black \/ 40.5\"","public_title":"Black \/ 40.5\"","options":["Black","40.5\""],"price":12900,"weight":45359,"compare_at_price":null,"inventory_management":"shopify","barcode":"00840227611173","featured_media":{"alt":"Moon TV Stand - Meble Furniture","id":28381128917154,"position":13,"preview_image":{"aspect_ratio":1.0,"height":1000,"width":1000,"src":"\/\/www.meblefurniture.com\/cdn\/shop\/files\/black_2bf28b80-1dad-4c7d-9294-e68bcba374cf.png?v=1689815476"}},"requires_selling_plan":false,"selling_plan_allocations":[],"quantity_rule":{"min":1,"max":null,"increment":1}},{"id":30252170641450,"title":"Black \/ 81\"","option1":"Black","option2":"81\"","option3":null,"sku":"MOON81BLACK","requires_shipping":true,"taxable":true,"featured_image":{"id":35657965994146,"product_id":3946633986090,"position":1,"created_at":"2023-07-19T21:10:14-04:00","updated_at":"2023-07-19T21:11:16-04:00","alt":"Moon TV Stand - Meble Furniture","width":1000,"height":1000,"src":"\/\/www.meblefurniture.com\/cdn\/shop\/files\/81black.png?v=1689815476","variant_ids":[30252170641450]},"available":false,"name":"Moon TV Stand - Black \/ 81\"","public_title":"Black \/ 81\"","options":["Black","81\""],"price":24900,"weight":45359,"compare_at_price":null,"inventory_management":"shopify","barcode":"00840227611180","featured_media":{"alt":"Moon TV Stand - Meble Furniture","id":28381128786082,"position":1,"preview_image":{"aspect_ratio":1.0,"height":1000,"width":1000,"src":"\/\/www.meblefurniture.com\/cdn\/shop\/files\/81black.png?v=1689815476"}},"requires_selling_plan":false,"selling_plan_allocations":[],"quantity_rule":{"min":1,"max":null,"increment":1}},{"id":29490209882154,"title":"Gray \/ 40.5\"","option1":"Gray","option2":"40.5\"","option3":null,"sku":"MOON40GRAY","requires_shipping":true,"taxable":true,"featured_image":{"id":34164872577186,"product_id":3946633986090,"position":16,"created_at":"2022-10-10T16:43:37-04:00","updated_at":"2023-07-19T21:11:16-04:00","alt":"Moon 40.5\"-81\" TV Stand - Meble Furniture","width":1000,"height":1000,"src":"\/\/www.meblefurniture.com\/cdn\/shop\/products\/meble-furniture-entertainment-centers-tv-stands-moon-40-5-81-tv-stand-18786703999138.png?v=1689815476","variant_ids":[29490209882154]},"available":true,"name":"Moon TV Stand - Gray \/ 40.5\"","public_title":"Gray \/ 40.5\"","options":["Gray","40.5\""],"price":12900,"weight":45359,"compare_at_price":null,"inventory_management":"shopify","barcode":"00840227611197","featured_media":{"alt":"Moon 40.5\"-81\" TV Stand - Meble Furniture","id":26825340289186,"position":16,"preview_image":{"aspect_ratio":1.0,"height":1000,"width":1000,"src":"\/\/www.meblefurniture.com\/cdn\/shop\/products\/meble-furniture-entertainment-centers-tv-stands-moon-40-5-81-tv-stand-18786703999138.png?v=1689815476"}},"requires_selling_plan":false,"selling_plan_allocations":[],"quantity_rule":{"min":1,"max":null,"increment":1}},{"id":29490210013226,"title":"Gray \/ 81\"","option1":"Gray","option2":"81\"","option3":null,"sku":"MOON81GRAY","requires_shipping":true,"taxable":true,"featured_image":{"id":34164860027042,"product_id":3946633986090,"position":4,"created_at":"2022-10-10T16:42:32-04:00","updated_at":"2023-07-19T21:11:16-04:00","alt":"Moon 40.5\"-81\" TV Stand - Meble Furniture","width":1000,"height":1000,"src":"\/\/www.meblefurniture.com\/cdn\/shop\/products\/meble-furniture-entertainment-centers-tv-stands-moon-40-5-81-tv-stand-18786703900834.png?v=1689815476","variant_ids":[29490210013226]},"available":true,"name":"Moon TV Stand - Gray \/ 81\"","public_title":"Gray \/ 81\"","options":["Gray","81\""],"price":24900,"weight":45359,"compare_at_price":null,"inventory_management":"shopify","barcode":"00840227611203","featured_media":{"alt":"Moon 40.5\"-81\" TV Stand - Meble Furniture","id":26825327607970,"position":4,"preview_image":{"aspect_ratio":1.0,"height":1000,"width":1000,"src":"\/\/www.meblefurniture.com\/cdn\/shop\/products\/meble-furniture-entertainment-centers-tv-stands-moon-40-5-81-tv-stand-18786703900834.png?v=1689815476"}},"requires_selling_plan":false,"selling_plan_allocations":[],"quantity_rule":{"min":1,"max":null,"increment":1}},{"id":42039371825314,"title":"Light Gray \/ 40.5\"","option1":"Light Gray","option2":"40.5\"","option3":null,"sku":"MOON40LIGHTGRAY","requires_shipping":true,"taxable":true,"featured_image":{"id":34164874051746,"product_id":3946633986090,"position":19,"created_at":"2022-10-10T16:43:44-04:00","updated_at":"2023-07-19T21:11:16-04:00","alt":"Moon 40.5\"-81\" TV Stand - Meble Furniture","width":1000,"height":1000,"src":"\/\/www.meblefurniture.com\/cdn\/shop\/products\/meble-furniture-entertainment-centers-tv-stands-moon-40-5-81-tv-stand-32972391973026.png?v=1689815476","variant_ids":[42039371825314]},"available":true,"name":"Moon TV Stand - Light Gray \/ 40.5\"","public_title":"Light Gray \/ 40.5\"","options":["Light Gray","40.5\""],"price":12900,"weight":45359,"compare_at_price":null,"inventory_management":"shopify","barcode":"00840227617588","featured_media":{"alt":"Moon 40.5\"-81\" TV Stand - Meble Furniture","id":26825341730978,"position":19,"preview_image":{"aspect_ratio":1.0,"height":1000,"width":1000,"src":"\/\/www.meblefurniture.com\/cdn\/shop\/products\/meble-furniture-entertainment-centers-tv-stands-moon-40-5-81-tv-stand-32972391973026.png?v=1689815476"}},"requires_selling_plan":false,"selling_plan_allocations":[],"quantity_rule":{"min":1,"max":null,"increment":1}},{"id":42039371858082,"title":"Light Gray \/ 81\"","option1":"Light Gray","option2":"81\"","option3":null,"sku":"MOON81LIGHTGRAY","requires_shipping":true,"taxable":true,"featured_image":{"id":34164861108386,"product_id":3946633986090,"position":7,"created_at":"2022-10-10T16:42:35-04:00","updated_at":"2023-07-19T21:11:16-04:00","alt":"Moon 40.5\"-81\" TV Stand - Meble Furniture","width":1000,"height":1000,"src":"\/\/www.meblefurniture.com\/cdn\/shop\/products\/meble-furniture-entertainment-centers-tv-stands-moon-40-5-81-tv-stand-32972389777570.png?v=1689815476","variant_ids":[42039371858082]},"available":true,"name":"Moon TV Stand - Light Gray \/ 81\"","public_title":"Light Gray \/ 81\"","options":["Light Gray","81\""],"price":24900,"weight":45359,"compare_at_price":null,"inventory_management":"shopify","barcode":"00840227617595","featured_media":{"alt":"Moon 40.5\"-81\" TV Stand - Meble Furniture","id":26825328689314,"position":7,"preview_image":{"aspect_ratio":1.0,"height":1000,"width":1000,"src":"\/\/www.meblefurniture.com\/cdn\/shop\/products\/meble-furniture-entertainment-centers-tv-stands-moon-40-5-81-tv-stand-32972389777570.png?v=1689815476"}},"requires_selling_plan":false,"selling_plan_allocations":[],"quantity_rule":{"min":1,"max":null,"increment":1}},{"id":43575350362274,"title":"White \/ 40.5\"","option1":"White","option2":"40.5\"","option3":null,"sku":"MOON40WHITE","requires_shipping":true,"taxable":true,"featured_image":{"id":35657966125218,"product_id":3946633986090,"position":22,"created_at":"2023-07-19T21:10:14-04:00","updated_at":"2023-07-19T21:11:16-04:00","alt":"Moon TV Stand - Meble Furniture","width":1000,"height":1000,"src":"\/\/www.meblefurniture.com\/cdn\/shop\/files\/white_b3e59228-4105-4b05-9ed7-e9325af3f780.png?v=1689815476","variant_ids":[43575350362274]},"available":true,"name":"Moon TV Stand - White \/ 40.5\"","public_title":"White \/ 40.5\"","options":["White","40.5\""],"price":12900,"weight":45359,"compare_at_price":null,"inventory_management":"shopify","barcode":"00840227611210","featured_media":{"alt":"Moon TV Stand - Meble Furniture","id":28381128720546,"position":22,"preview_image":{"aspect_ratio":1.0,"height":1000,"width":1000,"src":"\/\/www.meblefurniture.com\/cdn\/shop\/files\/white_b3e59228-4105-4b05-9ed7-e9325af3f780.png?v=1689815476"}},"requires_selling_plan":false,"selling_plan_allocations":[],"quantity_rule":{"min":1,"max":null,"increment":1}},{"id":43575350395042,"title":"White \/ 81\"","option1":"White","option2":"81\"","option3":null,"sku":"MOON81WHITE","requires_shipping":true,"taxable":true,"featured_image":{"id":35657966059682,"product_id":3946633986090,"position":10,"created_at":"2023-07-19T21:10:14-04:00","updated_at":"2023-07-19T21:11:16-04:00","alt":"Moon TV Stand - Meble Furniture","width":1000,"height":1000,"src":"\/\/www.meblefurniture.com\/cdn\/shop\/files\/81white.png?v=1689815476","variant_ids":[43575350395042]},"available":true,"name":"Moon TV Stand - White \/ 81\"","public_title":"White \/ 81\"","options":["White","81\""],"price":24900,"weight":45359,"compare_at_price":null,"inventory_management":"shopify","barcode":"00840227611227","featured_media":{"alt":"Moon TV Stand - Meble Furniture","id":28381128851618,"position":10,"preview_image":{"aspect_ratio":1.0,"height":1000,"width":1000,"src":"\/\/www.meblefurniture.com\/cdn\/shop\/files\/81white.png?v=1689815476"}},"requires_selling_plan":false,"selling_plan_allocations":[],"quantity_rule":{"min":1,"max":null,"increment":1}}],"images":["\/\/www.meblefurniture.com\/cdn\/shop\/files\/81black.png?v=1689815476","\/\/www.meblefurniture.com\/cdn\/shop\/files\/81black2.png?v=1689815476","\/\/www.meblefurniture.com\/cdn\/shop\/products\/meble-furniture-entertainment-centers-tv-stands-moon-40-5-81-tv-stand-20422261833890.png?v=1689815476","\/\/www.meblefurniture.com\/cdn\/shop\/products\/meble-furniture-entertainment-centers-tv-stands-moon-40-5-81-tv-stand-18786703900834.png?v=1689815476","\/\/www.meblefurniture.com\/cdn\/shop\/products\/meble-furniture-entertainment-centers-tv-stands-moon-40-5-81-tv-stand-18786703638690.png?v=1689815476","\/\/www.meblefurniture.com\/cdn\/shop\/products\/meble-furniture-entertainment-centers-tv-stands-moon-40-5-81-tv-stand-20422261964962.png?v=1689815476","\/\/www.meblefurniture.com\/cdn\/shop\/products\/meble-furniture-entertainment-centers-tv-stands-moon-40-5-81-tv-stand-32972389777570.png?v=1689815476","\/\/www.meblefurniture.com\/cdn\/shop\/products\/meble-furniture-entertainment-centers-tv-stands-moon-40-5-81-tv-stand-32972389875874.png?v=1689815476","\/\/www.meblefurniture.com\/cdn\/shop\/products\/meble-furniture-entertainment-centers-tv-stands-moon-40-5-81-tv-stand-32972391088290.png?v=1689815476","\/\/www.meblefurniture.com\/cdn\/shop\/files\/81white.png?v=1689815476","\/\/www.meblefurniture.com\/cdn\/shop\/files\/81white2.png?v=1689815476","\/\/www.meblefurniture.com\/cdn\/shop\/files\/2_aa469e4f-f1c4-4a51-882b-14ca6cd39ccd.png?v=1689815476","\/\/www.meblefurniture.com\/cdn\/shop\/files\/black_2bf28b80-1dad-4c7d-9294-e68bcba374cf.png?v=1689815476","\/\/www.meblefurniture.com\/cdn\/shop\/files\/black2_55508c01-0613-49d3-a123-b1d91b52a26d.png?v=1689815476","\/\/www.meblefurniture.com\/cdn\/shop\/products\/meble-furniture-entertainment-centers-tv-stands-moon-40-5-81-tv-stand-20422261670050.png?v=1689815476","\/\/www.meblefurniture.com\/cdn\/shop\/products\/meble-furniture-entertainment-centers-tv-stands-moon-40-5-81-tv-stand-18786703999138.png?v=1689815476","\/\/www.meblefurniture.com\/cdn\/shop\/products\/meble-furniture-entertainment-centers-tv-stands-moon-40-5-81-tv-stand-18786703835298.png?v=1689815476","\/\/www.meblefurniture.com\/cdn\/shop\/products\/meble-furniture-entertainment-centers-tv-stands-moon-40-5-81-tv-stand-20422261932194.png?v=1689815476","\/\/www.meblefurniture.com\/cdn\/shop\/products\/meble-furniture-entertainment-centers-tv-stands-moon-40-5-81-tv-stand-32972391973026.png?v=1689815476","\/\/www.meblefurniture.com\/cdn\/shop\/products\/meble-furniture-entertainment-centers-tv-stands-moon-40-5-81-tv-stand-32972391940258.png?v=1689815476","\/\/www.meblefurniture.com\/cdn\/shop\/products\/meble-furniture-entertainment-centers-tv-stands-moon-40-5-81-tv-stand-32972393250978.png?v=1689815476","\/\/www.meblefurniture.com\/cdn\/shop\/files\/white_b3e59228-4105-4b05-9ed7-e9325af3f780.png?v=1689815476","\/\/www.meblefurniture.com\/cdn\/shop\/files\/white2_d09b2a3f-48a9-4e03-8a34-667a74438820.png?v=1689815476","\/\/www.meblefurniture.com\/cdn\/shop\/files\/1_803436c0-d45c-4eb9-8c09-95d675154b0e.png?v=1689815476"],"featured_image":"\/\/www.meblefurniture.com\/cdn\/shop\/files\/81black.png?v=1689815476","options":["Color","Width"],"media":[{"alt":"Moon TV Stand - Meble Furniture","id":28381128786082,"position":1,"preview_image":{"aspect_ratio":1.0,"height":1000,"width":1000,"src":"\/\/www.meblefurniture.com\/cdn\/shop\/files\/81black.png?v=1689815476"},"aspect_ratio":1.0,"height":1000,"media_type":"image","src":"\/\/www.meblefurniture.com\/cdn\/shop\/files\/81black.png?v=1689815476","width":1000},{"alt":"Moon TV Stand - Meble Furniture","id":28381128818850,"position":2,"preview_image":{"aspect_ratio":1.0,"height":1000,"width":1000,"src":"\/\/www.meblefurniture.com\/cdn\/shop\/files\/81black2.png?v=1689815476"},"aspect_ratio":1.0,"height":1000,"media_type":"image","src":"\/\/www.meblefurniture.com\/cdn\/shop\/files\/81black2.png?v=1689815476","width":1000},{"alt":"Moon 40.5\"-81\" TV Stand - Meble Furniture","id":26825325314210,"position":3,"preview_image":{"aspect_ratio":1.0,"height":1000,"width":1000,"src":"\/\/www.meblefurniture.com\/cdn\/shop\/products\/meble-furniture-entertainment-centers-tv-stands-moon-40-5-81-tv-stand-20422261833890.png?v=1689815476"},"aspect_ratio":1.0,"height":1000,"media_type":"image","src":"\/\/www.meblefurniture.com\/cdn\/shop\/products\/meble-furniture-entertainment-centers-tv-stands-moon-40-5-81-tv-stand-20422261833890.png?v=1689815476","width":1000},{"alt":"Moon 40.5\"-81\" TV Stand - Meble Furniture","id":26825327607970,"position":4,"preview_image":{"aspect_ratio":1.0,"height":1000,"width":1000,"src":"\/\/www.meblefurniture.com\/cdn\/shop\/products\/meble-furniture-entertainment-centers-tv-stands-moon-40-5-81-tv-stand-18786703900834.png?v=1689815476"},"aspect_ratio":1.0,"height":1000,"media_type":"image","src":"\/\/www.meblefurniture.com\/cdn\/shop\/products\/meble-furniture-entertainment-centers-tv-stands-moon-40-5-81-tv-stand-18786703900834.png?v=1689815476","width":1000},{"alt":"Moon 40.5\"-81\" TV Stand - Meble Furniture","id":26825327018146,"position":5,"preview_image":{"aspect_ratio":1.0,"height":1000,"width":1000,"src":"\/\/www.meblefurniture.com\/cdn\/shop\/products\/meble-furniture-entertainment-centers-tv-stands-moon-40-5-81-tv-stand-18786703638690.png?v=1689815476"},"aspect_ratio":1.0,"height":1000,"media_type":"image","src":"\/\/www.meblefurniture.com\/cdn\/shop\/products\/meble-furniture-entertainment-centers-tv-stands-moon-40-5-81-tv-stand-18786703638690.png?v=1689815476","width":1000},{"alt":"Moon 40.5\"-81\" TV Stand - Meble Furniture","id":26825324855458,"position":6,"preview_image":{"aspect_ratio":1.0,"height":1000,"width":1000,"src":"\/\/www.meblefurniture.com\/cdn\/shop\/products\/meble-furniture-entertainment-centers-tv-stands-moon-40-5-81-tv-stand-20422261964962.png?v=1689815476"},"aspect_ratio":1.0,"height":1000,"media_type":"image","src":"\/\/www.meblefurniture.com\/cdn\/shop\/products\/meble-furniture-entertainment-centers-tv-stands-moon-40-5-81-tv-stand-20422261964962.png?v=1689815476","width":1000},{"alt":"Moon 40.5\"-81\" TV Stand - Meble Furniture","id":26825328689314,"position":7,"preview_image":{"aspect_ratio":1.0,"height":1000,"width":1000,"src":"\/\/www.meblefurniture.com\/cdn\/shop\/products\/meble-furniture-entertainment-centers-tv-stands-moon-40-5-81-tv-stand-32972389777570.png?v=1689815476"},"aspect_ratio":1.0,"height":1000,"media_type":"image","src":"\/\/www.meblefurniture.com\/cdn\/shop\/products\/meble-furniture-entertainment-centers-tv-stands-moon-40-5-81-tv-stand-32972389777570.png?v=1689815476","width":1000},{"alt":"Moon 40.5\"-81\" TV Stand - Meble Furniture","id":26825332293794,"position":8,"preview_image":{"aspect_ratio":1.0,"height":1000,"width":1000,"src":"\/\/www.meblefurniture.com\/cdn\/shop\/products\/meble-furniture-entertainment-centers-tv-stands-moon-40-5-81-tv-stand-32972389875874.png?v=1689815476"},"aspect_ratio":1.0,"height":1000,"media_type":"image","src":"\/\/www.meblefurniture.com\/cdn\/shop\/products\/meble-furniture-entertainment-centers-tv-stands-moon-40-5-81-tv-stand-32972389875874.png?v=1689815476","width":1000},{"alt":"Moon 40.5\"-81\" TV Stand - Meble Furniture","id":26825329737890,"position":9,"preview_image":{"aspect_ratio":1.0,"height":1000,"width":1000,"src":"\/\/www.meblefurniture.com\/cdn\/shop\/products\/meble-furniture-entertainment-centers-tv-stands-moon-40-5-81-tv-stand-32972391088290.png?v=1689815476"},"aspect_ratio":1.0,"height":1000,"media_type":"image","src":"\/\/www.meblefurniture.com\/cdn\/shop\/products\/meble-furniture-entertainment-centers-tv-stands-moon-40-5-81-tv-stand-32972391088290.png?v=1689815476","width":1000},{"alt":"Moon TV Stand - Meble Furniture","id":28381128851618,"position":10,"preview_image":{"aspect_ratio":1.0,"height":1000,"width":1000,"src":"\/\/www.meblefurniture.com\/cdn\/shop\/files\/81white.png?v=1689815476"},"aspect_ratio":1.0,"height":1000,"media_type":"image","src":"\/\/www.meblefurniture.com\/cdn\/shop\/files\/81white.png?v=1689815476","width":1000},{"alt":"Moon TV Stand - Meble Furniture","id":28381128884386,"position":11,"preview_image":{"aspect_ratio":1.0,"height":1000,"width":1000,"src":"\/\/www.meblefurniture.com\/cdn\/shop\/files\/81white2.png?v=1689815476"},"aspect_ratio":1.0,"height":1000,"media_type":"image","src":"\/\/www.meblefurniture.com\/cdn\/shop\/files\/81white2.png?v=1689815476","width":1000},{"alt":"Moon TV Stand - Meble Furniture","id":28381131669666,"position":12,"preview_image":{"aspect_ratio":1.0,"height":1000,"width":1000,"src":"\/\/www.meblefurniture.com\/cdn\/shop\/files\/2_aa469e4f-f1c4-4a51-882b-14ca6cd39ccd.png?v=1689815476"},"aspect_ratio":1.0,"height":1000,"media_type":"image","src":"\/\/www.meblefurniture.com\/cdn\/shop\/files\/2_aa469e4f-f1c4-4a51-882b-14ca6cd39ccd.png?v=1689815476","width":1000},{"alt":"Moon TV Stand - Meble Furniture","id":28381128917154,"position":13,"preview_image":{"aspect_ratio":1.0,"height":1000,"width":1000,"src":"\/\/www.meblefurniture.com\/cdn\/shop\/files\/black_2bf28b80-1dad-4c7d-9294-e68bcba374cf.png?v=1689815476"},"aspect_ratio":1.0,"height":1000,"media_type":"image","src":"\/\/www.meblefurniture.com\/cdn\/shop\/files\/black_2bf28b80-1dad-4c7d-9294-e68bcba374cf.png?v=1689815476","width":1000},{"alt":"Moon TV Stand - Meble Furniture","id":28381128687778,"position":14,"preview_image":{"aspect_ratio":1.0,"height":1000,"width":1000,"src":"\/\/www.meblefurniture.com\/cdn\/shop\/files\/black2_55508c01-0613-49d3-a123-b1d91b52a26d.png?v=1689815476"},"aspect_ratio":1.0,"height":1000,"media_type":"image","src":"\/\/www.meblefurniture.com\/cdn\/shop\/files\/black2_55508c01-0613-49d3-a123-b1d91b52a26d.png?v=1689815476","width":1000},{"alt":"Moon 40.5\"-81\" TV Stand - Meble Furniture","id":26825336979618,"position":15,"preview_image":{"aspect_ratio":1.0,"height":1000,"width":1000,"src":"\/\/www.meblefurniture.com\/cdn\/shop\/products\/meble-furniture-entertainment-centers-tv-stands-moon-40-5-81-tv-stand-20422261670050.png?v=1689815476"},"aspect_ratio":1.0,"height":1000,"media_type":"image","src":"\/\/www.meblefurniture.com\/cdn\/shop\/products\/meble-furniture-entertainment-centers-tv-stands-moon-40-5-81-tv-stand-20422261670050.png?v=1689815476","width":1000},{"alt":"Moon 40.5\"-81\" TV Stand - Meble Furniture","id":26825340289186,"position":16,"preview_image":{"aspect_ratio":1.0,"height":1000,"width":1000,"src":"\/\/www.meblefurniture.com\/cdn\/shop\/products\/meble-furniture-entertainment-centers-tv-stands-moon-40-5-81-tv-stand-18786703999138.png?v=1689815476"},"aspect_ratio":1.0,"height":1000,"media_type":"image","src":"\/\/www.meblefurniture.com\/cdn\/shop\/products\/meble-furniture-entertainment-centers-tv-stands-moon-40-5-81-tv-stand-18786703999138.png?v=1689815476","width":1000},{"alt":"Moon 40.5\"-81\" TV Stand - Meble Furniture","id":26825338388642,"position":17,"preview_image":{"aspect_ratio":1.0,"height":1000,"width":1000,"src":"\/\/www.meblefurniture.com\/cdn\/shop\/products\/meble-furniture-entertainment-centers-tv-stands-moon-40-5-81-tv-stand-18786703835298.png?v=1689815476"},"aspect_ratio":1.0,"height":1000,"media_type":"image","src":"\/\/www.meblefurniture.com\/cdn\/shop\/products\/meble-furniture-entertainment-centers-tv-stands-moon-40-5-81-tv-stand-18786703835298.png?v=1689815476","width":1000},{"alt":"Moon 40.5\"-81\" TV Stand - Meble Furniture","id":26825339830434,"position":18,"preview_image":{"aspect_ratio":1.0,"height":1000,"width":1000,"src":"\/\/www.meblefurniture.com\/cdn\/shop\/products\/meble-furniture-entertainment-centers-tv-stands-moon-40-5-81-tv-stand-20422261932194.png?v=1689815476"},"aspect_ratio":1.0,"height":1000,"media_type":"image","src":"\/\/www.meblefurniture.com\/cdn\/shop\/products\/meble-furniture-entertainment-centers-tv-stands-moon-40-5-81-tv-stand-20422261932194.png?v=1689815476","width":1000},{"alt":"Moon 40.5\"-81\" TV Stand - Meble Furniture","id":26825341730978,"position":19,"preview_image":{"aspect_ratio":1.0,"height":1000,"width":1000,"src":"\/\/www.meblefurniture.com\/cdn\/shop\/products\/meble-furniture-entertainment-centers-tv-stands-moon-40-5-81-tv-stand-32972391973026.png?v=1689815476"},"aspect_ratio":1.0,"height":1000,"media_type":"image","src":"\/\/www.meblefurniture.com\/cdn\/shop\/products\/meble-furniture-entertainment-centers-tv-stands-moon-40-5-81-tv-stand-32972391973026.png?v=1689815476","width":1000},{"alt":"Moon 40.5\"-81\" TV Stand - Meble Furniture","id":26825341010082,"position":20,"preview_image":{"aspect_ratio":1.0,"height":1000,"width":1000,"src":"\/\/www.meblefurniture.com\/cdn\/shop\/products\/meble-furniture-entertainment-centers-tv-stands-moon-40-5-81-tv-stand-32972391940258.png?v=1689815476"},"aspect_ratio":1.0,"height":1000,"media_type":"image","src":"\/\/www.meblefurniture.com\/cdn\/shop\/products\/meble-furniture-entertainment-centers-tv-stands-moon-40-5-81-tv-stand-32972391940258.png?v=1689815476","width":1000},{"alt":"Moon 40.5\"-81\" TV Stand - Meble Furniture","id":26825342320802,"position":21,"preview_image":{"aspect_ratio":1.0,"height":1000,"width":1000,"src":"\/\/www.meblefurniture.com\/cdn\/shop\/products\/meble-furniture-entertainment-centers-tv-stands-moon-40-5-81-tv-stand-32972393250978.png?v=1689815476"},"aspect_ratio":1.0,"height":1000,"media_type":"image","src":"\/\/www.meblefurniture.com\/cdn\/shop\/products\/meble-furniture-entertainment-centers-tv-stands-moon-40-5-81-tv-stand-32972393250978.png?v=1689815476","width":1000},{"alt":"Moon TV Stand - Meble Furniture","id":28381128720546,"position":22,"preview_image":{"aspect_ratio":1.0,"height":1000,"width":1000,"src":"\/\/www.meblefurniture.com\/cdn\/shop\/files\/white_b3e59228-4105-4b05-9ed7-e9325af3f780.png?v=1689815476"},"aspect_ratio":1.0,"height":1000,"media_type":"image","src":"\/\/www.meblefurniture.com\/cdn\/shop\/files\/white_b3e59228-4105-4b05-9ed7-e9325af3f780.png?v=1689815476","width":1000},{"alt":"Moon TV Stand - Meble Furniture","id":28381128753314,"position":23,"preview_image":{"aspect_ratio":1.0,"height":1000,"width":1000,"src":"\/\/www.meblefurniture.com\/cdn\/shop\/files\/white2_d09b2a3f-48a9-4e03-8a34-667a74438820.png?v=1689815476"},"aspect_ratio":1.0,"height":1000,"media_type":"image","src":"\/\/www.meblefurniture.com\/cdn\/shop\/files\/white2_d09b2a3f-48a9-4e03-8a34-667a74438820.png?v=1689815476","width":1000},{"alt":"Moon TV Stand - Meble Furniture","id":28381131636898,"position":24,"preview_image":{"aspect_ratio":1.0,"height":1000,"width":1000,"src":"\/\/www.meblefurniture.com\/cdn\/shop\/files\/1_803436c0-d45c-4eb9-8c09-95d675154b0e.png?v=1689815476"},"aspect_ratio":1.0,"height":1000,"media_type":"image","src":"\/\/www.meblefurniture.com\/cdn\/shop\/files\/1_803436c0-d45c-4eb9-8c09-95d675154b0e.png?v=1689815476","width":1000}],"requires_selling_plan":false,"selling_plan_groups":[],"content":"\u003cul\u003e\n\u003cli\u003eMoon 40.5\"-81\" TV Stand - Modern TV Stand \/ TV Console \/ TV Cabinet \/ Central Entertainment Center\u003c\/li\u003e\n\u003cli\u003e40.5\" fits up to 45 inch TVs. 81\" fits up to 90\" TVs.\u003c\/li\u003e\n\u003cli\u003eHigh gloss fronts with matte body\u003c\/li\u003e\n\u003cli\u003eLED light system included with on\/off remote\u003c\/li\u003e\n\u003cli\u003eManufactured in and imported from the European Union\u003c\/li\u003e\n\u003cli\u003eModern and unique contemporary design\u003c\/li\u003e\n\u003cli\u003ePerfect for those in need of living room storage space\u003c\/li\u003e\n\u003cli\u003eFlat packed and ready to ship\u003c\/li\u003e\n\u003cli\u003eDimensions 40.5\": 15.75 inches height x 40.5 inches width x 15.75 inches depth. Dimensions 81\": \u003cspan\u003e15.75 inches height x 81 inches width x 15.75 inches depth.\u003c\/span\u003e\n\u003c\/li\u003e\n\u003c\/ul\u003e\n\u003cdetails\u003e \u003csummary\u003eInformation for California Residents\u003c\/summary\u003e\n\u003cp\u003eCalifornia Proposition 65 Warning: This product can expose you to chemicals including Diisodecyl phthalate (DIDP) and Diisononyl phthalate (DINP), which are known to the State of California to cause cancer and\/or birth defects or other reproductive harm. For more information go to www.P65Warnings.ca.gov.\u003c\/p\u003e\n\u003c\/details\u003e"}
Moon TV Stand
REAL CUSTOMER PHOTOS
Ratings & Reviews
Customer Reviews
Write a Review
Ask a Question
Filter Reviews:
aesthetic
Moon TV
theater room
kids
price point
touch
part
assembly
furniture
LED lights
01/14/2022
David N.

United States
Impressed
Not gonna lie, I was skeptical. Anytime you have to assemble your furniture, it's usually not the best quality product. I bought the 81" Moon TV stand for our Theater room. Assembly was actually very straight forward if you have basic mechanical skills. It turned out very nice and has a higher quality aesthetic than you would think for the price point. The LED lights look cool. Nice touch that the kids also appreciated.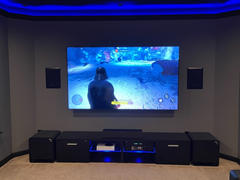 Good cabinet for the price. Door hardware is low quality
Mostly positive review as the frame/cabinet fits together easily and the finish is nice given the price point. Quality is similar to other "flat pack" type furniture, but it is sturdy and the look is overall good. 81" is just two 40.5" pieces placed side by side, and it does look a little cobbled together on that account. I opted not to install the very unaesthetic plastic pulls and will be buying others. Fortunately the thin gloss film covers holes to screw on pulls. Until I get different pulls it will suffice, though it would not be a long term solution to leave them off and you can see the dimples where the holes. The doors open downward, and the hinge damper uses friction to keep it from slamming open/shut. That design seems a little iffy leaves me hoping it holds up over time.
01/21/2021
Brian E.

United States
Everything looks great and it was easy to build
led light didn't work after spending quite some time putting this together. Ended up getting a replacement pretty quickly though.