{"id":4448745586740,"title":"Milano 145EF Electric Fireplace 58\" TV Stand","handle":"milano-145ef-electric-fireplace-tv-stand","description":"\u003cul\u003e\n\u003cli\u003eMilano 145EF Electric Fireplace 58\" TV Stand - Modern TV Stand \/ TV Console \/ TV Cabinet \/ Central Entertainment Center\u003c\/li\u003e\n\u003cli\u003eFits up to 65 inch TVs\u003c\/li\u003e\n\u003cli\u003eHigh gloss fronts with matte body\u003c\/li\u003e\n\u003cli\u003e18\" wide electric fireplace insert included with remote control and on\/off control, 3 changeable flame colors, temperature control, timer setting, and dimmer\u003c\/li\u003e\n\u003cli\u003e16 color LED light system included with color control and on\/off remote\u003c\/li\u003e\n\u003cli\u003eManufactured in and imported from the European Union\u003c\/li\u003e\n\u003cli\u003eModern and unique contemporary design\u003c\/li\u003e\n\u003cli\u003ePerfect for those in need of living room storage space\u003c\/li\u003e\n\u003cli\u003eFlat packed and ready to ship\u003c\/li\u003e\n\u003cli\u003eDimensions: 22 inches height x 57.5 inches width x 13.8 inches depth\u003c\/li\u003e\n\u003c\/ul\u003e\n\u003cdetails\u003e \u003csummary\u003eInformation for California Residents\u003c\/summary\u003e\n\u003cp\u003eCalifornia Proposition 65 Warning: This product can expose you to chemicals including Diisodecyl phthalate (DIDP) and Diisononyl phthalate (DINP), which are known to the State of California to cause cancer and\/or birth defects or other reproductive harm. For more information go to www.P65Warnings.ca.gov.\u003c\/p\u003e\n\u003c\/details\u003e","published_at":"2020-01-12T11:14:14-05:00","created_at":"2020-01-12T11:24:53-05:00","vendor":"Meble Furniture","type":"Entertainment Centers \u0026 TV Stands","tags":["dimensions-22\" H x 57.5\" W x 13.8\" D","Electric Fireplace TV Stands","spo-disabled","TV Stands for TVs up to 60 inches","TV Stands for TVs up to 65 inches"],"price":39900,"price_min":39900,"price_max":49900,"available":true,"price_varies":true,"compare_at_price":null,"compare_at_price_min":0,"compare_at_price_max":0,"compare_at_price_varies":false,"variants":[{"id":31603397492788,"title":"Black","option1":"Black","option2":null,"option3":null,"sku":"MILANO145EFBLACK","requires_shipping":true,"taxable":true,"featured_image":{"id":14188199313460,"product_id":4448745586740,"position":9,"created_at":"2020-04-06T18:21:30-04:00","updated_at":"2020-11-22T18:43:47-05:00","alt":"Milano 145EF Electric Fireplace Modern 58\" TV Stand - Meble Furniture","width":1000,"height":1000,"src":"https:\/\/cdn.shopify.com\/s\/files\/1\/2781\/6416\/products\/black_337ba69f-7f32-4c39-88fc-0074c06ddc3a.jpg?v=1606088627","variant_ids":[31603397492788]},"available":true,"name":"Milano 145EF Electric Fireplace 58\" TV Stand - Black","public_title":"Black","options":["Black"],"price":49900,"weight":0,"compare_at_price":null,"inventory_management":"shopify","barcode":"840227609538","featured_media":{"alt":"Milano 145EF Electric Fireplace Modern 58\" TV Stand - Meble Furniture","id":6360141660212,"position":9,"preview_image":{"aspect_ratio":1.0,"height":1000,"width":1000,"src":"https:\/\/cdn.shopify.com\/s\/files\/1\/2781\/6416\/products\/black_337ba69f-7f32-4c39-88fc-0074c06ddc3a.jpg?v=1586211690"}},"requires_selling_plan":false,"selling_plan_allocations":[]},{"id":34928292528290,"title":"Walnut\/Black","option1":"Walnut\/Black","option2":null,"option3":null,"sku":"MILANO145EFWALNUTBLACK","requires_shipping":true,"taxable":true,"featured_image":{"id":17711265284258,"product_id":4448745586740,"position":17,"created_at":"2020-07-01T12:55:53-04:00","updated_at":"2020-11-22T18:43:47-05:00","alt":"Milano 145EF Electric Fireplace Modern 58\" TV Stand - Meble Furniture","width":1000,"height":1000,"src":"https:\/\/cdn.shopify.com\/s\/files\/1\/2781\/6416\/products\/walnutblack_324d47f1-0a35-40d6-8202-540990a70363.jpg?v=1606088627","variant_ids":[34928292528290]},"available":true,"name":"Milano 145EF Electric Fireplace 58\" TV Stand - Walnut\/Black","public_title":"Walnut\/Black","options":["Walnut\/Black"],"price":39900,"weight":0,"compare_at_price":null,"inventory_management":"shopify","barcode":"840227609545","featured_media":{"alt":"Milano 145EF Electric Fireplace Modern 58\" TV Stand - Meble Furniture","id":9885354655906,"position":17,"preview_image":{"aspect_ratio":1.0,"height":1000,"width":1000,"src":"https:\/\/cdn.shopify.com\/s\/files\/1\/2781\/6416\/products\/walnutblack_324d47f1-0a35-40d6-8202-540990a70363.jpg?v=1593622553"}},"requires_selling_plan":false,"selling_plan_allocations":[]},{"id":31603397525556,"title":"White","option1":"White","option2":null,"option3":null,"sku":"MILANO145EFWHITE","requires_shipping":true,"taxable":true,"featured_image":{"id":14188199280692,"product_id":4448745586740,"position":1,"created_at":"2020-04-06T18:21:30-04:00","updated_at":"2020-10-08T16:16:07-04:00","alt":"Milano 145EF Electric Fireplace Modern 58\" TV Stand - Meble Furniture","width":1000,"height":1000,"src":"https:\/\/cdn.shopify.com\/s\/files\/1\/2781\/6416\/products\/white_96547cab-5704-4e46-b449-89e1377d038d.jpg?v=1602188167","variant_ids":[31603397525556]},"available":true,"name":"Milano 145EF Electric Fireplace 58\" TV Stand - White","public_title":"White","options":["White"],"price":49900,"weight":0,"compare_at_price":null,"inventory_management":"shopify","barcode":"840227609552","featured_media":{"alt":"Milano 145EF Electric Fireplace Modern 58\" TV Stand - Meble Furniture","id":6360141889588,"position":1,"preview_image":{"aspect_ratio":1.0,"height":1000,"width":1000,"src":"https:\/\/cdn.shopify.com\/s\/files\/1\/2781\/6416\/products\/white_96547cab-5704-4e46-b449-89e1377d038d.jpg?v=1586211690"}},"requires_selling_plan":false,"selling_plan_allocations":[]},{"id":31603397558324,"title":"White\/Black","option1":"White\/Black","option2":null,"option3":null,"sku":"MILANO145EFWHITEBLACK","requires_shipping":true,"taxable":true,"featured_image":{"id":14188199673908,"product_id":4448745586740,"position":23,"created_at":"2020-04-06T18:21:33-04:00","updated_at":"2020-11-22T18:43:30-05:00","alt":"Milano 145EF Electric Fireplace Modern 58\" TV Stand - Meble Furniture","width":1000,"height":1000,"src":"https:\/\/cdn.shopify.com\/s\/files\/1\/2781\/6416\/products\/whiteblack_402d779e-b186-41f3-b0ae-1d9579e86189.jpg?v=1606088610","variant_ids":[31603397558324]},"available":true,"name":"Milano 145EF Electric Fireplace 58\" TV Stand - White\/Black","public_title":"White\/Black","options":["White\/Black"],"price":39900,"weight":0,"compare_at_price":null,"inventory_management":"shopify","barcode":"840227609569","featured_media":{"alt":"Milano 145EF Electric Fireplace Modern 58\" TV Stand - Meble Furniture","id":6360142086196,"position":23,"preview_image":{"aspect_ratio":1.0,"height":1000,"width":1000,"src":"https:\/\/cdn.shopify.com\/s\/files\/1\/2781\/6416\/products\/whiteblack_402d779e-b186-41f3-b0ae-1d9579e86189.jpg?v=1586211693"}},"requires_selling_plan":false,"selling_plan_allocations":[]}],"images":["\/\/cdn.shopify.com\/s\/files\/1\/2781\/6416\/products\/white_96547cab-5704-4e46-b449-89e1377d038d.jpg?v=1602188167","\/\/cdn.shopify.com\/s\/files\/1\/2781\/6416\/products\/white2_2401ae01-79f9-4fd4-85ee-7b86bdd7a233.jpg?v=1602188266","\/\/cdn.shopify.com\/s\/files\/1\/2781\/6416\/products\/white3_ed0ae0c9-12c6-4356-a71f-1d4ba0621705.jpg?v=1602188266","\/\/cdn.shopify.com\/s\/files\/1\/2781\/6416\/products\/white4_5a1e0e9e-a13a-448b-baf8-17214696629f.jpg?v=1602188266","\/\/cdn.shopify.com\/s\/files\/1\/2781\/6416\/products\/white5_5dc2561d-c27e-48df-afaf-d2c160c737a7.jpg?v=1602188266","\/\/cdn.shopify.com\/s\/files\/1\/2781\/6416\/products\/BLUEFIRE_8b0f5655-a24c-4702-8e24-c854a833e1a0.jpg?v=1602609930","\/\/cdn.shopify.com\/s\/files\/1\/2781\/6416\/products\/FIREPLACESTACKED_0c5568e7-1a40-49f0-aca4-d5f2d982c421.jpg?v=1602609930","\/\/cdn.shopify.com\/s\/files\/1\/2781\/6416\/products\/Milano145EF.png?v=1606244383","\/\/cdn.shopify.com\/s\/files\/1\/2781\/6416\/products\/black_337ba69f-7f32-4c39-88fc-0074c06ddc3a.jpg?v=1606088627","\/\/cdn.shopify.com\/s\/files\/1\/2781\/6416\/products\/black2_ae865dbe-c944-4ac7-a806-0f77704bd879.jpg?v=1606088627","\/\/cdn.shopify.com\/s\/files\/1\/2781\/6416\/products\/black3_0e426f80-267c-4e80-b183-9f5bfa2a274a.jpg?v=1606088627","\/\/cdn.shopify.com\/s\/files\/1\/2781\/6416\/products\/black4_3bdc8c47-96cf-40e9-9ee6-655223f4335b.jpg?v=1606088627","\/\/cdn.shopify.com\/s\/files\/1\/2781\/6416\/products\/black5_19b116ac-486d-4b82-9796-1c8a34a15da7.jpg?v=1606088627","\/\/cdn.shopify.com\/s\/files\/1\/2781\/6416\/products\/BLUEFIRE_64d17a7e-0d11-434f-8435-0c3e237e88ff.jpg?v=1606088627","\/\/cdn.shopify.com\/s\/files\/1\/2781\/6416\/products\/FIREPLACESTACKED_e6e38098-9ba3-4c60-8aa6-29856e3394ee.jpg?v=1606088627","\/\/cdn.shopify.com\/s\/files\/1\/2781\/6416\/products\/Milano145EF_6419a6ba-9194-40c9-b646-2ee6375d280c.png?v=1606244383","\/\/cdn.shopify.com\/s\/files\/1\/2781\/6416\/products\/walnutblack_324d47f1-0a35-40d6-8202-540990a70363.jpg?v=1606088627","\/\/cdn.shopify.com\/s\/files\/1\/2781\/6416\/products\/walnutblack2_22ed6e42-8a68-413f-85e9-87acb3bec11d.jpg?v=1606088627","\/\/cdn.shopify.com\/s\/files\/1\/2781\/6416\/products\/walnutblack3_c7a55b25-cfcc-49f9-bee5-2a3c53d1dd15.jpg?v=1606088627","\/\/cdn.shopify.com\/s\/files\/1\/2781\/6416\/products\/BLUEFIRE_4cfabbe3-74e3-4fc7-9033-28a23000da83.jpg?v=1606088627","\/\/cdn.shopify.com\/s\/files\/1\/2781\/6416\/products\/FIREPLACESTACKED_9cc37279-d86f-4aca-bede-aaad7b77d3a6.jpg?v=1606088627","\/\/cdn.shopify.com\/s\/files\/1\/2781\/6416\/products\/Milano145EF_83e508c3-52fb-44d5-b7e3-02d13af2bda2.png?v=1606244383","\/\/cdn.shopify.com\/s\/files\/1\/2781\/6416\/products\/whiteblack_402d779e-b186-41f3-b0ae-1d9579e86189.jpg?v=1606088610","\/\/cdn.shopify.com\/s\/files\/1\/2781\/6416\/products\/whiteblack2_e3f22594-5400-4ead-8201-ed10330fb652.jpg?v=1606088610","\/\/cdn.shopify.com\/s\/files\/1\/2781\/6416\/products\/whiteblack3_7adf3d8b-cc10-48bd-85dd-32c7ce130638.jpg?v=1606088610","\/\/cdn.shopify.com\/s\/files\/1\/2781\/6416\/products\/whiteblack4_03ec981a-08ef-491c-8e62-6b7f81ad34d8.jpg?v=1606088610","\/\/cdn.shopify.com\/s\/files\/1\/2781\/6416\/products\/whiteblack5_ac69290a-6fc5-468f-9d6e-5d7c2b7dd6cb.jpg?v=1606088610","\/\/cdn.shopify.com\/s\/files\/1\/2781\/6416\/products\/BLUEFIRE_8ce45d1a-8678-4969-9acd-05e7ee67a499.jpg?v=1606088610","\/\/cdn.shopify.com\/s\/files\/1\/2781\/6416\/products\/FIREPLACESTACKED_61aab415-9609-4e0a-8d58-601aa49c9a6f.jpg?v=1606088610","\/\/cdn.shopify.com\/s\/files\/1\/2781\/6416\/products\/Milano145EF_df91b1ce-db7f-4a69-9ea0-3c8ba3a2bb32.png?v=1606244383"],"featured_image":"\/\/cdn.shopify.com\/s\/files\/1\/2781\/6416\/products\/white_96547cab-5704-4e46-b449-89e1377d038d.jpg?v=1602188167","options":["Color"],"media":[{"alt":"Milano 145EF Electric Fireplace Modern 58\" TV Stand - Meble Furniture","id":6360141889588,"position":1,"preview_image":{"aspect_ratio":1.0,"height":1000,"width":1000,"src":"https:\/\/cdn.shopify.com\/s\/files\/1\/2781\/6416\/products\/white_96547cab-5704-4e46-b449-89e1377d038d.jpg?v=1586211690"},"aspect_ratio":1.0,"height":1000,"media_type":"image","src":"https:\/\/cdn.shopify.com\/s\/files\/1\/2781\/6416\/products\/white_96547cab-5704-4e46-b449-89e1377d038d.jpg?v=1586211690","width":1000},{"alt":"Milano 145EF Electric Fireplace Modern 58\" TV Stand - Meble Furniture","id":6360141922356,"position":2,"preview_image":{"aspect_ratio":1.0,"height":1000,"width":1000,"src":"https:\/\/cdn.shopify.com\/s\/files\/1\/2781\/6416\/products\/white2_2401ae01-79f9-4fd4-85ee-7b86bdd7a233.jpg?v=1586211690"},"aspect_ratio":1.0,"height":1000,"media_type":"image","src":"https:\/\/cdn.shopify.com\/s\/files\/1\/2781\/6416\/products\/white2_2401ae01-79f9-4fd4-85ee-7b86bdd7a233.jpg?v=1586211690","width":1000},{"alt":"Milano 145EF Electric Fireplace Modern 58\" TV Stand - Meble Furniture","id":6360141955124,"position":3,"preview_image":{"aspect_ratio":1.0,"height":1000,"width":1000,"src":"https:\/\/cdn.shopify.com\/s\/files\/1\/2781\/6416\/products\/white3_ed0ae0c9-12c6-4356-a71f-1d4ba0621705.jpg?v=1586211691"},"aspect_ratio":1.0,"height":1000,"media_type":"image","src":"https:\/\/cdn.shopify.com\/s\/files\/1\/2781\/6416\/products\/white3_ed0ae0c9-12c6-4356-a71f-1d4ba0621705.jpg?v=1586211691","width":1000},{"alt":"Milano 145EF Electric Fireplace Modern 58\" TV Stand - Meble Furniture","id":6360141987892,"position":4,"preview_image":{"aspect_ratio":1.0,"height":1000,"width":1000,"src":"https:\/\/cdn.shopify.com\/s\/files\/1\/2781\/6416\/products\/white4_5a1e0e9e-a13a-448b-baf8-17214696629f.jpg?v=1586211690"},"aspect_ratio":1.0,"height":1000,"media_type":"image","src":"https:\/\/cdn.shopify.com\/s\/files\/1\/2781\/6416\/products\/white4_5a1e0e9e-a13a-448b-baf8-17214696629f.jpg?v=1586211690","width":1000},{"alt":"Milano 145EF Electric Fireplace Modern 58\" TV Stand - Meble Furniture","id":6360142020660,"position":5,"preview_image":{"aspect_ratio":1.0,"height":1000,"width":1000,"src":"https:\/\/cdn.shopify.com\/s\/files\/1\/2781\/6416\/products\/white5_5dc2561d-c27e-48df-afaf-d2c160c737a7.jpg?v=1586211693"},"aspect_ratio":1.0,"height":1000,"media_type":"image","src":"https:\/\/cdn.shopify.com\/s\/files\/1\/2781\/6416\/products\/white5_5dc2561d-c27e-48df-afaf-d2c160c737a7.jpg?v=1586211693","width":1000},{"alt":"Milano 145EF Electric Fireplace Modern 58\" TV Stand - Meble Furniture","id":11815387857058,"position":6,"preview_image":{"aspect_ratio":1.0,"height":1000,"width":1000,"src":"https:\/\/cdn.shopify.com\/s\/files\/1\/2781\/6416\/products\/BLUEFIRE_8b0f5655-a24c-4702-8e24-c854a833e1a0.jpg?v=1602188174"},"aspect_ratio":1.0,"height":1000,"media_type":"image","src":"https:\/\/cdn.shopify.com\/s\/files\/1\/2781\/6416\/products\/BLUEFIRE_8b0f5655-a24c-4702-8e24-c854a833e1a0.jpg?v=1602188174","width":1000},{"alt":"Milano 145EF Electric Fireplace Modern 58\" TV Stand - Meble Furniture","id":11815387562146,"position":7,"preview_image":{"aspect_ratio":1.0,"height":1000,"width":1000,"src":"https:\/\/cdn.shopify.com\/s\/files\/1\/2781\/6416\/products\/FIREPLACESTACKED_0c5568e7-1a40-49f0-aca4-d5f2d982c421.jpg?v=1602188173"},"aspect_ratio":1.0,"height":1000,"media_type":"image","src":"https:\/\/cdn.shopify.com\/s\/files\/1\/2781\/6416\/products\/FIREPLACESTACKED_0c5568e7-1a40-49f0-aca4-d5f2d982c421.jpg?v=1602188173","width":1000},{"alt":"Milano 145EF Electric Fireplace Modern 58\" TV Stand - Meble Furniture","id":12597955231906,"position":8,"preview_image":{"aspect_ratio":1.0,"height":1000,"width":1000,"src":"https:\/\/cdn.shopify.com\/s\/files\/1\/2781\/6416\/products\/Milano145EF.png?v=1606088558"},"aspect_ratio":1.0,"height":1000,"media_type":"image","src":"https:\/\/cdn.shopify.com\/s\/files\/1\/2781\/6416\/products\/Milano145EF.png?v=1606088558","width":1000},{"alt":"Milano 145EF Electric Fireplace Modern 58\" TV Stand - Meble Furniture","id":6360141660212,"position":9,"preview_image":{"aspect_ratio":1.0,"height":1000,"width":1000,"src":"https:\/\/cdn.shopify.com\/s\/files\/1\/2781\/6416\/products\/black_337ba69f-7f32-4c39-88fc-0074c06ddc3a.jpg?v=1586211690"},"aspect_ratio":1.0,"height":1000,"media_type":"image","src":"https:\/\/cdn.shopify.com\/s\/files\/1\/2781\/6416\/products\/black_337ba69f-7f32-4c39-88fc-0074c06ddc3a.jpg?v=1586211690","width":1000},{"alt":"Milano 145EF Electric Fireplace Modern 58\" TV Stand - Meble Furniture","id":6360141692980,"position":10,"preview_image":{"aspect_ratio":1.0,"height":1000,"width":1000,"src":"https:\/\/cdn.shopify.com\/s\/files\/1\/2781\/6416\/products\/black2_ae865dbe-c944-4ac7-a806-0f77704bd879.jpg?v=1586211692"},"aspect_ratio":1.0,"height":1000,"media_type":"image","src":"https:\/\/cdn.shopify.com\/s\/files\/1\/2781\/6416\/products\/black2_ae865dbe-c944-4ac7-a806-0f77704bd879.jpg?v=1586211692","width":1000},{"alt":"Milano 145EF Electric Fireplace Modern 58\" TV Stand - Meble Furniture","id":6360141725748,"position":11,"preview_image":{"aspect_ratio":1.0,"height":1000,"width":1000,"src":"https:\/\/cdn.shopify.com\/s\/files\/1\/2781\/6416\/products\/black3_0e426f80-267c-4e80-b183-9f5bfa2a274a.jpg?v=1586211691"},"aspect_ratio":1.0,"height":1000,"media_type":"image","src":"https:\/\/cdn.shopify.com\/s\/files\/1\/2781\/6416\/products\/black3_0e426f80-267c-4e80-b183-9f5bfa2a274a.jpg?v=1586211691","width":1000},{"alt":"Milano 145EF Electric Fireplace Modern 58\" TV Stand - Meble Furniture","id":6360141758516,"position":12,"preview_image":{"aspect_ratio":1.0,"height":1000,"width":1000,"src":"https:\/\/cdn.shopify.com\/s\/files\/1\/2781\/6416\/products\/black4_3bdc8c47-96cf-40e9-9ee6-655223f4335b.jpg?v=1586211689"},"aspect_ratio":1.0,"height":1000,"media_type":"image","src":"https:\/\/cdn.shopify.com\/s\/files\/1\/2781\/6416\/products\/black4_3bdc8c47-96cf-40e9-9ee6-655223f4335b.jpg?v=1586211689","width":1000},{"alt":"Milano 145EF Electric Fireplace Modern 58\" TV Stand - Meble Furniture","id":6360141791284,"position":13,"preview_image":{"aspect_ratio":1.0,"height":1000,"width":1000,"src":"https:\/\/cdn.shopify.com\/s\/files\/1\/2781\/6416\/products\/black5_19b116ac-486d-4b82-9796-1c8a34a15da7.jpg?v=1586211691"},"aspect_ratio":1.0,"height":1000,"media_type":"image","src":"https:\/\/cdn.shopify.com\/s\/files\/1\/2781\/6416\/products\/black5_19b116ac-486d-4b82-9796-1c8a34a15da7.jpg?v=1586211691","width":1000},{"alt":"Milano 145EF Electric Fireplace Modern 58\" TV Stand - Meble Furniture","id":11815387594914,"position":14,"preview_image":{"aspect_ratio":1.0,"height":1000,"width":1000,"src":"https:\/\/cdn.shopify.com\/s\/files\/1\/2781\/6416\/products\/BLUEFIRE_64d17a7e-0d11-434f-8435-0c3e237e88ff.jpg?v=1602188173"},"aspect_ratio":1.0,"height":1000,"media_type":"image","src":"https:\/\/cdn.shopify.com\/s\/files\/1\/2781\/6416\/products\/BLUEFIRE_64d17a7e-0d11-434f-8435-0c3e237e88ff.jpg?v=1602188173","width":1000},{"alt":"Milano 145EF Electric Fireplace Modern 58\" TV Stand - Meble Furniture","id":11815387824290,"position":15,"preview_image":{"aspect_ratio":1.0,"height":1000,"width":1000,"src":"https:\/\/cdn.shopify.com\/s\/files\/1\/2781\/6416\/products\/FIREPLACESTACKED_e6e38098-9ba3-4c60-8aa6-29856e3394ee.jpg?v=1602188174"},"aspect_ratio":1.0,"height":1000,"media_type":"image","src":"https:\/\/cdn.shopify.com\/s\/files\/1\/2781\/6416\/products\/FIREPLACESTACKED_e6e38098-9ba3-4c60-8aa6-29856e3394ee.jpg?v=1602188174","width":1000},{"alt":"Milano 145EF Electric Fireplace Modern 58\" TV Stand - Meble Furniture","id":12597957132450,"position":16,"preview_image":{"aspect_ratio":1.0,"height":1000,"width":1000,"src":"https:\/\/cdn.shopify.com\/s\/files\/1\/2781\/6416\/products\/Milano145EF_6419a6ba-9194-40c9-b646-2ee6375d280c.png?v=1606088567"},"aspect_ratio":1.0,"height":1000,"media_type":"image","src":"https:\/\/cdn.shopify.com\/s\/files\/1\/2781\/6416\/products\/Milano145EF_6419a6ba-9194-40c9-b646-2ee6375d280c.png?v=1606088567","width":1000},{"alt":"Milano 145EF Electric Fireplace Modern 58\" TV Stand - Meble Furniture","id":9885354655906,"position":17,"preview_image":{"aspect_ratio":1.0,"height":1000,"width":1000,"src":"https:\/\/cdn.shopify.com\/s\/files\/1\/2781\/6416\/products\/walnutblack_324d47f1-0a35-40d6-8202-540990a70363.jpg?v=1593622553"},"aspect_ratio":1.0,"height":1000,"media_type":"image","src":"https:\/\/cdn.shopify.com\/s\/files\/1\/2781\/6416\/products\/walnutblack_324d47f1-0a35-40d6-8202-540990a70363.jpg?v=1593622553","width":1000},{"alt":"Milano 145EF Electric Fireplace Modern 58\" TV Stand - Meble Furniture","id":9885463969954,"position":18,"preview_image":{"aspect_ratio":1.0,"height":1000,"width":1000,"src":"https:\/\/cdn.shopify.com\/s\/files\/1\/2781\/6416\/products\/walnutblack2_22ed6e42-8a68-413f-85e9-87acb3bec11d.jpg?v=1593623000"},"aspect_ratio":1.0,"height":1000,"media_type":"image","src":"https:\/\/cdn.shopify.com\/s\/files\/1\/2781\/6416\/products\/walnutblack2_22ed6e42-8a68-413f-85e9-87acb3bec11d.jpg?v=1593623000","width":1000},{"alt":"Milano 145EF Electric Fireplace Modern 58\" TV Stand - Meble Furniture","id":9885466198178,"position":19,"preview_image":{"aspect_ratio":1.0,"height":1000,"width":1000,"src":"https:\/\/cdn.shopify.com\/s\/files\/1\/2781\/6416\/products\/walnutblack3_c7a55b25-cfcc-49f9-bee5-2a3c53d1dd15.jpg?v=1593623006"},"aspect_ratio":1.0,"height":1000,"media_type":"image","src":"https:\/\/cdn.shopify.com\/s\/files\/1\/2781\/6416\/products\/walnutblack3_c7a55b25-cfcc-49f9-bee5-2a3c53d1dd15.jpg?v=1593623006","width":1000},{"alt":"Milano 145EF Electric Fireplace Modern 58\" TV Stand - Meble Furniture","id":11815417315490,"position":20,"preview_image":{"aspect_ratio":1.0,"height":1000,"width":1000,"src":"https:\/\/cdn.shopify.com\/s\/files\/1\/2781\/6416\/products\/BLUEFIRE_4cfabbe3-74e3-4fc7-9033-28a23000da83.jpg?v=1602188304"},"aspect_ratio":1.0,"height":1000,"media_type":"image","src":"https:\/\/cdn.shopify.com\/s\/files\/1\/2781\/6416\/products\/BLUEFIRE_4cfabbe3-74e3-4fc7-9033-28a23000da83.jpg?v=1602188304","width":1000},{"alt":"Milano 145EF Electric Fireplace Modern 58\" TV Stand - Meble Furniture","id":11815417282722,"position":21,"preview_image":{"aspect_ratio":1.0,"height":1000,"width":1000,"src":"https:\/\/cdn.shopify.com\/s\/files\/1\/2781\/6416\/products\/FIREPLACESTACKED_9cc37279-d86f-4aca-bede-aaad7b77d3a6.jpg?v=1602188304"},"aspect_ratio":1.0,"height":1000,"media_type":"image","src":"https:\/\/cdn.shopify.com\/s\/files\/1\/2781\/6416\/products\/FIREPLACESTACKED_9cc37279-d86f-4aca-bede-aaad7b77d3a6.jpg?v=1602188304","width":1000},{"alt":"Milano 145EF Electric Fireplace Modern 58\" TV Stand - Meble Furniture","id":12597961556130,"position":22,"preview_image":{"aspect_ratio":1.0,"height":1000,"width":1000,"src":"https:\/\/cdn.shopify.com\/s\/files\/1\/2781\/6416\/products\/Milano145EF_83e508c3-52fb-44d5-b7e3-02d13af2bda2.png?v=1606088610"},"aspect_ratio":1.0,"height":1000,"media_type":"image","src":"https:\/\/cdn.shopify.com\/s\/files\/1\/2781\/6416\/products\/Milano145EF_83e508c3-52fb-44d5-b7e3-02d13af2bda2.png?v=1606088610","width":1000},{"alt":"Milano 145EF Electric Fireplace Modern 58\" TV Stand - Meble Furniture","id":6360142086196,"position":23,"preview_image":{"aspect_ratio":1.0,"height":1000,"width":1000,"src":"https:\/\/cdn.shopify.com\/s\/files\/1\/2781\/6416\/products\/whiteblack_402d779e-b186-41f3-b0ae-1d9579e86189.jpg?v=1586211693"},"aspect_ratio":1.0,"height":1000,"media_type":"image","src":"https:\/\/cdn.shopify.com\/s\/files\/1\/2781\/6416\/products\/whiteblack_402d779e-b186-41f3-b0ae-1d9579e86189.jpg?v=1586211693","width":1000},{"alt":"Milano 145EF Electric Fireplace Modern 58\" TV Stand - Meble Furniture","id":6360142118964,"position":24,"preview_image":{"aspect_ratio":1.0,"height":1000,"width":1000,"src":"https:\/\/cdn.shopify.com\/s\/files\/1\/2781\/6416\/products\/whiteblack2_e3f22594-5400-4ead-8201-ed10330fb652.jpg?v=1586211692"},"aspect_ratio":1.0,"height":1000,"media_type":"image","src":"https:\/\/cdn.shopify.com\/s\/files\/1\/2781\/6416\/products\/whiteblack2_e3f22594-5400-4ead-8201-ed10330fb652.jpg?v=1586211692","width":1000},{"alt":"Milano 145EF Electric Fireplace Modern 58\" TV Stand - Meble Furniture","id":6360142151732,"position":25,"preview_image":{"aspect_ratio":1.0,"height":1000,"width":1000,"src":"https:\/\/cdn.shopify.com\/s\/files\/1\/2781\/6416\/products\/whiteblack3_7adf3d8b-cc10-48bd-85dd-32c7ce130638.jpg?v=1586211690"},"aspect_ratio":1.0,"height":1000,"media_type":"image","src":"https:\/\/cdn.shopify.com\/s\/files\/1\/2781\/6416\/products\/whiteblack3_7adf3d8b-cc10-48bd-85dd-32c7ce130638.jpg?v=1586211690","width":1000},{"alt":"Milano 145EF Electric Fireplace Modern 58\" TV Stand - Meble Furniture","id":6360142184500,"position":26,"preview_image":{"aspect_ratio":1.0,"height":1000,"width":1000,"src":"https:\/\/cdn.shopify.com\/s\/files\/1\/2781\/6416\/products\/whiteblack4_03ec981a-08ef-491c-8e62-6b7f81ad34d8.jpg?v=1586211692"},"aspect_ratio":1.0,"height":1000,"media_type":"image","src":"https:\/\/cdn.shopify.com\/s\/files\/1\/2781\/6416\/products\/whiteblack4_03ec981a-08ef-491c-8e62-6b7f81ad34d8.jpg?v=1586211692","width":1000},{"alt":"Milano 145EF Electric Fireplace Modern 58\" TV Stand - Meble Furniture","id":6360142217268,"position":27,"preview_image":{"aspect_ratio":1.0,"height":1000,"width":1000,"src":"https:\/\/cdn.shopify.com\/s\/files\/1\/2781\/6416\/products\/whiteblack5_ac69290a-6fc5-468f-9d6e-5d7c2b7dd6cb.jpg?v=1586211691"},"aspect_ratio":1.0,"height":1000,"media_type":"image","src":"https:\/\/cdn.shopify.com\/s\/files\/1\/2781\/6416\/products\/whiteblack5_ac69290a-6fc5-468f-9d6e-5d7c2b7dd6cb.jpg?v=1586211691","width":1000},{"alt":"Milano 145EF Electric Fireplace Modern 58\" TV Stand - Meble Furniture","id":11815388479650,"position":28,"preview_image":{"aspect_ratio":1.0,"height":1000,"width":1000,"src":"https:\/\/cdn.shopify.com\/s\/files\/1\/2781\/6416\/products\/BLUEFIRE_8ce45d1a-8678-4969-9acd-05e7ee67a499.jpg?v=1602188177"},"aspect_ratio":1.0,"height":1000,"media_type":"image","src":"https:\/\/cdn.shopify.com\/s\/files\/1\/2781\/6416\/products\/BLUEFIRE_8ce45d1a-8678-4969-9acd-05e7ee67a499.jpg?v=1602188177","width":1000},{"alt":"Milano 145EF Electric Fireplace Modern 58\" TV Stand - Meble Furniture","id":11815388446882,"position":29,"preview_image":{"aspect_ratio":1.0,"height":1000,"width":1000,"src":"https:\/\/cdn.shopify.com\/s\/files\/1\/2781\/6416\/products\/FIREPLACESTACKED_61aab415-9609-4e0a-8d58-601aa49c9a6f.jpg?v=1602188177"},"aspect_ratio":1.0,"height":1000,"media_type":"image","src":"https:\/\/cdn.shopify.com\/s\/files\/1\/2781\/6416\/products\/FIREPLACESTACKED_61aab415-9609-4e0a-8d58-601aa49c9a6f.jpg?v=1602188177","width":1000},{"alt":"Milano 145EF Electric Fireplace Modern 58\" TV Stand - Meble Furniture","id":12597955559586,"position":30,"preview_image":{"aspect_ratio":1.0,"height":1000,"width":1000,"src":"https:\/\/cdn.shopify.com\/s\/files\/1\/2781\/6416\/products\/Milano145EF_df91b1ce-db7f-4a69-9ea0-3c8ba3a2bb32.png?v=1606088561"},"aspect_ratio":1.0,"height":1000,"media_type":"image","src":"https:\/\/cdn.shopify.com\/s\/files\/1\/2781\/6416\/products\/Milano145EF_df91b1ce-db7f-4a69-9ea0-3c8ba3a2bb32.png?v=1606088561","width":1000}],"requires_selling_plan":false,"selling_plan_groups":[],"content":"\u003cul\u003e\n\u003cli\u003eMilano 145EF Electric Fireplace 58\" TV Stand - Modern TV Stand \/ TV Console \/ TV Cabinet \/ Central Entertainment Center\u003c\/li\u003e\n\u003cli\u003eFits up to 65 inch TVs\u003c\/li\u003e\n\u003cli\u003eHigh gloss fronts with matte body\u003c\/li\u003e\n\u003cli\u003e18\" wide electric fireplace insert included with remote control and on\/off control, 3 changeable flame colors, temperature control, timer setting, and dimmer\u003c\/li\u003e\n\u003cli\u003e16 color LED light system included with color control and on\/off remote\u003c\/li\u003e\n\u003cli\u003eManufactured in and imported from the European Union\u003c\/li\u003e\n\u003cli\u003eModern and unique contemporary design\u003c\/li\u003e\n\u003cli\u003ePerfect for those in need of living room storage space\u003c\/li\u003e\n\u003cli\u003eFlat packed and ready to ship\u003c\/li\u003e\n\u003cli\u003eDimensions: 22 inches height x 57.5 inches width x 13.8 inches depth\u003c\/li\u003e\n\u003c\/ul\u003e\n\u003cdetails\u003e \u003csummary\u003eInformation for California Residents\u003c\/summary\u003e\n\u003cp\u003eCalifornia Proposition 65 Warning: This product can expose you to chemicals including Diisodecyl phthalate (DIDP) and Diisononyl phthalate (DINP), which are known to the State of California to cause cancer and\/or birth defects or other reproductive harm. For more information go to www.P65Warnings.ca.gov.\u003c\/p\u003e\n\u003c\/details\u003e"}
Milano 145EF Electric Fireplace 58" TV Stand
Ratings & Reviews
Customer Reviews
Write a Review
Ask a Question
Filter Reviews:
tv stand
anyone
instructions
assembly
Meble Furniture
LED colors
fire
cabinet
panels
stickers
11/02/2020
Savina C.

United States
Eh
The assembly instructions were not always easy to understand. I've put together entire kitchens and this was the worst to put together. It's much smaller than I anticipated. I guess I should have looked at the dimensions more carefully. Last thing, I thought the entire unit was high gloss. Only the 2 front doors are. Not worth the price.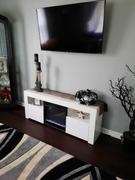 09/17/2020
Sharita C.

United States
08/02/2020
Anonymous

United States
Lovely product
I love the overall outcome with a very cool fireplace for my TV stand. However, the instructions were drawings with pieces numbered only. I had to hire a handyman to put it all together. Even after three hours, there were some pieces that didn't work and were not numbered in the one page drawing instructions. Worded instructions in English would have been helpful.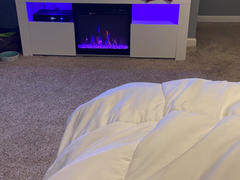 05/10/2021
Anonymous

United States
Terrible Instruction
Love the unit but putting together was a nightmare. Otherwise, beautiful.
03/30/2021
Denise P.

United States
Not as nice as I hoped
I hired someone to put this together. They said it was the worst set of directions they had ever seen. As a slap in the face, the company sent me an email saying throw out the instructions, watch the the video! Guess what, no video for this model!! This is an experienced handyman with over 175 furniture building jobs under his belt. After 2.5 hours, he finally got it together. I didn't read the dimensions carefully, the fireplace is tiny! All and all, it's just OK.