{"id":3959330209834,"title":"Aria 3D Wardrobe with Mirror","handle":"aria-3d-wardrobe-with-mirror","description":"\u003cul\u003e\n\u003cli\u003eAria 3 Door 71\" Wide Wardrobe Armoire with Mirror\u003c\/li\u003e\n\u003cli\u003eGlass fronts with matte body\u003c\/li\u003e\n\u003cli\u003eManufactured in and imported from the European Union\u003c\/li\u003e\n\u003cli\u003eModern and unique contemporary design\u003c\/li\u003e\n\u003cli\u003ePerfect for those in need of living room storage space\u003c\/li\u003e\n\u003cli\u003eFlat packed and ready to ship\u003c\/li\u003e\n\u003cli\u003eDimensions: 82 inches height x 71 inches width x 26 inches depth\u003c\/li\u003e\n\u003c\/ul\u003e","published_at":"2019-09-10T15:33:39-04:00","created_at":"2019-09-10T15:35:24-04:00","vendor":"Meble Furniture","type":"Armoires \u0026 Wardrobes","tags":["3 Door Wardrobes","Bedroom Accessories","dimensions-82\" H x 71\" W x 26\" D","ltl","spo-default","spo-enabled","Wardrobes with Mirror"],"price":119900,"price_min":119900,"price_max":149900,"available":true,"price_varies":true,"compare_at_price":null,"compare_at_price_min":0,"compare_at_price_max":0,"compare_at_price_varies":false,"variants":[{"id":29563897577514,"title":"White","option1":"White","option2":null,"option3":null,"sku":"ARIA3DWHITEMIRR","requires_shipping":true,"taxable":true,"featured_image":{"id":34564664361122,"product_id":3959330209834,"position":1,"created_at":"2022-12-12T23:00:21-05:00","updated_at":"2022-12-12T23:01:03-05:00","alt":"Aria 3D Wardrobe with Mirror - Meble Furniture","width":1000,"height":1000,"src":"\/\/www.meblefurniture.com\/cdn\/shop\/products\/White_01941e74-f24e-4613-9526-cf616c1c53dd.png?v=1670904063","variant_ids":[29563897577514]},"available":true,"name":"Aria 3D Wardrobe with Mirror - White","public_title":"White","options":["White"],"price":149900,"weight":0,"compare_at_price":null,"inventory_management":"shopify","barcode":"00840227600450","featured_media":{"alt":"Aria 3D Wardrobe with Mirror - Meble Furniture","id":27231176818850,"position":1,"preview_image":{"aspect_ratio":1.0,"height":1000,"width":1000,"src":"\/\/www.meblefurniture.com\/cdn\/shop\/products\/White_01941e74-f24e-4613-9526-cf616c1c53dd.png?v=1670904063"}},"requires_selling_plan":false,"selling_plan_allocations":[],"quantity_rule":{"min":1,"max":null,"increment":1}},{"id":29563897544746,"title":"Black","option1":"Black","option2":null,"option3":null,"sku":"ARIA3DBLACKMIRR","requires_shipping":true,"taxable":true,"featured_image":{"id":34564665409698,"product_id":3959330209834,"position":6,"created_at":"2022-12-12T23:00:31-05:00","updated_at":"2022-12-12T23:01:26-05:00","alt":"Aria 3D Wardrobe with Mirror - Meble Furniture","width":1000,"height":1000,"src":"\/\/www.meblefurniture.com\/cdn\/shop\/products\/Black_f2b55905-3000-418a-afe0-6336992df418.png?v=1670904086","variant_ids":[29563897544746]},"available":true,"name":"Aria 3D Wardrobe with Mirror - Black","public_title":"Black","options":["Black"],"price":149900,"weight":0,"compare_at_price":null,"inventory_management":"shopify","barcode":"00840227600436","featured_media":{"alt":"Aria 3D Wardrobe with Mirror - Meble Furniture","id":27231178195106,"position":6,"preview_image":{"aspect_ratio":1.0,"height":1000,"width":1000,"src":"\/\/www.meblefurniture.com\/cdn\/shop\/products\/Black_f2b55905-3000-418a-afe0-6336992df418.png?v=1670904086"}},"requires_selling_plan":false,"selling_plan_allocations":[],"quantity_rule":{"min":1,"max":null,"increment":1}},{"id":30726588727338,"title":"Gray","option1":"Gray","option2":null,"option3":null,"sku":"ARIA3DGRAYMIRR","requires_shipping":true,"taxable":true,"featured_image":{"id":34564666687650,"product_id":3959330209834,"position":11,"created_at":"2022-12-12T23:00:41-05:00","updated_at":"2022-12-12T23:01:26-05:00","alt":"Aria 3D Wardrobe with Mirror - Meble Furniture","width":1000,"height":1000,"src":"\/\/www.meblefurniture.com\/cdn\/shop\/products\/Gray_a80c2de8-8a39-4abb-aa51-e1fd5344695b.png?v=1670904086","variant_ids":[30726588727338]},"available":true,"name":"Aria 3D Wardrobe with Mirror - Gray","public_title":"Gray","options":["Gray"],"price":149900,"weight":0,"compare_at_price":null,"inventory_management":"shopify","barcode":"00840227600443","featured_media":{"alt":"Aria 3D Wardrobe with Mirror - Meble Furniture","id":27231179276450,"position":11,"preview_image":{"aspect_ratio":1.0,"height":1000,"width":1000,"src":"\/\/www.meblefurniture.com\/cdn\/shop\/products\/Gray_a80c2de8-8a39-4abb-aa51-e1fd5344695b.png?v=1670904086"}},"requires_selling_plan":false,"selling_plan_allocations":[],"quantity_rule":{"min":1,"max":null,"increment":1}},{"id":42223238774946,"title":"Wenge","option1":"Wenge","option2":null,"option3":null,"sku":"ARIA3DWENGEMIRR","requires_shipping":true,"taxable":true,"featured_image":{"id":34564668162210,"product_id":3959330209834,"position":16,"created_at":"2022-12-12T23:00:56-05:00","updated_at":"2022-12-12T23:01:03-05:00","alt":"Aria 3D Wardrobe with Mirror - Meble Furniture","width":1000,"height":1000,"src":"\/\/www.meblefurniture.com\/cdn\/shop\/products\/Wenge_3722b28c-2e3d-4110-9a74-034a2acc78cd.png?v=1670904063","variant_ids":[42223238774946]},"available":true,"name":"Aria 3D Wardrobe with Mirror - Wenge","public_title":"Wenge","options":["Wenge"],"price":119900,"weight":0,"compare_at_price":null,"inventory_management":"shopify","barcode":"00840227616437","featured_media":{"alt":"Aria 3D Wardrobe with Mirror - Meble Furniture","id":27231180849314,"position":16,"preview_image":{"aspect_ratio":1.0,"height":1000,"width":1000,"src":"\/\/www.meblefurniture.com\/cdn\/shop\/products\/Wenge_3722b28c-2e3d-4110-9a74-034a2acc78cd.png?v=1670904063"}},"requires_selling_plan":false,"selling_plan_allocations":[],"quantity_rule":{"min":1,"max":null,"increment":1}}],"images":["\/\/www.meblefurniture.com\/cdn\/shop\/products\/White_01941e74-f24e-4613-9526-cf616c1c53dd.png?v=1670904063","\/\/www.meblefurniture.com\/cdn\/shop\/products\/White2_5c5b63de-458a-41e2-b8ec-0b741f757b2d.png?v=1670904063","\/\/www.meblefurniture.com\/cdn\/shop\/products\/White3_7e5f4bea-554e-46bb-8e32-b078e620aa1a.png?v=1670904063","\/\/www.meblefurniture.com\/cdn\/shop\/products\/White4_916291d7-7e61-479a-bee5-ae9e48206813.png?v=1670904086","\/\/www.meblefurniture.com\/cdn\/shop\/products\/meble-furniture-armoires-wardrobes-aria-3-door-71-wardrobe-with-mirror-20421898600610.png?v=1670904086","\/\/www.meblefurniture.com\/cdn\/shop\/products\/Black_f2b55905-3000-418a-afe0-6336992df418.png?v=1670904086","\/\/www.meblefurniture.com\/cdn\/shop\/products\/Black2_d511418b-6a96-4718-ac83-0b4b2d56cade.png?v=1670904086","\/\/www.meblefurniture.com\/cdn\/shop\/products\/Black3_39f00a8f-a114-4882-a89a-8362e3aba955.png?v=1670904086","\/\/www.meblefurniture.com\/cdn\/shop\/products\/Black4_93196891-8598-4e9e-a7a8-a4e8de160d70.png?v=1670904086","\/\/www.meblefurniture.com\/cdn\/shop\/products\/meble-furniture-armoires-wardrobes-aria-3-door-71-wardrobe-with-mirror-33281903722658.png?v=1670904086","\/\/www.meblefurniture.com\/cdn\/shop\/products\/Gray_a80c2de8-8a39-4abb-aa51-e1fd5344695b.png?v=1670904086","\/\/www.meblefurniture.com\/cdn\/shop\/products\/Gray2_2a531166-5db5-4606-b6c4-9ba440ac50ce.png?v=1670904063","\/\/www.meblefurniture.com\/cdn\/shop\/products\/Gray3_a3960092-eec9-44a0-b2b4-b01dc69a940f.png?v=1670904063","\/\/www.meblefurniture.com\/cdn\/shop\/products\/Gray4_13114afc-54ac-4787-b950-e5dcba4fb762.png?v=1670904063","\/\/www.meblefurniture.com\/cdn\/shop\/products\/meble-furniture-armoires-wardrobes-aria-3-door-71-wardrobe-with-mirror-20421899452578.png?v=1670904063","\/\/www.meblefurniture.com\/cdn\/shop\/products\/Wenge_3722b28c-2e3d-4110-9a74-034a2acc78cd.png?v=1670904063","\/\/www.meblefurniture.com\/cdn\/shop\/products\/Wenge2_ae3c748f-1979-42c4-9ce5-26ea88d3ed7f.png?v=1670904063","\/\/www.meblefurniture.com\/cdn\/shop\/products\/Wenge3_54077c7c-3809-4259-b2f8-4999934ade7a.png?v=1670904063","\/\/www.meblefurniture.com\/cdn\/shop\/products\/Wenge4_4c972121-c308-4329-b99e-5e6bbbbb609a.png?v=1670904063","\/\/www.meblefurniture.com\/cdn\/shop\/products\/meble-furniture-armoires-wardrobes-aria-3-door-71-wardrobe-with-mirror-20421898469538.png?v=1670904063"],"featured_image":"\/\/www.meblefurniture.com\/cdn\/shop\/products\/White_01941e74-f24e-4613-9526-cf616c1c53dd.png?v=1670904063","options":["Color"],"media":[{"alt":"Aria 3D Wardrobe with Mirror - Meble Furniture","id":27231176818850,"position":1,"preview_image":{"aspect_ratio":1.0,"height":1000,"width":1000,"src":"\/\/www.meblefurniture.com\/cdn\/shop\/products\/White_01941e74-f24e-4613-9526-cf616c1c53dd.png?v=1670904063"},"aspect_ratio":1.0,"height":1000,"media_type":"image","src":"\/\/www.meblefurniture.com\/cdn\/shop\/products\/White_01941e74-f24e-4613-9526-cf616c1c53dd.png?v=1670904063","width":1000},{"alt":"Aria 3D Wardrobe with Mirror - Meble Furniture","id":27231176851618,"position":2,"preview_image":{"aspect_ratio":1.0,"height":1000,"width":1000,"src":"\/\/www.meblefurniture.com\/cdn\/shop\/products\/White2_5c5b63de-458a-41e2-b8ec-0b741f757b2d.png?v=1670904063"},"aspect_ratio":1.0,"height":1000,"media_type":"image","src":"\/\/www.meblefurniture.com\/cdn\/shop\/products\/White2_5c5b63de-458a-41e2-b8ec-0b741f757b2d.png?v=1670904063","width":1000},{"alt":"Aria 3D Wardrobe with Mirror - Meble Furniture","id":27231176884386,"position":3,"preview_image":{"aspect_ratio":1.0,"height":1000,"width":1000,"src":"\/\/www.meblefurniture.com\/cdn\/shop\/products\/White3_7e5f4bea-554e-46bb-8e32-b078e620aa1a.png?v=1670904063"},"aspect_ratio":1.0,"height":1000,"media_type":"image","src":"\/\/www.meblefurniture.com\/cdn\/shop\/products\/White3_7e5f4bea-554e-46bb-8e32-b078e620aa1a.png?v=1670904063","width":1000},{"alt":"Aria 3D Wardrobe with Mirror - Meble Furniture","id":27231176786082,"position":4,"preview_image":{"aspect_ratio":1.0,"height":1000,"width":1000,"src":"\/\/www.meblefurniture.com\/cdn\/shop\/products\/White4_916291d7-7e61-479a-bee5-ae9e48206813.png?v=1670904086"},"aspect_ratio":1.0,"height":1000,"media_type":"image","src":"\/\/www.meblefurniture.com\/cdn\/shop\/products\/White4_916291d7-7e61-479a-bee5-ae9e48206813.png?v=1670904086","width":1000},{"alt":"Aria 3 Door 71\" Wardrobe with Mirror - Meble Furniture","id":26825452814498,"position":5,"preview_image":{"aspect_ratio":1.0,"height":1000,"width":1000,"src":"\/\/www.meblefurniture.com\/cdn\/shop\/products\/meble-furniture-armoires-wardrobes-aria-3-door-71-wardrobe-with-mirror-20421898600610.png?v=1670904086"},"aspect_ratio":1.0,"height":1000,"media_type":"image","src":"\/\/www.meblefurniture.com\/cdn\/shop\/products\/meble-furniture-armoires-wardrobes-aria-3-door-71-wardrobe-with-mirror-20421898600610.png?v=1670904086","width":1000},{"alt":"Aria 3D Wardrobe with Mirror - Meble Furniture","id":27231178195106,"position":6,"preview_image":{"aspect_ratio":1.0,"height":1000,"width":1000,"src":"\/\/www.meblefurniture.com\/cdn\/shop\/products\/Black_f2b55905-3000-418a-afe0-6336992df418.png?v=1670904086"},"aspect_ratio":1.0,"height":1000,"media_type":"image","src":"\/\/www.meblefurniture.com\/cdn\/shop\/products\/Black_f2b55905-3000-418a-afe0-6336992df418.png?v=1670904086","width":1000},{"alt":"Aria 3D Wardrobe with Mirror - Meble Furniture","id":27231178227874,"position":7,"preview_image":{"aspect_ratio":1.0,"height":1000,"width":1000,"src":"\/\/www.meblefurniture.com\/cdn\/shop\/products\/Black2_d511418b-6a96-4718-ac83-0b4b2d56cade.png?v=1670904086"},"aspect_ratio":1.0,"height":1000,"media_type":"image","src":"\/\/www.meblefurniture.com\/cdn\/shop\/products\/Black2_d511418b-6a96-4718-ac83-0b4b2d56cade.png?v=1670904086","width":1000},{"alt":"Aria 3D Wardrobe with Mirror - Meble Furniture","id":27231178260642,"position":8,"preview_image":{"aspect_ratio":1.0,"height":1000,"width":1000,"src":"\/\/www.meblefurniture.com\/cdn\/shop\/products\/Black3_39f00a8f-a114-4882-a89a-8362e3aba955.png?v=1670904086"},"aspect_ratio":1.0,"height":1000,"media_type":"image","src":"\/\/www.meblefurniture.com\/cdn\/shop\/products\/Black3_39f00a8f-a114-4882-a89a-8362e3aba955.png?v=1670904086","width":1000},{"alt":"Aria 3D Wardrobe with Mirror - Meble Furniture","id":27231178162338,"position":9,"preview_image":{"aspect_ratio":1.0,"height":1000,"width":1000,"src":"\/\/www.meblefurniture.com\/cdn\/shop\/products\/Black4_93196891-8598-4e9e-a7a8-a4e8de160d70.png?v=1670904086"},"aspect_ratio":1.0,"height":1000,"media_type":"image","src":"\/\/www.meblefurniture.com\/cdn\/shop\/products\/Black4_93196891-8598-4e9e-a7a8-a4e8de160d70.png?v=1670904086","width":1000},{"alt":"Aria 3 Door 71\" Wardrobe with Mirror - Meble Furniture","id":26825455829154,"position":10,"preview_image":{"aspect_ratio":1.0,"height":1000,"width":1000,"src":"\/\/www.meblefurniture.com\/cdn\/shop\/products\/meble-furniture-armoires-wardrobes-aria-3-door-71-wardrobe-with-mirror-33281903722658.png?v=1670904086"},"aspect_ratio":1.0,"height":1000,"media_type":"image","src":"\/\/www.meblefurniture.com\/cdn\/shop\/products\/meble-furniture-armoires-wardrobes-aria-3-door-71-wardrobe-with-mirror-33281903722658.png?v=1670904086","width":1000},{"alt":"Aria 3D Wardrobe with Mirror - Meble Furniture","id":27231179276450,"position":11,"preview_image":{"aspect_ratio":1.0,"height":1000,"width":1000,"src":"\/\/www.meblefurniture.com\/cdn\/shop\/products\/Gray_a80c2de8-8a39-4abb-aa51-e1fd5344695b.png?v=1670904086"},"aspect_ratio":1.0,"height":1000,"media_type":"image","src":"\/\/www.meblefurniture.com\/cdn\/shop\/products\/Gray_a80c2de8-8a39-4abb-aa51-e1fd5344695b.png?v=1670904086","width":1000},{"alt":"Aria 3D Wardrobe with Mirror - Meble Furniture","id":27231179309218,"position":12,"preview_image":{"aspect_ratio":1.0,"height":1000,"width":1000,"src":"\/\/www.meblefurniture.com\/cdn\/shop\/products\/Gray2_2a531166-5db5-4606-b6c4-9ba440ac50ce.png?v=1670904063"},"aspect_ratio":1.0,"height":1000,"media_type":"image","src":"\/\/www.meblefurniture.com\/cdn\/shop\/products\/Gray2_2a531166-5db5-4606-b6c4-9ba440ac50ce.png?v=1670904063","width":1000},{"alt":"Aria 3D Wardrobe with Mirror - Meble Furniture","id":27231179341986,"position":13,"preview_image":{"aspect_ratio":1.0,"height":1000,"width":1000,"src":"\/\/www.meblefurniture.com\/cdn\/shop\/products\/Gray3_a3960092-eec9-44a0-b2b4-b01dc69a940f.png?v=1670904063"},"aspect_ratio":1.0,"height":1000,"media_type":"image","src":"\/\/www.meblefurniture.com\/cdn\/shop\/products\/Gray3_a3960092-eec9-44a0-b2b4-b01dc69a940f.png?v=1670904063","width":1000},{"alt":"Aria 3D Wardrobe with Mirror - Meble Furniture","id":27231179243682,"position":14,"preview_image":{"aspect_ratio":1.0,"height":1000,"width":1000,"src":"\/\/www.meblefurniture.com\/cdn\/shop\/products\/Gray4_13114afc-54ac-4787-b950-e5dcba4fb762.png?v=1670904063"},"aspect_ratio":1.0,"height":1000,"media_type":"image","src":"\/\/www.meblefurniture.com\/cdn\/shop\/products\/Gray4_13114afc-54ac-4787-b950-e5dcba4fb762.png?v=1670904063","width":1000},{"alt":"Aria 3 Door 71\" Wardrobe with Mirror - Meble Furniture","id":26825454551202,"position":15,"preview_image":{"aspect_ratio":1.0,"height":1000,"width":1000,"src":"\/\/www.meblefurniture.com\/cdn\/shop\/products\/meble-furniture-armoires-wardrobes-aria-3-door-71-wardrobe-with-mirror-20421899452578.png?v=1670904063"},"aspect_ratio":1.0,"height":1000,"media_type":"image","src":"\/\/www.meblefurniture.com\/cdn\/shop\/products\/meble-furniture-armoires-wardrobes-aria-3-door-71-wardrobe-with-mirror-20421899452578.png?v=1670904063","width":1000},{"alt":"Aria 3D Wardrobe with Mirror - Meble Furniture","id":27231180849314,"position":16,"preview_image":{"aspect_ratio":1.0,"height":1000,"width":1000,"src":"\/\/www.meblefurniture.com\/cdn\/shop\/products\/Wenge_3722b28c-2e3d-4110-9a74-034a2acc78cd.png?v=1670904063"},"aspect_ratio":1.0,"height":1000,"media_type":"image","src":"\/\/www.meblefurniture.com\/cdn\/shop\/products\/Wenge_3722b28c-2e3d-4110-9a74-034a2acc78cd.png?v=1670904063","width":1000},{"alt":"Aria 3D Wardrobe with Mirror - Meble Furniture","id":27231180882082,"position":17,"preview_image":{"aspect_ratio":1.0,"height":1000,"width":1000,"src":"\/\/www.meblefurniture.com\/cdn\/shop\/products\/Wenge2_ae3c748f-1979-42c4-9ce5-26ea88d3ed7f.png?v=1670904063"},"aspect_ratio":1.0,"height":1000,"media_type":"image","src":"\/\/www.meblefurniture.com\/cdn\/shop\/products\/Wenge2_ae3c748f-1979-42c4-9ce5-26ea88d3ed7f.png?v=1670904063","width":1000},{"alt":"Aria 3D Wardrobe with Mirror - Meble Furniture","id":27231180914850,"position":18,"preview_image":{"aspect_ratio":1.0,"height":1000,"width":1000,"src":"\/\/www.meblefurniture.com\/cdn\/shop\/products\/Wenge3_54077c7c-3809-4259-b2f8-4999934ade7a.png?v=1670904063"},"aspect_ratio":1.0,"height":1000,"media_type":"image","src":"\/\/www.meblefurniture.com\/cdn\/shop\/products\/Wenge3_54077c7c-3809-4259-b2f8-4999934ade7a.png?v=1670904063","width":1000},{"alt":"Aria 3D Wardrobe with Mirror - Meble Furniture","id":27231180816546,"position":19,"preview_image":{"aspect_ratio":1.0,"height":1000,"width":1000,"src":"\/\/www.meblefurniture.com\/cdn\/shop\/products\/Wenge4_4c972121-c308-4329-b99e-5e6bbbbb609a.png?v=1670904063"},"aspect_ratio":1.0,"height":1000,"media_type":"image","src":"\/\/www.meblefurniture.com\/cdn\/shop\/products\/Wenge4_4c972121-c308-4329-b99e-5e6bbbbb609a.png?v=1670904063","width":1000},{"alt":"Aria 3 Door 71\" Wardrobe with Mirror - Meble Furniture","id":26825453273250,"position":20,"preview_image":{"aspect_ratio":1.0,"height":1000,"width":1000,"src":"\/\/www.meblefurniture.com\/cdn\/shop\/products\/meble-furniture-armoires-wardrobes-aria-3-door-71-wardrobe-with-mirror-20421898469538.png?v=1670904063"},"aspect_ratio":1.0,"height":1000,"media_type":"image","src":"\/\/www.meblefurniture.com\/cdn\/shop\/products\/meble-furniture-armoires-wardrobes-aria-3-door-71-wardrobe-with-mirror-20421898469538.png?v=1670904063","width":1000}],"requires_selling_plan":false,"selling_plan_groups":[],"content":"\u003cul\u003e\n\u003cli\u003eAria 3 Door 71\" Wide Wardrobe Armoire with Mirror\u003c\/li\u003e\n\u003cli\u003eGlass fronts with matte body\u003c\/li\u003e\n\u003cli\u003eManufactured in and imported from the European Union\u003c\/li\u003e\n\u003cli\u003eModern and unique contemporary design\u003c\/li\u003e\n\u003cli\u003ePerfect for those in need of living room storage space\u003c\/li\u003e\n\u003cli\u003eFlat packed and ready to ship\u003c\/li\u003e\n\u003cli\u003eDimensions: 82 inches height x 71 inches width x 26 inches depth\u003c\/li\u003e\n\u003c\/ul\u003e"}
Aria 3D Wardrobe with Mirror
REAL CUSTOMER PHOTOS
Ratings & Reviews
Customer Reviews
Write a Review
Ask a Question
Filter Reviews:
Milano TV Stand
Connor
sectional
Aria
3door
mirror
clothing
space
Brooklyn
lifesaver
11/13/2020
Jordan

United States
No space wasted, thoughtful design!
Living in a small Brooklyn apartment Meble Furniture has been a lifesaver! Not only are the products super stylish, but they are also incredibly functional. There is little to no wasted space, especially in the Aria 3door. The fact that it can store all my clothing AND help me eliminate space wasted with a mirror is a game-changer. We have also purchased the Milano TV Stand and the Connor sectional. Each piece brings more and more storage into our home, and I could not be happier! Thanks, Meble Furniture!!!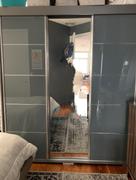 Good closet with a flaw
Decent quality wardrobe. The side strips don't stick to the sliding doors regardless how you try to adhere them. Replacement strips received, but all tangled up and still DON'T STICK. Very frustrating...
This wardrobe has a very modern and stylish appearance we can't get enough of.
It took a bit more time to assemble than the instructions said. We love the furniture we ended up with, though. Made it all worth it. There's an amazing amount of storage in these pieces. Such a sleek, clean design I can't recommend enough.