{"id":3959331160106,"title":"Aria 3D Wardrobe with All Mirror","handle":"aria-3d-wardrobe-with-all-mirror","description":"\u003cul\u003e\n\u003cli\u003eAria 3 Door 71\" Wide Wardrobe Armoire with All Mirror Fronts\u003c\/li\u003e\n\u003cli\u003eGlass fronts with matte body\u003c\/li\u003e\n\u003cli\u003eManufactured in and imported from the European Union\u003c\/li\u003e\n\u003cli\u003eModern and unique contemporary design\u003c\/li\u003e\n\u003cli\u003ePerfect for those in need of living room storage space\u003c\/li\u003e\n\u003cli\u003eFlat packed and ready to ship\u003c\/li\u003e\n\u003cli\u003eDimensions: 82 inches height x 71 inches width x 26 inches depth\u003c\/li\u003e\n\u003c\/ul\u003e","published_at":"2019-09-10T15:36:38-04:00","created_at":"2019-09-10T15:38:19-04:00","vendor":"Meble Furniture","type":"Armoires \u0026 Wardrobes","tags":["3 Door Wardrobes","Bedroom Accessories","dimensions-82\" H x 71\" W x 26\" D","ltl","spo-default","spo-enabled","Wardrobes with Mirror"],"price":119900,"price_min":119900,"price_max":149900,"available":true,"price_varies":true,"compare_at_price":null,"compare_at_price_min":0,"compare_at_price_max":0,"compare_at_price_varies":false,"variants":[{"id":29563901345834,"title":"White","option1":"White","option2":null,"option3":null,"sku":"ARIA3DWHITEMIRRMIRR","requires_shipping":true,"taxable":true,"featured_image":{"id":34564654629026,"product_id":3959331160106,"position":1,"created_at":"2022-12-12T22:58:12-05:00","updated_at":"2022-12-12T22:58:52-05:00","alt":"Aria 3D Wardrobe with All Mirror - Meble Furniture","width":1000,"height":1000,"src":"\/\/www.meblefurniture.com\/cdn\/shop\/products\/White_df64a0bb-d6dc-432e-be92-d4bbe0a6c097.png?v=1670903932","variant_ids":[29563901345834]},"available":true,"name":"Aria 3D Wardrobe with All Mirror - White","public_title":"White","options":["White"],"price":149900,"weight":0,"compare_at_price":null,"inventory_management":"shopify","barcode":"00840227600429","featured_media":{"alt":"Aria 3D Wardrobe with All Mirror - Meble Furniture","id":27231166693538,"position":1,"preview_image":{"aspect_ratio":1.0,"height":1000,"width":1000,"src":"\/\/www.meblefurniture.com\/cdn\/shop\/products\/White_df64a0bb-d6dc-432e-be92-d4bbe0a6c097.png?v=1670903932"}},"requires_selling_plan":false,"selling_plan_allocations":[],"quantity_rule":{"min":1,"max":null,"increment":1}},{"id":29563901313066,"title":"Black","option1":"Black","option2":null,"option3":null,"sku":"ARIA3DBLACKMIRRMIRR","requires_shipping":true,"taxable":true,"featured_image":{"id":34564655841442,"product_id":3959331160106,"position":6,"created_at":"2022-12-12T22:58:22-05:00","updated_at":"2022-12-12T22:59:46-05:00","alt":"Aria 3D Wardrobe with All Mirror - Meble Furniture","width":1000,"height":1000,"src":"\/\/www.meblefurniture.com\/cdn\/shop\/products\/Black_969c3089-7088-4930-8632-4e2cdff5ff09.png?v=1670903986","variant_ids":[29563901313066]},"available":true,"name":"Aria 3D Wardrobe with All Mirror - Black","public_title":"Black","options":["Black"],"price":149900,"weight":0,"compare_at_price":null,"inventory_management":"shopify","barcode":"00840227600405","featured_media":{"alt":"Aria 3D Wardrobe with All Mirror - Meble Furniture","id":27231168135330,"position":6,"preview_image":{"aspect_ratio":1.0,"height":1000,"width":1000,"src":"\/\/www.meblefurniture.com\/cdn\/shop\/products\/Black_969c3089-7088-4930-8632-4e2cdff5ff09.png?v=1670903986"}},"requires_selling_plan":false,"selling_plan_allocations":[],"quantity_rule":{"min":1,"max":null,"increment":1}},{"id":30726588137514,"title":"Gray","option1":"Gray","option2":null,"option3":null,"sku":"ARIA3DGRAYMIRRMIRR","requires_shipping":true,"taxable":true,"featured_image":{"id":34564657381538,"product_id":3959331160106,"position":11,"created_at":"2022-12-12T22:58:36-05:00","updated_at":"2022-12-12T22:59:46-05:00","alt":"Aria 3D Wardrobe with All Mirror - Meble Furniture","width":1000,"height":1000,"src":"\/\/www.meblefurniture.com\/cdn\/shop\/products\/Gray_3a3e0400-5ff1-4ce2-86b3-b18d204b52fa.png?v=1670903986","variant_ids":[30726588137514]},"available":true,"name":"Aria 3D Wardrobe with All Mirror - Gray","public_title":"Gray","options":["Gray"],"price":149900,"weight":0,"compare_at_price":null,"inventory_management":"shopify","barcode":"00840227600412","featured_media":{"alt":"Aria 3D Wardrobe with All Mirror - Meble Furniture","id":27231169773730,"position":11,"preview_image":{"aspect_ratio":1.0,"height":1000,"width":1000,"src":"\/\/www.meblefurniture.com\/cdn\/shop\/products\/Gray_3a3e0400-5ff1-4ce2-86b3-b18d204b52fa.png?v=1670903986"}},"requires_selling_plan":false,"selling_plan_allocations":[],"quantity_rule":{"min":1,"max":null,"increment":1}},{"id":42223226978466,"title":"Wenge","option1":"Wenge","option2":null,"option3":null,"sku":"ARIA3DWENGEMIRRMIRR","requires_shipping":true,"taxable":true,"featured_image":{"id":34564658266274,"product_id":3959331160106,"position":16,"created_at":"2022-12-12T22:58:49-05:00","updated_at":"2022-12-12T22:58:58-05:00","alt":"Aria 3D Wardrobe with All Mirror - Meble Furniture","width":1000,"height":1000,"src":"\/\/www.meblefurniture.com\/cdn\/shop\/products\/Wenge_379b8be9-40ea-45d0-aeb7-a44dbb25249f.png?v=1670903938","variant_ids":[42223226978466]},"available":true,"name":"Aria 3D Wardrobe with All Mirror - Wenge","public_title":"Wenge","options":["Wenge"],"price":119900,"weight":0,"compare_at_price":null,"inventory_management":"shopify","barcode":"00840227616444","featured_media":{"alt":"Aria 3D Wardrobe with All Mirror - Meble Furniture","id":27231170494626,"position":16,"preview_image":{"aspect_ratio":1.0,"height":1000,"width":1000,"src":"\/\/www.meblefurniture.com\/cdn\/shop\/products\/Wenge_379b8be9-40ea-45d0-aeb7-a44dbb25249f.png?v=1670903938"}},"requires_selling_plan":false,"selling_plan_allocations":[],"quantity_rule":{"min":1,"max":null,"increment":1}}],"images":["\/\/www.meblefurniture.com\/cdn\/shop\/products\/White_df64a0bb-d6dc-432e-be92-d4bbe0a6c097.png?v=1670903932","\/\/www.meblefurniture.com\/cdn\/shop\/products\/White2_7efc3a55-63bf-4e17-88c6-d4427556889d.png?v=1670903932","\/\/www.meblefurniture.com\/cdn\/shop\/products\/White3_fac179de-fe06-4ba5-b38b-dbd3d9c60eec.png?v=1670903932","\/\/www.meblefurniture.com\/cdn\/shop\/products\/White4_b0ba5664-e9f3-4399-bc4a-71506712af71.png?v=1670903932","\/\/www.meblefurniture.com\/cdn\/shop\/products\/meble-furniture-armoires-wardrobes-aria-3-door-71-wardrobe-with-all-mirror-fronts-20421891391650.png?v=1670903986","\/\/www.meblefurniture.com\/cdn\/shop\/products\/Black_969c3089-7088-4930-8632-4e2cdff5ff09.png?v=1670903986","\/\/www.meblefurniture.com\/cdn\/shop\/products\/Black2_113953f9-2fbd-4b74-8541-49bd358dd567.png?v=1670903986","\/\/www.meblefurniture.com\/cdn\/shop\/products\/Black3_279beee1-6d33-493a-a035-0df3c4943711.png?v=1670903986","\/\/www.meblefurniture.com\/cdn\/shop\/products\/Black4_856a8bd5-7ded-4e91-96f2-a8d2eb1cca15.png?v=1670903986","\/\/www.meblefurniture.com\/cdn\/shop\/products\/meble-furniture-armoires-wardrobes-aria-3-door-71-wardrobe-with-all-mirror-fronts-33281886453922.png?v=1670903986","\/\/www.meblefurniture.com\/cdn\/shop\/products\/Gray_3a3e0400-5ff1-4ce2-86b3-b18d204b52fa.png?v=1670903986","\/\/www.meblefurniture.com\/cdn\/shop\/products\/Gray2_39de2ee1-b7de-4917-9311-8af69fadb0b7.png?v=1670903986","\/\/www.meblefurniture.com\/cdn\/shop\/products\/Gray3_d6915c55-b498-4e69-bd4c-28204e541ff7.png?v=1670903938","\/\/www.meblefurniture.com\/cdn\/shop\/products\/Gray4_c86ebd35-09e3-482f-a479-6d2d6c13b0ef.png?v=1670903938","\/\/www.meblefurniture.com\/cdn\/shop\/products\/meble-furniture-armoires-wardrobes-aria-3-door-71-wardrobe-with-all-mirror-fronts-20421891621026.png?v=1670903938","\/\/www.meblefurniture.com\/cdn\/shop\/products\/Wenge_379b8be9-40ea-45d0-aeb7-a44dbb25249f.png?v=1670903938","\/\/www.meblefurniture.com\/cdn\/shop\/products\/Wenge2_8402a483-2467-4178-a66c-e8edf8ffb984.png?v=1670903938","\/\/www.meblefurniture.com\/cdn\/shop\/products\/Wenge3_d54d49a7-7259-4a11-a420-259bb62fef58.png?v=1670903938","\/\/www.meblefurniture.com\/cdn\/shop\/products\/Wenge4_8b5c704b-ea26-4b78-903e-9ab0a32b5a0d.png?v=1670903938","\/\/www.meblefurniture.com\/cdn\/shop\/products\/meble-furniture-armoires-wardrobes-aria-3-door-71-wardrobe-with-all-mirror-fronts-20421891326114.png?v=1670903938"],"featured_image":"\/\/www.meblefurniture.com\/cdn\/shop\/products\/White_df64a0bb-d6dc-432e-be92-d4bbe0a6c097.png?v=1670903932","options":["Color"],"media":[{"alt":"Aria 3D Wardrobe with All Mirror - Meble Furniture","id":27231166693538,"position":1,"preview_image":{"aspect_ratio":1.0,"height":1000,"width":1000,"src":"\/\/www.meblefurniture.com\/cdn\/shop\/products\/White_df64a0bb-d6dc-432e-be92-d4bbe0a6c097.png?v=1670903932"},"aspect_ratio":1.0,"height":1000,"media_type":"image","src":"\/\/www.meblefurniture.com\/cdn\/shop\/products\/White_df64a0bb-d6dc-432e-be92-d4bbe0a6c097.png?v=1670903932","width":1000},{"alt":"Aria 3D Wardrobe with All Mirror - Meble Furniture","id":27231166726306,"position":2,"preview_image":{"aspect_ratio":1.0,"height":1000,"width":1000,"src":"\/\/www.meblefurniture.com\/cdn\/shop\/products\/White2_7efc3a55-63bf-4e17-88c6-d4427556889d.png?v=1670903932"},"aspect_ratio":1.0,"height":1000,"media_type":"image","src":"\/\/www.meblefurniture.com\/cdn\/shop\/products\/White2_7efc3a55-63bf-4e17-88c6-d4427556889d.png?v=1670903932","width":1000},{"alt":"Aria 3D Wardrobe with All Mirror - Meble Furniture","id":27231166759074,"position":3,"preview_image":{"aspect_ratio":1.0,"height":1000,"width":1000,"src":"\/\/www.meblefurniture.com\/cdn\/shop\/products\/White3_fac179de-fe06-4ba5-b38b-dbd3d9c60eec.png?v=1670903932"},"aspect_ratio":1.0,"height":1000,"media_type":"image","src":"\/\/www.meblefurniture.com\/cdn\/shop\/products\/White3_fac179de-fe06-4ba5-b38b-dbd3d9c60eec.png?v=1670903932","width":1000},{"alt":"Aria 3D Wardrobe with All Mirror - Meble Furniture","id":27231166791842,"position":4,"preview_image":{"aspect_ratio":1.0,"height":1000,"width":1000,"src":"\/\/www.meblefurniture.com\/cdn\/shop\/products\/White4_b0ba5664-e9f3-4399-bc4a-71506712af71.png?v=1670903932"},"aspect_ratio":1.0,"height":1000,"media_type":"image","src":"\/\/www.meblefurniture.com\/cdn\/shop\/products\/White4_b0ba5664-e9f3-4399-bc4a-71506712af71.png?v=1670903932","width":1000},{"alt":"Aria 3 Door 71\" Wardrobe with All Mirror Fronts - Meble Furniture","id":26825458024610,"position":5,"preview_image":{"aspect_ratio":1.0,"height":1000,"width":1000,"src":"\/\/www.meblefurniture.com\/cdn\/shop\/products\/meble-furniture-armoires-wardrobes-aria-3-door-71-wardrobe-with-all-mirror-fronts-20421891391650.png?v=1670903986"},"aspect_ratio":1.0,"height":1000,"media_type":"image","src":"\/\/www.meblefurniture.com\/cdn\/shop\/products\/meble-furniture-armoires-wardrobes-aria-3-door-71-wardrobe-with-all-mirror-fronts-20421891391650.png?v=1670903986","width":1000},{"alt":"Aria 3D Wardrobe with All Mirror - Meble Furniture","id":27231168135330,"position":6,"preview_image":{"aspect_ratio":1.0,"height":1000,"width":1000,"src":"\/\/www.meblefurniture.com\/cdn\/shop\/products\/Black_969c3089-7088-4930-8632-4e2cdff5ff09.png?v=1670903986"},"aspect_ratio":1.0,"height":1000,"media_type":"image","src":"\/\/www.meblefurniture.com\/cdn\/shop\/products\/Black_969c3089-7088-4930-8632-4e2cdff5ff09.png?v=1670903986","width":1000},{"alt":"Aria 3D Wardrobe with All Mirror - Meble Furniture","id":27231168168098,"position":7,"preview_image":{"aspect_ratio":1.0,"height":1000,"width":1000,"src":"\/\/www.meblefurniture.com\/cdn\/shop\/products\/Black2_113953f9-2fbd-4b74-8541-49bd358dd567.png?v=1670903986"},"aspect_ratio":1.0,"height":1000,"media_type":"image","src":"\/\/www.meblefurniture.com\/cdn\/shop\/products\/Black2_113953f9-2fbd-4b74-8541-49bd358dd567.png?v=1670903986","width":1000},{"alt":"Aria 3D Wardrobe with All Mirror - Meble Furniture","id":27231168200866,"position":8,"preview_image":{"aspect_ratio":1.0,"height":1000,"width":1000,"src":"\/\/www.meblefurniture.com\/cdn\/shop\/products\/Black3_279beee1-6d33-493a-a035-0df3c4943711.png?v=1670903986"},"aspect_ratio":1.0,"height":1000,"media_type":"image","src":"\/\/www.meblefurniture.com\/cdn\/shop\/products\/Black3_279beee1-6d33-493a-a035-0df3c4943711.png?v=1670903986","width":1000},{"alt":"Aria 3D Wardrobe with All Mirror - Meble Furniture","id":27231168102562,"position":9,"preview_image":{"aspect_ratio":1.0,"height":1000,"width":1000,"src":"\/\/www.meblefurniture.com\/cdn\/shop\/products\/Black4_856a8bd5-7ded-4e91-96f2-a8d2eb1cca15.png?v=1670903986"},"aspect_ratio":1.0,"height":1000,"media_type":"image","src":"\/\/www.meblefurniture.com\/cdn\/shop\/products\/Black4_856a8bd5-7ded-4e91-96f2-a8d2eb1cca15.png?v=1670903986","width":1000},{"alt":"Aria 3 Door 71\" Wardrobe with All Mirror Fronts - Meble Furniture","id":26825460908194,"position":10,"preview_image":{"aspect_ratio":1.0,"height":1000,"width":1000,"src":"\/\/www.meblefurniture.com\/cdn\/shop\/products\/meble-furniture-armoires-wardrobes-aria-3-door-71-wardrobe-with-all-mirror-fronts-33281886453922.png?v=1670903986"},"aspect_ratio":1.0,"height":1000,"media_type":"image","src":"\/\/www.meblefurniture.com\/cdn\/shop\/products\/meble-furniture-armoires-wardrobes-aria-3-door-71-wardrobe-with-all-mirror-fronts-33281886453922.png?v=1670903986","width":1000},{"alt":"Aria 3D Wardrobe with All Mirror - Meble Furniture","id":27231169773730,"position":11,"preview_image":{"aspect_ratio":1.0,"height":1000,"width":1000,"src":"\/\/www.meblefurniture.com\/cdn\/shop\/products\/Gray_3a3e0400-5ff1-4ce2-86b3-b18d204b52fa.png?v=1670903986"},"aspect_ratio":1.0,"height":1000,"media_type":"image","src":"\/\/www.meblefurniture.com\/cdn\/shop\/products\/Gray_3a3e0400-5ff1-4ce2-86b3-b18d204b52fa.png?v=1670903986","width":1000},{"alt":"Aria 3D Wardrobe with All Mirror - Meble Furniture","id":27231169806498,"position":12,"preview_image":{"aspect_ratio":1.0,"height":1000,"width":1000,"src":"\/\/www.meblefurniture.com\/cdn\/shop\/products\/Gray2_39de2ee1-b7de-4917-9311-8af69fadb0b7.png?v=1670903986"},"aspect_ratio":1.0,"height":1000,"media_type":"image","src":"\/\/www.meblefurniture.com\/cdn\/shop\/products\/Gray2_39de2ee1-b7de-4917-9311-8af69fadb0b7.png?v=1670903986","width":1000},{"alt":"Aria 3D Wardrobe with All Mirror - Meble Furniture","id":27231169839266,"position":13,"preview_image":{"aspect_ratio":1.0,"height":1000,"width":1000,"src":"\/\/www.meblefurniture.com\/cdn\/shop\/products\/Gray3_d6915c55-b498-4e69-bd4c-28204e541ff7.png?v=1670903938"},"aspect_ratio":1.0,"height":1000,"media_type":"image","src":"\/\/www.meblefurniture.com\/cdn\/shop\/products\/Gray3_d6915c55-b498-4e69-bd4c-28204e541ff7.png?v=1670903938","width":1000},{"alt":"Aria 3D Wardrobe with All Mirror - Meble Furniture","id":27231169740962,"position":14,"preview_image":{"aspect_ratio":1.0,"height":1000,"width":1000,"src":"\/\/www.meblefurniture.com\/cdn\/shop\/products\/Gray4_c86ebd35-09e3-482f-a479-6d2d6c13b0ef.png?v=1670903938"},"aspect_ratio":1.0,"height":1000,"media_type":"image","src":"\/\/www.meblefurniture.com\/cdn\/shop\/products\/Gray4_c86ebd35-09e3-482f-a479-6d2d6c13b0ef.png?v=1670903938","width":1000},{"alt":"Aria 3 Door 71\" Wardrobe with All Mirror Fronts - Meble Furniture","id":26825459433634,"position":15,"preview_image":{"aspect_ratio":1.0,"height":1000,"width":1000,"src":"\/\/www.meblefurniture.com\/cdn\/shop\/products\/meble-furniture-armoires-wardrobes-aria-3-door-71-wardrobe-with-all-mirror-fronts-20421891621026.png?v=1670903938"},"aspect_ratio":1.0,"height":1000,"media_type":"image","src":"\/\/www.meblefurniture.com\/cdn\/shop\/products\/meble-furniture-armoires-wardrobes-aria-3-door-71-wardrobe-with-all-mirror-fronts-20421891621026.png?v=1670903938","width":1000},{"alt":"Aria 3D Wardrobe with All Mirror - Meble Furniture","id":27231170494626,"position":16,"preview_image":{"aspect_ratio":1.0,"height":1000,"width":1000,"src":"\/\/www.meblefurniture.com\/cdn\/shop\/products\/Wenge_379b8be9-40ea-45d0-aeb7-a44dbb25249f.png?v=1670903938"},"aspect_ratio":1.0,"height":1000,"media_type":"image","src":"\/\/www.meblefurniture.com\/cdn\/shop\/products\/Wenge_379b8be9-40ea-45d0-aeb7-a44dbb25249f.png?v=1670903938","width":1000},{"alt":"Aria 3D Wardrobe with All Mirror - Meble Furniture","id":27231170527394,"position":17,"preview_image":{"aspect_ratio":1.0,"height":1000,"width":1000,"src":"\/\/www.meblefurniture.com\/cdn\/shop\/products\/Wenge2_8402a483-2467-4178-a66c-e8edf8ffb984.png?v=1670903938"},"aspect_ratio":1.0,"height":1000,"media_type":"image","src":"\/\/www.meblefurniture.com\/cdn\/shop\/products\/Wenge2_8402a483-2467-4178-a66c-e8edf8ffb984.png?v=1670903938","width":1000},{"alt":"Aria 3D Wardrobe with All Mirror - Meble Furniture","id":27231170592930,"position":18,"preview_image":{"aspect_ratio":1.0,"height":1000,"width":1000,"src":"\/\/www.meblefurniture.com\/cdn\/shop\/products\/Wenge3_d54d49a7-7259-4a11-a420-259bb62fef58.png?v=1670903938"},"aspect_ratio":1.0,"height":1000,"media_type":"image","src":"\/\/www.meblefurniture.com\/cdn\/shop\/products\/Wenge3_d54d49a7-7259-4a11-a420-259bb62fef58.png?v=1670903938","width":1000},{"alt":"Aria 3D Wardrobe with All Mirror - Meble Furniture","id":27231170461858,"position":19,"preview_image":{"aspect_ratio":1.0,"height":1000,"width":1000,"src":"\/\/www.meblefurniture.com\/cdn\/shop\/products\/Wenge4_8b5c704b-ea26-4b78-903e-9ab0a32b5a0d.png?v=1670903938"},"aspect_ratio":1.0,"height":1000,"media_type":"image","src":"\/\/www.meblefurniture.com\/cdn\/shop\/products\/Wenge4_8b5c704b-ea26-4b78-903e-9ab0a32b5a0d.png?v=1670903938","width":1000},{"alt":"Aria 3 Door 71\" Wardrobe with All Mirror Fronts - Meble Furniture","id":26825456844962,"position":20,"preview_image":{"aspect_ratio":1.0,"height":1000,"width":1000,"src":"\/\/www.meblefurniture.com\/cdn\/shop\/products\/meble-furniture-armoires-wardrobes-aria-3-door-71-wardrobe-with-all-mirror-fronts-20421891326114.png?v=1670903938"},"aspect_ratio":1.0,"height":1000,"media_type":"image","src":"\/\/www.meblefurniture.com\/cdn\/shop\/products\/meble-furniture-armoires-wardrobes-aria-3-door-71-wardrobe-with-all-mirror-fronts-20421891326114.png?v=1670903938","width":1000}],"requires_selling_plan":false,"selling_plan_groups":[],"content":"\u003cul\u003e\n\u003cli\u003eAria 3 Door 71\" Wide Wardrobe Armoire with All Mirror Fronts\u003c\/li\u003e\n\u003cli\u003eGlass fronts with matte body\u003c\/li\u003e\n\u003cli\u003eManufactured in and imported from the European Union\u003c\/li\u003e\n\u003cli\u003eModern and unique contemporary design\u003c\/li\u003e\n\u003cli\u003ePerfect for those in need of living room storage space\u003c\/li\u003e\n\u003cli\u003eFlat packed and ready to ship\u003c\/li\u003e\n\u003cli\u003eDimensions: 82 inches height x 71 inches width x 26 inches depth\u003c\/li\u003e\n\u003c\/ul\u003e"}
Aria 3D Wardrobe with All Mirror
REAL CUSTOMER PHOTOS
Ratings & Reviews
Customer Reviews
Write a Review
Ask a Question
Filter Reviews:
issues
instructions
WOSRT
placement
center back piece
transportation
mirrors
look
quality
parts
03/24/2021
Anonymous

United States
Great looking wardrobe!
Giving 5 stars for the look, design and quality of packaging. I worried about big mirrors can be crashed during transportation but they were very well packed. We had some issues with instructions and missed a few screws but replaced with our own. Overall, very satisfied with purchase!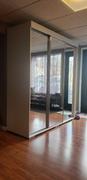 Just amazing
I was so pleased with the ease of ordering, the prompt delivery and the professionalism of this company.
09/13/2022
Joseph A.

United States
Not bad
The unit is a great add, but ensuring the mirror doors are all is a challenge. Customer service was good, and the price point was exceptional.
We thought the instructions where wrong, but just upside down! Really pretty at the end.