{"id":887611293738,"title":"Miami 200 Modern 79\" TV Stand","handle":"miami-200-modern-90-tv-stand","description":"\u003cul\u003e\n\u003cli\u003eMiami 200 Modern 79\" TV Stand - Modern TV Stand \/ TV Console \/ TV Cabinet \/ Central Entertainment Center\u003c\/li\u003e\n\u003cli\u003eFits up to 90 inch TVs\u003c\/li\u003e\n\u003cli\u003eHigh gloss fronts with matte body\u003c\/li\u003e\n\u003cli\u003e16 color LED light system included with color control and on\/off remote\u003c\/li\u003e\n\u003cli\u003eManufactured in and imported from the European Union\u003c\/li\u003e\n\u003cli\u003eModern and unique contemporary design\u003c\/li\u003e\n\u003cli\u003ePerfect for those in need of living room storage space\u003c\/li\u003e\n\u003cli\u003eFlat packed and ready to ship\u003c\/li\u003e\n\u003cli\u003eDimensions: 17 inches height x 78.7 inches width x 15 inches depth\u003c\/li\u003e\n\u003c\/ul\u003e\n\n\u003cdetails\u003e \u003csummary\u003eInformation for California Residents\u003c\/summary\u003e\n\u003cp\u003eCalifornia Proposition 65 Warning: This product can expose you to chemicals including Diisodecyl phthalate (DIDP) and Diisononyl phthalate (DINP), which are known to the State of California to cause cancer and\/or birth defects or other reproductive harm. For more information go to www.P65Warnings.ca.gov.\u003c\/p\u003e\n\u003c\/details\u003e","published_at":"2018-01-30T14:24:26-05:00","created_at":"2018-01-30T14:24:26-05:00","vendor":"Meble Furniture","type":"Furniture","tags":["dimensions-17\" H x 78.7\" W x 15\" D","spo-disabled","TV Stands for TVs up to 60 inches","TV Stands for TVs up to 65 inches","TV Stands for TVs up to 70 inches","TV Stands for TVs up to 75 inches","TV Stands for TVs up to 80 inches","TV Stands for TVs up to 85 inches","TV Stands for TVs up to 90 inches"],"price":49900,"price_min":49900,"price_max":49900,"available":true,"price_varies":false,"compare_at_price":null,"compare_at_price_min":0,"compare_at_price_max":0,"compare_at_price_varies":false,"variants":[{"id":14730353344554,"title":"Black","option1":"Black","option2":null,"option3":null,"sku":"MIAMIBLACK","requires_shipping":true,"taxable":true,"featured_image":{"id":19404340134050,"product_id":887611293738,"position":6,"created_at":"2020-09-24T16:53:47-04:00","updated_at":"2020-11-22T18:41:06-05:00","alt":"Miami 200 Modern 79\" TV Stand - Meble Furniture","width":1000,"height":1000,"src":"https:\/\/cdn.shopify.com\/s\/files\/1\/2781\/6416\/products\/black_1497b715-458f-479b-9916-46af4a884b7e.png?v=1606088466","variant_ids":[14730353344554]},"available":true,"name":"Miami 200 Modern 79\" TV Stand - Black","public_title":"Black","options":["Black"],"price":49900,"weight":0,"compare_at_price":null,"inventory_management":"shopify","barcode":"","featured_media":{"alt":"Miami 200 Modern 79\" TV Stand - Meble Furniture","id":11579462123682,"position":6,"preview_image":{"aspect_ratio":1.0,"height":1000,"width":1000,"src":"https:\/\/cdn.shopify.com\/s\/files\/1\/2781\/6416\/products\/black_1497b715-458f-479b-9916-46af4a884b7e.png?v=1600980827"}},"requires_selling_plan":false,"selling_plan_allocations":[]},{"id":14730353377322,"title":"Gray","option1":"Gray","option2":null,"option3":null,"sku":"MIAMIGRAY","requires_shipping":true,"taxable":true,"featured_image":{"id":19404340723874,"product_id":887611293738,"position":11,"created_at":"2020-09-24T16:53:49-04:00","updated_at":"2020-11-22T18:41:06-05:00","alt":"Miami 200 Modern 79\" TV Stand - Meble Furniture","width":1000,"height":1000,"src":"https:\/\/cdn.shopify.com\/s\/files\/1\/2781\/6416\/products\/gray_137ce05b-ac6a-4de0-96b8-37579a3f311a.png?v=1606088466","variant_ids":[14730353377322]},"available":true,"name":"Miami 200 Modern 79\" TV Stand - Gray","public_title":"Gray","options":["Gray"],"price":49900,"weight":0,"compare_at_price":null,"inventory_management":"shopify","barcode":"","featured_media":{"alt":"Miami 200 Modern 79\" TV Stand - Meble Furniture","id":11579462287522,"position":11,"preview_image":{"aspect_ratio":1.0,"height":1000,"width":1000,"src":"https:\/\/cdn.shopify.com\/s\/files\/1\/2781\/6416\/products\/gray_137ce05b-ac6a-4de0-96b8-37579a3f311a.png?v=1600980829"}},"requires_selling_plan":false,"selling_plan_allocations":[]},{"id":14730353410090,"title":"White","option1":"White","option2":null,"option3":null,"sku":"MIAMIWHITE","requires_shipping":true,"taxable":true,"featured_image":{"id":19404340822178,"product_id":887611293738,"position":1,"created_at":"2020-09-24T16:53:49-04:00","updated_at":"2020-09-29T13:36:41-04:00","alt":"Miami 200 Modern 79\" TV Stand - Meble Furniture","width":1000,"height":1000,"src":"https:\/\/cdn.shopify.com\/s\/files\/1\/2781\/6416\/products\/white_b9adefff-0d7c-42b6-96fc-f973ac64452a.png?v=1601401001","variant_ids":[14730353410090]},"available":true,"name":"Miami 200 Modern 79\" TV Stand - White","public_title":"White","options":["White"],"price":49900,"weight":0,"compare_at_price":null,"inventory_management":"shopify","barcode":"","featured_media":{"alt":"Miami 200 Modern 79\" TV Stand - Meble Furniture","id":11579462451362,"position":1,"preview_image":{"aspect_ratio":1.0,"height":1000,"width":1000,"src":"https:\/\/cdn.shopify.com\/s\/files\/1\/2781\/6416\/products\/white_b9adefff-0d7c-42b6-96fc-f973ac64452a.png?v=1600980829"}},"requires_selling_plan":false,"selling_plan_allocations":[]}],"images":["\/\/cdn.shopify.com\/s\/files\/1\/2781\/6416\/products\/white_b9adefff-0d7c-42b6-96fc-f973ac64452a.png?v=1601401001","\/\/cdn.shopify.com\/s\/files\/1\/2781\/6416\/products\/white2_03024238-5edd-46b5-bf8e-33d3694ef167.png?v=1602188143","\/\/cdn.shopify.com\/s\/files\/1\/2781\/6416\/products\/white3_548d5bda-b785-404c-856d-44bdca6ff383.png?v=1602188143","\/\/cdn.shopify.com\/s\/files\/1\/2781\/6416\/products\/white4_3c934012-e503-40de-828c-ac008f3090bd.png?v=1602188143","\/\/cdn.shopify.com\/s\/files\/1\/2781\/6416\/products\/Miami200_1365a078-e8a4-42f1-a7b0-be54b02b39f9.png?v=1606244270","\/\/cdn.shopify.com\/s\/files\/1\/2781\/6416\/products\/black_1497b715-458f-479b-9916-46af4a884b7e.png?v=1606088466","\/\/cdn.shopify.com\/s\/files\/1\/2781\/6416\/products\/black2_214af299-e30b-42a4-92b5-4dc9733d580d.png?v=1606088466","\/\/cdn.shopify.com\/s\/files\/1\/2781\/6416\/products\/black3_a4c92006-7b8c-4581-82f5-1a372a6d0480.png?v=1606088466","\/\/cdn.shopify.com\/s\/files\/1\/2781\/6416\/products\/black4_d8e37e8f-8499-4e50-bb5f-22845a17ae39.png?v=1606088466","\/\/cdn.shopify.com\/s\/files\/1\/2781\/6416\/products\/Miami200_f610f641-79f5-424b-b28e-0408b9899c01.png?v=1606244270","\/\/cdn.shopify.com\/s\/files\/1\/2781\/6416\/products\/gray_137ce05b-ac6a-4de0-96b8-37579a3f311a.png?v=1606088466","\/\/cdn.shopify.com\/s\/files\/1\/2781\/6416\/products\/gray2_5ab99497-e9e3-469a-97ad-88ffca77213f.png?v=1606088466","\/\/cdn.shopify.com\/s\/files\/1\/2781\/6416\/products\/gray3_b0b908ba-1361-4511-8a97-d53f93dbe0f1.png?v=1606088466","\/\/cdn.shopify.com\/s\/files\/1\/2781\/6416\/products\/gray4_8dd6ecfa-c171-4835-9fe5-0500cdeae70d.png?v=1606088466","\/\/cdn.shopify.com\/s\/files\/1\/2781\/6416\/products\/Miami200.png?v=1606244270"],"featured_image":"\/\/cdn.shopify.com\/s\/files\/1\/2781\/6416\/products\/white_b9adefff-0d7c-42b6-96fc-f973ac64452a.png?v=1601401001","options":["Color"],"media":[{"alt":"Miami 200 Modern 79\" TV Stand - Meble Furniture","id":11579462451362,"position":1,"preview_image":{"aspect_ratio":1.0,"height":1000,"width":1000,"src":"https:\/\/cdn.shopify.com\/s\/files\/1\/2781\/6416\/products\/white_b9adefff-0d7c-42b6-96fc-f973ac64452a.png?v=1600980829"},"aspect_ratio":1.0,"height":1000,"media_type":"image","src":"https:\/\/cdn.shopify.com\/s\/files\/1\/2781\/6416\/products\/white_b9adefff-0d7c-42b6-96fc-f973ac64452a.png?v=1600980829","width":1000},{"alt":"Miami 200 Modern 79\" TV Stand - Meble Furniture","id":11579462484130,"position":2,"preview_image":{"aspect_ratio":1.0,"height":1000,"width":1000,"src":"https:\/\/cdn.shopify.com\/s\/files\/1\/2781\/6416\/products\/white2_03024238-5edd-46b5-bf8e-33d3694ef167.png?v=1600980828"},"aspect_ratio":1.0,"height":1000,"media_type":"image","src":"https:\/\/cdn.shopify.com\/s\/files\/1\/2781\/6416\/products\/white2_03024238-5edd-46b5-bf8e-33d3694ef167.png?v=1600980828","width":1000},{"alt":"Miami 200 Modern 79\" TV Stand - Meble Furniture","id":11579462516898,"position":3,"preview_image":{"aspect_ratio":1.0,"height":1000,"width":1000,"src":"https:\/\/cdn.shopify.com\/s\/files\/1\/2781\/6416\/products\/white3_548d5bda-b785-404c-856d-44bdca6ff383.png?v=1600980828"},"aspect_ratio":1.0,"height":1000,"media_type":"image","src":"https:\/\/cdn.shopify.com\/s\/files\/1\/2781\/6416\/products\/white3_548d5bda-b785-404c-856d-44bdca6ff383.png?v=1600980828","width":1000},{"alt":"Miami 200 Modern 79\" TV Stand - Meble Furniture","id":11579462549666,"position":4,"preview_image":{"aspect_ratio":1.0,"height":1000,"width":1000,"src":"https:\/\/cdn.shopify.com\/s\/files\/1\/2781\/6416\/products\/white4_3c934012-e503-40de-828c-ac008f3090bd.png?v=1600980829"},"aspect_ratio":1.0,"height":1000,"media_type":"image","src":"https:\/\/cdn.shopify.com\/s\/files\/1\/2781\/6416\/products\/white4_3c934012-e503-40de-828c-ac008f3090bd.png?v=1600980829","width":1000},{"alt":"Miami 200 Modern 79\" TV Stand - Meble Furniture","id":12597939568802,"position":5,"preview_image":{"aspect_ratio":1.0,"height":1000,"width":1000,"src":"https:\/\/cdn.shopify.com\/s\/files\/1\/2781\/6416\/products\/Miami200_1365a078-e8a4-42f1-a7b0-be54b02b39f9.png?v=1606088459"},"aspect_ratio":1.0,"height":1000,"media_type":"image","src":"https:\/\/cdn.shopify.com\/s\/files\/1\/2781\/6416\/products\/Miami200_1365a078-e8a4-42f1-a7b0-be54b02b39f9.png?v=1606088459","width":1000},{"alt":"Miami 200 Modern 79\" TV Stand - Meble Furniture","id":11579462123682,"position":6,"preview_image":{"aspect_ratio":1.0,"height":1000,"width":1000,"src":"https:\/\/cdn.shopify.com\/s\/files\/1\/2781\/6416\/products\/black_1497b715-458f-479b-9916-46af4a884b7e.png?v=1600980827"},"aspect_ratio":1.0,"height":1000,"media_type":"image","src":"https:\/\/cdn.shopify.com\/s\/files\/1\/2781\/6416\/products\/black_1497b715-458f-479b-9916-46af4a884b7e.png?v=1600980827","width":1000},{"alt":"Miami 200 Modern 79\" TV Stand - Meble Furniture","id":11579462156450,"position":7,"preview_image":{"aspect_ratio":1.0,"height":1000,"width":1000,"src":"https:\/\/cdn.shopify.com\/s\/files\/1\/2781\/6416\/products\/black2_214af299-e30b-42a4-92b5-4dc9733d580d.png?v=1600980828"},"aspect_ratio":1.0,"height":1000,"media_type":"image","src":"https:\/\/cdn.shopify.com\/s\/files\/1\/2781\/6416\/products\/black2_214af299-e30b-42a4-92b5-4dc9733d580d.png?v=1600980828","width":1000},{"alt":"Miami 200 Modern 79\" TV Stand - Meble Furniture","id":11579462189218,"position":8,"preview_image":{"aspect_ratio":1.0,"height":1000,"width":1000,"src":"https:\/\/cdn.shopify.com\/s\/files\/1\/2781\/6416\/products\/black3_a4c92006-7b8c-4581-82f5-1a372a6d0480.png?v=1600980828"},"aspect_ratio":1.0,"height":1000,"media_type":"image","src":"https:\/\/cdn.shopify.com\/s\/files\/1\/2781\/6416\/products\/black3_a4c92006-7b8c-4581-82f5-1a372a6d0480.png?v=1600980828","width":1000},{"alt":"Miami 200 Modern 79\" TV Stand - Meble Furniture","id":11579462221986,"position":9,"preview_image":{"aspect_ratio":1.0,"height":1000,"width":1000,"src":"https:\/\/cdn.shopify.com\/s\/files\/1\/2781\/6416\/products\/black4_d8e37e8f-8499-4e50-bb5f-22845a17ae39.png?v=1600980829"},"aspect_ratio":1.0,"height":1000,"media_type":"image","src":"https:\/\/cdn.shopify.com\/s\/files\/1\/2781\/6416\/products\/black4_d8e37e8f-8499-4e50-bb5f-22845a17ae39.png?v=1600980829","width":1000},{"alt":"Miami 200 Modern 79\" TV Stand - Meble Furniture","id":12597939273890,"position":10,"preview_image":{"aspect_ratio":1.0,"height":1000,"width":1000,"src":"https:\/\/cdn.shopify.com\/s\/files\/1\/2781\/6416\/products\/Miami200_f610f641-79f5-424b-b28e-0408b9899c01.png?v=1606088459"},"aspect_ratio":1.0,"height":1000,"media_type":"image","src":"https:\/\/cdn.shopify.com\/s\/files\/1\/2781\/6416\/products\/Miami200_f610f641-79f5-424b-b28e-0408b9899c01.png?v=1606088459","width":1000},{"alt":"Miami 200 Modern 79\" TV Stand - Meble Furniture","id":11579462287522,"position":11,"preview_image":{"aspect_ratio":1.0,"height":1000,"width":1000,"src":"https:\/\/cdn.shopify.com\/s\/files\/1\/2781\/6416\/products\/gray_137ce05b-ac6a-4de0-96b8-37579a3f311a.png?v=1600980829"},"aspect_ratio":1.0,"height":1000,"media_type":"image","src":"https:\/\/cdn.shopify.com\/s\/files\/1\/2781\/6416\/products\/gray_137ce05b-ac6a-4de0-96b8-37579a3f311a.png?v=1600980829","width":1000},{"alt":"Miami 200 Modern 79\" TV Stand - Meble Furniture","id":11579462353058,"position":12,"preview_image":{"aspect_ratio":1.0,"height":1000,"width":1000,"src":"https:\/\/cdn.shopify.com\/s\/files\/1\/2781\/6416\/products\/gray2_5ab99497-e9e3-469a-97ad-88ffca77213f.png?v=1600980827"},"aspect_ratio":1.0,"height":1000,"media_type":"image","src":"https:\/\/cdn.shopify.com\/s\/files\/1\/2781\/6416\/products\/gray2_5ab99497-e9e3-469a-97ad-88ffca77213f.png?v=1600980827","width":1000},{"alt":"Miami 200 Modern 79\" TV Stand - Meble Furniture","id":11579462385826,"position":13,"preview_image":{"aspect_ratio":1.0,"height":1000,"width":1000,"src":"https:\/\/cdn.shopify.com\/s\/files\/1\/2781\/6416\/products\/gray3_b0b908ba-1361-4511-8a97-d53f93dbe0f1.png?v=1600980829"},"aspect_ratio":1.0,"height":1000,"media_type":"image","src":"https:\/\/cdn.shopify.com\/s\/files\/1\/2781\/6416\/products\/gray3_b0b908ba-1361-4511-8a97-d53f93dbe0f1.png?v=1600980829","width":1000},{"alt":"Miami 200 Modern 79\" TV Stand - Meble Furniture","id":11579462418594,"position":14,"preview_image":{"aspect_ratio":1.0,"height":1000,"width":1000,"src":"https:\/\/cdn.shopify.com\/s\/files\/1\/2781\/6416\/products\/gray4_8dd6ecfa-c171-4835-9fe5-0500cdeae70d.png?v=1600980828"},"aspect_ratio":1.0,"height":1000,"media_type":"image","src":"https:\/\/cdn.shopify.com\/s\/files\/1\/2781\/6416\/products\/gray4_8dd6ecfa-c171-4835-9fe5-0500cdeae70d.png?v=1600980828","width":1000},{"alt":"Miami 200 Modern 79\" TV Stand - Meble Furniture","id":12597939175586,"position":15,"preview_image":{"aspect_ratio":1.0,"height":1000,"width":1000,"src":"https:\/\/cdn.shopify.com\/s\/files\/1\/2781\/6416\/products\/Miami200.png?v=1606088458"},"aspect_ratio":1.0,"height":1000,"media_type":"image","src":"https:\/\/cdn.shopify.com\/s\/files\/1\/2781\/6416\/products\/Miami200.png?v=1606088458","width":1000}],"requires_selling_plan":false,"selling_plan_groups":[],"content":"\u003cul\u003e\n\u003cli\u003eMiami 200 Modern 79\" TV Stand - Modern TV Stand \/ TV Console \/ TV Cabinet \/ Central Entertainment Center\u003c\/li\u003e\n\u003cli\u003eFits up to 90 inch TVs\u003c\/li\u003e\n\u003cli\u003eHigh gloss fronts with matte body\u003c\/li\u003e\n\u003cli\u003e16 color LED light system included with color control and on\/off remote\u003c\/li\u003e\n\u003cli\u003eManufactured in and imported from the European Union\u003c\/li\u003e\n\u003cli\u003eModern and unique contemporary design\u003c\/li\u003e\n\u003cli\u003ePerfect for those in need of living room storage space\u003c\/li\u003e\n\u003cli\u003eFlat packed and ready to ship\u003c\/li\u003e\n\u003cli\u003eDimensions: 17 inches height x 78.7 inches width x 15 inches depth\u003c\/li\u003e\n\u003c\/ul\u003e\n\n\u003cdetails\u003e \u003csummary\u003eInformation for California Residents\u003c\/summary\u003e\n\u003cp\u003eCalifornia Proposition 65 Warning: This product can expose you to chemicals including Diisodecyl phthalate (DIDP) and Diisononyl phthalate (DINP), which are known to the State of California to cause cancer and\/or birth defects or other reproductive harm. For more information go to www.P65Warnings.ca.gov.\u003c\/p\u003e\n\u003c\/details\u003e"}
Miami 200 Modern 79" TV Stand
Ratings & Reviews
Customer Reviews
Write a Review
Ask a Question
Filter Reviews:
cable management
LED Light Kit
LED kit option
transmitter
wiring
bottom
height
Miami
space
products
11/19/2020
Terry S.
United States
Great TV Stand...almost perfect.
Overall, the Miami 200 Modern 79" TV Stand is a good design. It's stylish and well made compared to competitive products. Take your time putting it together as it requires 3 - 4 hours. Instructions could benefit from numbered parts to help with identification. The stand is short (17"); it would be a better cosmetic fit when wall mounting a TV if it was 20" high; in order to correctly mount the TV for viewing height, there is more than the recommended 4" - 6" space between the bottom of the TV and the top of the TV stand. I did not install the LED Light Kit because all the parts are white and I have a black stand, and there is no easy way to conceal the white wiring and a white transmitter. The stand needs hidden cable management for the LED kit or a black LED kit option.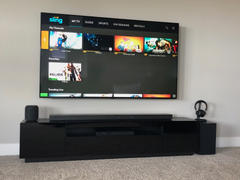 07/20/2020
Richard S.
United States
11/03/2020
Anonymous
United States
thank you
soooo nice thank you very much
Accents our 82 inch tv super well and has a great look after a quick assembly!
This is a solid, sturdy stand with a fancy look to it. Fits my 65" TV just fine and is made of pretty quality materials for the price. Took about three hours to assemble, so not too bad. My young son, really loves changing the color of the lights and playing around with the fun LEDs.