{"id":5281621475490,"title":"Manhattan Electric Fireplace 58\" TV Stand","handle":"manhattan-electric-fireplace-tv-stand","description":"\u003cul\u003e\n\u003cli\u003eManhattan Electric Fireplace 58\" TV Stand - Modern TV Stand \/ TV Console \/ TV Cabinet \/ Central Entertainment Center\u003c\/li\u003e\n\u003cli\u003eFits up to 65 inch TVs\u003c\/li\u003e\n\u003cli\u003e18\" wide electric fireplace insert included with remote control and on\/off control, 3 changeable flame colors, temperature control, timer setting, and dimmer\u003c\/li\u003e\n\u003cli\u003e16 color LED light system included with color control and on\/off remote\u003c\/li\u003e\n\u003cli\u003eManufactured in and imported from the European Union\u003c\/li\u003e\n\u003cli\u003eModern and unique contemporary design\u003c\/li\u003e\n\u003cli\u003ePerfect for those in need of living room storage space\u003c\/li\u003e\n\u003cli\u003eFlat packed and ready to ship\u003c\/li\u003e\n\u003cli\u003eDimensions: 22.5 inches height x 58 inches width x 13.8 inches depth\u003c\/li\u003e\n\u003c\/ul\u003e\n\u003cdetails\u003e \u003csummary\u003eInformation for California Residents\u003c\/summary\u003e\n\u003cp\u003eCalifornia Proposition 65 Warning: This product can expose you to chemicals including Diisodecyl phthalate (DIDP) and Diisononyl phthalate (DINP), which are known to the State of California to cause cancer and\/or birth defects or other reproductive harm. For more information go to www.P65Warnings.ca.gov.\u003c\/p\u003e\n\u003c\/details\u003e","published_at":"2020-06-04T19:27:44-04:00","created_at":"2020-06-04T20:04:47-04:00","vendor":"Meble Furniture","type":"Entertainment Centers \u0026 TV Stands","tags":["dimensions-22.5\" H x 58\" W x 13.8\" D","Electric Fireplace TV Stands","TV Stands for TVs up to 60 inches","TV Stands for TVs up to 65 inches"],"price":39900,"price_min":39900,"price_max":49900,"available":true,"price_varies":true,"compare_at_price":null,"compare_at_price_min":0,"compare_at_price_max":0,"compare_at_price_varies":false,"variants":[{"id":34563705602210,"title":"Black","option1":"Black","option2":null,"option3":null,"sku":"MANHATTAN-BLACK","requires_shipping":true,"taxable":true,"featured_image":{"id":17268633862306,"product_id":5281621475490,"position":16,"created_at":"2020-06-04T20:04:59-04:00","updated_at":"2020-11-22T18:40:16-05:00","alt":"Manhattan Electric Fireplace Modern 58\" TV Stand - Meble Furniture","width":1000,"height":1000,"src":"https:\/\/cdn.shopify.com\/s\/files\/1\/2781\/6416\/products\/black_e9dfcc8d-97bb-4e56-9e59-5a8e4b32cead.jpg?v=1606088416","variant_ids":[34563705602210]},"available":true,"name":"Manhattan Electric Fireplace 58\" TV Stand - Black","public_title":"Black","options":["Black"],"price":49900,"weight":0,"compare_at_price":null,"inventory_management":"shopify","barcode":"840227609439","featured_media":{"alt":"Manhattan Electric Fireplace Modern 58\" TV Stand - Meble Furniture","id":9442647998626,"position":16,"preview_image":{"aspect_ratio":1.0,"height":1000,"width":1000,"src":"https:\/\/cdn.shopify.com\/s\/files\/1\/2781\/6416\/products\/black_e9dfcc8d-97bb-4e56-9e59-5a8e4b32cead.jpg?v=1591315499"}},"requires_selling_plan":false,"selling_plan_allocations":[]},{"id":34563705634978,"title":"Gray","option1":"Gray","option2":null,"option3":null,"sku":"MANHATTAN-GRAY","requires_shipping":true,"taxable":true,"featured_image":{"id":17268632780962,"product_id":5281621475490,"position":30,"created_at":"2020-06-04T20:04:53-04:00","updated_at":"2020-11-22T18:40:16-05:00","alt":"Manhattan Electric Fireplace Modern 58\" TV Stand - Meble Furniture","width":1000,"height":1000,"src":"https:\/\/cdn.shopify.com\/s\/files\/1\/2781\/6416\/products\/gray_e3e38523-488b-4cb7-8503-19cab119dffa.jpg?v=1606088416","variant_ids":[34563705634978]},"available":true,"name":"Manhattan Electric Fireplace 58\" TV Stand - Gray","public_title":"Gray","options":["Gray"],"price":39900,"weight":0,"compare_at_price":null,"inventory_management":"shopify","barcode":"840227609446","featured_media":{"alt":"Manhattan Electric Fireplace Modern 58\" TV Stand - Meble Furniture","id":9442648031394,"position":30,"preview_image":{"aspect_ratio":1.0,"height":1000,"width":1000,"src":"https:\/\/cdn.shopify.com\/s\/files\/1\/2781\/6416\/products\/gray_e3e38523-488b-4cb7-8503-19cab119dffa.jpg?v=1591315493"}},"requires_selling_plan":false,"selling_plan_allocations":[]},{"id":34563705700514,"title":"White","option1":"White","option2":null,"option3":null,"sku":"MANHATTAN-WHITE","requires_shipping":true,"taxable":true,"featured_image":{"id":17268631732386,"product_id":5281621475490,"position":1,"created_at":"2020-06-04T20:04:50-04:00","updated_at":"2020-06-09T13:22:39-04:00","alt":"Manhattan Electric Fireplace Modern 58\" TV Stand - Meble Furniture","width":1000,"height":1000,"src":"https:\/\/cdn.shopify.com\/s\/files\/1\/2781\/6416\/products\/white_34ed7c96-0d8b-48c4-bb44-9a7d89dda6ea.jpg?v=1591723359","variant_ids":[34563705700514]},"available":true,"name":"Manhattan Electric Fireplace 58\" TV Stand - White","public_title":"White","options":["White"],"price":39900,"weight":0,"compare_at_price":null,"inventory_management":"shopify","barcode":"840227609453","featured_media":{"alt":"Manhattan Electric Fireplace Modern 58\" TV Stand - Meble Furniture","id":9442648064162,"position":1,"preview_image":{"aspect_ratio":1.0,"height":1000,"width":1000,"src":"https:\/\/cdn.shopify.com\/s\/files\/1\/2781\/6416\/products\/white_34ed7c96-0d8b-48c4-bb44-9a7d89dda6ea.jpg?v=1591315490"}},"requires_selling_plan":false,"selling_plan_allocations":[]}],"images":["\/\/cdn.shopify.com\/s\/files\/1\/2781\/6416\/products\/white_34ed7c96-0d8b-48c4-bb44-9a7d89dda6ea.jpg?v=1591723359","\/\/cdn.shopify.com\/s\/files\/1\/2781\/6416\/products\/white2_e65d4f7c-65d6-4f92-a989-83538e588567.jpg?v=1602187914","\/\/cdn.shopify.com\/s\/files\/1\/2781\/6416\/products\/white3_0158cf9b-f2a9-4eb6-973d-4585d4a886ac.jpg?v=1602187914","\/\/cdn.shopify.com\/s\/files\/1\/2781\/6416\/products\/white4_95ae462f-500f-4177-a5c5-ffe1d1a11a2e.jpg?v=1602187914","\/\/cdn.shopify.com\/s\/files\/1\/2781\/6416\/products\/white5_165bc79c-12f7-4abc-bc27-43e486816f2a.jpg?v=1602187914","\/\/cdn.shopify.com\/s\/files\/1\/2781\/6416\/products\/white6_08fbbb0d-7166-43a1-9141-ad5a63401583.jpg?v=1602187914","\/\/cdn.shopify.com\/s\/files\/1\/2781\/6416\/products\/white7_a8c8186c-9725-407a-bbb9-0c048db7c67b.jpg?v=1602187914","\/\/cdn.shopify.com\/s\/files\/1\/2781\/6416\/products\/white8_ee57973b-ecfb-41bd-9e26-dadc80247525.jpg?v=1602187914","\/\/cdn.shopify.com\/s\/files\/1\/2781\/6416\/products\/white9_1e508b29-46d9-4187-9a3b-e8b3920b7e1a.jpg?v=1602187914","\/\/cdn.shopify.com\/s\/files\/1\/2781\/6416\/products\/white10_16b9849a-e658-43a4-b5e6-000f8318ce05.jpg?v=1602187914","\/\/cdn.shopify.com\/s\/files\/1\/2781\/6416\/products\/white11_19a1ee88-96d6-458b-be38-67450896dafe.jpg?v=1602187914","\/\/cdn.shopify.com\/s\/files\/1\/2781\/6416\/products\/white12_00503ac2-73d0-44a5-ac64-a43015f3982a.jpg?v=1602187914","\/\/cdn.shopify.com\/s\/files\/1\/2781\/6416\/products\/BLUEFIRE_23457372-ca40-4d3a-a381-58e5ddc6cb9f.jpg?v=1602609953","\/\/cdn.shopify.com\/s\/files\/1\/2781\/6416\/products\/FIREPLACESTACKED_5d42941b-2563-450b-ba27-b50dc4646f5e.jpg?v=1602609953","\/\/cdn.shopify.com\/s\/files\/1\/2781\/6416\/products\/Manhattan_e7d8abe8-2999-49a0-bc8a-f68f244a7263.png?v=1606244396","\/\/cdn.shopify.com\/s\/files\/1\/2781\/6416\/products\/black_e9dfcc8d-97bb-4e56-9e59-5a8e4b32cead.jpg?v=1606088416","\/\/cdn.shopify.com\/s\/files\/1\/2781\/6416\/products\/black2_77601615-da76-48d4-98be-e9043c3a92ed.jpg?v=1606088416","\/\/cdn.shopify.com\/s\/files\/1\/2781\/6416\/products\/black3_dcdc1206-87a3-49b3-9b8b-3c1de91c46f6.jpg?v=1606088416","\/\/cdn.shopify.com\/s\/files\/1\/2781\/6416\/products\/black4_c3c2bb05-a642-44d8-8866-45b4fea128df.jpg?v=1606088416","\/\/cdn.shopify.com\/s\/files\/1\/2781\/6416\/products\/black5_bbdf212b-9c92-4f3d-ba73-f212b9705907.jpg?v=1606088416","\/\/cdn.shopify.com\/s\/files\/1\/2781\/6416\/products\/black6_9633019e-b2c5-407e-b968-f18c9b5a832e.jpg?v=1606088416","\/\/cdn.shopify.com\/s\/files\/1\/2781\/6416\/products\/black7_09c1704f-ce8e-45d3-a281-bf1a8ad1455a.jpg?v=1606088416","\/\/cdn.shopify.com\/s\/files\/1\/2781\/6416\/products\/black8_c300bbfd-0d2c-4ab5-8ca8-4abf8d92e6e6.jpg?v=1606088416","\/\/cdn.shopify.com\/s\/files\/1\/2781\/6416\/products\/black9_07e6c880-ba2d-41ba-a81e-e9a3d6855240.jpg?v=1606088416","\/\/cdn.shopify.com\/s\/files\/1\/2781\/6416\/products\/black10_4a4b877f-ac9f-4404-abfc-612934d48fdf.jpg?v=1606088416","\/\/cdn.shopify.com\/s\/files\/1\/2781\/6416\/products\/black11_b8bd7b69-900d-490b-a819-5cc416be0c19.jpg?v=1606088416","\/\/cdn.shopify.com\/s\/files\/1\/2781\/6416\/products\/BLUEFIRE_34ccd7a9-a742-4bb1-a366-100dfe6a3712.jpg?v=1606088416","\/\/cdn.shopify.com\/s\/files\/1\/2781\/6416\/products\/FIREPLACESTACKED_a64dce4d-f76a-4c82-8f66-0d8e1b6529ad.jpg?v=1606088416","\/\/cdn.shopify.com\/s\/files\/1\/2781\/6416\/products\/Manhattan_76e63d61-ebdc-42f1-8ddd-65f864867db4.png?v=1606244396","\/\/cdn.shopify.com\/s\/files\/1\/2781\/6416\/products\/gray_e3e38523-488b-4cb7-8503-19cab119dffa.jpg?v=1606088416","\/\/cdn.shopify.com\/s\/files\/1\/2781\/6416\/products\/gray2_8574ebbe-fe21-4e44-a302-814322fc2a03.jpg?v=1606088416","\/\/cdn.shopify.com\/s\/files\/1\/2781\/6416\/products\/gray3_f7374f49-a702-4654-8461-2374819f80a1.jpg?v=1606088416","\/\/cdn.shopify.com\/s\/files\/1\/2781\/6416\/products\/gray4_29a06dfa-ddf4-432c-8493-27399acb6493.jpg?v=1606088416","\/\/cdn.shopify.com\/s\/files\/1\/2781\/6416\/products\/gray5_2e3237dc-86b6-4a2e-8860-c327aae944cb.jpg?v=1606088416","\/\/cdn.shopify.com\/s\/files\/1\/2781\/6416\/products\/gray6_3529ba68-8f94-4161-9f9d-bd5382c0cabf.jpg?v=1606088416","\/\/cdn.shopify.com\/s\/files\/1\/2781\/6416\/products\/gray7_3f6eba9f-b3e9-49fe-864d-8af3a408f5e9.jpg?v=1606088416","\/\/cdn.shopify.com\/s\/files\/1\/2781\/6416\/products\/gray8_8cf84233-80d2-45c3-bab7-a2ce53d9750b.jpg?v=1606088416","\/\/cdn.shopify.com\/s\/files\/1\/2781\/6416\/products\/gray9_fd13d365-fe5e-4e95-9ded-ff50994d2dea.jpg?v=1606088416","\/\/cdn.shopify.com\/s\/files\/1\/2781\/6416\/products\/gray10_862b6f8c-a568-4c92-803a-30d31c19a317.jpg?v=1606088416","\/\/cdn.shopify.com\/s\/files\/1\/2781\/6416\/products\/gray11.jpg?v=1606088416","\/\/cdn.shopify.com\/s\/files\/1\/2781\/6416\/products\/black12.jpg?v=1606088416","\/\/cdn.shopify.com\/s\/files\/1\/2781\/6416\/products\/gray12.jpg?v=1606088416","\/\/cdn.shopify.com\/s\/files\/1\/2781\/6416\/products\/BLUEFIRE_3eab3d7d-dcd2-45b2-b338-165ef5f831e5.jpg?v=1606088416","\/\/cdn.shopify.com\/s\/files\/1\/2781\/6416\/products\/FIREPLACESTACKED_a943cf0a-7560-41be-9e99-9d5aec00bb84.jpg?v=1606088416","\/\/cdn.shopify.com\/s\/files\/1\/2781\/6416\/products\/Manhattan.png?v=1606244396"],"featured_image":"\/\/cdn.shopify.com\/s\/files\/1\/2781\/6416\/products\/white_34ed7c96-0d8b-48c4-bb44-9a7d89dda6ea.jpg?v=1591723359","options":["Color"],"media":[{"alt":"Manhattan Electric Fireplace Modern 58\" TV Stand - Meble Furniture","id":9442648064162,"position":1,"preview_image":{"aspect_ratio":1.0,"height":1000,"width":1000,"src":"https:\/\/cdn.shopify.com\/s\/files\/1\/2781\/6416\/products\/white_34ed7c96-0d8b-48c4-bb44-9a7d89dda6ea.jpg?v=1591315490"},"aspect_ratio":1.0,"height":1000,"media_type":"image","src":"https:\/\/cdn.shopify.com\/s\/files\/1\/2781\/6416\/products\/white_34ed7c96-0d8b-48c4-bb44-9a7d89dda6ea.jpg?v=1591315490","width":1000},{"alt":"Manhattan Electric Fireplace Modern 58\" TV Stand - Meble Furniture","id":9442648162466,"position":2,"preview_image":{"aspect_ratio":1.0,"height":1000,"width":1000,"src":"https:\/\/cdn.shopify.com\/s\/files\/1\/2781\/6416\/products\/white2_e65d4f7c-65d6-4f92-a989-83538e588567.jpg?v=1591315495"},"aspect_ratio":1.0,"height":1000,"media_type":"image","src":"https:\/\/cdn.shopify.com\/s\/files\/1\/2781\/6416\/products\/white2_e65d4f7c-65d6-4f92-a989-83538e588567.jpg?v=1591315495","width":1000},{"alt":"Manhattan Electric Fireplace Modern 58\" TV Stand - Meble Furniture","id":9442648260770,"position":3,"preview_image":{"aspect_ratio":1.0,"height":1000,"width":1000,"src":"https:\/\/cdn.shopify.com\/s\/files\/1\/2781\/6416\/products\/white3_0158cf9b-f2a9-4eb6-973d-4585d4a886ac.jpg?v=1591315491"},"aspect_ratio":1.0,"height":1000,"media_type":"image","src":"https:\/\/cdn.shopify.com\/s\/files\/1\/2781\/6416\/products\/white3_0158cf9b-f2a9-4eb6-973d-4585d4a886ac.jpg?v=1591315491","width":1000},{"alt":"Manhattan Electric Fireplace Modern 58\" TV Stand - Meble Furniture","id":9442648359074,"position":4,"preview_image":{"aspect_ratio":1.0,"height":1000,"width":1000,"src":"https:\/\/cdn.shopify.com\/s\/files\/1\/2781\/6416\/products\/white4_95ae462f-500f-4177-a5c5-ffe1d1a11a2e.jpg?v=1591315491"},"aspect_ratio":1.0,"height":1000,"media_type":"image","src":"https:\/\/cdn.shopify.com\/s\/files\/1\/2781\/6416\/products\/white4_95ae462f-500f-4177-a5c5-ffe1d1a11a2e.jpg?v=1591315491","width":1000},{"alt":"Manhattan Electric Fireplace Modern 58\" TV Stand - Meble Furniture","id":9442648457378,"position":5,"preview_image":{"aspect_ratio":1.0,"height":1000,"width":1000,"src":"https:\/\/cdn.shopify.com\/s\/files\/1\/2781\/6416\/products\/white5_165bc79c-12f7-4abc-bc27-43e486816f2a.jpg?v=1591315491"},"aspect_ratio":1.0,"height":1000,"media_type":"image","src":"https:\/\/cdn.shopify.com\/s\/files\/1\/2781\/6416\/products\/white5_165bc79c-12f7-4abc-bc27-43e486816f2a.jpg?v=1591315491","width":1000},{"alt":"Manhattan Electric Fireplace Modern 58\" TV Stand - Meble Furniture","id":9442648555682,"position":6,"preview_image":{"aspect_ratio":1.0,"height":1000,"width":1000,"src":"https:\/\/cdn.shopify.com\/s\/files\/1\/2781\/6416\/products\/white6_08fbbb0d-7166-43a1-9141-ad5a63401583.jpg?v=1591315497"},"aspect_ratio":1.0,"height":1000,"media_type":"image","src":"https:\/\/cdn.shopify.com\/s\/files\/1\/2781\/6416\/products\/white6_08fbbb0d-7166-43a1-9141-ad5a63401583.jpg?v=1591315497","width":1000},{"alt":"Manhattan Electric Fireplace Modern 58\" TV Stand - Meble Furniture","id":9442648653986,"position":7,"preview_image":{"aspect_ratio":1.0,"height":1000,"width":1000,"src":"https:\/\/cdn.shopify.com\/s\/files\/1\/2781\/6416\/products\/white7_a8c8186c-9725-407a-bbb9-0c048db7c67b.jpg?v=1591315490"},"aspect_ratio":1.0,"height":1000,"media_type":"image","src":"https:\/\/cdn.shopify.com\/s\/files\/1\/2781\/6416\/products\/white7_a8c8186c-9725-407a-bbb9-0c048db7c67b.jpg?v=1591315490","width":1000},{"alt":"Manhattan Electric Fireplace Modern 58\" TV Stand - Meble Furniture","id":9442648752290,"position":8,"preview_image":{"aspect_ratio":1.0,"height":1000,"width":1000,"src":"https:\/\/cdn.shopify.com\/s\/files\/1\/2781\/6416\/products\/white8_ee57973b-ecfb-41bd-9e26-dadc80247525.jpg?v=1591315499"},"aspect_ratio":1.0,"height":1000,"media_type":"image","src":"https:\/\/cdn.shopify.com\/s\/files\/1\/2781\/6416\/products\/white8_ee57973b-ecfb-41bd-9e26-dadc80247525.jpg?v=1591315499","width":1000},{"alt":"Manhattan Electric Fireplace Modern 58\" TV Stand - Meble Furniture","id":9442648850594,"position":9,"preview_image":{"aspect_ratio":1.0,"height":1000,"width":1000,"src":"https:\/\/cdn.shopify.com\/s\/files\/1\/2781\/6416\/products\/white9_1e508b29-46d9-4187-9a3b-e8b3920b7e1a.jpg?v=1591315496"},"aspect_ratio":1.0,"height":1000,"media_type":"image","src":"https:\/\/cdn.shopify.com\/s\/files\/1\/2781\/6416\/products\/white9_1e508b29-46d9-4187-9a3b-e8b3920b7e1a.jpg?v=1591315496","width":1000},{"alt":"Manhattan Electric Fireplace Modern 58\" TV Stand - Meble Furniture","id":9442648948898,"position":10,"preview_image":{"aspect_ratio":1.0,"height":1000,"width":1000,"src":"https:\/\/cdn.shopify.com\/s\/files\/1\/2781\/6416\/products\/white10_16b9849a-e658-43a4-b5e6-000f8318ce05.jpg?v=1591315495"},"aspect_ratio":1.0,"height":1000,"media_type":"image","src":"https:\/\/cdn.shopify.com\/s\/files\/1\/2781\/6416\/products\/white10_16b9849a-e658-43a4-b5e6-000f8318ce05.jpg?v=1591315495","width":1000},{"alt":"Manhattan Electric Fireplace Modern 58\" TV Stand - Meble Furniture","id":9442649047202,"position":11,"preview_image":{"aspect_ratio":1.0,"height":1000,"width":1000,"src":"https:\/\/cdn.shopify.com\/s\/files\/1\/2781\/6416\/products\/white11_19a1ee88-96d6-458b-be38-67450896dafe.jpg?v=1591315494"},"aspect_ratio":1.0,"height":1000,"media_type":"image","src":"https:\/\/cdn.shopify.com\/s\/files\/1\/2781\/6416\/products\/white11_19a1ee88-96d6-458b-be38-67450896dafe.jpg?v=1591315494","width":1000},{"alt":"Manhattan Electric Fireplace Modern 58\" TV Stand - Meble Furniture","id":9442649145506,"position":12,"preview_image":{"aspect_ratio":1.0,"height":1000,"width":1000,"src":"https:\/\/cdn.shopify.com\/s\/files\/1\/2781\/6416\/products\/white12_00503ac2-73d0-44a5-ac64-a43015f3982a.jpg?v=1591315493"},"aspect_ratio":1.0,"height":1000,"media_type":"image","src":"https:\/\/cdn.shopify.com\/s\/files\/1\/2781\/6416\/products\/white12_00503ac2-73d0-44a5-ac64-a43015f3982a.jpg?v=1591315493","width":1000},{"alt":"Manhattan Electric Fireplace Modern 58\" TV Stand - Meble Furniture","id":11815368523938,"position":13,"preview_image":{"aspect_ratio":1.0,"height":1000,"width":1000,"src":"https:\/\/cdn.shopify.com\/s\/files\/1\/2781\/6416\/products\/BLUEFIRE_23457372-ca40-4d3a-a381-58e5ddc6cb9f.jpg?v=1602188082"},"aspect_ratio":1.0,"height":1000,"media_type":"image","src":"https:\/\/cdn.shopify.com\/s\/files\/1\/2781\/6416\/products\/BLUEFIRE_23457372-ca40-4d3a-a381-58e5ddc6cb9f.jpg?v=1602188082","width":1000},{"alt":"Manhattan Electric Fireplace Modern 58\" TV Stand - Meble Furniture","id":11815368491170,"position":14,"preview_image":{"aspect_ratio":1.0,"height":1000,"width":1000,"src":"https:\/\/cdn.shopify.com\/s\/files\/1\/2781\/6416\/products\/FIREPLACESTACKED_5d42941b-2563-450b-ba27-b50dc4646f5e.jpg?v=1602188082"},"aspect_ratio":1.0,"height":1000,"media_type":"image","src":"https:\/\/cdn.shopify.com\/s\/files\/1\/2781\/6416\/products\/FIREPLACESTACKED_5d42941b-2563-450b-ba27-b50dc4646f5e.jpg?v=1602188082","width":1000},{"alt":"Manhattan Electric Fireplace Modern 58\" TV Stand - Meble Furniture","id":12597931475106,"position":15,"preview_image":{"aspect_ratio":1.0,"height":1000,"width":1000,"src":"https:\/\/cdn.shopify.com\/s\/files\/1\/2781\/6416\/products\/Manhattan_e7d8abe8-2999-49a0-bc8a-f68f244a7263.png?v=1606088396"},"aspect_ratio":1.0,"height":1000,"media_type":"image","src":"https:\/\/cdn.shopify.com\/s\/files\/1\/2781\/6416\/products\/Manhattan_e7d8abe8-2999-49a0-bc8a-f68f244a7263.png?v=1606088396","width":1000},{"alt":"Manhattan Electric Fireplace Modern 58\" TV Stand - Meble Furniture","id":9442647998626,"position":16,"preview_image":{"aspect_ratio":1.0,"height":1000,"width":1000,"src":"https:\/\/cdn.shopify.com\/s\/files\/1\/2781\/6416\/products\/black_e9dfcc8d-97bb-4e56-9e59-5a8e4b32cead.jpg?v=1591315499"},"aspect_ratio":1.0,"height":1000,"media_type":"image","src":"https:\/\/cdn.shopify.com\/s\/files\/1\/2781\/6416\/products\/black_e9dfcc8d-97bb-4e56-9e59-5a8e4b32cead.jpg?v=1591315499","width":1000},{"alt":"Manhattan Electric Fireplace Modern 58\" TV Stand - Meble Furniture","id":9442648096930,"position":17,"preview_image":{"aspect_ratio":1.0,"height":1000,"width":1000,"src":"https:\/\/cdn.shopify.com\/s\/files\/1\/2781\/6416\/products\/black2_77601615-da76-48d4-98be-e9043c3a92ed.jpg?v=1591315497"},"aspect_ratio":1.0,"height":1000,"media_type":"image","src":"https:\/\/cdn.shopify.com\/s\/files\/1\/2781\/6416\/products\/black2_77601615-da76-48d4-98be-e9043c3a92ed.jpg?v=1591315497","width":1000},{"alt":"Manhattan Electric Fireplace Modern 58\" TV Stand - Meble Furniture","id":9442648195234,"position":18,"preview_image":{"aspect_ratio":1.0,"height":1000,"width":1000,"src":"https:\/\/cdn.shopify.com\/s\/files\/1\/2781\/6416\/products\/black3_dcdc1206-87a3-49b3-9b8b-3c1de91c46f6.jpg?v=1591315494"},"aspect_ratio":1.0,"height":1000,"media_type":"image","src":"https:\/\/cdn.shopify.com\/s\/files\/1\/2781\/6416\/products\/black3_dcdc1206-87a3-49b3-9b8b-3c1de91c46f6.jpg?v=1591315494","width":1000},{"alt":"Manhattan Electric Fireplace Modern 58\" TV Stand - Meble Furniture","id":9442648293538,"position":19,"preview_image":{"aspect_ratio":1.0,"height":1000,"width":1000,"src":"https:\/\/cdn.shopify.com\/s\/files\/1\/2781\/6416\/products\/black4_c3c2bb05-a642-44d8-8866-45b4fea128df.jpg?v=1591315490"},"aspect_ratio":1.0,"height":1000,"media_type":"image","src":"https:\/\/cdn.shopify.com\/s\/files\/1\/2781\/6416\/products\/black4_c3c2bb05-a642-44d8-8866-45b4fea128df.jpg?v=1591315490","width":1000},{"alt":"Manhattan Electric Fireplace Modern 58\" TV Stand - Meble Furniture","id":9442648391842,"position":20,"preview_image":{"aspect_ratio":1.0,"height":1000,"width":1000,"src":"https:\/\/cdn.shopify.com\/s\/files\/1\/2781\/6416\/products\/black5_bbdf212b-9c92-4f3d-ba73-f212b9705907.jpg?v=1591315491"},"aspect_ratio":1.0,"height":1000,"media_type":"image","src":"https:\/\/cdn.shopify.com\/s\/files\/1\/2781\/6416\/products\/black5_bbdf212b-9c92-4f3d-ba73-f212b9705907.jpg?v=1591315491","width":1000},{"alt":"Manhattan Electric Fireplace Modern 58\" TV Stand - Meble Furniture","id":9442648490146,"position":21,"preview_image":{"aspect_ratio":1.0,"height":1000,"width":1000,"src":"https:\/\/cdn.shopify.com\/s\/files\/1\/2781\/6416\/products\/black6_9633019e-b2c5-407e-b968-f18c9b5a832e.jpg?v=1591315496"},"aspect_ratio":1.0,"height":1000,"media_type":"image","src":"https:\/\/cdn.shopify.com\/s\/files\/1\/2781\/6416\/products\/black6_9633019e-b2c5-407e-b968-f18c9b5a832e.jpg?v=1591315496","width":1000},{"alt":"Manhattan Electric Fireplace Modern 58\" TV Stand - Meble Furniture","id":9442648588450,"position":22,"preview_image":{"aspect_ratio":1.0,"height":1000,"width":1000,"src":"https:\/\/cdn.shopify.com\/s\/files\/1\/2781\/6416\/products\/black7_09c1704f-ce8e-45d3-a281-bf1a8ad1455a.jpg?v=1591315490"},"aspect_ratio":1.0,"height":1000,"media_type":"image","src":"https:\/\/cdn.shopify.com\/s\/files\/1\/2781\/6416\/products\/black7_09c1704f-ce8e-45d3-a281-bf1a8ad1455a.jpg?v=1591315490","width":1000},{"alt":"Manhattan Electric Fireplace Modern 58\" TV Stand - Meble Furniture","id":9442648686754,"position":23,"preview_image":{"aspect_ratio":1.0,"height":1000,"width":1000,"src":"https:\/\/cdn.shopify.com\/s\/files\/1\/2781\/6416\/products\/black8_c300bbfd-0d2c-4ab5-8ca8-4abf8d92e6e6.jpg?v=1591315492"},"aspect_ratio":1.0,"height":1000,"media_type":"image","src":"https:\/\/cdn.shopify.com\/s\/files\/1\/2781\/6416\/products\/black8_c300bbfd-0d2c-4ab5-8ca8-4abf8d92e6e6.jpg?v=1591315492","width":1000},{"alt":"Manhattan Electric Fireplace Modern 58\" TV Stand - Meble Furniture","id":9442648785058,"position":24,"preview_image":{"aspect_ratio":1.0,"height":1000,"width":1000,"src":"https:\/\/cdn.shopify.com\/s\/files\/1\/2781\/6416\/products\/black9_07e6c880-ba2d-41ba-a81e-e9a3d6855240.jpg?v=1591315492"},"aspect_ratio":1.0,"height":1000,"media_type":"image","src":"https:\/\/cdn.shopify.com\/s\/files\/1\/2781\/6416\/products\/black9_07e6c880-ba2d-41ba-a81e-e9a3d6855240.jpg?v=1591315492","width":1000},{"alt":"Manhattan Electric Fireplace Modern 58\" TV Stand - Meble Furniture","id":9442648883362,"position":25,"preview_image":{"aspect_ratio":1.0,"height":1000,"width":1000,"src":"https:\/\/cdn.shopify.com\/s\/files\/1\/2781\/6416\/products\/black10_4a4b877f-ac9f-4404-abfc-612934d48fdf.jpg?v=1591315492"},"aspect_ratio":1.0,"height":1000,"media_type":"image","src":"https:\/\/cdn.shopify.com\/s\/files\/1\/2781\/6416\/products\/black10_4a4b877f-ac9f-4404-abfc-612934d48fdf.jpg?v=1591315492","width":1000},{"alt":"Manhattan Electric Fireplace Modern 58\" TV Stand - Meble Furniture","id":9442648981666,"position":26,"preview_image":{"aspect_ratio":1.0,"height":1000,"width":1000,"src":"https:\/\/cdn.shopify.com\/s\/files\/1\/2781\/6416\/products\/black11_b8bd7b69-900d-490b-a819-5cc416be0c19.jpg?v=1591315495"},"aspect_ratio":1.0,"height":1000,"media_type":"image","src":"https:\/\/cdn.shopify.com\/s\/files\/1\/2781\/6416\/products\/black11_b8bd7b69-900d-490b-a819-5cc416be0c19.jpg?v=1591315495","width":1000},{"alt":"Manhattan Electric Fireplace Modern 58\" TV Stand - Meble Furniture","id":11815368917154,"position":27,"preview_image":{"aspect_ratio":1.0,"height":1000,"width":1000,"src":"https:\/\/cdn.shopify.com\/s\/files\/1\/2781\/6416\/products\/BLUEFIRE_34ccd7a9-a742-4bb1-a366-100dfe6a3712.jpg?v=1602188083"},"aspect_ratio":1.0,"height":1000,"media_type":"image","src":"https:\/\/cdn.shopify.com\/s\/files\/1\/2781\/6416\/products\/BLUEFIRE_34ccd7a9-a742-4bb1-a366-100dfe6a3712.jpg?v=1602188083","width":1000},{"alt":"Manhattan Electric Fireplace Modern 58\" TV Stand - Meble Furniture","id":11815368884386,"position":28,"preview_image":{"aspect_ratio":1.0,"height":1000,"width":1000,"src":"https:\/\/cdn.shopify.com\/s\/files\/1\/2781\/6416\/products\/FIREPLACESTACKED_a64dce4d-f76a-4c82-8f66-0d8e1b6529ad.jpg?v=1602188084"},"aspect_ratio":1.0,"height":1000,"media_type":"image","src":"https:\/\/cdn.shopify.com\/s\/files\/1\/2781\/6416\/products\/FIREPLACESTACKED_a64dce4d-f76a-4c82-8f66-0d8e1b6529ad.jpg?v=1602188084","width":1000},{"alt":"Manhattan Electric Fireplace Modern 58\" TV Stand - Meble Furniture","id":12597931311266,"position":29,"preview_image":{"aspect_ratio":1.0,"height":1000,"width":1000,"src":"https:\/\/cdn.shopify.com\/s\/files\/1\/2781\/6416\/products\/Manhattan_76e63d61-ebdc-42f1-8ddd-65f864867db4.png?v=1606088393"},"aspect_ratio":1.0,"height":1000,"media_type":"image","src":"https:\/\/cdn.shopify.com\/s\/files\/1\/2781\/6416\/products\/Manhattan_76e63d61-ebdc-42f1-8ddd-65f864867db4.png?v=1606088393","width":1000},{"alt":"Manhattan Electric Fireplace Modern 58\" TV Stand - Meble Furniture","id":9442648031394,"position":30,"preview_image":{"aspect_ratio":1.0,"height":1000,"width":1000,"src":"https:\/\/cdn.shopify.com\/s\/files\/1\/2781\/6416\/products\/gray_e3e38523-488b-4cb7-8503-19cab119dffa.jpg?v=1591315493"},"aspect_ratio":1.0,"height":1000,"media_type":"image","src":"https:\/\/cdn.shopify.com\/s\/files\/1\/2781\/6416\/products\/gray_e3e38523-488b-4cb7-8503-19cab119dffa.jpg?v=1591315493","width":1000},{"alt":"Manhattan Electric Fireplace Modern 58\" TV Stand - Meble Furniture","id":9442648129698,"position":31,"preview_image":{"aspect_ratio":1.0,"height":1000,"width":1000,"src":"https:\/\/cdn.shopify.com\/s\/files\/1\/2781\/6416\/products\/gray2_8574ebbe-fe21-4e44-a302-814322fc2a03.jpg?v=1591315492"},"aspect_ratio":1.0,"height":1000,"media_type":"image","src":"https:\/\/cdn.shopify.com\/s\/files\/1\/2781\/6416\/products\/gray2_8574ebbe-fe21-4e44-a302-814322fc2a03.jpg?v=1591315492","width":1000},{"alt":"Manhattan Electric Fireplace Modern 58\" TV Stand - Meble Furniture","id":9442648228002,"position":32,"preview_image":{"aspect_ratio":1.0,"height":1000,"width":1000,"src":"https:\/\/cdn.shopify.com\/s\/files\/1\/2781\/6416\/products\/gray3_f7374f49-a702-4654-8461-2374819f80a1.jpg?v=1591315498"},"aspect_ratio":1.0,"height":1000,"media_type":"image","src":"https:\/\/cdn.shopify.com\/s\/files\/1\/2781\/6416\/products\/gray3_f7374f49-a702-4654-8461-2374819f80a1.jpg?v=1591315498","width":1000},{"alt":"Manhattan Electric Fireplace Modern 58\" TV Stand - Meble Furniture","id":9442648326306,"position":33,"preview_image":{"aspect_ratio":1.0,"height":1000,"width":1000,"src":"https:\/\/cdn.shopify.com\/s\/files\/1\/2781\/6416\/products\/gray4_29a06dfa-ddf4-432c-8493-27399acb6493.jpg?v=1591315495"},"aspect_ratio":1.0,"height":1000,"media_type":"image","src":"https:\/\/cdn.shopify.com\/s\/files\/1\/2781\/6416\/products\/gray4_29a06dfa-ddf4-432c-8493-27399acb6493.jpg?v=1591315495","width":1000},{"alt":"Manhattan Electric Fireplace Modern 58\" TV Stand - Meble Furniture","id":9442648424610,"position":34,"preview_image":{"aspect_ratio":1.0,"height":1000,"width":1000,"src":"https:\/\/cdn.shopify.com\/s\/files\/1\/2781\/6416\/products\/gray5_2e3237dc-86b6-4a2e-8860-c327aae944cb.jpg?v=1591315493"},"aspect_ratio":1.0,"height":1000,"media_type":"image","src":"https:\/\/cdn.shopify.com\/s\/files\/1\/2781\/6416\/products\/gray5_2e3237dc-86b6-4a2e-8860-c327aae944cb.jpg?v=1591315493","width":1000},{"alt":"Manhattan Electric Fireplace Modern 58\" TV Stand - Meble Furniture","id":9442648522914,"position":35,"preview_image":{"aspect_ratio":1.0,"height":1000,"width":1000,"src":"https:\/\/cdn.shopify.com\/s\/files\/1\/2781\/6416\/products\/gray6_3529ba68-8f94-4161-9f9d-bd5382c0cabf.jpg?v=1591315490"},"aspect_ratio":1.0,"height":1000,"media_type":"image","src":"https:\/\/cdn.shopify.com\/s\/files\/1\/2781\/6416\/products\/gray6_3529ba68-8f94-4161-9f9d-bd5382c0cabf.jpg?v=1591315490","width":1000},{"alt":"Manhattan Electric Fireplace Modern 58\" TV Stand - Meble Furniture","id":9442648621218,"position":36,"preview_image":{"aspect_ratio":1.0,"height":1000,"width":1000,"src":"https:\/\/cdn.shopify.com\/s\/files\/1\/2781\/6416\/products\/gray7_3f6eba9f-b3e9-49fe-864d-8af3a408f5e9.jpg?v=1591315498"},"aspect_ratio":1.0,"height":1000,"media_type":"image","src":"https:\/\/cdn.shopify.com\/s\/files\/1\/2781\/6416\/products\/gray7_3f6eba9f-b3e9-49fe-864d-8af3a408f5e9.jpg?v=1591315498","width":1000},{"alt":"Manhattan Electric Fireplace Modern 58\" TV Stand - Meble Furniture","id":9442648719522,"position":37,"preview_image":{"aspect_ratio":1.0,"height":1000,"width":1000,"src":"https:\/\/cdn.shopify.com\/s\/files\/1\/2781\/6416\/products\/gray8_8cf84233-80d2-45c3-bab7-a2ce53d9750b.jpg?v=1591315493"},"aspect_ratio":1.0,"height":1000,"media_type":"image","src":"https:\/\/cdn.shopify.com\/s\/files\/1\/2781\/6416\/products\/gray8_8cf84233-80d2-45c3-bab7-a2ce53d9750b.jpg?v=1591315493","width":1000},{"alt":"Manhattan Electric Fireplace Modern 58\" TV Stand - Meble Furniture","id":9442648817826,"position":38,"preview_image":{"aspect_ratio":1.0,"height":1000,"width":1000,"src":"https:\/\/cdn.shopify.com\/s\/files\/1\/2781\/6416\/products\/gray9_fd13d365-fe5e-4e95-9ded-ff50994d2dea.jpg?v=1591315498"},"aspect_ratio":1.0,"height":1000,"media_type":"image","src":"https:\/\/cdn.shopify.com\/s\/files\/1\/2781\/6416\/products\/gray9_fd13d365-fe5e-4e95-9ded-ff50994d2dea.jpg?v=1591315498","width":1000},{"alt":"Manhattan Electric Fireplace Modern 58\" TV Stand - Meble Furniture","id":9442648916130,"position":39,"preview_image":{"aspect_ratio":1.0,"height":1000,"width":1000,"src":"https:\/\/cdn.shopify.com\/s\/files\/1\/2781\/6416\/products\/gray10_862b6f8c-a568-4c92-803a-30d31c19a317.jpg?v=1591315490"},"aspect_ratio":1.0,"height":1000,"media_type":"image","src":"https:\/\/cdn.shopify.com\/s\/files\/1\/2781\/6416\/products\/gray10_862b6f8c-a568-4c92-803a-30d31c19a317.jpg?v=1591315490","width":1000},{"alt":"Manhattan Electric Fireplace Modern 58\" TV Stand - Meble Furniture","id":9442649014434,"position":40,"preview_image":{"aspect_ratio":1.0,"height":1000,"width":1000,"src":"https:\/\/cdn.shopify.com\/s\/files\/1\/2781\/6416\/products\/gray11.jpg?v=1591315490"},"aspect_ratio":1.0,"height":1000,"media_type":"image","src":"https:\/\/cdn.shopify.com\/s\/files\/1\/2781\/6416\/products\/gray11.jpg?v=1591315490","width":1000},{"alt":"Manhattan Electric Fireplace Modern 58\" TV Stand - Meble Furniture","id":9442649079970,"position":41,"preview_image":{"aspect_ratio":1.0,"height":1000,"width":1000,"src":"https:\/\/cdn.shopify.com\/s\/files\/1\/2781\/6416\/products\/black12.jpg?v=1591315491"},"aspect_ratio":1.0,"height":1000,"media_type":"image","src":"https:\/\/cdn.shopify.com\/s\/files\/1\/2781\/6416\/products\/black12.jpg?v=1591315491","width":1000},{"alt":"Manhattan Electric Fireplace Modern 58\" TV Stand - Meble Furniture","id":9442649112738,"position":42,"preview_image":{"aspect_ratio":1.0,"height":1000,"width":1000,"src":"https:\/\/cdn.shopify.com\/s\/files\/1\/2781\/6416\/products\/gray12.jpg?v=1591315490"},"aspect_ratio":1.0,"height":1000,"media_type":"image","src":"https:\/\/cdn.shopify.com\/s\/files\/1\/2781\/6416\/products\/gray12.jpg?v=1591315490","width":1000},{"alt":"Manhattan Electric Fireplace Modern 58\" TV Stand - Meble Furniture","id":11815369343138,"position":43,"preview_image":{"aspect_ratio":1.0,"height":1000,"width":1000,"src":"https:\/\/cdn.shopify.com\/s\/files\/1\/2781\/6416\/products\/BLUEFIRE_3eab3d7d-dcd2-45b2-b338-165ef5f831e5.jpg?v=1602188085"},"aspect_ratio":1.0,"height":1000,"media_type":"image","src":"https:\/\/cdn.shopify.com\/s\/files\/1\/2781\/6416\/products\/BLUEFIRE_3eab3d7d-dcd2-45b2-b338-165ef5f831e5.jpg?v=1602188085","width":1000},{"alt":"Manhattan Electric Fireplace Modern 58\" TV Stand - Meble Furniture","id":11815369310370,"position":44,"preview_image":{"aspect_ratio":1.0,"height":1000,"width":1000,"src":"https:\/\/cdn.shopify.com\/s\/files\/1\/2781\/6416\/products\/FIREPLACESTACKED_a943cf0a-7560-41be-9e99-9d5aec00bb84.jpg?v=1602188085"},"aspect_ratio":1.0,"height":1000,"media_type":"image","src":"https:\/\/cdn.shopify.com\/s\/files\/1\/2781\/6416\/products\/FIREPLACESTACKED_a943cf0a-7560-41be-9e99-9d5aec00bb84.jpg?v=1602188085","width":1000},{"alt":"Manhattan Electric Fireplace Modern 58\" TV Stand - Meble Furniture","id":12597931278498,"position":45,"preview_image":{"aspect_ratio":1.0,"height":1000,"width":1000,"src":"https:\/\/cdn.shopify.com\/s\/files\/1\/2781\/6416\/products\/Manhattan.png?v=1606088393"},"aspect_ratio":1.0,"height":1000,"media_type":"image","src":"https:\/\/cdn.shopify.com\/s\/files\/1\/2781\/6416\/products\/Manhattan.png?v=1606088393","width":1000}],"requires_selling_plan":false,"selling_plan_groups":[],"content":"\u003cul\u003e\n\u003cli\u003eManhattan Electric Fireplace 58\" TV Stand - Modern TV Stand \/ TV Console \/ TV Cabinet \/ Central Entertainment Center\u003c\/li\u003e\n\u003cli\u003eFits up to 65 inch TVs\u003c\/li\u003e\n\u003cli\u003e18\" wide electric fireplace insert included with remote control and on\/off control, 3 changeable flame colors, temperature control, timer setting, and dimmer\u003c\/li\u003e\n\u003cli\u003e16 color LED light system included with color control and on\/off remote\u003c\/li\u003e\n\u003cli\u003eManufactured in and imported from the European Union\u003c\/li\u003e\n\u003cli\u003eModern and unique contemporary design\u003c\/li\u003e\n\u003cli\u003ePerfect for those in need of living room storage space\u003c\/li\u003e\n\u003cli\u003eFlat packed and ready to ship\u003c\/li\u003e\n\u003cli\u003eDimensions: 22.5 inches height x 58 inches width x 13.8 inches depth\u003c\/li\u003e\n\u003c\/ul\u003e\n\u003cdetails\u003e \u003csummary\u003eInformation for California Residents\u003c\/summary\u003e\n\u003cp\u003eCalifornia Proposition 65 Warning: This product can expose you to chemicals including Diisodecyl phthalate (DIDP) and Diisononyl phthalate (DINP), which are known to the State of California to cause cancer and\/or birth defects or other reproductive harm. For more information go to www.P65Warnings.ca.gov.\u003c\/p\u003e\n\u003c\/details\u003e"}
Manhattan Electric Fireplace 58" TV Stand
Ratings & Reviews
Customer Reviews
Write a Review
Ask a Question
Filter Reviews:
purchase
damage
trouble
ones
tv stand
people
unit
website
design
assembly
03/06/2021
Nigel C.

United States
Almost Perfect
Overall I had a good experience with my order. It came rather promptly and was not that challenging to put together. The material is the highest quality, but if you take your time putting it all together it is really sturdy and really beautiful. The only two challenges I faced were small, but felt like unnecessary annoyances. The first is that the holes for wires built into the back on the stand are way to small. I had a bunch of trouble fitting standard usb cords through them, which I did not expect for an entertainment center. Ultimately I cut bigger weird looking holes to make it work. It wasn't fun because the whole thing was already put together and in position when I had to do this. Fortunately, the weird holes don't show when looking at the stand. My second issue is that one of my lights is defective. All of the other ones change color, but this one stays green and won't even turn off. Again, not a make of break thing, but it'd be great to have full functionality. My wife is happy with though, so that is the true marker right there.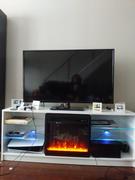 01/30/2021
Anonymous

United States
08/07/2021
Brandon M.

United States
Manhattan electric fireplace 58" tv stand
Assembly was a bit tedious, the instructions on the website were much more helpful than the ones included in the box. However, absolutely love the final product!