{"id":4449016283188,"title":"Komi WH03 Electric Fireplace 63\" Sideboard","handle":"komi-wh03-electric-fireplace-sideboard","description":"\u003cul\u003e\n\u003cli\u003e\n\u003cspan\u003eKomi WH03 Electric Fireplace 63\" Sideboard - Modern Sideboard \/ Buffet \/ \u003c\/span\u003e\u003cspan\u003eCredenza\u003c\/span\u003e\n\u003c\/li\u003e\n\u003cli\u003eHigh gloss fronts with matte body\u003c\/li\u003e\n\u003cli\u003e40\" wide electric fireplace insert included with glass fronts, remote control and on\/off control, 3 changeable flame colors, temperature control, timer setting, and dimmer\u003c\/li\u003e\n\u003cli\u003e16 color LED light system included with color control and on\/off remote\u003c\/li\u003e\n\u003cli\u003eManufactured in and imported from the European Union\u003c\/li\u003e\n\u003cli\u003eModern and unique contemporary design\u003c\/li\u003e\n\u003cli\u003ePerfect for those in need of living room storage space\u003c\/li\u003e\n\u003cli\u003eFlat packed and ready to ship\u003c\/li\u003e\n\u003cli\u003eDimensions: 36 inches height x 63 inches width x 13.2 inches depth\u003c\/li\u003e\n\u003c\/ul\u003e\n\u003cdetails\u003e \u003csummary\u003eInformation for California Residents\u003c\/summary\u003e\n\u003cp\u003eCalifornia Proposition 65 Warning: This product can expose you to chemicals including Diisodecyl phthalate (DIDP) and Diisononyl phthalate (DINP), which are known to the State of California to cause cancer and\/or birth defects or other reproductive harm. For more information go to www.P65Warnings.ca.gov.\u003c\/p\u003e\n\u003c\/details\u003e","published_at":"2020-01-12T13:46:06-05:00","created_at":"2020-01-12T13:48:42-05:00","vendor":"Meble Furniture","type":"Buffets \u0026 Sideboards","tags":["dimensions-36\" H x 63\" W x 13.2\" D","Electric Fireplace Sideboards","Sideboards over 50 inches wide","spo-disabled"],"price":64900,"price_min":64900,"price_max":74900,"available":true,"price_varies":true,"compare_at_price":null,"compare_at_price_min":0,"compare_at_price_max":0,"compare_at_price_varies":false,"variants":[{"id":31603814662196,"title":"Black","option1":"Black","option2":null,"option3":null,"sku":"KOMIWH03BLACK","requires_shipping":true,"taxable":true,"featured_image":{"id":13937631166516,"product_id":4449016283188,"position":10,"created_at":"2020-01-12T13:48:43-05:00","updated_at":"2020-11-22T19:17:37-05:00","alt":"Komi WH03 Electric Fireplace Modern 63\" Sideboard - Meble Furniture","width":1000,"height":1000,"src":"https:\/\/cdn.shopify.com\/s\/files\/1\/2781\/6416\/products\/black_23229aff-af93-4ef9-bf33-bdb299eb43f7.jpg?v=1606090657","variant_ids":[31603814662196]},"available":true,"name":"Komi WH03 Electric Fireplace 63\" Sideboard - Black","public_title":"Black","options":["Black"],"price":74900,"weight":0,"compare_at_price":null,"inventory_management":"shopify","barcode":"840227609323","featured_media":{"alt":"Komi WH03 Electric Fireplace Modern 63\" Sideboard - Meble Furniture","id":6109531177012,"position":10,"preview_image":{"aspect_ratio":1.0,"height":1000,"width":1000,"src":"https:\/\/cdn.shopify.com\/s\/files\/1\/2781\/6416\/products\/black_23229aff-af93-4ef9-bf33-bdb299eb43f7.jpg?v=1578854923"}},"requires_selling_plan":false,"selling_plan_allocations":[]},{"id":31603814694964,"title":"Gray","option1":"Gray","option2":null,"option3":null,"sku":"KOMIWH03GRAY","requires_shipping":true,"taxable":true,"featured_image":{"id":13937631199284,"product_id":4449016283188,"position":19,"created_at":"2020-01-12T13:48:43-05:00","updated_at":"2020-11-22T19:17:37-05:00","alt":"Komi WH03 Electric Fireplace Modern 63\" Sideboard - Meble Furniture","width":1000,"height":1000,"src":"https:\/\/cdn.shopify.com\/s\/files\/1\/2781\/6416\/products\/gray_56e44e07-2295-431c-8932-171eaea6f89b.jpg?v=1606090657","variant_ids":[31603814694964]},"available":true,"name":"Komi WH03 Electric Fireplace 63\" Sideboard - Gray","public_title":"Gray","options":["Gray"],"price":64900,"weight":0,"compare_at_price":null,"inventory_management":"shopify","barcode":"840227609330","featured_media":{"alt":"Komi WH03 Electric Fireplace Modern 63\" Sideboard - Meble Furniture","id":6109531209780,"position":19,"preview_image":{"aspect_ratio":1.0,"height":1000,"width":1000,"src":"https:\/\/cdn.shopify.com\/s\/files\/1\/2781\/6416\/products\/gray_56e44e07-2295-431c-8932-171eaea6f89b.jpg?v=1578854923"}},"requires_selling_plan":false,"selling_plan_allocations":[]},{"id":31603814727732,"title":"White","option1":"White","option2":null,"option3":null,"sku":"KOMIWH03WHITE","requires_shipping":true,"taxable":true,"featured_image":{"id":13937631133748,"product_id":4449016283188,"position":1,"created_at":"2020-01-12T13:48:43-05:00","updated_at":"2020-04-17T13:57:36-04:00","alt":"Komi WH03 Electric Fireplace Modern 63\" Sideboard - Meble Furniture","width":1000,"height":1000,"src":"https:\/\/cdn.shopify.com\/s\/files\/1\/2781\/6416\/products\/white_59f52083-1b27-4f17-bcb9-e07d943bbe89.jpg?v=1587146256","variant_ids":[31603814727732]},"available":true,"name":"Komi WH03 Electric Fireplace 63\" Sideboard - White","public_title":"White","options":["White"],"price":74900,"weight":0,"compare_at_price":null,"inventory_management":"shopify","barcode":"840227609347","featured_media":{"alt":"Komi WH03 Electric Fireplace Modern 63\" Sideboard - Meble Furniture","id":6109531144244,"position":1,"preview_image":{"aspect_ratio":1.0,"height":1000,"width":1000,"src":"https:\/\/cdn.shopify.com\/s\/files\/1\/2781\/6416\/products\/white_59f52083-1b27-4f17-bcb9-e07d943bbe89.jpg?v=1578854923"}},"requires_selling_plan":false,"selling_plan_allocations":[]}],"images":["\/\/cdn.shopify.com\/s\/files\/1\/2781\/6416\/products\/white_59f52083-1b27-4f17-bcb9-e07d943bbe89.jpg?v=1587146256","\/\/cdn.shopify.com\/s\/files\/1\/2781\/6416\/products\/white2_1f448a6a-ce5d-44b7-8ce2-b4712fe8c241.jpg?v=1602187069","\/\/cdn.shopify.com\/s\/files\/1\/2781\/6416\/products\/white3_19156a83-45db-4520-8a97-faf0f94e5ebb.jpg?v=1602187069","\/\/cdn.shopify.com\/s\/files\/1\/2781\/6416\/products\/white4_801e01e5-d5cc-4db4-8cb9-300a21978eb2.jpg?v=1602187069","\/\/cdn.shopify.com\/s\/files\/1\/2781\/6416\/products\/white5_c65aac4d-9ad5-4e34-a364-e59e8b96360a.jpg?v=1602187069","\/\/cdn.shopify.com\/s\/files\/1\/2781\/6416\/products\/white6_721926b8-6e60-4a35-adef-28ca2b89f0cf.jpg?v=1602187069","\/\/cdn.shopify.com\/s\/files\/1\/2781\/6416\/products\/white7_ed42fac1-01a1-4507-bb8e-26f350f72e67.jpg?v=1602187069","\/\/cdn.shopify.com\/s\/files\/1\/2781\/6416\/products\/white8_948bb9dc-ad7a-428b-a011-5a0076a1bf17.jpg?v=1602187069","\/\/cdn.shopify.com\/s\/files\/1\/2781\/6416\/products\/Komi03-KomiWH03_f54ec2f8-2f72-4c80-a763-00f13822e572.png?v=1606244389","\/\/cdn.shopify.com\/s\/files\/1\/2781\/6416\/products\/black_23229aff-af93-4ef9-bf33-bdb299eb43f7.jpg?v=1606090657","\/\/cdn.shopify.com\/s\/files\/1\/2781\/6416\/products\/black2_b0c883e9-df1b-4ea5-84f1-a225d357b3e0.jpg?v=1606090657","\/\/cdn.shopify.com\/s\/files\/1\/2781\/6416\/products\/black3_5d660c12-ee50-46a4-90b6-a5208987ef24.jpg?v=1606090657","\/\/cdn.shopify.com\/s\/files\/1\/2781\/6416\/products\/black4_71e8e052-6015-450d-beb3-7716fa16996a.jpg?v=1606090657","\/\/cdn.shopify.com\/s\/files\/1\/2781\/6416\/products\/black5_b9d7b5b5-81b3-4173-ab80-18dc703a776a.jpg?v=1606090657","\/\/cdn.shopify.com\/s\/files\/1\/2781\/6416\/products\/black6_4a3d27c1-579e-4cad-bef0-7d9622b51f66.jpg?v=1606090657","\/\/cdn.shopify.com\/s\/files\/1\/2781\/6416\/products\/3_f5368f7f-8086-4ea8-8661-063f5ab996b6.jpg?v=1606090657","\/\/cdn.shopify.com\/s\/files\/1\/2781\/6416\/products\/1.jpg?v=1606090657","\/\/cdn.shopify.com\/s\/files\/1\/2781\/6416\/products\/Komi03-KomiWH03_f1b404a8-10bf-422c-a652-01d66ae85106.png?v=1606244389","\/\/cdn.shopify.com\/s\/files\/1\/2781\/6416\/products\/gray_56e44e07-2295-431c-8932-171eaea6f89b.jpg?v=1606090657","\/\/cdn.shopify.com\/s\/files\/1\/2781\/6416\/products\/gray2_37db463c-c9e9-4438-b5e4-74d15aae56d5.jpg?v=1606090657","\/\/cdn.shopify.com\/s\/files\/1\/2781\/6416\/products\/gray3_9b878e0c-b9d9-48a3-8867-82bcdc825774.jpg?v=1606090657","\/\/cdn.shopify.com\/s\/files\/1\/2781\/6416\/products\/gray4_7ad1e769-ff88-4a65-94ff-518363e897be.jpg?v=1606090657","\/\/cdn.shopify.com\/s\/files\/1\/2781\/6416\/products\/gray5_06f6d637-a25d-45e0-98da-60089161ff3f.jpg?v=1606090657","\/\/cdn.shopify.com\/s\/files\/1\/2781\/6416\/products\/gray6_f36049e0-f7f4-4d0f-8ed1-e98f8b9c6a8c.jpg?v=1606090657","\/\/cdn.shopify.com\/s\/files\/1\/2781\/6416\/products\/3_01a548ab-51fb-4609-a1dd-9dd646c02ce9.jpg?v=1606090657","\/\/cdn.shopify.com\/s\/files\/1\/2781\/6416\/products\/1_043a4e48-40a3-4f20-b9f4-3c2c70a378dd.jpg?v=1606090657","\/\/cdn.shopify.com\/s\/files\/1\/2781\/6416\/products\/Komi03-KomiWH03_6cffeb0f-23c7-4fd1-b139-08e07dff7e44.png?v=1606244389"],"featured_image":"\/\/cdn.shopify.com\/s\/files\/1\/2781\/6416\/products\/white_59f52083-1b27-4f17-bcb9-e07d943bbe89.jpg?v=1587146256","options":["Color"],"media":[{"alt":"Komi WH03 Electric Fireplace Modern 63\" Sideboard - Meble Furniture","id":6109531144244,"position":1,"preview_image":{"aspect_ratio":1.0,"height":1000,"width":1000,"src":"https:\/\/cdn.shopify.com\/s\/files\/1\/2781\/6416\/products\/white_59f52083-1b27-4f17-bcb9-e07d943bbe89.jpg?v=1578854923"},"aspect_ratio":1.0,"height":1000,"media_type":"image","src":"https:\/\/cdn.shopify.com\/s\/files\/1\/2781\/6416\/products\/white_59f52083-1b27-4f17-bcb9-e07d943bbe89.jpg?v=1578854923","width":1000},{"alt":"Komi WH03 Electric Fireplace Modern 63\" Sideboard - Meble Furniture","id":6109531308084,"position":2,"preview_image":{"aspect_ratio":1.0,"height":1000,"width":1000,"src":"https:\/\/cdn.shopify.com\/s\/files\/1\/2781\/6416\/products\/white2_1f448a6a-ce5d-44b7-8ce2-b4712fe8c241.jpg?v=1578854923"},"aspect_ratio":1.0,"height":1000,"media_type":"image","src":"https:\/\/cdn.shopify.com\/s\/files\/1\/2781\/6416\/products\/white2_1f448a6a-ce5d-44b7-8ce2-b4712fe8c241.jpg?v=1578854923","width":1000},{"alt":"Komi WH03 Electric Fireplace Modern 63\" Sideboard - Meble Furniture","id":6109531406388,"position":3,"preview_image":{"aspect_ratio":1.0,"height":1000,"width":1000,"src":"https:\/\/cdn.shopify.com\/s\/files\/1\/2781\/6416\/products\/white3_19156a83-45db-4520-8a97-faf0f94e5ebb.jpg?v=1578854923"},"aspect_ratio":1.0,"height":1000,"media_type":"image","src":"https:\/\/cdn.shopify.com\/s\/files\/1\/2781\/6416\/products\/white3_19156a83-45db-4520-8a97-faf0f94e5ebb.jpg?v=1578854923","width":1000},{"alt":"Komi WH03 Electric Fireplace Modern 63\" Sideboard - Meble Furniture","id":6109531504692,"position":4,"preview_image":{"aspect_ratio":1.0,"height":1000,"width":1000,"src":"https:\/\/cdn.shopify.com\/s\/files\/1\/2781\/6416\/products\/white4_801e01e5-d5cc-4db4-8cb9-300a21978eb2.jpg?v=1578854923"},"aspect_ratio":1.0,"height":1000,"media_type":"image","src":"https:\/\/cdn.shopify.com\/s\/files\/1\/2781\/6416\/products\/white4_801e01e5-d5cc-4db4-8cb9-300a21978eb2.jpg?v=1578854923","width":1000},{"alt":"Komi WH03 Electric Fireplace Modern 63\" Sideboard - Meble Furniture","id":6109531602996,"position":5,"preview_image":{"aspect_ratio":1.0,"height":1000,"width":1000,"src":"https:\/\/cdn.shopify.com\/s\/files\/1\/2781\/6416\/products\/white5_c65aac4d-9ad5-4e34-a364-e59e8b96360a.jpg?v=1578854923"},"aspect_ratio":1.0,"height":1000,"media_type":"image","src":"https:\/\/cdn.shopify.com\/s\/files\/1\/2781\/6416\/products\/white5_c65aac4d-9ad5-4e34-a364-e59e8b96360a.jpg?v=1578854923","width":1000},{"alt":"Komi WH03 Electric Fireplace Modern 63\" Sideboard - Meble Furniture","id":6109531701300,"position":6,"preview_image":{"aspect_ratio":1.0,"height":1000,"width":1000,"src":"https:\/\/cdn.shopify.com\/s\/files\/1\/2781\/6416\/products\/white6_721926b8-6e60-4a35-adef-28ca2b89f0cf.jpg?v=1578854923"},"aspect_ratio":1.0,"height":1000,"media_type":"image","src":"https:\/\/cdn.shopify.com\/s\/files\/1\/2781\/6416\/products\/white6_721926b8-6e60-4a35-adef-28ca2b89f0cf.jpg?v=1578854923","width":1000},{"alt":"Komi WH03 Electric Fireplace Modern 63\" Sideboard - Meble Furniture","id":6109531734068,"position":7,"preview_image":{"aspect_ratio":1.0,"height":1000,"width":1000,"src":"https:\/\/cdn.shopify.com\/s\/files\/1\/2781\/6416\/products\/white7_ed42fac1-01a1-4507-bb8e-26f350f72e67.jpg?v=1578854923"},"aspect_ratio":1.0,"height":1000,"media_type":"image","src":"https:\/\/cdn.shopify.com\/s\/files\/1\/2781\/6416\/products\/white7_ed42fac1-01a1-4507-bb8e-26f350f72e67.jpg?v=1578854923","width":1000},{"alt":"Komi WH03 Electric Fireplace Modern 63\" Sideboard - Meble Furniture","id":6109531766836,"position":8,"preview_image":{"aspect_ratio":1.0,"height":1000,"width":1000,"src":"https:\/\/cdn.shopify.com\/s\/files\/1\/2781\/6416\/products\/white8_948bb9dc-ad7a-428b-a011-5a0076a1bf17.jpg?v=1578854923"},"aspect_ratio":1.0,"height":1000,"media_type":"image","src":"https:\/\/cdn.shopify.com\/s\/files\/1\/2781\/6416\/products\/white8_948bb9dc-ad7a-428b-a011-5a0076a1bf17.jpg?v=1578854923","width":1000},{"alt":"Komi WH03 Electric Fireplace Modern 63\" Sideboard - Meble Furniture","id":12598251520162,"position":9,"preview_image":{"aspect_ratio":1.0,"height":1000,"width":1000,"src":"https:\/\/cdn.shopify.com\/s\/files\/1\/2781\/6416\/products\/Komi03-KomiWH03_f54ec2f8-2f72-4c80-a763-00f13822e572.png?v=1606090643"},"aspect_ratio":1.0,"height":1000,"media_type":"image","src":"https:\/\/cdn.shopify.com\/s\/files\/1\/2781\/6416\/products\/Komi03-KomiWH03_f54ec2f8-2f72-4c80-a763-00f13822e572.png?v=1606090643","width":1000},{"alt":"Komi WH03 Electric Fireplace Modern 63\" Sideboard - Meble Furniture","id":6109531177012,"position":10,"preview_image":{"aspect_ratio":1.0,"height":1000,"width":1000,"src":"https:\/\/cdn.shopify.com\/s\/files\/1\/2781\/6416\/products\/black_23229aff-af93-4ef9-bf33-bdb299eb43f7.jpg?v=1578854923"},"aspect_ratio":1.0,"height":1000,"media_type":"image","src":"https:\/\/cdn.shopify.com\/s\/files\/1\/2781\/6416\/products\/black_23229aff-af93-4ef9-bf33-bdb299eb43f7.jpg?v=1578854923","width":1000},{"alt":"Komi WH03 Electric Fireplace Modern 63\" Sideboard - Meble Furniture","id":6109531242548,"position":11,"preview_image":{"aspect_ratio":1.0,"height":1000,"width":1000,"src":"https:\/\/cdn.shopify.com\/s\/files\/1\/2781\/6416\/products\/black2_b0c883e9-df1b-4ea5-84f1-a225d357b3e0.jpg?v=1578854923"},"aspect_ratio":1.0,"height":1000,"media_type":"image","src":"https:\/\/cdn.shopify.com\/s\/files\/1\/2781\/6416\/products\/black2_b0c883e9-df1b-4ea5-84f1-a225d357b3e0.jpg?v=1578854923","width":1000},{"alt":"Komi WH03 Electric Fireplace Modern 63\" Sideboard - Meble Furniture","id":6109531340852,"position":12,"preview_image":{"aspect_ratio":1.0,"height":1000,"width":1000,"src":"https:\/\/cdn.shopify.com\/s\/files\/1\/2781\/6416\/products\/black3_5d660c12-ee50-46a4-90b6-a5208987ef24.jpg?v=1578854923"},"aspect_ratio":1.0,"height":1000,"media_type":"image","src":"https:\/\/cdn.shopify.com\/s\/files\/1\/2781\/6416\/products\/black3_5d660c12-ee50-46a4-90b6-a5208987ef24.jpg?v=1578854923","width":1000},{"alt":"Komi WH03 Electric Fireplace Modern 63\" Sideboard - Meble Furniture","id":6109531439156,"position":13,"preview_image":{"aspect_ratio":1.0,"height":1000,"width":1000,"src":"https:\/\/cdn.shopify.com\/s\/files\/1\/2781\/6416\/products\/black4_71e8e052-6015-450d-beb3-7716fa16996a.jpg?v=1578854923"},"aspect_ratio":1.0,"height":1000,"media_type":"image","src":"https:\/\/cdn.shopify.com\/s\/files\/1\/2781\/6416\/products\/black4_71e8e052-6015-450d-beb3-7716fa16996a.jpg?v=1578854923","width":1000},{"alt":"Komi WH03 Electric Fireplace Modern 63\" Sideboard - Meble Furniture","id":6109531537460,"position":14,"preview_image":{"aspect_ratio":1.0,"height":1000,"width":1000,"src":"https:\/\/cdn.shopify.com\/s\/files\/1\/2781\/6416\/products\/black5_b9d7b5b5-81b3-4173-ab80-18dc703a776a.jpg?v=1578854923"},"aspect_ratio":1.0,"height":1000,"media_type":"image","src":"https:\/\/cdn.shopify.com\/s\/files\/1\/2781\/6416\/products\/black5_b9d7b5b5-81b3-4173-ab80-18dc703a776a.jpg?v=1578854923","width":1000},{"alt":"Komi WH03 Electric Fireplace Modern 63\" Sideboard - Meble Furniture","id":6109531635764,"position":15,"preview_image":{"aspect_ratio":1.0,"height":1000,"width":1000,"src":"https:\/\/cdn.shopify.com\/s\/files\/1\/2781\/6416\/products\/black6_4a3d27c1-579e-4cad-bef0-7d9622b51f66.jpg?v=1578854923"},"aspect_ratio":1.0,"height":1000,"media_type":"image","src":"https:\/\/cdn.shopify.com\/s\/files\/1\/2781\/6416\/products\/black6_4a3d27c1-579e-4cad-bef0-7d9622b51f66.jpg?v=1578854923","width":1000},{"alt":"Komi WH03 Electric Fireplace Modern 63\" Sideboard - Meble Furniture","id":11815093469346,"position":16,"preview_image":{"aspect_ratio":1.0,"height":1000,"width":1000,"src":"https:\/\/cdn.shopify.com\/s\/files\/1\/2781\/6416\/products\/3_f5368f7f-8086-4ea8-8661-063f5ab996b6.jpg?v=1602187008"},"aspect_ratio":1.0,"height":1000,"media_type":"image","src":"https:\/\/cdn.shopify.com\/s\/files\/1\/2781\/6416\/products\/3_f5368f7f-8086-4ea8-8661-063f5ab996b6.jpg?v=1602187008","width":1000},{"alt":"Komi WH03 Electric Fireplace Modern 63\" Sideboard - Meble Furniture","id":11815093502114,"position":17,"preview_image":{"aspect_ratio":1.0,"height":1000,"width":1000,"src":"https:\/\/cdn.shopify.com\/s\/files\/1\/2781\/6416\/products\/1.jpg?v=1602187007"},"aspect_ratio":1.0,"height":1000,"media_type":"image","src":"https:\/\/cdn.shopify.com\/s\/files\/1\/2781\/6416\/products\/1.jpg?v=1602187007","width":1000},{"alt":"Komi WH03 Electric Fireplace Modern 63\" Sideboard - Meble Furniture","id":12598251749538,"position":18,"preview_image":{"aspect_ratio":1.0,"height":1000,"width":1000,"src":"https:\/\/cdn.shopify.com\/s\/files\/1\/2781\/6416\/products\/Komi03-KomiWH03_f1b404a8-10bf-422c-a652-01d66ae85106.png?v=1606090647"},"aspect_ratio":1.0,"height":1000,"media_type":"image","src":"https:\/\/cdn.shopify.com\/s\/files\/1\/2781\/6416\/products\/Komi03-KomiWH03_f1b404a8-10bf-422c-a652-01d66ae85106.png?v=1606090647","width":1000},{"alt":"Komi WH03 Electric Fireplace Modern 63\" Sideboard - Meble Furniture","id":6109531209780,"position":19,"preview_image":{"aspect_ratio":1.0,"height":1000,"width":1000,"src":"https:\/\/cdn.shopify.com\/s\/files\/1\/2781\/6416\/products\/gray_56e44e07-2295-431c-8932-171eaea6f89b.jpg?v=1578854923"},"aspect_ratio":1.0,"height":1000,"media_type":"image","src":"https:\/\/cdn.shopify.com\/s\/files\/1\/2781\/6416\/products\/gray_56e44e07-2295-431c-8932-171eaea6f89b.jpg?v=1578854923","width":1000},{"alt":"Komi WH03 Electric Fireplace Modern 63\" Sideboard - Meble Furniture","id":6109531275316,"position":20,"preview_image":{"aspect_ratio":1.0,"height":1000,"width":1000,"src":"https:\/\/cdn.shopify.com\/s\/files\/1\/2781\/6416\/products\/gray2_37db463c-c9e9-4438-b5e4-74d15aae56d5.jpg?v=1578854923"},"aspect_ratio":1.0,"height":1000,"media_type":"image","src":"https:\/\/cdn.shopify.com\/s\/files\/1\/2781\/6416\/products\/gray2_37db463c-c9e9-4438-b5e4-74d15aae56d5.jpg?v=1578854923","width":1000},{"alt":"Komi WH03 Electric Fireplace Modern 63\" Sideboard - Meble Furniture","id":6109531373620,"position":21,"preview_image":{"aspect_ratio":1.0,"height":1000,"width":1000,"src":"https:\/\/cdn.shopify.com\/s\/files\/1\/2781\/6416\/products\/gray3_9b878e0c-b9d9-48a3-8867-82bcdc825774.jpg?v=1578854923"},"aspect_ratio":1.0,"height":1000,"media_type":"image","src":"https:\/\/cdn.shopify.com\/s\/files\/1\/2781\/6416\/products\/gray3_9b878e0c-b9d9-48a3-8867-82bcdc825774.jpg?v=1578854923","width":1000},{"alt":"Komi WH03 Electric Fireplace Modern 63\" Sideboard - Meble Furniture","id":6109531471924,"position":22,"preview_image":{"aspect_ratio":1.0,"height":1000,"width":1000,"src":"https:\/\/cdn.shopify.com\/s\/files\/1\/2781\/6416\/products\/gray4_7ad1e769-ff88-4a65-94ff-518363e897be.jpg?v=1578854923"},"aspect_ratio":1.0,"height":1000,"media_type":"image","src":"https:\/\/cdn.shopify.com\/s\/files\/1\/2781\/6416\/products\/gray4_7ad1e769-ff88-4a65-94ff-518363e897be.jpg?v=1578854923","width":1000},{"alt":"Komi WH03 Electric Fireplace Modern 63\" Sideboard - Meble Furniture","id":6109531570228,"position":23,"preview_image":{"aspect_ratio":1.0,"height":1000,"width":1000,"src":"https:\/\/cdn.shopify.com\/s\/files\/1\/2781\/6416\/products\/gray5_06f6d637-a25d-45e0-98da-60089161ff3f.jpg?v=1578854923"},"aspect_ratio":1.0,"height":1000,"media_type":"image","src":"https:\/\/cdn.shopify.com\/s\/files\/1\/2781\/6416\/products\/gray5_06f6d637-a25d-45e0-98da-60089161ff3f.jpg?v=1578854923","width":1000},{"alt":"Komi WH03 Electric Fireplace Modern 63\" Sideboard - Meble Furniture","id":6109531668532,"position":24,"preview_image":{"aspect_ratio":1.0,"height":1000,"width":1000,"src":"https:\/\/cdn.shopify.com\/s\/files\/1\/2781\/6416\/products\/gray6_f36049e0-f7f4-4d0f-8ed1-e98f8b9c6a8c.jpg?v=1578854923"},"aspect_ratio":1.0,"height":1000,"media_type":"image","src":"https:\/\/cdn.shopify.com\/s\/files\/1\/2781\/6416\/products\/gray6_f36049e0-f7f4-4d0f-8ed1-e98f8b9c6a8c.jpg?v=1578854923","width":1000},{"alt":"Komi WH03 Electric Fireplace Modern 63\" Sideboard - Meble Furniture","id":11815093829794,"position":25,"preview_image":{"aspect_ratio":1.0,"height":1000,"width":1000,"src":"https:\/\/cdn.shopify.com\/s\/files\/1\/2781\/6416\/products\/3_01a548ab-51fb-4609-a1dd-9dd646c02ce9.jpg?v=1602187009"},"aspect_ratio":1.0,"height":1000,"media_type":"image","src":"https:\/\/cdn.shopify.com\/s\/files\/1\/2781\/6416\/products\/3_01a548ab-51fb-4609-a1dd-9dd646c02ce9.jpg?v=1602187009","width":1000},{"alt":"Komi WH03 Electric Fireplace Modern 63\" Sideboard - Meble Furniture","id":11815093862562,"position":26,"preview_image":{"aspect_ratio":1.0,"height":1000,"width":1000,"src":"https:\/\/cdn.shopify.com\/s\/files\/1\/2781\/6416\/products\/1_043a4e48-40a3-4f20-b9f4-3c2c70a378dd.jpg?v=1602187010"},"aspect_ratio":1.0,"height":1000,"media_type":"image","src":"https:\/\/cdn.shopify.com\/s\/files\/1\/2781\/6416\/products\/1_043a4e48-40a3-4f20-b9f4-3c2c70a378dd.jpg?v=1602187010","width":1000},{"alt":"Komi WH03 Electric Fireplace Modern 63\" Sideboard - Meble Furniture","id":12598252241058,"position":27,"preview_image":{"aspect_ratio":1.0,"height":1000,"width":1000,"src":"https:\/\/cdn.shopify.com\/s\/files\/1\/2781\/6416\/products\/Komi03-KomiWH03_6cffeb0f-23c7-4fd1-b139-08e07dff7e44.png?v=1606090646"},"aspect_ratio":1.0,"height":1000,"media_type":"image","src":"https:\/\/cdn.shopify.com\/s\/files\/1\/2781\/6416\/products\/Komi03-KomiWH03_6cffeb0f-23c7-4fd1-b139-08e07dff7e44.png?v=1606090646","width":1000}],"requires_selling_plan":false,"selling_plan_groups":[],"content":"\u003cul\u003e\n\u003cli\u003e\n\u003cspan\u003eKomi WH03 Electric Fireplace 63\" Sideboard - Modern Sideboard \/ Buffet \/ \u003c\/span\u003e\u003cspan\u003eCredenza\u003c\/span\u003e\n\u003c\/li\u003e\n\u003cli\u003eHigh gloss fronts with matte body\u003c\/li\u003e\n\u003cli\u003e40\" wide electric fireplace insert included with glass fronts, remote control and on\/off control, 3 changeable flame colors, temperature control, timer setting, and dimmer\u003c\/li\u003e\n\u003cli\u003e16 color LED light system included with color control and on\/off remote\u003c\/li\u003e\n\u003cli\u003eManufactured in and imported from the European Union\u003c\/li\u003e\n\u003cli\u003eModern and unique contemporary design\u003c\/li\u003e\n\u003cli\u003ePerfect for those in need of living room storage space\u003c\/li\u003e\n\u003cli\u003eFlat packed and ready to ship\u003c\/li\u003e\n\u003cli\u003eDimensions: 36 inches height x 63 inches width x 13.2 inches depth\u003c\/li\u003e\n\u003c\/ul\u003e\n\u003cdetails\u003e \u003csummary\u003eInformation for California Residents\u003c\/summary\u003e\n\u003cp\u003eCalifornia Proposition 65 Warning: This product can expose you to chemicals including Diisodecyl phthalate (DIDP) and Diisononyl phthalate (DINP), which are known to the State of California to cause cancer and\/or birth defects or other reproductive harm. For more information go to www.P65Warnings.ca.gov.\u003c\/p\u003e\n\u003c\/details\u003e"}
Komi WH03 Electric Fireplace 63" Sideboard
Ratings & Reviews
Customer Reviews
Write a Review
Ask a Question
Filter Reviews:
fireplace
wait
flames
color options
installers
rock
bottom
THREE
shelves
cabinet
04/10/2021
Anonymous

United States
Simply Beautiful
When i seen it , i had to have it,, the stand an fire place is the most  prettiest thing i have ever seen, the clear rocks omg i can go on about this ,,when the fire place is on it looks like you can reach through it  and grab a rock,,  it was very easy to put up ,, it took 3 of us, one to read the directions an 2 to piece it together , job well done,, team work is a beautiful thing,, love it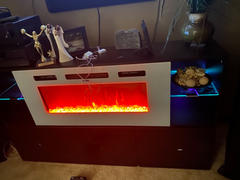 12/20/2020
Cheryl M.

United States
Beautiful
Very nice and well made. Again, throw away instructions, they make no sense. Always parts that don't go with center. I still love it however.
03/25/2021
Stephen v.

United States
Nice cabinet
The fireplace is a nice touch to the cabinet
11/20/2020
Anonymous

United States
Amazing products.
I was really satisfied with the product. Thank you guys.