{"id":4449008091188,"title":"Komi 03 Electric Fireplace Modern 63\" Sideboard","handle":"komi-03-electric-fireplace-modern-63-sideboard","description":"\u003cul\u003e\n\u003cli\u003e\n\u003cspan\u003eKomi 03 Electric Fireplace Modern 63\" Sideboard - Modern Sideboard \/ Buffet \/ \u003c\/span\u003e\u003cspan\u003eCredenza\u003c\/span\u003e\n\u003c\/li\u003e\n\u003cli\u003eHigh gloss fronts with matte body\u003c\/li\u003e\n\u003cli\u003e40\" wide electric fireplace insert included with glass fronts, remote control and on\/off control, 3 changeable flame colors, temperature control, timer setting, and dimmer\u003c\/li\u003e\n\u003cli\u003e16 color LED light system included with color control and on\/off remote\u003c\/li\u003e\n\u003cli\u003eManufactured in and imported from the European Union\u003c\/li\u003e\n\u003cli\u003eModern and unique contemporary design\u003c\/li\u003e\n\u003cli\u003ePerfect for those in need of living room storage space\u003c\/li\u003e\n\u003cli\u003eFlat packed and ready to ship\u003c\/li\u003e\n\u003cli\u003eDimensions: 36 inches height x 63 inches width x 13.2 inches depth\u003c\/li\u003e\n\u003c\/ul\u003e\n\u003cdetails\u003e \u003csummary\u003eInformation for California Residents\u003c\/summary\u003e\n\u003cp\u003eCalifornia Proposition 65 Warning: This product can expose you to chemicals including Diisodecyl phthalate (DIDP) and Diisononyl phthalate (DINP), which are known to the State of California to cause cancer and\/or birth defects or other reproductive harm. For more information go to www.P65Warnings.ca.gov.\u003c\/p\u003e\n\u003c\/details\u003e","published_at":"2020-01-12T13:13:34-05:00","created_at":"2020-01-12T13:36:04-05:00","vendor":"Meble Furniture","type":"Furniture","tags":["dimensions-36\" H x 63\" W x 13.2\" D","Electric Fireplace Sideboards","Electric Fireplace TV Stands","Sideboards over 50 inches wide","spo-disabled"],"price":74900,"price_min":74900,"price_max":74900,"available":true,"price_varies":false,"compare_at_price":null,"compare_at_price_min":0,"compare_at_price_max":0,"compare_at_price_varies":false,"variants":[{"id":31603786645556,"title":"Black","option1":"Black","option2":null,"option3":null,"sku":"KOMI03BLACK","requires_shipping":true,"taxable":true,"featured_image":{"id":13937592041524,"product_id":4449008091188,"position":10,"created_at":"2020-01-12T13:36:04-05:00","updated_at":"2020-11-22T19:17:16-05:00","alt":"Komi 03 Electric Fireplace Modern 63\" Sideboard - Meble Furniture","width":1000,"height":1000,"src":"https:\/\/cdn.shopify.com\/s\/files\/1\/2781\/6416\/products\/black_520f69fa-5bc4-486d-8215-1d930672bd07.jpg?v=1606090636","variant_ids":[31603786645556]},"available":true,"name":"Komi 03 Electric Fireplace Modern 63\" Sideboard - Black","public_title":"Black","options":["Black"],"price":74900,"weight":0,"compare_at_price":null,"inventory_management":"shopify","barcode":"","featured_media":{"alt":"Komi 03 Electric Fireplace Modern 63\" Sideboard - Meble Furniture","id":6109492052020,"position":10,"preview_image":{"aspect_ratio":1.0,"height":1000,"width":1000,"src":"https:\/\/cdn.shopify.com\/s\/files\/1\/2781\/6416\/products\/black_520f69fa-5bc4-486d-8215-1d930672bd07.jpg?v=1578854164"}},"requires_selling_plan":false,"selling_plan_allocations":[]},{"id":31603786678324,"title":"Gray","option1":"Gray","option2":null,"option3":null,"sku":"KOMI03GRAY","requires_shipping":true,"taxable":true,"featured_image":{"id":13937592074292,"product_id":4449008091188,"position":19,"created_at":"2020-01-12T13:36:04-05:00","updated_at":"2020-11-22T19:17:16-05:00","alt":"Komi 03 Electric Fireplace Modern 63\" Sideboard - Meble Furniture","width":1000,"height":1000,"src":"https:\/\/cdn.shopify.com\/s\/files\/1\/2781\/6416\/products\/gray_ded7cde4-9729-4d96-8ee0-137aa661e20e.jpg?v=1606090636","variant_ids":[31603786678324]},"available":true,"name":"Komi 03 Electric Fireplace Modern 63\" Sideboard - Gray","public_title":"Gray","options":["Gray"],"price":74900,"weight":0,"compare_at_price":null,"inventory_management":"shopify","barcode":"","featured_media":{"alt":"Komi 03 Electric Fireplace Modern 63\" Sideboard - Meble Furniture","id":6109492084788,"position":19,"preview_image":{"aspect_ratio":1.0,"height":1000,"width":1000,"src":"https:\/\/cdn.shopify.com\/s\/files\/1\/2781\/6416\/products\/gray_ded7cde4-9729-4d96-8ee0-137aa661e20e.jpg?v=1578854164"}},"requires_selling_plan":false,"selling_plan_allocations":[]},{"id":31603786711092,"title":"White","option1":"White","option2":null,"option3":null,"sku":"KOMI03WHITE","requires_shipping":true,"taxable":true,"featured_image":{"id":13937592008756,"product_id":4449008091188,"position":1,"created_at":"2020-01-12T13:36:04-05:00","updated_at":"2020-04-17T13:57:32-04:00","alt":"Komi 03 Electric Fireplace Modern 63\" Sideboard - Meble Furniture","width":1000,"height":1000,"src":"https:\/\/cdn.shopify.com\/s\/files\/1\/2781\/6416\/products\/white_2c1fa65a-7d14-4822-8c29-b4a8f1511fd6.jpg?v=1587146252","variant_ids":[31603786711092]},"available":true,"name":"Komi 03 Electric Fireplace Modern 63\" Sideboard - White","public_title":"White","options":["White"],"price":74900,"weight":0,"compare_at_price":null,"inventory_management":"shopify","barcode":"","featured_media":{"alt":"Komi 03 Electric Fireplace Modern 63\" Sideboard - Meble Furniture","id":6109492019252,"position":1,"preview_image":{"aspect_ratio":1.0,"height":1000,"width":1000,"src":"https:\/\/cdn.shopify.com\/s\/files\/1\/2781\/6416\/products\/white_2c1fa65a-7d14-4822-8c29-b4a8f1511fd6.jpg?v=1578854164"}},"requires_selling_plan":false,"selling_plan_allocations":[]}],"images":["\/\/cdn.shopify.com\/s\/files\/1\/2781\/6416\/products\/white_2c1fa65a-7d14-4822-8c29-b4a8f1511fd6.jpg?v=1587146252","\/\/cdn.shopify.com\/s\/files\/1\/2781\/6416\/products\/white2_478c617d-6f4b-4373-86ee-71c842d0d8bd.jpg?v=1602186863","\/\/cdn.shopify.com\/s\/files\/1\/2781\/6416\/products\/white3_afa1734f-07f2-491d-b147-382d3d758884.jpg?v=1602186863","\/\/cdn.shopify.com\/s\/files\/1\/2781\/6416\/products\/white4_327f4ae5-386f-42b6-9cad-714b8d097d07.jpg?v=1602186863","\/\/cdn.shopify.com\/s\/files\/1\/2781\/6416\/products\/white5_d9acd89b-e393-4bb4-8b5a-73525397e5b0.jpg?v=1602186863","\/\/cdn.shopify.com\/s\/files\/1\/2781\/6416\/products\/white6_80be4b5e-43d6-41e1-b975-f0395ac43b83.jpg?v=1602186863","\/\/cdn.shopify.com\/s\/files\/1\/2781\/6416\/products\/white7_e69584e5-f42d-4b32-96bc-4f4338d71907.jpg?v=1602186863","\/\/cdn.shopify.com\/s\/files\/1\/2781\/6416\/products\/white8_d9c8ed04-d1db-4718-9eb6-ce49fce17e4c.jpg?v=1602186863","\/\/cdn.shopify.com\/s\/files\/1\/2781\/6416\/products\/Komi03-KomiWH03_cccd0282-8de2-47e0-bcf7-82b334012762.png?v=1606244388","\/\/cdn.shopify.com\/s\/files\/1\/2781\/6416\/products\/black_520f69fa-5bc4-486d-8215-1d930672bd07.jpg?v=1606090636","\/\/cdn.shopify.com\/s\/files\/1\/2781\/6416\/products\/black2_855570cb-3a0d-4ed2-9a80-efdd85c274d8.jpg?v=1606090636","\/\/cdn.shopify.com\/s\/files\/1\/2781\/6416\/products\/black3_aea97222-d35e-4e87-b21c-2668b014321f.jpg?v=1606090636","\/\/cdn.shopify.com\/s\/files\/1\/2781\/6416\/products\/black4_cceb48d4-5188-4a96-bd6c-7afefaa2d8cc.jpg?v=1606090636","\/\/cdn.shopify.com\/s\/files\/1\/2781\/6416\/products\/black5_089d6de9-f860-41c8-a97a-0c5f9907a4a3.jpg?v=1606090636","\/\/cdn.shopify.com\/s\/files\/1\/2781\/6416\/products\/black6_6335879f-1c43-48e7-8dfc-8705ab45a510.jpg?v=1606090636","\/\/cdn.shopify.com\/s\/files\/1\/2781\/6416\/products\/4_249a8d17-72e8-46c1-ad96-2c40746967a2.jpg?v=1606090636","\/\/cdn.shopify.com\/s\/files\/1\/2781\/6416\/products\/3_3e05964c-6987-4153-a7de-ccc799494f60.jpg?v=1606090636","\/\/cdn.shopify.com\/s\/files\/1\/2781\/6416\/products\/Komi03-KomiWH03.png?v=1606244388","\/\/cdn.shopify.com\/s\/files\/1\/2781\/6416\/products\/gray_ded7cde4-9729-4d96-8ee0-137aa661e20e.jpg?v=1606090636","\/\/cdn.shopify.com\/s\/files\/1\/2781\/6416\/products\/gray2_00ce3b9d-3a7e-41a0-8b33-40e7ed8cf6dd.jpg?v=1606090636","\/\/cdn.shopify.com\/s\/files\/1\/2781\/6416\/products\/gray3_4b7759c8-04f0-4d5c-a474-6a154b303902.jpg?v=1606090636","\/\/cdn.shopify.com\/s\/files\/1\/2781\/6416\/products\/gray4_d2be0c4e-5afc-4659-8c76-0a45f50a829b.jpg?v=1606090636","\/\/cdn.shopify.com\/s\/files\/1\/2781\/6416\/products\/gray5_5ea0d5c3-2b17-4ff5-9676-08fbedfb72e0.jpg?v=1606090636","\/\/cdn.shopify.com\/s\/files\/1\/2781\/6416\/products\/gray6_4c873f68-5d75-446f-b5cd-945ffa57d510.jpg?v=1606090636","\/\/cdn.shopify.com\/s\/files\/1\/2781\/6416\/products\/4_c93c5220-9ab5-4459-b785-03caf213ca55.jpg?v=1606090636","\/\/cdn.shopify.com\/s\/files\/1\/2781\/6416\/products\/3_e7e20c3a-4015-485b-8ca8-7e1e6485ac9d.jpg?v=1606090636","\/\/cdn.shopify.com\/s\/files\/1\/2781\/6416\/products\/Komi03-KomiWH03_39b20530-659d-4b6a-910c-71b517c323a4.png?v=1606244388"],"featured_image":"\/\/cdn.shopify.com\/s\/files\/1\/2781\/6416\/products\/white_2c1fa65a-7d14-4822-8c29-b4a8f1511fd6.jpg?v=1587146252","options":["Color"],"media":[{"alt":"Komi 03 Electric Fireplace Modern 63\" Sideboard - Meble Furniture","id":6109492019252,"position":1,"preview_image":{"aspect_ratio":1.0,"height":1000,"width":1000,"src":"https:\/\/cdn.shopify.com\/s\/files\/1\/2781\/6416\/products\/white_2c1fa65a-7d14-4822-8c29-b4a8f1511fd6.jpg?v=1578854164"},"aspect_ratio":1.0,"height":1000,"media_type":"image","src":"https:\/\/cdn.shopify.com\/s\/files\/1\/2781\/6416\/products\/white_2c1fa65a-7d14-4822-8c29-b4a8f1511fd6.jpg?v=1578854164","width":1000},{"alt":"Komi 03 Electric Fireplace Modern 63\" Sideboard - Meble Furniture","id":6109492183092,"position":2,"preview_image":{"aspect_ratio":1.0,"height":1000,"width":1000,"src":"https:\/\/cdn.shopify.com\/s\/files\/1\/2781\/6416\/products\/white2_478c617d-6f4b-4373-86ee-71c842d0d8bd.jpg?v=1578854164"},"aspect_ratio":1.0,"height":1000,"media_type":"image","src":"https:\/\/cdn.shopify.com\/s\/files\/1\/2781\/6416\/products\/white2_478c617d-6f4b-4373-86ee-71c842d0d8bd.jpg?v=1578854164","width":1000},{"alt":"Komi 03 Electric Fireplace Modern 63\" Sideboard - Meble Furniture","id":6109492281396,"position":3,"preview_image":{"aspect_ratio":1.0,"height":1000,"width":1000,"src":"https:\/\/cdn.shopify.com\/s\/files\/1\/2781\/6416\/products\/white3_afa1734f-07f2-491d-b147-382d3d758884.jpg?v=1578854164"},"aspect_ratio":1.0,"height":1000,"media_type":"image","src":"https:\/\/cdn.shopify.com\/s\/files\/1\/2781\/6416\/products\/white3_afa1734f-07f2-491d-b147-382d3d758884.jpg?v=1578854164","width":1000},{"alt":"Komi 03 Electric Fireplace Modern 63\" Sideboard - Meble Furniture","id":6109492379700,"position":4,"preview_image":{"aspect_ratio":1.0,"height":1000,"width":1000,"src":"https:\/\/cdn.shopify.com\/s\/files\/1\/2781\/6416\/products\/white4_327f4ae5-386f-42b6-9cad-714b8d097d07.jpg?v=1578854164"},"aspect_ratio":1.0,"height":1000,"media_type":"image","src":"https:\/\/cdn.shopify.com\/s\/files\/1\/2781\/6416\/products\/white4_327f4ae5-386f-42b6-9cad-714b8d097d07.jpg?v=1578854164","width":1000},{"alt":"Komi 03 Electric Fireplace Modern 63\" Sideboard - Meble Furniture","id":6109492478004,"position":5,"preview_image":{"aspect_ratio":1.0,"height":1000,"width":1000,"src":"https:\/\/cdn.shopify.com\/s\/files\/1\/2781\/6416\/products\/white5_d9acd89b-e393-4bb4-8b5a-73525397e5b0.jpg?v=1578854164"},"aspect_ratio":1.0,"height":1000,"media_type":"image","src":"https:\/\/cdn.shopify.com\/s\/files\/1\/2781\/6416\/products\/white5_d9acd89b-e393-4bb4-8b5a-73525397e5b0.jpg?v=1578854164","width":1000},{"alt":"Komi 03 Electric Fireplace Modern 63\" Sideboard - Meble Furniture","id":6109492576308,"position":6,"preview_image":{"aspect_ratio":1.0,"height":1000,"width":1000,"src":"https:\/\/cdn.shopify.com\/s\/files\/1\/2781\/6416\/products\/white6_80be4b5e-43d6-41e1-b975-f0395ac43b83.jpg?v=1578854164"},"aspect_ratio":1.0,"height":1000,"media_type":"image","src":"https:\/\/cdn.shopify.com\/s\/files\/1\/2781\/6416\/products\/white6_80be4b5e-43d6-41e1-b975-f0395ac43b83.jpg?v=1578854164","width":1000},{"alt":"Komi 03 Electric Fireplace Modern 63\" Sideboard - Meble Furniture","id":6109492609076,"position":7,"preview_image":{"aspect_ratio":1.0,"height":1000,"width":1000,"src":"https:\/\/cdn.shopify.com\/s\/files\/1\/2781\/6416\/products\/white7_e69584e5-f42d-4b32-96bc-4f4338d71907.jpg?v=1578854164"},"aspect_ratio":1.0,"height":1000,"media_type":"image","src":"https:\/\/cdn.shopify.com\/s\/files\/1\/2781\/6416\/products\/white7_e69584e5-f42d-4b32-96bc-4f4338d71907.jpg?v=1578854164","width":1000},{"alt":"Komi 03 Electric Fireplace Modern 63\" Sideboard - Meble Furniture","id":6109492641844,"position":8,"preview_image":{"aspect_ratio":1.0,"height":1000,"width":1000,"src":"https:\/\/cdn.shopify.com\/s\/files\/1\/2781\/6416\/products\/white8_d9c8ed04-d1db-4718-9eb6-ce49fce17e4c.jpg?v=1578854164"},"aspect_ratio":1.0,"height":1000,"media_type":"image","src":"https:\/\/cdn.shopify.com\/s\/files\/1\/2781\/6416\/products\/white8_d9c8ed04-d1db-4718-9eb6-ce49fce17e4c.jpg?v=1578854164","width":1000},{"alt":"Komi 03 Electric Fireplace Modern 63\" Sideboard - Meble Furniture","id":12598248767650,"position":9,"preview_image":{"aspect_ratio":1.0,"height":1000,"width":1000,"src":"https:\/\/cdn.shopify.com\/s\/files\/1\/2781\/6416\/products\/Komi03-KomiWH03_cccd0282-8de2-47e0-bcf7-82b334012762.png?v=1606090625"},"aspect_ratio":1.0,"height":1000,"media_type":"image","src":"https:\/\/cdn.shopify.com\/s\/files\/1\/2781\/6416\/products\/Komi03-KomiWH03_cccd0282-8de2-47e0-bcf7-82b334012762.png?v=1606090625","width":1000},{"alt":"Komi 03 Electric Fireplace Modern 63\" Sideboard - Meble Furniture","id":6109492052020,"position":10,"preview_image":{"aspect_ratio":1.0,"height":1000,"width":1000,"src":"https:\/\/cdn.shopify.com\/s\/files\/1\/2781\/6416\/products\/black_520f69fa-5bc4-486d-8215-1d930672bd07.jpg?v=1578854164"},"aspect_ratio":1.0,"height":1000,"media_type":"image","src":"https:\/\/cdn.shopify.com\/s\/files\/1\/2781\/6416\/products\/black_520f69fa-5bc4-486d-8215-1d930672bd07.jpg?v=1578854164","width":1000},{"alt":"Komi 03 Electric Fireplace Modern 63\" Sideboard - Meble Furniture","id":6109492117556,"position":11,"preview_image":{"aspect_ratio":1.0,"height":1000,"width":1000,"src":"https:\/\/cdn.shopify.com\/s\/files\/1\/2781\/6416\/products\/black2_855570cb-3a0d-4ed2-9a80-efdd85c274d8.jpg?v=1578854164"},"aspect_ratio":1.0,"height":1000,"media_type":"image","src":"https:\/\/cdn.shopify.com\/s\/files\/1\/2781\/6416\/products\/black2_855570cb-3a0d-4ed2-9a80-efdd85c274d8.jpg?v=1578854164","width":1000},{"alt":"Komi 03 Electric Fireplace Modern 63\" Sideboard - Meble Furniture","id":6109492215860,"position":12,"preview_image":{"aspect_ratio":1.0,"height":1000,"width":1000,"src":"https:\/\/cdn.shopify.com\/s\/files\/1\/2781\/6416\/products\/black3_aea97222-d35e-4e87-b21c-2668b014321f.jpg?v=1578854164"},"aspect_ratio":1.0,"height":1000,"media_type":"image","src":"https:\/\/cdn.shopify.com\/s\/files\/1\/2781\/6416\/products\/black3_aea97222-d35e-4e87-b21c-2668b014321f.jpg?v=1578854164","width":1000},{"alt":"Komi 03 Electric Fireplace Modern 63\" Sideboard - Meble Furniture","id":6109492314164,"position":13,"preview_image":{"aspect_ratio":1.0,"height":1000,"width":1000,"src":"https:\/\/cdn.shopify.com\/s\/files\/1\/2781\/6416\/products\/black4_cceb48d4-5188-4a96-bd6c-7afefaa2d8cc.jpg?v=1578854164"},"aspect_ratio":1.0,"height":1000,"media_type":"image","src":"https:\/\/cdn.shopify.com\/s\/files\/1\/2781\/6416\/products\/black4_cceb48d4-5188-4a96-bd6c-7afefaa2d8cc.jpg?v=1578854164","width":1000},{"alt":"Komi 03 Electric Fireplace Modern 63\" Sideboard - Meble Furniture","id":6109492412468,"position":14,"preview_image":{"aspect_ratio":1.0,"height":1000,"width":1000,"src":"https:\/\/cdn.shopify.com\/s\/files\/1\/2781\/6416\/products\/black5_089d6de9-f860-41c8-a97a-0c5f9907a4a3.jpg?v=1578854164"},"aspect_ratio":1.0,"height":1000,"media_type":"image","src":"https:\/\/cdn.shopify.com\/s\/files\/1\/2781\/6416\/products\/black5_089d6de9-f860-41c8-a97a-0c5f9907a4a3.jpg?v=1578854164","width":1000},{"alt":"Komi 03 Electric Fireplace Modern 63\" Sideboard - Meble Furniture","id":6109492510772,"position":15,"preview_image":{"aspect_ratio":1.0,"height":1000,"width":1000,"src":"https:\/\/cdn.shopify.com\/s\/files\/1\/2781\/6416\/products\/black6_6335879f-1c43-48e7-8dfc-8705ab45a510.jpg?v=1578854164"},"aspect_ratio":1.0,"height":1000,"media_type":"image","src":"https:\/\/cdn.shopify.com\/s\/files\/1\/2781\/6416\/products\/black6_6335879f-1c43-48e7-8dfc-8705ab45a510.jpg?v=1578854164","width":1000},{"alt":"Komi 03 Electric Fireplace Modern 63\" Sideboard - Meble Furniture","id":11815045628066,"position":16,"preview_image":{"aspect_ratio":1.0,"height":1000,"width":1000,"src":"https:\/\/cdn.shopify.com\/s\/files\/1\/2781\/6416\/products\/4_249a8d17-72e8-46c1-ad96-2c40746967a2.jpg?v=1602186856"},"aspect_ratio":1.0,"height":1000,"media_type":"image","src":"https:\/\/cdn.shopify.com\/s\/files\/1\/2781\/6416\/products\/4_249a8d17-72e8-46c1-ad96-2c40746967a2.jpg?v=1602186856","width":1000},{"alt":"Komi 03 Electric Fireplace Modern 63\" Sideboard - Meble Furniture","id":11815045726370,"position":17,"preview_image":{"aspect_ratio":1.0,"height":1000,"width":1000,"src":"https:\/\/cdn.shopify.com\/s\/files\/1\/2781\/6416\/products\/3_3e05964c-6987-4153-a7de-ccc799494f60.jpg?v=1602186856"},"aspect_ratio":1.0,"height":1000,"media_type":"image","src":"https:\/\/cdn.shopify.com\/s\/files\/1\/2781\/6416\/products\/3_3e05964c-6987-4153-a7de-ccc799494f60.jpg?v=1602186856","width":1000},{"alt":"Komi 03 Electric Fireplace Modern 63\" Sideboard - Meble Furniture","id":12598248931490,"position":18,"preview_image":{"aspect_ratio":1.0,"height":1000,"width":1000,"src":"https:\/\/cdn.shopify.com\/s\/files\/1\/2781\/6416\/products\/Komi03-KomiWH03.png?v=1606090625"},"aspect_ratio":1.0,"height":1000,"media_type":"image","src":"https:\/\/cdn.shopify.com\/s\/files\/1\/2781\/6416\/products\/Komi03-KomiWH03.png?v=1606090625","width":1000},{"alt":"Komi 03 Electric Fireplace Modern 63\" Sideboard - Meble Furniture","id":6109492084788,"position":19,"preview_image":{"aspect_ratio":1.0,"height":1000,"width":1000,"src":"https:\/\/cdn.shopify.com\/s\/files\/1\/2781\/6416\/products\/gray_ded7cde4-9729-4d96-8ee0-137aa661e20e.jpg?v=1578854164"},"aspect_ratio":1.0,"height":1000,"media_type":"image","src":"https:\/\/cdn.shopify.com\/s\/files\/1\/2781\/6416\/products\/gray_ded7cde4-9729-4d96-8ee0-137aa661e20e.jpg?v=1578854164","width":1000},{"alt":"Komi 03 Electric Fireplace Modern 63\" Sideboard - Meble Furniture","id":6109492150324,"position":20,"preview_image":{"aspect_ratio":1.0,"height":1000,"width":1000,"src":"https:\/\/cdn.shopify.com\/s\/files\/1\/2781\/6416\/products\/gray2_00ce3b9d-3a7e-41a0-8b33-40e7ed8cf6dd.jpg?v=1578854164"},"aspect_ratio":1.0,"height":1000,"media_type":"image","src":"https:\/\/cdn.shopify.com\/s\/files\/1\/2781\/6416\/products\/gray2_00ce3b9d-3a7e-41a0-8b33-40e7ed8cf6dd.jpg?v=1578854164","width":1000},{"alt":"Komi 03 Electric Fireplace Modern 63\" Sideboard - Meble Furniture","id":6109492248628,"position":21,"preview_image":{"aspect_ratio":1.0,"height":1000,"width":1000,"src":"https:\/\/cdn.shopify.com\/s\/files\/1\/2781\/6416\/products\/gray3_4b7759c8-04f0-4d5c-a474-6a154b303902.jpg?v=1578854164"},"aspect_ratio":1.0,"height":1000,"media_type":"image","src":"https:\/\/cdn.shopify.com\/s\/files\/1\/2781\/6416\/products\/gray3_4b7759c8-04f0-4d5c-a474-6a154b303902.jpg?v=1578854164","width":1000},{"alt":"Komi 03 Electric Fireplace Modern 63\" Sideboard - Meble Furniture","id":6109492346932,"position":22,"preview_image":{"aspect_ratio":1.0,"height":1000,"width":1000,"src":"https:\/\/cdn.shopify.com\/s\/files\/1\/2781\/6416\/products\/gray4_d2be0c4e-5afc-4659-8c76-0a45f50a829b.jpg?v=1578854164"},"aspect_ratio":1.0,"height":1000,"media_type":"image","src":"https:\/\/cdn.shopify.com\/s\/files\/1\/2781\/6416\/products\/gray4_d2be0c4e-5afc-4659-8c76-0a45f50a829b.jpg?v=1578854164","width":1000},{"alt":"Komi 03 Electric Fireplace Modern 63\" Sideboard - Meble Furniture","id":6109492445236,"position":23,"preview_image":{"aspect_ratio":1.0,"height":1000,"width":1000,"src":"https:\/\/cdn.shopify.com\/s\/files\/1\/2781\/6416\/products\/gray5_5ea0d5c3-2b17-4ff5-9676-08fbedfb72e0.jpg?v=1578854164"},"aspect_ratio":1.0,"height":1000,"media_type":"image","src":"https:\/\/cdn.shopify.com\/s\/files\/1\/2781\/6416\/products\/gray5_5ea0d5c3-2b17-4ff5-9676-08fbedfb72e0.jpg?v=1578854164","width":1000},{"alt":"Komi 03 Electric Fireplace Modern 63\" Sideboard - Meble Furniture","id":6109492543540,"position":24,"preview_image":{"aspect_ratio":1.0,"height":1000,"width":1000,"src":"https:\/\/cdn.shopify.com\/s\/files\/1\/2781\/6416\/products\/gray6_4c873f68-5d75-446f-b5cd-945ffa57d510.jpg?v=1578854164"},"aspect_ratio":1.0,"height":1000,"media_type":"image","src":"https:\/\/cdn.shopify.com\/s\/files\/1\/2781\/6416\/products\/gray6_4c873f68-5d75-446f-b5cd-945ffa57d510.jpg?v=1578854164","width":1000},{"alt":"Komi 03 Electric Fireplace Modern 63\" Sideboard - Meble Furniture","id":11815046185122,"position":25,"preview_image":{"aspect_ratio":1.0,"height":1000,"width":1000,"src":"https:\/\/cdn.shopify.com\/s\/files\/1\/2781\/6416\/products\/4_c93c5220-9ab5-4459-b785-03caf213ca55.jpg?v=1602186858"},"aspect_ratio":1.0,"height":1000,"media_type":"image","src":"https:\/\/cdn.shopify.com\/s\/files\/1\/2781\/6416\/products\/4_c93c5220-9ab5-4459-b785-03caf213ca55.jpg?v=1602186858","width":1000},{"alt":"Komi 03 Electric Fireplace Modern 63\" Sideboard - Meble Furniture","id":11815046217890,"position":26,"preview_image":{"aspect_ratio":1.0,"height":1000,"width":1000,"src":"https:\/\/cdn.shopify.com\/s\/files\/1\/2781\/6416\/products\/3_e7e20c3a-4015-485b-8ca8-7e1e6485ac9d.jpg?v=1602186858"},"aspect_ratio":1.0,"height":1000,"media_type":"image","src":"https:\/\/cdn.shopify.com\/s\/files\/1\/2781\/6416\/products\/3_e7e20c3a-4015-485b-8ca8-7e1e6485ac9d.jpg?v=1602186858","width":1000},{"alt":"Komi 03 Electric Fireplace Modern 63\" Sideboard - Meble Furniture","id":12598249554082,"position":27,"preview_image":{"aspect_ratio":1.0,"height":1000,"width":1000,"src":"https:\/\/cdn.shopify.com\/s\/files\/1\/2781\/6416\/products\/Komi03-KomiWH03_39b20530-659d-4b6a-910c-71b517c323a4.png?v=1606090628"},"aspect_ratio":1.0,"height":1000,"media_type":"image","src":"https:\/\/cdn.shopify.com\/s\/files\/1\/2781\/6416\/products\/Komi03-KomiWH03_39b20530-659d-4b6a-910c-71b517c323a4.png?v=1606090628","width":1000}],"requires_selling_plan":false,"selling_plan_groups":[],"content":"\u003cul\u003e\n\u003cli\u003e\n\u003cspan\u003eKomi 03 Electric Fireplace Modern 63\" Sideboard - Modern Sideboard \/ Buffet \/ \u003c\/span\u003e\u003cspan\u003eCredenza\u003c\/span\u003e\n\u003c\/li\u003e\n\u003cli\u003eHigh gloss fronts with matte body\u003c\/li\u003e\n\u003cli\u003e40\" wide electric fireplace insert included with glass fronts, remote control and on\/off control, 3 changeable flame colors, temperature control, timer setting, and dimmer\u003c\/li\u003e\n\u003cli\u003e16 color LED light system included with color control and on\/off remote\u003c\/li\u003e\n\u003cli\u003eManufactured in and imported from the European Union\u003c\/li\u003e\n\u003cli\u003eModern and unique contemporary design\u003c\/li\u003e\n\u003cli\u003ePerfect for those in need of living room storage space\u003c\/li\u003e\n\u003cli\u003eFlat packed and ready to ship\u003c\/li\u003e\n\u003cli\u003eDimensions: 36 inches height x 63 inches width x 13.2 inches depth\u003c\/li\u003e\n\u003c\/ul\u003e\n\u003cdetails\u003e \u003csummary\u003eInformation for California Residents\u003c\/summary\u003e\n\u003cp\u003eCalifornia Proposition 65 Warning: This product can expose you to chemicals including Diisodecyl phthalate (DIDP) and Diisononyl phthalate (DINP), which are known to the State of California to cause cancer and\/or birth defects or other reproductive harm. For more information go to www.P65Warnings.ca.gov.\u003c\/p\u003e\n\u003c\/details\u003e"}
Komi 03 Electric Fireplace Modern 63" Sideboard
Ratings & Reviews
Customer Reviews
Write a Review
Ask a Question
Filter Reviews:
fireplace
Meble
instructions
unit
furniture
flame
mistakes
doors
holes
wires
02/02/2021
Anonymous

United States
Great looking, nice product!
I wanted an electric fireplace within an entertainment wall unit. As soon as i saw this, I knew this was it. It is the center piece along with 2 Meble bookcases and a sideboard, all in black and walnut brown. The furniture is very heavy, well built and gorgeous. It was quite a bit to put together, but not difficult for me. Instructions could be a little more clear. Works as advertised, looks very nice with the shelf lighting, a great addition to my living room!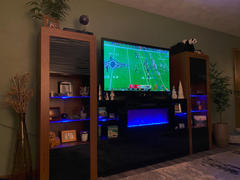 02/01/2021
Veda

United States
Best Fireplace/Customer Service
I had been looking for a white fireplace/tv stand for a couple of weeks! None of them matched my expectations like this one from Meble! I was reluctant to get it cuz I had never heard of this company, but with a lot of research and reading reviews , I was sold! I bought it Friday, got it on Thursday! AMAZING! I LOVE THIS FIREPLACE/TV STAND! IT IS SOOO BEAUTIFUL! PLEASE BUY THIS YOU WILL NOT REGRET IT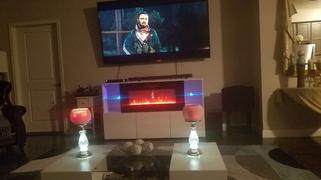 12/08/2020
Linda J.

United States
12/21/2020
Vamshi L.

United States
Overall good buy
I like this electric fireplace and console from Meble furniture. Overall a good buy - Delivered quickly - Well packed and shipped, got the item in 3 packages - Assembling instruction could be better. Can take 2-3 hour with avg. assembling skills - Holes to run wires could be bigger, not big enough to run multiple HDMI and power cables. I made separate 2 inch holes using hole saw - Satisfied with the electric fireplace and its functioning - Decent quality
12/03/2020
Anonymous

United States
It's very cute
Was hard to set up next time I'll order it fit up an pay the extra overall its a must buy