{"id":4124952690730,"title":"Fly I 33TV Wall Mounted Floating Entertainment Center","handle":"fly-i-33tv-wall-mounted-floating-entertainment-center","description":"\u003cul\u003e\n\u003cli\u003eFly I 33TV Wall Mounted Floating Entertainment Center - Modern Wall Unit \/ Entertainment Console \/ Entertainment Center\u003c\/li\u003e\n\u003cli\u003eI1 set includes: 2x Type-33 TV Stand, 2x Type-50 Cabinet, Type-MX Shelf Set\u003c\/li\u003e\n\u003cli\u003eI2 set includes:\u003cspan\u003e 2x Type-33 TV Stand, 2x Type-51 Cabinet, Type-MX Shelf Set\u003c\/span\u003e\n\u003c\/li\u003e\n\u003cli\u003eI3 set includes:\u003cspan\u003e 2x Type-33 TV Stand, 2x Type-52 Cabinet, Type-MX Shelf Set\u003c\/span\u003e\n\u003c\/li\u003e\n\u003cli\u003eHigh gloss fronts with matte body\u003c\/li\u003e\n\u003cli\u003e\u003cspan\u003eWall mounting kit included\u003c\/span\u003e\u003c\/li\u003e\n\u003cli\u003e16 color LED light system included with color control and on\/off remote\u003c\/li\u003e\n\u003cli\u003eManufactured in and imported from the European Union\u003c\/li\u003e\n\u003cli\u003eModern and unique contemporary design\u003c\/li\u003e\n\u003cli\u003ePerfect for those in need of living room storage space\u003c\/li\u003e\n\u003cli\u003eFlat packed and ready to ship\u003c\/li\u003e\n\u003cli\u003e\u003cspan\u003eEasy wall installation with included bracket, pins, and eccentric type connections\u003c\/span\u003e\u003c\/li\u003e\n\u003cli\u003e\u003cspan\u003eSet Dimensions: 75.5 inches height x 126 inches width x 17 inches depth. Type-33 TV Stand Dimensions: 12 inches height x 63 inches width x 15.75 inches depth. Type-50\/51\/52 Cabinet Dimensions: 12 inches height x 63 inches width x 11.5 inches depth. Type-MX Shelf Dimensions: 8 inches height x 47.5 or 39.5 inches width x 8 inches depth.\u003c\/span\u003e\u003c\/li\u003e\n\u003c\/ul\u003e\n\u003cdetails\u003e \u003csummary\u003eInformation for California Residents\u003c\/summary\u003e\n\u003cp\u003eCalifornia Proposition 65 Warning: This product can expose you to chemicals including Diisodecyl phthalate (DIDP) and Diisononyl phthalate (DINP), which are known to the State of California to cause cancer and\/or birth defects or other reproductive harm. For more information go to www.P65Warnings.ca.gov.\u003c\/p\u003e\n\u003c\/details\u003e","published_at":"2019-09-26T15:18:07-04:00","created_at":"2019-09-26T15:19:18-04:00","vendor":"Meble Furniture","type":"Entertainment Centers \u0026 TV Stands","tags":["5 Piece Entertainment Centers","dimensions-75.5\" H x 126\" W x 17\" D","spo-default","spo-disabled","Wall Mounted Floating Entertainment Centers"],"price":119900,"price_min":119900,"price_max":119900,"available":true,"price_varies":false,"compare_at_price":null,"compare_at_price_min":0,"compare_at_price_max":0,"compare_at_price_varies":false,"variants":[{"id":30256170106922,"title":"Black \/ I1","option1":"Black","option2":"I1","option3":null,"sku":"FLYI1BLACK33TV","requires_shipping":true,"taxable":true,"featured_image":{"id":12812433195050,"product_id":4124952690730,"position":4,"created_at":"2019-09-29T10:53:48-04:00","updated_at":"2019-09-29T10:53:48-04:00","alt":"Fly I 33TV Wall Mounted Floating Modern Entertainment Center - Meble Furniture","width":1000,"height":1000,"src":"https:\/\/cdn.shopify.com\/s\/files\/1\/2781\/6416\/products\/Image_1_1f9687c2-40de-4fc9-9002-e8f15e8c14e1.jpg?v=1569768828","variant_ids":[30256170106922]},"available":true,"name":"Fly I 33TV Wall Mounted Floating Entertainment Center - Black \/ I1","public_title":"Black \/ I1","options":["Black","I1"],"price":119900,"weight":0,"compare_at_price":null,"inventory_management":"shopify","barcode":"840227606742","featured_media":{"alt":"Fly I 33TV Wall Mounted Floating Modern Entertainment Center - Meble Furniture","id":3419751055402,"position":4,"preview_image":{"aspect_ratio":1.0,"height":1000,"width":1000,"src":"https:\/\/cdn.shopify.com\/s\/files\/1\/2781\/6416\/products\/Image_1_1f9687c2-40de-4fc9-9002-e8f15e8c14e1.jpg?v=1569768828"}},"requires_selling_plan":false,"selling_plan_allocations":[]},{"id":30256170205226,"title":"Black \/ I2","option1":"Black","option2":"I2","option3":null,"sku":"FLYI2BLACK33TV","requires_shipping":true,"taxable":true,"featured_image":{"id":12812437159978,"product_id":4124952690730,"position":19,"created_at":"2019-09-29T10:54:57-04:00","updated_at":"2019-09-29T10:54:57-04:00","alt":"Fly I 33TV Wall Mounted Floating Modern Entertainment Center - Meble Furniture","width":1000,"height":1000,"src":"https:\/\/cdn.shopify.com\/s\/files\/1\/2781\/6416\/products\/Image_1_15554b56-ab8d-42e4-b8a1-6484776c76ef.jpg?v=1569768897","variant_ids":[30256170205226]},"available":true,"name":"Fly I 33TV Wall Mounted Floating Entertainment Center - Black \/ I2","public_title":"Black \/ I2","options":["Black","I2"],"price":119900,"weight":0,"compare_at_price":null,"inventory_management":"shopify","barcode":"840227606759","featured_media":{"alt":"Fly I 33TV Wall Mounted Floating Modern Entertainment Center - Meble Furniture","id":3419755020330,"position":19,"preview_image":{"aspect_ratio":1.0,"height":1000,"width":1000,"src":"https:\/\/cdn.shopify.com\/s\/files\/1\/2781\/6416\/products\/Image_1_15554b56-ab8d-42e4-b8a1-6484776c76ef.jpg?v=1569768897"}},"requires_selling_plan":false,"selling_plan_allocations":[]},{"id":30256170303530,"title":"Black \/ I3","option1":"Black","option2":"I3","option3":null,"sku":"FLYI3BLACK33TV","requires_shipping":true,"taxable":true,"featured_image":{"id":12812442632234,"product_id":4124952690730,"position":37,"created_at":"2019-09-29T10:55:57-04:00","updated_at":"2019-09-29T10:55:57-04:00","alt":"Fly I 33TV Wall Mounted Floating Modern Entertainment Center - Meble Furniture","width":1000,"height":1000,"src":"https:\/\/cdn.shopify.com\/s\/files\/1\/2781\/6416\/products\/Image_1_dd8253e9-e78d-4bf3-bcd1-a42669c83313.jpg?v=1569768957","variant_ids":[30256170303530]},"available":true,"name":"Fly I 33TV Wall Mounted Floating Entertainment Center - Black \/ I3","public_title":"Black \/ I3","options":["Black","I3"],"price":119900,"weight":0,"compare_at_price":null,"inventory_management":"shopify","barcode":"840227606766","featured_media":{"alt":"Fly I 33TV Wall Mounted Floating Modern Entertainment Center - Meble Furniture","id":3419760394282,"position":37,"preview_image":{"aspect_ratio":1.0,"height":1000,"width":1000,"src":"https:\/\/cdn.shopify.com\/s\/files\/1\/2781\/6416\/products\/Image_1_dd8253e9-e78d-4bf3-bcd1-a42669c83313.jpg?v=1569768957"}},"requires_selling_plan":false,"selling_plan_allocations":[]},{"id":31006555078708,"title":"Black\/White \/ I1","option1":"Black\/White","option2":"I1","option3":null,"sku":"FLYI1BLACKWHITE33TV","requires_shipping":true,"taxable":true,"featured_image":{"id":13301624864820,"product_id":4124952690730,"position":7,"created_at":"2019-10-25T20:06:28-04:00","updated_at":"2019-10-25T20:06:28-04:00","alt":"Fly I 33TV Wall Mounted Floating Modern Entertainment Center - Meble Furniture","width":1000,"height":1000,"src":"https:\/\/cdn.shopify.com\/s\/files\/1\/2781\/6416\/products\/Image_1_0e479835-aff6-4847-9e75-90c132da4fee.jpg?v=1572048388","variant_ids":[31006555078708]},"available":true,"name":"Fly I 33TV Wall Mounted Floating Entertainment Center - Black\/White \/ I1","public_title":"Black\/White \/ I1","options":["Black\/White","I1"],"price":119900,"weight":0,"compare_at_price":null,"inventory_management":"shopify","barcode":"840227606773","featured_media":{"alt":"Fly I 33TV Wall Mounted Floating Modern Entertainment Center - Meble Furniture","id":5472998490164,"position":7,"preview_image":{"aspect_ratio":1.0,"height":1000,"width":1000,"src":"https:\/\/cdn.shopify.com\/s\/files\/1\/2781\/6416\/products\/Image_1_0e479835-aff6-4847-9e75-90c132da4fee.jpg?v=1572048388"}},"requires_selling_plan":false,"selling_plan_allocations":[]},{"id":31006555537460,"title":"Black\/White \/ I2","option1":"Black\/White","option2":"I2","option3":null,"sku":"FLYI2BLACKWHITE33TV","requires_shipping":true,"taxable":true,"featured_image":{"id":13301628764212,"product_id":4124952690730,"position":22,"created_at":"2019-10-25T20:07:20-04:00","updated_at":"2019-10-25T20:07:20-04:00","alt":"Fly I 33TV Wall Mounted Floating Modern Entertainment Center - Meble Furniture","width":1000,"height":1000,"src":"https:\/\/cdn.shopify.com\/s\/files\/1\/2781\/6416\/products\/Image_1_d61f58b6-25d8-4a19-94f6-46f4ed7e8e23.jpg?v=1572048440","variant_ids":[31006555537460]},"available":true,"name":"Fly I 33TV Wall Mounted Floating Entertainment Center - Black\/White \/ I2","public_title":"Black\/White \/ I2","options":["Black\/White","I2"],"price":119900,"weight":0,"compare_at_price":null,"inventory_management":"shopify","barcode":"840227606780","featured_media":{"alt":"Fly I 33TV Wall Mounted Floating Modern Entertainment Center - Meble Furniture","id":5473002389556,"position":22,"preview_image":{"aspect_ratio":1.0,"height":1000,"width":1000,"src":"https:\/\/cdn.shopify.com\/s\/files\/1\/2781\/6416\/products\/Image_1_d61f58b6-25d8-4a19-94f6-46f4ed7e8e23.jpg?v=1572048440"}},"requires_selling_plan":false,"selling_plan_allocations":[]},{"id":31006556028980,"title":"Black\/White \/ I3","option1":"Black\/White","option2":"I3","option3":null,"sku":"FLYI3BLACKWHITE33TV","requires_shipping":true,"taxable":true,"featured_image":{"id":13301634269236,"product_id":4124952690730,"position":40,"created_at":"2019-10-25T20:08:18-04:00","updated_at":"2019-10-25T20:08:18-04:00","alt":"Fly I 33TV Wall Mounted Floating Modern Entertainment Center - Meble Furniture","width":1000,"height":1000,"src":"https:\/\/cdn.shopify.com\/s\/files\/1\/2781\/6416\/products\/Image_1_0d2b859f-6d76-44f2-8302-683555635c43.jpg?v=1572048498","variant_ids":[31006556028980]},"available":true,"name":"Fly I 33TV Wall Mounted Floating Entertainment Center - Black\/White \/ I3","public_title":"Black\/White \/ I3","options":["Black\/White","I3"],"price":119900,"weight":0,"compare_at_price":null,"inventory_management":"shopify","barcode":"840227606797","featured_media":{"alt":"Fly I 33TV Wall Mounted Floating Modern Entertainment Center - Meble Furniture","id":5473007894580,"position":40,"preview_image":{"aspect_ratio":1.0,"height":1000,"width":1000,"src":"https:\/\/cdn.shopify.com\/s\/files\/1\/2781\/6416\/products\/Image_1_0d2b859f-6d76-44f2-8302-683555635c43.jpg?v=1572048498"}},"requires_selling_plan":false,"selling_plan_allocations":[]},{"id":35853838123170,"title":"Gray \/ I1","option1":"Gray","option2":"I1","option3":null,"sku":"FLYI1GRAY33TV","requires_shipping":true,"taxable":true,"featured_image":{"id":18805354037410,"product_id":4124952690730,"position":10,"created_at":"2020-08-25T16:06:23-04:00","updated_at":"2020-08-25T16:06:24-04:00","alt":"Fly I 33TV Wall Mounted Floating Modern Entertainment Center - Meble Furniture","width":1000,"height":1000,"src":"https:\/\/cdn.shopify.com\/s\/files\/1\/2781\/6416\/products\/23GGFYI1-33-33_3.jpg?v=1598385984","variant_ids":[35853838123170]},"available":true,"name":"Fly I 33TV Wall Mounted Floating Entertainment Center - Gray \/ I1","public_title":"Gray \/ I1","options":["Gray","I1"],"price":119900,"weight":0,"compare_at_price":null,"inventory_management":"shopify","barcode":"840227606803","featured_media":{"alt":"Fly I 33TV Wall Mounted Floating Modern Entertainment Center - Meble Furniture","id":10980062920866,"position":10,"preview_image":{"aspect_ratio":1.0,"height":1000,"width":1000,"src":"https:\/\/cdn.shopify.com\/s\/files\/1\/2781\/6416\/products\/23GGFYI1-33-33_3.jpg?v=1598385984"}},"requires_selling_plan":false,"selling_plan_allocations":[]},{"id":35853878329506,"title":"Gray \/ I2","option1":"Gray","option2":"I2","option3":null,"sku":"FLYI2GRAY33TV","requires_shipping":true,"taxable":true,"featured_image":{"id":18805354332322,"product_id":4124952690730,"position":25,"created_at":"2020-08-25T16:06:23-04:00","updated_at":"2020-08-25T16:06:24-04:00","alt":"Fly I 33TV Wall Mounted Floating Modern Entertainment Center - Meble Furniture","width":1000,"height":1000,"src":"https:\/\/cdn.shopify.com\/s\/files\/1\/2781\/6416\/products\/23GGFYI2-33-33_3.jpg?v=1598385984","variant_ids":[35853878329506]},"available":true,"name":"Fly I 33TV Wall Mounted Floating Entertainment Center - Gray \/ I2","public_title":"Gray \/ I2","options":["Gray","I2"],"price":119900,"weight":0,"compare_at_price":null,"inventory_management":"shopify","barcode":"840227606810","featured_media":{"alt":"Fly I 33TV Wall Mounted Floating Modern Entertainment Center - Meble Furniture","id":10980062986402,"position":25,"preview_image":{"aspect_ratio":1.0,"height":1000,"width":1000,"src":"https:\/\/cdn.shopify.com\/s\/files\/1\/2781\/6416\/products\/23GGFYI2-33-33_3.jpg?v=1598385984"}},"requires_selling_plan":false,"selling_plan_allocations":[]},{"id":35853882851490,"title":"Gray \/ I3","option1":"Gray","option2":"I3","option3":null,"sku":"FLYI3GRAY33TV","requires_shipping":true,"taxable":true,"featured_image":{"id":18805354004642,"product_id":4124952690730,"position":43,"created_at":"2020-08-25T16:06:23-04:00","updated_at":"2020-08-25T16:06:24-04:00","alt":"Fly I 33TV Wall Mounted Floating Modern Entertainment Center - Meble Furniture","width":1000,"height":1000,"src":"https:\/\/cdn.shopify.com\/s\/files\/1\/2781\/6416\/products\/23GGFYI3-33-33_3.jpg?v=1598385984","variant_ids":[35853882851490]},"available":true,"name":"Fly I 33TV Wall Mounted Floating Entertainment Center - Gray \/ I3","public_title":"Gray \/ I3","options":["Gray","I3"],"price":119900,"weight":0,"compare_at_price":null,"inventory_management":"shopify","barcode":"840227606827","featured_media":{"alt":"Fly I 33TV Wall Mounted Floating Modern Entertainment Center - Meble Furniture","id":10980063051938,"position":43,"preview_image":{"aspect_ratio":1.0,"height":1000,"width":1000,"src":"https:\/\/cdn.shopify.com\/s\/files\/1\/2781\/6416\/products\/23GGFYI3-33-33_3.jpg?v=1598385984"}},"requires_selling_plan":false,"selling_plan_allocations":[]},{"id":30256170139690,"title":"Oak \/ I1","option1":"Oak","option2":"I1","option3":null,"sku":"FLYI1OAK33TV","requires_shipping":true,"taxable":true,"featured_image":{"id":12812434210858,"product_id":4124952690730,"position":13,"created_at":"2019-09-29T10:54:03-04:00","updated_at":"2019-09-29T10:54:03-04:00","alt":"Fly I 33TV Wall Mounted Floating Modern Entertainment Center - Meble Furniture","width":1000,"height":1000,"src":"https:\/\/cdn.shopify.com\/s\/files\/1\/2781\/6416\/products\/23_WT_FY_I1_1_42c72b11-5aa1-43bd-b971-c6d6a595ec09.jpg?v=1569768843","variant_ids":[30256170139690]},"available":true,"name":"Fly I 33TV Wall Mounted Floating Entertainment Center - Oak \/ I1","public_title":"Oak \/ I1","options":["Oak","I1"],"price":119900,"weight":0,"compare_at_price":null,"inventory_management":"shopify","barcode":"840227606834","featured_media":{"alt":"Fly I 33TV Wall Mounted Floating Modern Entertainment Center - Meble Furniture","id":3419752071210,"position":13,"preview_image":{"aspect_ratio":1.0,"height":1000,"width":1000,"src":"https:\/\/cdn.shopify.com\/s\/files\/1\/2781\/6416\/products\/23_WT_FY_I1_1_42c72b11-5aa1-43bd-b971-c6d6a595ec09.jpg?v=1569768843"}},"requires_selling_plan":false,"selling_plan_allocations":[]},{"id":30256170237994,"title":"Oak \/ I2","option1":"Oak","option2":"I2","option3":null,"sku":"FLYI2OAK33TV","requires_shipping":true,"taxable":true,"featured_image":{"id":12812438437930,"product_id":4124952690730,"position":28,"created_at":"2019-09-29T10:55:17-04:00","updated_at":"2019-09-29T10:55:17-04:00","alt":"Fly I 33TV Wall Mounted Floating Modern Entertainment Center - Meble Furniture","width":1000,"height":1000,"src":"https:\/\/cdn.shopify.com\/s\/files\/1\/2781\/6416\/products\/23_WT_FY_I2_1_ee7ebeac-33bf-4c3e-ab9a-fbdc132cf871.jpg?v=1569768917","variant_ids":[30256170237994]},"available":true,"name":"Fly I 33TV Wall Mounted Floating Entertainment Center - Oak \/ I2","public_title":"Oak \/ I2","options":["Oak","I2"],"price":119900,"weight":0,"compare_at_price":null,"inventory_management":"shopify","barcode":"840227606841","featured_media":{"alt":"Fly I 33TV Wall Mounted Floating Modern Entertainment Center - Meble Furniture","id":3419756298282,"position":28,"preview_image":{"aspect_ratio":1.0,"height":1000,"width":1000,"src":"https:\/\/cdn.shopify.com\/s\/files\/1\/2781\/6416\/products\/23_WT_FY_I2_1_ee7ebeac-33bf-4c3e-ab9a-fbdc132cf871.jpg?v=1569768917"}},"requires_selling_plan":false,"selling_plan_allocations":[]},{"id":30256170336298,"title":"Oak \/ I3","option1":"Oak","option2":"I3","option3":null,"sku":"FLYI3OAK33TV","requires_shipping":true,"taxable":true,"featured_image":{"id":12812443353130,"product_id":4124952690730,"position":46,"created_at":"2019-09-29T10:56:10-04:00","updated_at":"2019-09-29T10:56:10-04:00","alt":"Fly I 33TV Wall Mounted Floating Modern Entertainment Center - Meble Furniture","width":1000,"height":1000,"src":"https:\/\/cdn.shopify.com\/s\/files\/1\/2781\/6416\/products\/23_WT_FY_I3_1_0d60e168-301a-4847-8224-058ec05f5241.jpg?v=1569768970","variant_ids":[30256170336298]},"available":true,"name":"Fly I 33TV Wall Mounted Floating Entertainment Center - Oak \/ I3","public_title":"Oak \/ I3","options":["Oak","I3"],"price":119900,"weight":0,"compare_at_price":null,"inventory_management":"shopify","barcode":"840227606858","featured_media":{"alt":"Fly I 33TV Wall Mounted Floating Modern Entertainment Center - Meble Furniture","id":3419761115178,"position":46,"preview_image":{"aspect_ratio":1.0,"height":1000,"width":1000,"src":"https:\/\/cdn.shopify.com\/s\/files\/1\/2781\/6416\/products\/23_WT_FY_I3_1_0d60e168-301a-4847-8224-058ec05f5241.jpg?v=1569768970"}},"requires_selling_plan":false,"selling_plan_allocations":[]},{"id":30256170172458,"title":"White \/ I1","option1":"White","option2":"I1","option3":null,"sku":"FLYI1WHITE33TV","requires_shipping":true,"taxable":true,"featured_image":{"id":12812434538538,"product_id":4124952690730,"position":1,"created_at":"2019-09-29T10:54:11-04:00","updated_at":"2019-09-29T10:54:11-04:00","alt":"Fly I 33TV Wall Mounted Floating Modern Entertainment Center - Meble Furniture","width":1000,"height":1000,"src":"https:\/\/cdn.shopify.com\/s\/files\/1\/2781\/6416\/products\/Image_1_0938e291-3132-4b87-8051-b7db3297cd9b.jpg?v=1569768851","variant_ids":[30256170172458]},"available":true,"name":"Fly I 33TV Wall Mounted Floating Entertainment Center - White \/ I1","public_title":"White \/ I1","options":["White","I1"],"price":119900,"weight":0,"compare_at_price":null,"inventory_management":"shopify","barcode":"840227606865","featured_media":{"alt":"Fly I 33TV Wall Mounted Floating Modern Entertainment Center - Meble Furniture","id":3419752398890,"position":1,"preview_image":{"aspect_ratio":1.0,"height":1000,"width":1000,"src":"https:\/\/cdn.shopify.com\/s\/files\/1\/2781\/6416\/products\/Image_1_0938e291-3132-4b87-8051-b7db3297cd9b.jpg?v=1569768851"}},"requires_selling_plan":false,"selling_plan_allocations":[]},{"id":30256170270762,"title":"White \/ I2","option1":"White","option2":"I2","option3":null,"sku":"FLYI2WHITE33TV","requires_shipping":true,"taxable":true,"featured_image":{"id":12812439093290,"product_id":4124952690730,"position":31,"created_at":"2019-09-29T10:55:26-04:00","updated_at":"2019-09-29T10:55:26-04:00","alt":"Fly I 33TV Wall Mounted Floating Modern Entertainment Center - Meble Furniture","width":1000,"height":1000,"src":"https:\/\/cdn.shopify.com\/s\/files\/1\/2781\/6416\/products\/Image_1_1b459dfb-2c55-401b-aede-8f321f8c4dd9.jpg?v=1569768926","variant_ids":[30256170270762]},"available":true,"name":"Fly I 33TV Wall Mounted Floating Entertainment Center - White \/ I2","public_title":"White \/ I2","options":["White","I2"],"price":119900,"weight":0,"compare_at_price":null,"inventory_management":"shopify","barcode":"840227606872","featured_media":{"alt":"Fly I 33TV Wall Mounted Floating Modern Entertainment Center - Meble Furniture","id":3419756888106,"position":31,"preview_image":{"aspect_ratio":1.0,"height":1000,"width":1000,"src":"https:\/\/cdn.shopify.com\/s\/files\/1\/2781\/6416\/products\/Image_1_1b459dfb-2c55-401b-aede-8f321f8c4dd9.jpg?v=1569768926"}},"requires_selling_plan":false,"selling_plan_allocations":[]},{"id":30256170369066,"title":"White \/ I3","option1":"White","option2":"I3","option3":null,"sku":"FLYI3WHITE33TV","requires_shipping":true,"taxable":true,"featured_image":{"id":12812444565546,"product_id":4124952690730,"position":49,"created_at":"2019-09-29T10:56:19-04:00","updated_at":"2019-09-29T10:56:19-04:00","alt":"Fly I 33TV Wall Mounted Floating Modern Entertainment Center - Meble Furniture","width":1000,"height":1000,"src":"https:\/\/cdn.shopify.com\/s\/files\/1\/2781\/6416\/products\/Image_1_d8fb2f9f-c37d-4565-bf58-0627005c88d7.jpg?v=1569768979","variant_ids":[30256170369066]},"available":true,"name":"Fly I 33TV Wall Mounted Floating Entertainment Center - White \/ I3","public_title":"White \/ I3","options":["White","I3"],"price":119900,"weight":0,"compare_at_price":null,"inventory_management":"shopify","barcode":"840227606889","featured_media":{"alt":"Fly I 33TV Wall Mounted Floating Modern Entertainment Center - Meble Furniture","id":3419762327594,"position":49,"preview_image":{"aspect_ratio":1.0,"height":1000,"width":1000,"src":"https:\/\/cdn.shopify.com\/s\/files\/1\/2781\/6416\/products\/Image_1_d8fb2f9f-c37d-4565-bf58-0627005c88d7.jpg?v=1569768979"}},"requires_selling_plan":false,"selling_plan_allocations":[]},{"id":31006557208628,"title":"White\/Black \/ I1","option1":"White\/Black","option2":"I1","option3":null,"sku":"FLYI1WHITEBLACK33TV","requires_shipping":true,"taxable":true,"featured_image":{"id":13301625585716,"product_id":4124952690730,"position":16,"created_at":"2019-10-25T20:06:38-04:00","updated_at":"2019-10-25T20:06:38-04:00","alt":"Fly I 33TV Wall Mounted Floating Modern Entertainment Center - Meble Furniture","width":1000,"height":1000,"src":"https:\/\/cdn.shopify.com\/s\/files\/1\/2781\/6416\/products\/Image_1_77e9a472-6c3b-4178-bcc9-ea7b05e0de18.jpg?v=1572048398","variant_ids":[31006557208628]},"available":true,"name":"Fly I 33TV Wall Mounted Floating Entertainment Center - White\/Black \/ I1","public_title":"White\/Black \/ I1","options":["White\/Black","I1"],"price":119900,"weight":0,"compare_at_price":null,"inventory_management":"shopify","barcode":"840227606896","featured_media":{"alt":"Fly I 33TV Wall Mounted Floating Modern Entertainment Center - Meble Furniture","id":5472999211060,"position":16,"preview_image":{"aspect_ratio":1.0,"height":1000,"width":1000,"src":"https:\/\/cdn.shopify.com\/s\/files\/1\/2781\/6416\/products\/Image_1_77e9a472-6c3b-4178-bcc9-ea7b05e0de18.jpg?v=1572048398"}},"requires_selling_plan":false,"selling_plan_allocations":[]},{"id":31006556782644,"title":"White\/Black \/ I2","option1":"White\/Black","option2":"I2","option3":null,"sku":"FLYI2WHITEBLACK33TV","requires_shipping":true,"taxable":true,"featured_image":{"id":13301629321268,"product_id":4124952690730,"position":34,"created_at":"2019-10-25T20:07:30-04:00","updated_at":"2019-10-25T20:07:30-04:00","alt":"Fly I 33TV Wall Mounted Floating Modern Entertainment Center - Meble Furniture","width":1000,"height":1000,"src":"https:\/\/cdn.shopify.com\/s\/files\/1\/2781\/6416\/products\/Image_1_aec5992e-ca0a-4990-958f-db729155ff6d.jpg?v=1572048450","variant_ids":[31006556782644]},"available":true,"name":"Fly I 33TV Wall Mounted Floating Entertainment Center - White\/Black \/ I2","public_title":"White\/Black \/ I2","options":["White\/Black","I2"],"price":119900,"weight":0,"compare_at_price":null,"inventory_management":"shopify","barcode":"840227606902","featured_media":{"alt":"Fly I 33TV Wall Mounted Floating Modern Entertainment Center - Meble Furniture","id":5473002946612,"position":34,"preview_image":{"aspect_ratio":1.0,"height":1000,"width":1000,"src":"https:\/\/cdn.shopify.com\/s\/files\/1\/2781\/6416\/products\/Image_1_aec5992e-ca0a-4990-958f-db729155ff6d.jpg?v=1572048450"}},"requires_selling_plan":false,"selling_plan_allocations":[]},{"id":31006556717108,"title":"White\/Black \/ I3","option1":"White\/Black","option2":"I3","option3":null,"sku":"FLYI3WHITEBLACK33TV","requires_shipping":true,"taxable":true,"featured_image":{"id":13301634564148,"product_id":4124952690730,"position":52,"created_at":"2019-10-25T20:08:29-04:00","updated_at":"2019-10-25T20:08:29-04:00","alt":"Fly I 33TV Wall Mounted Floating Modern Entertainment Center - Meble Furniture","width":1000,"height":1000,"src":"https:\/\/cdn.shopify.com\/s\/files\/1\/2781\/6416\/products\/Image_1_c088111e-5573-4bc4-ac1a-8edcd0782ae0.jpg?v=1572048509","variant_ids":[31006556717108]},"available":true,"name":"Fly I 33TV Wall Mounted Floating Entertainment Center - White\/Black \/ I3","public_title":"White\/Black \/ I3","options":["White\/Black","I3"],"price":119900,"weight":0,"compare_at_price":null,"inventory_management":"shopify","barcode":"840227606919","featured_media":{"alt":"Fly I 33TV Wall Mounted Floating Modern Entertainment Center - Meble Furniture","id":5473008189492,"position":52,"preview_image":{"aspect_ratio":1.0,"height":1000,"width":1000,"src":"https:\/\/cdn.shopify.com\/s\/files\/1\/2781\/6416\/products\/Image_1_c088111e-5573-4bc4-ac1a-8edcd0782ae0.jpg?v=1572048509"}},"requires_selling_plan":false,"selling_plan_allocations":[]}],"images":["\/\/cdn.shopify.com\/s\/files\/1\/2781\/6416\/products\/Image_1_0938e291-3132-4b87-8051-b7db3297cd9b.jpg?v=1569768851","\/\/cdn.shopify.com\/s\/files\/1\/2781\/6416\/products\/Image_2_8d8fdcb6-c600-4af5-9eb5-0820dab08999.jpg?v=1569768853","\/\/cdn.shopify.com\/s\/files\/1\/2781\/6416\/products\/FLYI33TVI1.png?v=1606608632","\/\/cdn.shopify.com\/s\/files\/1\/2781\/6416\/products\/Image_1_1f9687c2-40de-4fc9-9002-e8f15e8c14e1.jpg?v=1569768828","\/\/cdn.shopify.com\/s\/files\/1\/2781\/6416\/products\/Image_2_4b20511c-470e-47f5-9756-0462dd94ab55.jpg?v=1569768830","\/\/cdn.shopify.com\/s\/files\/1\/2781\/6416\/products\/FLYI33TVI1_130a4404-237c-4418-8a8f-b8bb26fe816c.png?v=1606608636","\/\/cdn.shopify.com\/s\/files\/1\/2781\/6416\/products\/Image_1_0e479835-aff6-4847-9e75-90c132da4fee.jpg?v=1572048388","\/\/cdn.shopify.com\/s\/files\/1\/2781\/6416\/products\/Image_2_9a6ed024-7438-4de4-b029-7ae324a639fe.jpg?v=1572048388","\/\/cdn.shopify.com\/s\/files\/1\/2781\/6416\/products\/FLYI33TVI1_531d2891-1528-4f5e-9170-e413aee53f94.png?v=1606608632","\/\/cdn.shopify.com\/s\/files\/1\/2781\/6416\/products\/23GGFYI1-33-33_3.jpg?v=1598385984","\/\/cdn.shopify.com\/s\/files\/1\/2781\/6416\/products\/23GGFYI1-33-33_2.jpg?v=1598385984","\/\/cdn.shopify.com\/s\/files\/1\/2781\/6416\/products\/FLYI33TVI1_6a4de7e9-8322-40ea-9ced-9d0e8abc9b43.png?v=1606608639","\/\/cdn.shopify.com\/s\/files\/1\/2781\/6416\/products\/23_WT_FY_I1_1_42c72b11-5aa1-43bd-b971-c6d6a595ec09.jpg?v=1569768843","\/\/cdn.shopify.com\/s\/files\/1\/2781\/6416\/products\/23_WT_FY_I1_75b06856-3f76-4c4a-b1d5-8a57dcf69b3b.jpg?v=1569768841","\/\/cdn.shopify.com\/s\/files\/1\/2781\/6416\/products\/FLYI33TVI1_1979cc88-959e-40d4-928c-77f2432375cd.png?v=1606608635","\/\/cdn.shopify.com\/s\/files\/1\/2781\/6416\/products\/Image_1_77e9a472-6c3b-4178-bcc9-ea7b05e0de18.jpg?v=1572048398","\/\/cdn.shopify.com\/s\/files\/1\/2781\/6416\/products\/Image_2_99827bee-ecfd-4267-a041-869aa6065309.jpg?v=1572048398","\/\/cdn.shopify.com\/s\/files\/1\/2781\/6416\/products\/FLYI33TVI1_65ddb5bb-0697-4906-a04d-ac4f64b99ba5.png?v=1606608636","\/\/cdn.shopify.com\/s\/files\/1\/2781\/6416\/products\/Image_1_15554b56-ab8d-42e4-b8a1-6484776c76ef.jpg?v=1569768897","\/\/cdn.shopify.com\/s\/files\/1\/2781\/6416\/products\/Image_2_cfcde5b7-acd7-48b7-a026-ac87fa7a7d32.jpg?v=1569768900","\/\/cdn.shopify.com\/s\/files\/1\/2781\/6416\/products\/FLYI33TVI2_abfefeba-5f4c-4325-aa8b-a401504f5355.png?v=1606608691","\/\/cdn.shopify.com\/s\/files\/1\/2781\/6416\/products\/Image_1_d61f58b6-25d8-4a19-94f6-46f4ed7e8e23.jpg?v=1572048440","\/\/cdn.shopify.com\/s\/files\/1\/2781\/6416\/products\/Image_2_c11cc550-d9ca-410f-a917-dd233c196f1f.jpg?v=1572048440","\/\/cdn.shopify.com\/s\/files\/1\/2781\/6416\/products\/FLYI33TVI2.png?v=1606608688","\/\/cdn.shopify.com\/s\/files\/1\/2781\/6416\/products\/23GGFYI2-33-33_3.jpg?v=1598385984","\/\/cdn.shopify.com\/s\/files\/1\/2781\/6416\/products\/23GGFYI2-33-33_2.jpg?v=1598385984","\/\/cdn.shopify.com\/s\/files\/1\/2781\/6416\/products\/FLYI33TVI2_8cd7ee69-37e5-41a9-86e9-0603785f96d7.png?v=1606608697","\/\/cdn.shopify.com\/s\/files\/1\/2781\/6416\/products\/23_WT_FY_I2_1_ee7ebeac-33bf-4c3e-ab9a-fbdc132cf871.jpg?v=1569768917","\/\/cdn.shopify.com\/s\/files\/1\/2781\/6416\/products\/23_WT_FY_I2_c78f0652-8478-4af5-8cae-a7acd577226b.jpg?v=1569768915","\/\/cdn.shopify.com\/s\/files\/1\/2781\/6416\/products\/FLYI33TVI2_4d0c4e99-5ded-4712-a4b6-5ef36c51eb1a.png?v=1606608691","\/\/cdn.shopify.com\/s\/files\/1\/2781\/6416\/products\/Image_1_1b459dfb-2c55-401b-aede-8f321f8c4dd9.jpg?v=1569768926","\/\/cdn.shopify.com\/s\/files\/1\/2781\/6416\/products\/Image_2_ac7f63c8-ab1b-43da-a753-078cf356a77b.jpg?v=1569768928","\/\/cdn.shopify.com\/s\/files\/1\/2781\/6416\/products\/FLYI33TVI2_791350d1-77d7-4fcf-9f9f-679158fb08b0.png?v=1606608697","\/\/cdn.shopify.com\/s\/files\/1\/2781\/6416\/products\/Image_1_aec5992e-ca0a-4990-958f-db729155ff6d.jpg?v=1572048450","\/\/cdn.shopify.com\/s\/files\/1\/2781\/6416\/products\/Image_2_58d479b0-c4d3-49a8-8173-b700e8da2000.jpg?v=1572048450","\/\/cdn.shopify.com\/s\/files\/1\/2781\/6416\/products\/FLYI33TVI2_5c92ef16-f496-4967-82a2-29a7838dfef3.png?v=1606608694","\/\/cdn.shopify.com\/s\/files\/1\/2781\/6416\/products\/Image_1_dd8253e9-e78d-4bf3-bcd1-a42669c83313.jpg?v=1569768957","\/\/cdn.shopify.com\/s\/files\/1\/2781\/6416\/products\/Image_2_7f7de0ea-607e-46a9-a9c8-d0229ce1b23a.jpg?v=1569768959","\/\/cdn.shopify.com\/s\/files\/1\/2781\/6416\/products\/FLYI33TVI3.png?v=1606608744","\/\/cdn.shopify.com\/s\/files\/1\/2781\/6416\/products\/Image_1_0d2b859f-6d76-44f2-8302-683555635c43.jpg?v=1572048498","\/\/cdn.shopify.com\/s\/files\/1\/2781\/6416\/products\/Image_2_db3001bf-37da-4bb0-9434-6ac893108e68.jpg?v=1572048498","\/\/cdn.shopify.com\/s\/files\/1\/2781\/6416\/products\/FLYI33TVI3_0ca9e585-ff00-41c3-ae15-d31db471ea55.png?v=1606608747","\/\/cdn.shopify.com\/s\/files\/1\/2781\/6416\/products\/23GGFYI3-33-33_3.jpg?v=1598385984","\/\/cdn.shopify.com\/s\/files\/1\/2781\/6416\/products\/23GGFYI3-33-33_2.jpg?v=1598385984","\/\/cdn.shopify.com\/s\/files\/1\/2781\/6416\/products\/FLYI33TVI3_d538f9ff-7f6d-4230-b75e-a28f74836301.png?v=1606608744","\/\/cdn.shopify.com\/s\/files\/1\/2781\/6416\/products\/23_WT_FY_I3_1_0d60e168-301a-4847-8224-058ec05f5241.jpg?v=1569768970","\/\/cdn.shopify.com\/s\/files\/1\/2781\/6416\/products\/23_WT_FY_I3_e428338f-9357-42b7-827a-e7fd89eb4060.jpg?v=1569768968","\/\/cdn.shopify.com\/s\/files\/1\/2781\/6416\/products\/FLYI33TVI3_a2a576e3-17f7-491c-b35d-ef504d936538.png?v=1606608750","\/\/cdn.shopify.com\/s\/files\/1\/2781\/6416\/products\/Image_1_d8fb2f9f-c37d-4565-bf58-0627005c88d7.jpg?v=1569768979","\/\/cdn.shopify.com\/s\/files\/1\/2781\/6416\/products\/Image_2_a943cfb4-b297-418b-a0ae-8ab228b7e044.jpg?v=1569768980","\/\/cdn.shopify.com\/s\/files\/1\/2781\/6416\/products\/FLYI33TVI3_9552646a-569f-4052-a703-494639749257.png?v=1606608753","\/\/cdn.shopify.com\/s\/files\/1\/2781\/6416\/products\/Image_1_c088111e-5573-4bc4-ac1a-8edcd0782ae0.jpg?v=1572048509","\/\/cdn.shopify.com\/s\/files\/1\/2781\/6416\/products\/Image_2_1abbfb4a-e1b2-4312-a3ec-2ccf01bf35cc.jpg?v=1572048509","\/\/cdn.shopify.com\/s\/files\/1\/2781\/6416\/products\/FLYI33TVI3_b33afb13-99dd-4de6-8637-df33618e786e.png?v=1606608747"],"featured_image":"\/\/cdn.shopify.com\/s\/files\/1\/2781\/6416\/products\/Image_1_0938e291-3132-4b87-8051-b7db3297cd9b.jpg?v=1569768851","options":["Color","Size"],"media":[{"alt":"Fly I 33TV Wall Mounted Floating Modern Entertainment Center - Meble Furniture","id":3419752398890,"position":1,"preview_image":{"aspect_ratio":1.0,"height":1000,"width":1000,"src":"https:\/\/cdn.shopify.com\/s\/files\/1\/2781\/6416\/products\/Image_1_0938e291-3132-4b87-8051-b7db3297cd9b.jpg?v=1569768851"},"aspect_ratio":1.0,"height":1000,"media_type":"image","src":"https:\/\/cdn.shopify.com\/s\/files\/1\/2781\/6416\/products\/Image_1_0938e291-3132-4b87-8051-b7db3297cd9b.jpg?v=1569768851","width":1000},{"alt":"Fly I 33TV Wall Mounted Floating Modern Entertainment Center - Meble Furniture","id":3419752431658,"position":2,"preview_image":{"aspect_ratio":1.0,"height":1000,"width":1000,"src":"https:\/\/cdn.shopify.com\/s\/files\/1\/2781\/6416\/products\/Image_2_8d8fdcb6-c600-4af5-9eb5-0820dab08999.jpg?v=1569768853"},"aspect_ratio":1.0,"height":1000,"media_type":"image","src":"https:\/\/cdn.shopify.com\/s\/files\/1\/2781\/6416\/products\/Image_2_8d8fdcb6-c600-4af5-9eb5-0820dab08999.jpg?v=1569768853","width":1000},{"alt":"Fly I 33TV Wall Mounted Floating Modern Entertainment Center - Meble Furniture","id":12703971770530,"position":3,"preview_image":{"aspect_ratio":1.0,"height":1000,"width":1000,"src":"https:\/\/cdn.shopify.com\/s\/files\/1\/2781\/6416\/products\/FLYI33TVI1.png?v=1606608632"},"aspect_ratio":1.0,"height":1000,"media_type":"image","src":"https:\/\/cdn.shopify.com\/s\/files\/1\/2781\/6416\/products\/FLYI33TVI1.png?v=1606608632","width":1000},{"alt":"Fly I 33TV Wall Mounted Floating Modern Entertainment Center - Meble Furniture","id":3419751055402,"position":4,"preview_image":{"aspect_ratio":1.0,"height":1000,"width":1000,"src":"https:\/\/cdn.shopify.com\/s\/files\/1\/2781\/6416\/products\/Image_1_1f9687c2-40de-4fc9-9002-e8f15e8c14e1.jpg?v=1569768828"},"aspect_ratio":1.0,"height":1000,"media_type":"image","src":"https:\/\/cdn.shopify.com\/s\/files\/1\/2781\/6416\/products\/Image_1_1f9687c2-40de-4fc9-9002-e8f15e8c14e1.jpg?v=1569768828","width":1000},{"alt":"Fly I 33TV Wall Mounted Floating Modern Entertainment Center - Meble Furniture","id":3419751219242,"position":5,"preview_image":{"aspect_ratio":1.0,"height":1000,"width":1000,"src":"https:\/\/cdn.shopify.com\/s\/files\/1\/2781\/6416\/products\/Image_2_4b20511c-470e-47f5-9756-0462dd94ab55.jpg?v=1569768830"},"aspect_ratio":1.0,"height":1000,"media_type":"image","src":"https:\/\/cdn.shopify.com\/s\/files\/1\/2781\/6416\/products\/Image_2_4b20511c-470e-47f5-9756-0462dd94ab55.jpg?v=1569768830","width":1000},{"alt":"Fly I 33TV Wall Mounted Floating Modern Entertainment Center - Meble Furniture","id":12703972229282,"position":6,"preview_image":{"aspect_ratio":1.0,"height":1000,"width":1000,"src":"https:\/\/cdn.shopify.com\/s\/files\/1\/2781\/6416\/products\/FLYI33TVI1_130a4404-237c-4418-8a8f-b8bb26fe816c.png?v=1606608636"},"aspect_ratio":1.0,"height":1000,"media_type":"image","src":"https:\/\/cdn.shopify.com\/s\/files\/1\/2781\/6416\/products\/FLYI33TVI1_130a4404-237c-4418-8a8f-b8bb26fe816c.png?v=1606608636","width":1000},{"alt":"Fly I 33TV Wall Mounted Floating Modern Entertainment Center - Meble Furniture","id":5472998490164,"position":7,"preview_image":{"aspect_ratio":1.0,"height":1000,"width":1000,"src":"https:\/\/cdn.shopify.com\/s\/files\/1\/2781\/6416\/products\/Image_1_0e479835-aff6-4847-9e75-90c132da4fee.jpg?v=1572048388"},"aspect_ratio":1.0,"height":1000,"media_type":"image","src":"https:\/\/cdn.shopify.com\/s\/files\/1\/2781\/6416\/products\/Image_1_0e479835-aff6-4847-9e75-90c132da4fee.jpg?v=1572048388","width":1000},{"alt":"Fly I 33TV Wall Mounted Floating Modern Entertainment Center - Meble Furniture","id":5472998522932,"position":8,"preview_image":{"aspect_ratio":1.0,"height":1000,"width":1000,"src":"https:\/\/cdn.shopify.com\/s\/files\/1\/2781\/6416\/products\/Image_2_9a6ed024-7438-4de4-b029-7ae324a639fe.jpg?v=1572048388"},"aspect_ratio":1.0,"height":1000,"media_type":"image","src":"https:\/\/cdn.shopify.com\/s\/files\/1\/2781\/6416\/products\/Image_2_9a6ed024-7438-4de4-b029-7ae324a639fe.jpg?v=1572048388","width":1000},{"alt":"Fly I 33TV Wall Mounted Floating Modern Entertainment Center - Meble Furniture","id":12703971868834,"position":9,"preview_image":{"aspect_ratio":1.0,"height":1000,"width":1000,"src":"https:\/\/cdn.shopify.com\/s\/files\/1\/2781\/6416\/products\/FLYI33TVI1_531d2891-1528-4f5e-9170-e413aee53f94.png?v=1606608632"},"aspect_ratio":1.0,"height":1000,"media_type":"image","src":"https:\/\/cdn.shopify.com\/s\/files\/1\/2781\/6416\/products\/FLYI33TVI1_531d2891-1528-4f5e-9170-e413aee53f94.png?v=1606608632","width":1000},{"alt":"Fly I 33TV Wall Mounted Floating Modern Entertainment Center - Meble Furniture","id":10980062920866,"position":10,"preview_image":{"aspect_ratio":1.0,"height":1000,"width":1000,"src":"https:\/\/cdn.shopify.com\/s\/files\/1\/2781\/6416\/products\/23GGFYI1-33-33_3.jpg?v=1598385984"},"aspect_ratio":1.0,"height":1000,"media_type":"image","src":"https:\/\/cdn.shopify.com\/s\/files\/1\/2781\/6416\/products\/23GGFYI1-33-33_3.jpg?v=1598385984","width":1000},{"alt":"Fly I 33TV Wall Mounted Floating Modern Entertainment Center - Meble Furniture","id":10980062888098,"position":11,"preview_image":{"aspect_ratio":1.0,"height":1000,"width":1000,"src":"https:\/\/cdn.shopify.com\/s\/files\/1\/2781\/6416\/products\/23GGFYI1-33-33_2.jpg?v=1598385984"},"aspect_ratio":1.0,"height":1000,"media_type":"image","src":"https:\/\/cdn.shopify.com\/s\/files\/1\/2781\/6416\/products\/23GGFYI1-33-33_2.jpg?v=1598385984","width":1000},{"alt":"Fly I 33TV Wall Mounted Floating Modern Entertainment Center - Meble Furniture","id":12703972524194,"position":12,"preview_image":{"aspect_ratio":1.0,"height":1000,"width":1000,"src":"https:\/\/cdn.shopify.com\/s\/files\/1\/2781\/6416\/products\/FLYI33TVI1_6a4de7e9-8322-40ea-9ced-9d0e8abc9b43.png?v=1606608639"},"aspect_ratio":1.0,"height":1000,"media_type":"image","src":"https:\/\/cdn.shopify.com\/s\/files\/1\/2781\/6416\/products\/FLYI33TVI1_6a4de7e9-8322-40ea-9ced-9d0e8abc9b43.png?v=1606608639","width":1000},{"alt":"Fly I 33TV Wall Mounted Floating Modern Entertainment Center - Meble Furniture","id":3419752071210,"position":13,"preview_image":{"aspect_ratio":1.0,"height":1000,"width":1000,"src":"https:\/\/cdn.shopify.com\/s\/files\/1\/2781\/6416\/products\/23_WT_FY_I1_1_42c72b11-5aa1-43bd-b971-c6d6a595ec09.jpg?v=1569768843"},"aspect_ratio":1.0,"height":1000,"media_type":"image","src":"https:\/\/cdn.shopify.com\/s\/files\/1\/2781\/6416\/products\/23_WT_FY_I1_1_42c72b11-5aa1-43bd-b971-c6d6a595ec09.jpg?v=1569768843","width":1000},{"alt":"Fly I 33TV Wall Mounted Floating Modern Entertainment Center - Meble Furniture","id":3419751907370,"position":14,"preview_image":{"aspect_ratio":1.0,"height":1000,"width":1000,"src":"https:\/\/cdn.shopify.com\/s\/files\/1\/2781\/6416\/products\/23_WT_FY_I1_75b06856-3f76-4c4a-b1d5-8a57dcf69b3b.jpg?v=1569768841"},"aspect_ratio":1.0,"height":1000,"media_type":"image","src":"https:\/\/cdn.shopify.com\/s\/files\/1\/2781\/6416\/products\/23_WT_FY_I1_75b06856-3f76-4c4a-b1d5-8a57dcf69b3b.jpg?v=1569768841","width":1000},{"alt":"Fly I 33TV Wall Mounted Floating Modern Entertainment Center - Meble Furniture","id":12703971967138,"position":15,"preview_image":{"aspect_ratio":1.0,"height":1000,"width":1000,"src":"https:\/\/cdn.shopify.com\/s\/files\/1\/2781\/6416\/products\/FLYI33TVI1_1979cc88-959e-40d4-928c-77f2432375cd.png?v=1606608635"},"aspect_ratio":1.0,"height":1000,"media_type":"image","src":"https:\/\/cdn.shopify.com\/s\/files\/1\/2781\/6416\/products\/FLYI33TVI1_1979cc88-959e-40d4-928c-77f2432375cd.png?v=1606608635","width":1000},{"alt":"Fly I 33TV Wall Mounted Floating Modern Entertainment Center - Meble Furniture","id":5472999211060,"position":16,"preview_image":{"aspect_ratio":1.0,"height":1000,"width":1000,"src":"https:\/\/cdn.shopify.com\/s\/files\/1\/2781\/6416\/products\/Image_1_77e9a472-6c3b-4178-bcc9-ea7b05e0de18.jpg?v=1572048398"},"aspect_ratio":1.0,"height":1000,"media_type":"image","src":"https:\/\/cdn.shopify.com\/s\/files\/1\/2781\/6416\/products\/Image_1_77e9a472-6c3b-4178-bcc9-ea7b05e0de18.jpg?v=1572048398","width":1000},{"alt":"Fly I 33TV Wall Mounted Floating Modern Entertainment Center - Meble Furniture","id":5472999243828,"position":17,"preview_image":{"aspect_ratio":1.0,"height":1000,"width":1000,"src":"https:\/\/cdn.shopify.com\/s\/files\/1\/2781\/6416\/products\/Image_2_99827bee-ecfd-4267-a041-869aa6065309.jpg?v=1572048398"},"aspect_ratio":1.0,"height":1000,"media_type":"image","src":"https:\/\/cdn.shopify.com\/s\/files\/1\/2781\/6416\/products\/Image_2_99827bee-ecfd-4267-a041-869aa6065309.jpg?v=1572048398","width":1000},{"alt":"Fly I 33TV Wall Mounted Floating Modern Entertainment Center - Meble Furniture","id":12703972163746,"position":18,"preview_image":{"aspect_ratio":1.0,"height":1000,"width":1000,"src":"https:\/\/cdn.shopify.com\/s\/files\/1\/2781\/6416\/products\/FLYI33TVI1_65ddb5bb-0697-4906-a04d-ac4f64b99ba5.png?v=1606608636"},"aspect_ratio":1.0,"height":1000,"media_type":"image","src":"https:\/\/cdn.shopify.com\/s\/files\/1\/2781\/6416\/products\/FLYI33TVI1_65ddb5bb-0697-4906-a04d-ac4f64b99ba5.png?v=1606608636","width":1000},{"alt":"Fly I 33TV Wall Mounted Floating Modern Entertainment Center - Meble Furniture","id":3419755020330,"position":19,"preview_image":{"aspect_ratio":1.0,"height":1000,"width":1000,"src":"https:\/\/cdn.shopify.com\/s\/files\/1\/2781\/6416\/products\/Image_1_15554b56-ab8d-42e4-b8a1-6484776c76ef.jpg?v=1569768897"},"aspect_ratio":1.0,"height":1000,"media_type":"image","src":"https:\/\/cdn.shopify.com\/s\/files\/1\/2781\/6416\/products\/Image_1_15554b56-ab8d-42e4-b8a1-6484776c76ef.jpg?v=1569768897","width":1000},{"alt":"Fly I 33TV Wall Mounted Floating Modern Entertainment Center - Meble Furniture","id":3419755348010,"position":20,"preview_image":{"aspect_ratio":1.0,"height":1000,"width":1000,"src":"https:\/\/cdn.shopify.com\/s\/files\/1\/2781\/6416\/products\/Image_2_cfcde5b7-acd7-48b7-a026-ac87fa7a7d32.jpg?v=1569768900"},"aspect_ratio":1.0,"height":1000,"media_type":"image","src":"https:\/\/cdn.shopify.com\/s\/files\/1\/2781\/6416\/products\/Image_2_cfcde5b7-acd7-48b7-a026-ac87fa7a7d32.jpg?v=1569768900","width":1000},{"alt":"Fly I 33TV Wall Mounted Floating Modern Entertainment Center - Meble Furniture","id":12703976947874,"position":21,"preview_image":{"aspect_ratio":1.0,"height":1000,"width":1000,"src":"https:\/\/cdn.shopify.com\/s\/files\/1\/2781\/6416\/products\/FLYI33TVI2_abfefeba-5f4c-4325-aa8b-a401504f5355.png?v=1606608691"},"aspect_ratio":1.0,"height":1000,"media_type":"image","src":"https:\/\/cdn.shopify.com\/s\/files\/1\/2781\/6416\/products\/FLYI33TVI2_abfefeba-5f4c-4325-aa8b-a401504f5355.png?v=1606608691","width":1000},{"alt":"Fly I 33TV Wall Mounted Floating Modern Entertainment Center - Meble Furniture","id":5473002389556,"position":22,"preview_image":{"aspect_ratio":1.0,"height":1000,"width":1000,"src":"https:\/\/cdn.shopify.com\/s\/files\/1\/2781\/6416\/products\/Image_1_d61f58b6-25d8-4a19-94f6-46f4ed7e8e23.jpg?v=1572048440"},"aspect_ratio":1.0,"height":1000,"media_type":"image","src":"https:\/\/cdn.shopify.com\/s\/files\/1\/2781\/6416\/products\/Image_1_d61f58b6-25d8-4a19-94f6-46f4ed7e8e23.jpg?v=1572048440","width":1000},{"alt":"Fly I 33TV Wall Mounted Floating Modern Entertainment Center - Meble Furniture","id":5473002422324,"position":23,"preview_image":{"aspect_ratio":1.0,"height":1000,"width":1000,"src":"https:\/\/cdn.shopify.com\/s\/files\/1\/2781\/6416\/products\/Image_2_c11cc550-d9ca-410f-a917-dd233c196f1f.jpg?v=1572048440"},"aspect_ratio":1.0,"height":1000,"media_type":"image","src":"https:\/\/cdn.shopify.com\/s\/files\/1\/2781\/6416\/products\/Image_2_c11cc550-d9ca-410f-a917-dd233c196f1f.jpg?v=1572048440","width":1000},{"alt":"Fly I 33TV Wall Mounted Floating Modern Entertainment Center - Meble Furniture","id":12703976325282,"position":24,"preview_image":{"aspect_ratio":1.0,"height":1000,"width":1000,"src":"https:\/\/cdn.shopify.com\/s\/files\/1\/2781\/6416\/products\/FLYI33TVI2.png?v=1606608688"},"aspect_ratio":1.0,"height":1000,"media_type":"image","src":"https:\/\/cdn.shopify.com\/s\/files\/1\/2781\/6416\/products\/FLYI33TVI2.png?v=1606608688","width":1000},{"alt":"Fly I 33TV Wall Mounted Floating Modern Entertainment Center - Meble Furniture","id":10980062986402,"position":25,"preview_image":{"aspect_ratio":1.0,"height":1000,"width":1000,"src":"https:\/\/cdn.shopify.com\/s\/files\/1\/2781\/6416\/products\/23GGFYI2-33-33_3.jpg?v=1598385984"},"aspect_ratio":1.0,"height":1000,"media_type":"image","src":"https:\/\/cdn.shopify.com\/s\/files\/1\/2781\/6416\/products\/23GGFYI2-33-33_3.jpg?v=1598385984","width":1000},{"alt":"Fly I 33TV Wall Mounted Floating Modern Entertainment Center - Meble Furniture","id":10980062953634,"position":26,"preview_image":{"aspect_ratio":1.0,"height":1000,"width":1000,"src":"https:\/\/cdn.shopify.com\/s\/files\/1\/2781\/6416\/products\/23GGFYI2-33-33_2.jpg?v=1598385984"},"aspect_ratio":1.0,"height":1000,"media_type":"image","src":"https:\/\/cdn.shopify.com\/s\/files\/1\/2781\/6416\/products\/23GGFYI2-33-33_2.jpg?v=1598385984","width":1000},{"alt":"Fly I 33TV Wall Mounted Floating Modern Entertainment Center - Meble Furniture","id":12703977144482,"position":27,"preview_image":{"aspect_ratio":1.0,"height":1000,"width":1000,"src":"https:\/\/cdn.shopify.com\/s\/files\/1\/2781\/6416\/products\/FLYI33TVI2_8cd7ee69-37e5-41a9-86e9-0603785f96d7.png?v=1606608697"},"aspect_ratio":1.0,"height":1000,"media_type":"image","src":"https:\/\/cdn.shopify.com\/s\/files\/1\/2781\/6416\/products\/FLYI33TVI2_8cd7ee69-37e5-41a9-86e9-0603785f96d7.png?v=1606608697","width":1000},{"alt":"Fly I 33TV Wall Mounted Floating Modern Entertainment Center - Meble Furniture","id":3419756298282,"position":28,"preview_image":{"aspect_ratio":1.0,"height":1000,"width":1000,"src":"https:\/\/cdn.shopify.com\/s\/files\/1\/2781\/6416\/products\/23_WT_FY_I2_1_ee7ebeac-33bf-4c3e-ab9a-fbdc132cf871.jpg?v=1569768917"},"aspect_ratio":1.0,"height":1000,"media_type":"image","src":"https:\/\/cdn.shopify.com\/s\/files\/1\/2781\/6416\/products\/23_WT_FY_I2_1_ee7ebeac-33bf-4c3e-ab9a-fbdc132cf871.jpg?v=1569768917","width":1000},{"alt":"Fly I 33TV Wall Mounted Floating Modern Entertainment Center - Meble Furniture","id":3419756199978,"position":29,"preview_image":{"aspect_ratio":1.0,"height":1000,"width":1000,"src":"https:\/\/cdn.shopify.com\/s\/files\/1\/2781\/6416\/products\/23_WT_FY_I2_c78f0652-8478-4af5-8cae-a7acd577226b.jpg?v=1569768915"},"aspect_ratio":1.0,"height":1000,"media_type":"image","src":"https:\/\/cdn.shopify.com\/s\/files\/1\/2781\/6416\/products\/23_WT_FY_I2_c78f0652-8478-4af5-8cae-a7acd577226b.jpg?v=1569768915","width":1000},{"alt":"Fly I 33TV Wall Mounted Floating Modern Entertainment Center - Meble Furniture","id":12703976849570,"position":30,"preview_image":{"aspect_ratio":1.0,"height":1000,"width":1000,"src":"https:\/\/cdn.shopify.com\/s\/files\/1\/2781\/6416\/products\/FLYI33TVI2_4d0c4e99-5ded-4712-a4b6-5ef36c51eb1a.png?v=1606608691"},"aspect_ratio":1.0,"height":1000,"media_type":"image","src":"https:\/\/cdn.shopify.com\/s\/files\/1\/2781\/6416\/products\/FLYI33TVI2_4d0c4e99-5ded-4712-a4b6-5ef36c51eb1a.png?v=1606608691","width":1000},{"alt":"Fly I 33TV Wall Mounted Floating Modern Entertainment Center - Meble Furniture","id":3419756888106,"position":31,"preview_image":{"aspect_ratio":1.0,"height":1000,"width":1000,"src":"https:\/\/cdn.shopify.com\/s\/files\/1\/2781\/6416\/products\/Image_1_1b459dfb-2c55-401b-aede-8f321f8c4dd9.jpg?v=1569768926"},"aspect_ratio":1.0,"height":1000,"media_type":"image","src":"https:\/\/cdn.shopify.com\/s\/files\/1\/2781\/6416\/products\/Image_1_1b459dfb-2c55-401b-aede-8f321f8c4dd9.jpg?v=1569768926","width":1000},{"alt":"Fly I 33TV Wall Mounted Floating Modern Entertainment Center - Meble Furniture","id":3419757314090,"position":32,"preview_image":{"aspect_ratio":1.0,"height":1000,"width":1000,"src":"https:\/\/cdn.shopify.com\/s\/files\/1\/2781\/6416\/products\/Image_2_ac7f63c8-ab1b-43da-a753-078cf356a77b.jpg?v=1569768928"},"aspect_ratio":1.0,"height":1000,"media_type":"image","src":"https:\/\/cdn.shopify.com\/s\/files\/1\/2781\/6416\/products\/Image_2_ac7f63c8-ab1b-43da-a753-078cf356a77b.jpg?v=1569768928","width":1000},{"alt":"Fly I 33TV Wall Mounted Floating Modern Entertainment Center - Meble Furniture","id":12703977177250,"position":33,"preview_image":{"aspect_ratio":1.0,"height":1000,"width":1000,"src":"https:\/\/cdn.shopify.com\/s\/files\/1\/2781\/6416\/products\/FLYI33TVI2_791350d1-77d7-4fcf-9f9f-679158fb08b0.png?v=1606608697"},"aspect_ratio":1.0,"height":1000,"media_type":"image","src":"https:\/\/cdn.shopify.com\/s\/files\/1\/2781\/6416\/products\/FLYI33TVI2_791350d1-77d7-4fcf-9f9f-679158fb08b0.png?v=1606608697","width":1000},{"alt":"Fly I 33TV Wall Mounted Floating Modern Entertainment Center - Meble Furniture","id":5473002946612,"position":34,"preview_image":{"aspect_ratio":1.0,"height":1000,"width":1000,"src":"https:\/\/cdn.shopify.com\/s\/files\/1\/2781\/6416\/products\/Image_1_aec5992e-ca0a-4990-958f-db729155ff6d.jpg?v=1572048450"},"aspect_ratio":1.0,"height":1000,"media_type":"image","src":"https:\/\/cdn.shopify.com\/s\/files\/1\/2781\/6416\/products\/Image_1_aec5992e-ca0a-4990-958f-db729155ff6d.jpg?v=1572048450","width":1000},{"alt":"Fly I 33TV Wall Mounted Floating Modern Entertainment Center - Meble Furniture","id":5473002979380,"position":35,"preview_image":{"aspect_ratio":1.0,"height":1000,"width":1000,"src":"https:\/\/cdn.shopify.com\/s\/files\/1\/2781\/6416\/products\/Image_2_58d479b0-c4d3-49a8-8173-b700e8da2000.jpg?v=1572048450"},"aspect_ratio":1.0,"height":1000,"media_type":"image","src":"https:\/\/cdn.shopify.com\/s\/files\/1\/2781\/6416\/products\/Image_2_58d479b0-c4d3-49a8-8173-b700e8da2000.jpg?v=1572048450","width":1000},{"alt":"Fly I 33TV Wall Mounted Floating Modern Entertainment Center - Meble Furniture","id":12703977013410,"position":36,"preview_image":{"aspect_ratio":1.0,"height":1000,"width":1000,"src":"https:\/\/cdn.shopify.com\/s\/files\/1\/2781\/6416\/products\/FLYI33TVI2_5c92ef16-f496-4967-82a2-29a7838dfef3.png?v=1606608694"},"aspect_ratio":1.0,"height":1000,"media_type":"image","src":"https:\/\/cdn.shopify.com\/s\/files\/1\/2781\/6416\/products\/FLYI33TVI2_5c92ef16-f496-4967-82a2-29a7838dfef3.png?v=1606608694","width":1000},{"alt":"Fly I 33TV Wall Mounted Floating Modern Entertainment Center - Meble Furniture","id":3419760394282,"position":37,"preview_image":{"aspect_ratio":1.0,"height":1000,"width":1000,"src":"https:\/\/cdn.shopify.com\/s\/files\/1\/2781\/6416\/products\/Image_1_dd8253e9-e78d-4bf3-bcd1-a42669c83313.jpg?v=1569768957"},"aspect_ratio":1.0,"height":1000,"media_type":"image","src":"https:\/\/cdn.shopify.com\/s\/files\/1\/2781\/6416\/products\/Image_1_dd8253e9-e78d-4bf3-bcd1-a42669c83313.jpg?v=1569768957","width":1000},{"alt":"Fly I 33TV Wall Mounted Floating Modern Entertainment Center - Meble Furniture","id":3419760427050,"position":38,"preview_image":{"aspect_ratio":1.0,"height":1000,"width":1000,"src":"https:\/\/cdn.shopify.com\/s\/files\/1\/2781\/6416\/products\/Image_2_7f7de0ea-607e-46a9-a9c8-d0229ce1b23a.jpg?v=1569768959"},"aspect_ratio":1.0,"height":1000,"media_type":"image","src":"https:\/\/cdn.shopify.com\/s\/files\/1\/2781\/6416\/products\/Image_2_7f7de0ea-607e-46a9-a9c8-d0229ce1b23a.jpg?v=1569768959","width":1000},{"alt":"Fly I 33TV Wall Mounted Floating Modern Entertainment Center - Meble Furniture","id":12703983075490,"position":39,"preview_image":{"aspect_ratio":1.0,"height":1000,"width":1000,"src":"https:\/\/cdn.shopify.com\/s\/files\/1\/2781\/6416\/products\/FLYI33TVI3.png?v=1606608744"},"aspect_ratio":1.0,"height":1000,"media_type":"image","src":"https:\/\/cdn.shopify.com\/s\/files\/1\/2781\/6416\/products\/FLYI33TVI3.png?v=1606608744","width":1000},{"alt":"Fly I 33TV Wall Mounted Floating Modern Entertainment Center - Meble Furniture","id":5473007894580,"position":40,"preview_image":{"aspect_ratio":1.0,"height":1000,"width":1000,"src":"https:\/\/cdn.shopify.com\/s\/files\/1\/2781\/6416\/products\/Image_1_0d2b859f-6d76-44f2-8302-683555635c43.jpg?v=1572048498"},"aspect_ratio":1.0,"height":1000,"media_type":"image","src":"https:\/\/cdn.shopify.com\/s\/files\/1\/2781\/6416\/products\/Image_1_0d2b859f-6d76-44f2-8302-683555635c43.jpg?v=1572048498","width":1000},{"alt":"Fly I 33TV Wall Mounted Floating Modern Entertainment Center - Meble Furniture","id":5473007927348,"position":41,"preview_image":{"aspect_ratio":1.0,"height":1000,"width":1000,"src":"https:\/\/cdn.shopify.com\/s\/files\/1\/2781\/6416\/products\/Image_2_db3001bf-37da-4bb0-9434-6ac893108e68.jpg?v=1572048498"},"aspect_ratio":1.0,"height":1000,"media_type":"image","src":"https:\/\/cdn.shopify.com\/s\/files\/1\/2781\/6416\/products\/Image_2_db3001bf-37da-4bb0-9434-6ac893108e68.jpg?v=1572048498","width":1000},{"alt":"Fly I 33TV Wall Mounted Floating Modern Entertainment Center - Meble Furniture","id":12703983698082,"position":42,"preview_image":{"aspect_ratio":1.0,"height":1000,"width":1000,"src":"https:\/\/cdn.shopify.com\/s\/files\/1\/2781\/6416\/products\/FLYI33TVI3_0ca9e585-ff00-41c3-ae15-d31db471ea55.png?v=1606608747"},"aspect_ratio":1.0,"height":1000,"media_type":"image","src":"https:\/\/cdn.shopify.com\/s\/files\/1\/2781\/6416\/products\/FLYI33TVI3_0ca9e585-ff00-41c3-ae15-d31db471ea55.png?v=1606608747","width":1000},{"alt":"Fly I 33TV Wall Mounted Floating Modern Entertainment Center - Meble Furniture","id":10980063051938,"position":43,"preview_image":{"aspect_ratio":1.0,"height":1000,"width":1000,"src":"https:\/\/cdn.shopify.com\/s\/files\/1\/2781\/6416\/products\/23GGFYI3-33-33_3.jpg?v=1598385984"},"aspect_ratio":1.0,"height":1000,"media_type":"image","src":"https:\/\/cdn.shopify.com\/s\/files\/1\/2781\/6416\/products\/23GGFYI3-33-33_3.jpg?v=1598385984","width":1000},{"alt":"Fly I 33TV Wall Mounted Floating Modern Entertainment Center - Meble Furniture","id":10980063019170,"position":44,"preview_image":{"aspect_ratio":1.0,"height":1000,"width":1000,"src":"https:\/\/cdn.shopify.com\/s\/files\/1\/2781\/6416\/products\/23GGFYI3-33-33_2.jpg?v=1598385984"},"aspect_ratio":1.0,"height":1000,"media_type":"image","src":"https:\/\/cdn.shopify.com\/s\/files\/1\/2781\/6416\/products\/23GGFYI3-33-33_2.jpg?v=1598385984","width":1000},{"alt":"Fly I 33TV Wall Mounted Floating Modern Entertainment Center - Meble Furniture","id":12703983239330,"position":45,"preview_image":{"aspect_ratio":1.0,"height":1000,"width":1000,"src":"https:\/\/cdn.shopify.com\/s\/files\/1\/2781\/6416\/products\/FLYI33TVI3_d538f9ff-7f6d-4230-b75e-a28f74836301.png?v=1606608744"},"aspect_ratio":1.0,"height":1000,"media_type":"image","src":"https:\/\/cdn.shopify.com\/s\/files\/1\/2781\/6416\/products\/FLYI33TVI3_d538f9ff-7f6d-4230-b75e-a28f74836301.png?v=1606608744","width":1000},{"alt":"Fly I 33TV Wall Mounted Floating Modern Entertainment Center - Meble Furniture","id":3419761115178,"position":46,"preview_image":{"aspect_ratio":1.0,"height":1000,"width":1000,"src":"https:\/\/cdn.shopify.com\/s\/files\/1\/2781\/6416\/products\/23_WT_FY_I3_1_0d60e168-301a-4847-8224-058ec05f5241.jpg?v=1569768970"},"aspect_ratio":1.0,"height":1000,"media_type":"image","src":"https:\/\/cdn.shopify.com\/s\/files\/1\/2781\/6416\/products\/23_WT_FY_I3_1_0d60e168-301a-4847-8224-058ec05f5241.jpg?v=1569768970","width":1000},{"alt":"Fly I 33TV Wall Mounted Floating Modern Entertainment Center - Meble Furniture","id":3419761082410,"position":47,"preview_image":{"aspect_ratio":1.0,"height":1000,"width":1000,"src":"https:\/\/cdn.shopify.com\/s\/files\/1\/2781\/6416\/products\/23_WT_FY_I3_e428338f-9357-42b7-827a-e7fd89eb4060.jpg?v=1569768968"},"aspect_ratio":1.0,"height":1000,"media_type":"image","src":"https:\/\/cdn.shopify.com\/s\/files\/1\/2781\/6416\/products\/23_WT_FY_I3_e428338f-9357-42b7-827a-e7fd89eb4060.jpg?v=1569768968","width":1000},{"alt":"Fly I 33TV Wall Mounted Floating Modern Entertainment Center - Meble Furniture","id":12703983763618,"position":48,"preview_image":{"aspect_ratio":1.0,"height":1000,"width":1000,"src":"https:\/\/cdn.shopify.com\/s\/files\/1\/2781\/6416\/products\/FLYI33TVI3_a2a576e3-17f7-491c-b35d-ef504d936538.png?v=1606608750"},"aspect_ratio":1.0,"height":1000,"media_type":"image","src":"https:\/\/cdn.shopify.com\/s\/files\/1\/2781\/6416\/products\/FLYI33TVI3_a2a576e3-17f7-491c-b35d-ef504d936538.png?v=1606608750","width":1000},{"alt":"Fly I 33TV Wall Mounted Floating Modern Entertainment Center - Meble Furniture","id":3419762327594,"position":49,"preview_image":{"aspect_ratio":1.0,"height":1000,"width":1000,"src":"https:\/\/cdn.shopify.com\/s\/files\/1\/2781\/6416\/products\/Image_1_d8fb2f9f-c37d-4565-bf58-0627005c88d7.jpg?v=1569768979"},"aspect_ratio":1.0,"height":1000,"media_type":"image","src":"https:\/\/cdn.shopify.com\/s\/files\/1\/2781\/6416\/products\/Image_1_d8fb2f9f-c37d-4565-bf58-0627005c88d7.jpg?v=1569768979","width":1000},{"alt":"Fly I 33TV Wall Mounted Floating Modern Entertainment Center - Meble Furniture","id":3419762491434,"position":50,"preview_image":{"aspect_ratio":1.0,"height":1000,"width":1000,"src":"https:\/\/cdn.shopify.com\/s\/files\/1\/2781\/6416\/products\/Image_2_a943cfb4-b297-418b-a0ae-8ab228b7e044.jpg?v=1569768980"},"aspect_ratio":1.0,"height":1000,"media_type":"image","src":"https:\/\/cdn.shopify.com\/s\/files\/1\/2781\/6416\/products\/Image_2_a943cfb4-b297-418b-a0ae-8ab228b7e044.jpg?v=1569768980","width":1000},{"alt":"Fly I 33TV Wall Mounted Floating Modern Entertainment Center - Meble Furniture","id":12703983861922,"position":51,"preview_image":{"aspect_ratio":1.0,"height":1000,"width":1000,"src":"https:\/\/cdn.shopify.com\/s\/files\/1\/2781\/6416\/products\/FLYI33TVI3_9552646a-569f-4052-a703-494639749257.png?v=1606608753"},"aspect_ratio":1.0,"height":1000,"media_type":"image","src":"https:\/\/cdn.shopify.com\/s\/files\/1\/2781\/6416\/products\/FLYI33TVI3_9552646a-569f-4052-a703-494639749257.png?v=1606608753","width":1000},{"alt":"Fly I 33TV Wall Mounted Floating Modern Entertainment Center - Meble Furniture","id":5473008189492,"position":52,"preview_image":{"aspect_ratio":1.0,"height":1000,"width":1000,"src":"https:\/\/cdn.shopify.com\/s\/files\/1\/2781\/6416\/products\/Image_1_c088111e-5573-4bc4-ac1a-8edcd0782ae0.jpg?v=1572048509"},"aspect_ratio":1.0,"height":1000,"media_type":"image","src":"https:\/\/cdn.shopify.com\/s\/files\/1\/2781\/6416\/products\/Image_1_c088111e-5573-4bc4-ac1a-8edcd0782ae0.jpg?v=1572048509","width":1000},{"alt":"Fly I 33TV Wall Mounted Floating Modern Entertainment Center - Meble Furniture","id":5473008222260,"position":53,"preview_image":{"aspect_ratio":1.0,"height":1000,"width":1000,"src":"https:\/\/cdn.shopify.com\/s\/files\/1\/2781\/6416\/products\/Image_2_1abbfb4a-e1b2-4312-a3ec-2ccf01bf35cc.jpg?v=1572048509"},"aspect_ratio":1.0,"height":1000,"media_type":"image","src":"https:\/\/cdn.shopify.com\/s\/files\/1\/2781\/6416\/products\/Image_2_1abbfb4a-e1b2-4312-a3ec-2ccf01bf35cc.jpg?v=1572048509","width":1000},{"alt":"Fly I 33TV Wall Mounted Floating Modern Entertainment Center - Meble Furniture","id":12703983435938,"position":54,"preview_image":{"aspect_ratio":1.0,"height":1000,"width":1000,"src":"https:\/\/cdn.shopify.com\/s\/files\/1\/2781\/6416\/products\/FLYI33TVI3_b33afb13-99dd-4de6-8637-df33618e786e.png?v=1606608747"},"aspect_ratio":1.0,"height":1000,"media_type":"image","src":"https:\/\/cdn.shopify.com\/s\/files\/1\/2781\/6416\/products\/FLYI33TVI3_b33afb13-99dd-4de6-8637-df33618e786e.png?v=1606608747","width":1000}],"requires_selling_plan":false,"selling_plan_groups":[],"content":"\u003cul\u003e\n\u003cli\u003eFly I 33TV Wall Mounted Floating Entertainment Center - Modern Wall Unit \/ Entertainment Console \/ Entertainment Center\u003c\/li\u003e\n\u003cli\u003eI1 set includes: 2x Type-33 TV Stand, 2x Type-50 Cabinet, Type-MX Shelf Set\u003c\/li\u003e\n\u003cli\u003eI2 set includes:\u003cspan\u003e 2x Type-33 TV Stand, 2x Type-51 Cabinet, Type-MX Shelf Set\u003c\/span\u003e\n\u003c\/li\u003e\n\u003cli\u003eI3 set includes:\u003cspan\u003e 2x Type-33 TV Stand, 2x Type-52 Cabinet, Type-MX Shelf Set\u003c\/span\u003e\n\u003c\/li\u003e\n\u003cli\u003eHigh gloss fronts with matte body\u003c\/li\u003e\n\u003cli\u003e\u003cspan\u003eWall mounting kit included\u003c\/span\u003e\u003c\/li\u003e\n\u003cli\u003e16 color LED light system included with color control and on\/off remote\u003c\/li\u003e\n\u003cli\u003eManufactured in and imported from the European Union\u003c\/li\u003e\n\u003cli\u003eModern and unique contemporary design\u003c\/li\u003e\n\u003cli\u003ePerfect for those in need of living room storage space\u003c\/li\u003e\n\u003cli\u003eFlat packed and ready to ship\u003c\/li\u003e\n\u003cli\u003e\u003cspan\u003eEasy wall installation with included bracket, pins, and eccentric type connections\u003c\/span\u003e\u003c\/li\u003e\n\u003cli\u003e\u003cspan\u003eSet Dimensions: 75.5 inches height x 126 inches width x 17 inches depth. Type-33 TV Stand Dimensions: 12 inches height x 63 inches width x 15.75 inches depth. Type-50\/51\/52 Cabinet Dimensions: 12 inches height x 63 inches width x 11.5 inches depth. Type-MX Shelf Dimensions: 8 inches height x 47.5 or 39.5 inches width x 8 inches depth.\u003c\/span\u003e\u003c\/li\u003e\n\u003c\/ul\u003e\n\u003cdetails\u003e \u003csummary\u003eInformation for California Residents\u003c\/summary\u003e\n\u003cp\u003eCalifornia Proposition 65 Warning: This product can expose you to chemicals including Diisodecyl phthalate (DIDP) and Diisononyl phthalate (DINP), which are known to the State of California to cause cancer and\/or birth defects or other reproductive harm. For more information go to www.P65Warnings.ca.gov.\u003c\/p\u003e\n\u003c\/details\u003e"}
Fly I 33TV Wall Mounted Floating Entertainment Center
Ratings & Reviews
Customer Reviews
Write a Review
Ask a Question
03/12/2021
Lynx

United States
Over priced
The unit looks good and was easy to install after I figured it out the best possible, with substandard instructions and a video of a product that is nothing like mine. Time to hang on wall...the backets sent did not line up with the hanging clips AT ALL! And again, the video of the hanging instructions did not correspond to my unit at all! After a few holes in my newly built wall and fresh professionally painted wall, I was able to figure out a system to hang it with and without the help of what they sent, 4hrs and only the bottom shelves are hung. The unit was scratched trying to hang. For the price of this unit, it should be more durable and the company need to provide better install and hanging instructions. Probably won't purchase from here again if every product is similar to this.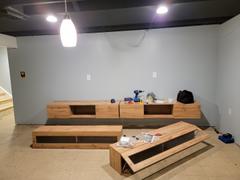 12/14/2020
Anonymous

United States
Little disappointing..
I mounted this to best possible precision, however the top flip door doesn't align properly! It was little bit inferior quality than I expected.