{"id":5299473940642,"title":"Eva-KWH Electric Fireplace Modern 71\" TV Stand","handle":"eva-kwh-electric-fireplace-modern-71-tv-stand","description":"\u003cul\u003e\n\u003cli\u003eEva-KWH Electric Fireplace Modern 71\" TV Stand - Modern TV Stand \/ TV Console \/ TV Cabinet \/ Central Entertainment Center\u003c\/li\u003e\n\u003cli\u003eFits up to 80 inch TVs\u003c\/li\u003e\n\u003cli\u003eHigh gloss fronts with matte body and high gloss top\u003c\/li\u003e\n\u003cli\u003e31.5\" wide electric fireplace insert included with remote control and on\/off control, 3 changeable flame colors, temperature control, timer setting, and dimmer\u003c\/li\u003e\n\u003cli\u003e16 color LED light system included with color control and on\/off remote\u003c\/li\u003e\n\u003cli\u003eManufactured in and imported from the European Union\u003c\/li\u003e\n\u003cli\u003eModern and unique contemporary design\u003c\/li\u003e\n\u003cli\u003ePerfect for those in need of living room storage space\u003c\/li\u003e\n\u003cli\u003eFlat packed and ready to ship\u003c\/li\u003e\n\u003cli\u003eDimensions: 22 inches height x 71 inches width x 15.75 inches depth\u003c\/li\u003e\n\u003c\/ul\u003e\n\u003cdetails open=\"\"\u003e \u003csummary\u003eInformation for California Residents\u003c\/summary\u003e\n\u003cp\u003eCalifornia Proposition 65 Warning: This product can expose you to chemicals including Diisodecyl phthalate (DIDP) and Diisononyl phthalate (DINP), which are known to the State of California to cause cancer and\/or birth defects or other reproductive harm. For more information go to www.P65Warnings.ca.gov.\u003c\/p\u003e\n\u003c\/details\u003e","published_at":"2020-06-08T20:07:35-04:00","created_at":"2020-06-08T20:17:42-04:00","vendor":"Meble Furniture","type":"Furniture","tags":["dimensions-22\" H x 71\" W x 15.75\" D"],"price":74900,"price_min":74900,"price_max":74900,"available":true,"price_varies":false,"compare_at_price":null,"compare_at_price_min":0,"compare_at_price_max":0,"compare_at_price_varies":false,"variants":[{"id":34607520415906,"title":"Black","option1":"Black","option2":null,"option3":null,"sku":"EVA-KWH-BLACK","requires_shipping":true,"taxable":true,"featured_image":{"id":20352528449698,"product_id":5299473940642,"position":10,"created_at":"2020-11-18T11:01:05-05:00","updated_at":"2020-11-24T13:59:57-05:00","alt":"Eva-KWH Electric Fireplace Modern 71\" TV Stand - Meble Furniture","width":1000,"height":1000,"src":"https:\/\/cdn.shopify.com\/s\/files\/1\/2781\/6416\/products\/black_5aee90dd-e4d8-47ac-8c38-2ee2a962db77.jpg?v=1606244397","variant_ids":[34607520415906]},"available":true,"name":"Eva-KWH Electric Fireplace Modern 71\" TV Stand - Black","public_title":"Black","options":["Black"],"price":74900,"weight":0,"compare_at_price":null,"inventory_management":"shopify","barcode":"","featured_media":{"alt":"Eva-KWH Electric Fireplace Modern 71\" TV Stand - Meble Furniture","id":12528236462242,"position":10,"preview_image":{"aspect_ratio":1.0,"height":1000,"width":1000,"src":"https:\/\/cdn.shopify.com\/s\/files\/1\/2781\/6416\/products\/black_5aee90dd-e4d8-47ac-8c38-2ee2a962db77.jpg?v=1605715265"}},"requires_selling_plan":false,"selling_plan_allocations":[]},{"id":34607520448674,"title":"Gray","option1":"Gray","option2":null,"option3":null,"sku":"EVA-KWH-GRAY","requires_shipping":true,"taxable":true,"featured_image":{"id":20352528842914,"product_id":5299473940642,"position":19,"created_at":"2020-11-18T11:01:06-05:00","updated_at":"2020-11-24T13:59:57-05:00","alt":"Eva-KWH Electric Fireplace Modern 71\" TV Stand - Meble Furniture","width":1000,"height":1000,"src":"https:\/\/cdn.shopify.com\/s\/files\/1\/2781\/6416\/products\/gray_7afec979-e5e0-4fae-9a05-97873e480e8f.jpg?v=1606244397","variant_ids":[34607520448674]},"available":true,"name":"Eva-KWH Electric Fireplace Modern 71\" TV Stand - Gray","public_title":"Gray","options":["Gray"],"price":74900,"weight":0,"compare_at_price":null,"inventory_management":"shopify","barcode":"","featured_media":{"alt":"Eva-KWH Electric Fireplace Modern 71\" TV Stand - Meble Furniture","id":12528236658850,"position":19,"preview_image":{"aspect_ratio":1.0,"height":1000,"width":1000,"src":"https:\/\/cdn.shopify.com\/s\/files\/1\/2781\/6416\/products\/gray_7afec979-e5e0-4fae-9a05-97873e480e8f.jpg?v=1605715266"}},"requires_selling_plan":false,"selling_plan_allocations":[]},{"id":34607520481442,"title":"White","option1":"White","option2":null,"option3":null,"sku":"EVA-KWH-WHITE","requires_shipping":true,"taxable":true,"featured_image":{"id":20352528908450,"product_id":5299473940642,"position":1,"created_at":"2020-11-18T11:01:07-05:00","updated_at":"2020-11-24T13:59:57-05:00","alt":"Eva-KWH Electric Fireplace Modern 71\" TV Stand - Meble Furniture","width":1000,"height":1000,"src":"https:\/\/cdn.shopify.com\/s\/files\/1\/2781\/6416\/products\/white_bee09200-7f3d-4d3b-ac40-0f431567b5d1.jpg?v=1606244397","variant_ids":[34607520481442]},"available":true,"name":"Eva-KWH Electric Fireplace Modern 71\" TV Stand - White","public_title":"White","options":["White"],"price":74900,"weight":0,"compare_at_price":null,"inventory_management":"shopify","barcode":"","featured_media":{"alt":"Eva-KWH Electric Fireplace Modern 71\" TV Stand - Meble Furniture","id":12528236855458,"position":1,"preview_image":{"aspect_ratio":1.0,"height":1000,"width":1000,"src":"https:\/\/cdn.shopify.com\/s\/files\/1\/2781\/6416\/products\/white_bee09200-7f3d-4d3b-ac40-0f431567b5d1.jpg?v=1605715267"}},"requires_selling_plan":false,"selling_plan_allocations":[]}],"images":["\/\/cdn.shopify.com\/s\/files\/1\/2781\/6416\/products\/white_bee09200-7f3d-4d3b-ac40-0f431567b5d1.jpg?v=1606244397","\/\/cdn.shopify.com\/s\/files\/1\/2781\/6416\/products\/white2_7f97a379-96d6-43af-9513-ee6860483d76.jpg?v=1606244397","\/\/cdn.shopify.com\/s\/files\/1\/2781\/6416\/products\/white3_9fd4b89e-8c59-44b9-a60c-cb0614e217ac.jpg?v=1606244397","\/\/cdn.shopify.com\/s\/files\/1\/2781\/6416\/products\/white4_62ee3db2-ac4f-4ad6-9a3a-bd0527db5ea0.jpg?v=1606244397","\/\/cdn.shopify.com\/s\/files\/1\/2781\/6416\/products\/white5_98ed26aa-003b-4972-aabc-5f45bd41bd50.jpg?v=1606244397","\/\/cdn.shopify.com\/s\/files\/1\/2781\/6416\/products\/white6_758ebe50-7995-4ea3-8239-2553721300b5.jpg?v=1606244397","\/\/cdn.shopify.com\/s\/files\/1\/2781\/6416\/products\/white_da96faa3-b49a-40d8-8f30-34c13fa09e7e.jpg?v=1606244397","\/\/cdn.shopify.com\/s\/files\/1\/2781\/6416\/products\/white5_2f03c863-bcbb-401c-8035-c65927a2b0be.jpg?v=1606244397","\/\/cdn.shopify.com\/s\/files\/1\/2781\/6416\/products\/Eva-KBL-KWH_86fafced-20f3-44e0-8c2d-9fa0b089559f.png?v=1606244397","\/\/cdn.shopify.com\/s\/files\/1\/2781\/6416\/products\/black_5aee90dd-e4d8-47ac-8c38-2ee2a962db77.jpg?v=1606244397","\/\/cdn.shopify.com\/s\/files\/1\/2781\/6416\/products\/black2_77dbaf81-9337-47ca-8bbb-010416501e75.jpg?v=1606244397","\/\/cdn.shopify.com\/s\/files\/1\/2781\/6416\/products\/black3_18216502-506d-4fa9-87fd-1a94aa78750d.jpg?v=1606244397","\/\/cdn.shopify.com\/s\/files\/1\/2781\/6416\/products\/black4_18b1b7a8-0260-44e2-a74c-d0bc61ff93bf.jpg?v=1606244397","\/\/cdn.shopify.com\/s\/files\/1\/2781\/6416\/products\/black5_70ccea85-2156-4f5e-a4ce-f0c20cb41626.jpg?v=1606244397","\/\/cdn.shopify.com\/s\/files\/1\/2781\/6416\/products\/black6_221002e5-1b40-48a1-8688-4295b6344895.jpg?v=1606244397","\/\/cdn.shopify.com\/s\/files\/1\/2781\/6416\/products\/white_72248f95-a038-4d2d-8b63-36a856703b4a.jpg?v=1606244397","\/\/cdn.shopify.com\/s\/files\/1\/2781\/6416\/products\/white5.jpg?v=1606244397","\/\/cdn.shopify.com\/s\/files\/1\/2781\/6416\/products\/Eva-KBL-KWH_9a6b844d-2075-47ed-ae32-89b7600876a4.png?v=1606244397","\/\/cdn.shopify.com\/s\/files\/1\/2781\/6416\/products\/gray_7afec979-e5e0-4fae-9a05-97873e480e8f.jpg?v=1606244397","\/\/cdn.shopify.com\/s\/files\/1\/2781\/6416\/products\/gray2_cd955276-f62a-4d1b-8b64-4ae983f74774.jpg?v=1606244397","\/\/cdn.shopify.com\/s\/files\/1\/2781\/6416\/products\/gray3_8bb31cbf-73a1-4477-9471-591353725934.jpg?v=1606244397","\/\/cdn.shopify.com\/s\/files\/1\/2781\/6416\/products\/gray4_08505e7a-316f-4d8d-b55d-7f1d78c897ca.jpg?v=1606244397","\/\/cdn.shopify.com\/s\/files\/1\/2781\/6416\/products\/gray5_dffd2d4f-5750-47d1-94ff-6b1052c5691c.jpg?v=1606244397","\/\/cdn.shopify.com\/s\/files\/1\/2781\/6416\/products\/gray6_36823a53-f2e9-4b8d-83b5-6046b380a295.jpg?v=1606244397","\/\/cdn.shopify.com\/s\/files\/1\/2781\/6416\/products\/white_184b4c9b-568a-46dd-98a1-94ea832c4de4.jpg?v=1606244397","\/\/cdn.shopify.com\/s\/files\/1\/2781\/6416\/products\/white5_ec9f5398-b3db-45bf-9c92-f12cae304366.jpg?v=1606244397","\/\/cdn.shopify.com\/s\/files\/1\/2781\/6416\/products\/Eva-KBL-KWH_7f946697-fd2c-479a-8feb-71e33fe0f763.png?v=1606244397"],"featured_image":"\/\/cdn.shopify.com\/s\/files\/1\/2781\/6416\/products\/white_bee09200-7f3d-4d3b-ac40-0f431567b5d1.jpg?v=1606244397","options":["Color"],"media":[{"alt":"Eva-KWH Electric Fireplace Modern 71\" TV Stand - Meble Furniture","id":12528236855458,"position":1,"preview_image":{"aspect_ratio":1.0,"height":1000,"width":1000,"src":"https:\/\/cdn.shopify.com\/s\/files\/1\/2781\/6416\/products\/white_bee09200-7f3d-4d3b-ac40-0f431567b5d1.jpg?v=1605715267"},"aspect_ratio":1.0,"height":1000,"media_type":"image","src":"https:\/\/cdn.shopify.com\/s\/files\/1\/2781\/6416\/products\/white_bee09200-7f3d-4d3b-ac40-0f431567b5d1.jpg?v=1605715267","width":1000},{"alt":"Eva-KWH Electric Fireplace Modern 71\" TV Stand - Meble Furniture","id":12528236920994,"position":2,"preview_image":{"aspect_ratio":1.0,"height":1000,"width":1000,"src":"https:\/\/cdn.shopify.com\/s\/files\/1\/2781\/6416\/products\/white2_7f97a379-96d6-43af-9513-ee6860483d76.jpg?v=1605715266"},"aspect_ratio":1.0,"height":1000,"media_type":"image","src":"https:\/\/cdn.shopify.com\/s\/files\/1\/2781\/6416\/products\/white2_7f97a379-96d6-43af-9513-ee6860483d76.jpg?v=1605715266","width":1000},{"alt":"Eva-KWH Electric Fireplace Modern 71\" TV Stand - Meble Furniture","id":12528236953762,"position":3,"preview_image":{"aspect_ratio":1.0,"height":1000,"width":1000,"src":"https:\/\/cdn.shopify.com\/s\/files\/1\/2781\/6416\/products\/white3_9fd4b89e-8c59-44b9-a60c-cb0614e217ac.jpg?v=1605715268"},"aspect_ratio":1.0,"height":1000,"media_type":"image","src":"https:\/\/cdn.shopify.com\/s\/files\/1\/2781\/6416\/products\/white3_9fd4b89e-8c59-44b9-a60c-cb0614e217ac.jpg?v=1605715268","width":1000},{"alt":"Eva-KWH Electric Fireplace Modern 71\" TV Stand - Meble Furniture","id":12528236986530,"position":4,"preview_image":{"aspect_ratio":1.0,"height":1000,"width":1000,"src":"https:\/\/cdn.shopify.com\/s\/files\/1\/2781\/6416\/products\/white4_62ee3db2-ac4f-4ad6-9a3a-bd0527db5ea0.jpg?v=1605715266"},"aspect_ratio":1.0,"height":1000,"media_type":"image","src":"https:\/\/cdn.shopify.com\/s\/files\/1\/2781\/6416\/products\/white4_62ee3db2-ac4f-4ad6-9a3a-bd0527db5ea0.jpg?v=1605715266","width":1000},{"alt":"Eva-KWH Electric Fireplace Modern 71\" TV Stand - Meble Furniture","id":12528237019298,"position":5,"preview_image":{"aspect_ratio":1.0,"height":1000,"width":1000,"src":"https:\/\/cdn.shopify.com\/s\/files\/1\/2781\/6416\/products\/white5_98ed26aa-003b-4972-aabc-5f45bd41bd50.jpg?v=1605715268"},"aspect_ratio":1.0,"height":1000,"media_type":"image","src":"https:\/\/cdn.shopify.com\/s\/files\/1\/2781\/6416\/products\/white5_98ed26aa-003b-4972-aabc-5f45bd41bd50.jpg?v=1605715268","width":1000},{"alt":"Eva-KWH Electric Fireplace Modern 71\" TV Stand - Meble Furniture","id":12528237052066,"position":6,"preview_image":{"aspect_ratio":1.0,"height":1000,"width":1000,"src":"https:\/\/cdn.shopify.com\/s\/files\/1\/2781\/6416\/products\/white6_758ebe50-7995-4ea3-8239-2553721300b5.jpg?v=1605715267"},"aspect_ratio":1.0,"height":1000,"media_type":"image","src":"https:\/\/cdn.shopify.com\/s\/files\/1\/2781\/6416\/products\/white6_758ebe50-7995-4ea3-8239-2553721300b5.jpg?v=1605715267","width":1000},{"alt":"Eva-KWH Electric Fireplace Modern 71\" TV Stand - Meble Furniture","id":12545605435554,"position":7,"preview_image":{"aspect_ratio":1.0,"height":1000,"width":1000,"src":"https:\/\/cdn.shopify.com\/s\/files\/1\/2781\/6416\/products\/white_da96faa3-b49a-40d8-8f30-34c13fa09e7e.jpg?v=1605793870"},"aspect_ratio":1.0,"height":1000,"media_type":"image","src":"https:\/\/cdn.shopify.com\/s\/files\/1\/2781\/6416\/products\/white_da96faa3-b49a-40d8-8f30-34c13fa09e7e.jpg?v=1605793870","width":1000},{"alt":"Eva-KWH Electric Fireplace Modern 71\" TV Stand - Meble Furniture","id":12545605468322,"position":8,"preview_image":{"aspect_ratio":1.0,"height":1000,"width":1000,"src":"https:\/\/cdn.shopify.com\/s\/files\/1\/2781\/6416\/products\/white5_2f03c863-bcbb-401c-8035-c65927a2b0be.jpg?v=1605793870"},"aspect_ratio":1.0,"height":1000,"media_type":"image","src":"https:\/\/cdn.shopify.com\/s\/files\/1\/2781\/6416\/products\/white5_2f03c863-bcbb-401c-8035-c65927a2b0be.jpg?v=1605793870","width":1000},{"alt":"Eva-KWH Electric Fireplace Modern 71\" TV Stand - Meble Furniture","id":12597884190882,"position":9,"preview_image":{"aspect_ratio":1.0,"height":1000,"width":1000,"src":"https:\/\/cdn.shopify.com\/s\/files\/1\/2781\/6416\/products\/Eva-KBL-KWH_86fafced-20f3-44e0-8c2d-9fa0b089559f.png?v=1606088027"},"aspect_ratio":1.0,"height":1000,"media_type":"image","src":"https:\/\/cdn.shopify.com\/s\/files\/1\/2781\/6416\/products\/Eva-KBL-KWH_86fafced-20f3-44e0-8c2d-9fa0b089559f.png?v=1606088027","width":1000},{"alt":"Eva-KWH Electric Fireplace Modern 71\" TV Stand - Meble Furniture","id":12528236462242,"position":10,"preview_image":{"aspect_ratio":1.0,"height":1000,"width":1000,"src":"https:\/\/cdn.shopify.com\/s\/files\/1\/2781\/6416\/products\/black_5aee90dd-e4d8-47ac-8c38-2ee2a962db77.jpg?v=1605715265"},"aspect_ratio":1.0,"height":1000,"media_type":"image","src":"https:\/\/cdn.shopify.com\/s\/files\/1\/2781\/6416\/products\/black_5aee90dd-e4d8-47ac-8c38-2ee2a962db77.jpg?v=1605715265","width":1000},{"alt":"Eva-KWH Electric Fireplace Modern 71\" TV Stand - Meble Furniture","id":12528236495010,"position":11,"preview_image":{"aspect_ratio":1.0,"height":1000,"width":1000,"src":"https:\/\/cdn.shopify.com\/s\/files\/1\/2781\/6416\/products\/black2_77dbaf81-9337-47ca-8bbb-010416501e75.jpg?v=1605715265"},"aspect_ratio":1.0,"height":1000,"media_type":"image","src":"https:\/\/cdn.shopify.com\/s\/files\/1\/2781\/6416\/products\/black2_77dbaf81-9337-47ca-8bbb-010416501e75.jpg?v=1605715265","width":1000},{"alt":"Eva-KWH Electric Fireplace Modern 71\" TV Stand - Meble Furniture","id":12528236527778,"position":12,"preview_image":{"aspect_ratio":1.0,"height":1000,"width":1000,"src":"https:\/\/cdn.shopify.com\/s\/files\/1\/2781\/6416\/products\/black3_18216502-506d-4fa9-87fd-1a94aa78750d.jpg?v=1605715265"},"aspect_ratio":1.0,"height":1000,"media_type":"image","src":"https:\/\/cdn.shopify.com\/s\/files\/1\/2781\/6416\/products\/black3_18216502-506d-4fa9-87fd-1a94aa78750d.jpg?v=1605715265","width":1000},{"alt":"Eva-KWH Electric Fireplace Modern 71\" TV Stand - Meble Furniture","id":12528236560546,"position":13,"preview_image":{"aspect_ratio":1.0,"height":1000,"width":1000,"src":"https:\/\/cdn.shopify.com\/s\/files\/1\/2781\/6416\/products\/black4_18b1b7a8-0260-44e2-a74c-d0bc61ff93bf.jpg?v=1605715266"},"aspect_ratio":1.0,"height":1000,"media_type":"image","src":"https:\/\/cdn.shopify.com\/s\/files\/1\/2781\/6416\/products\/black4_18b1b7a8-0260-44e2-a74c-d0bc61ff93bf.jpg?v=1605715266","width":1000},{"alt":"Eva-KWH Electric Fireplace Modern 71\" TV Stand - Meble Furniture","id":12528236593314,"position":14,"preview_image":{"aspect_ratio":1.0,"height":1000,"width":1000,"src":"https:\/\/cdn.shopify.com\/s\/files\/1\/2781\/6416\/products\/black5_70ccea85-2156-4f5e-a4ce-f0c20cb41626.jpg?v=1605715267"},"aspect_ratio":1.0,"height":1000,"media_type":"image","src":"https:\/\/cdn.shopify.com\/s\/files\/1\/2781\/6416\/products\/black5_70ccea85-2156-4f5e-a4ce-f0c20cb41626.jpg?v=1605715267","width":1000},{"alt":"Eva-KWH Electric Fireplace Modern 71\" TV Stand - Meble Furniture","id":12528236626082,"position":15,"preview_image":{"aspect_ratio":1.0,"height":1000,"width":1000,"src":"https:\/\/cdn.shopify.com\/s\/files\/1\/2781\/6416\/products\/black6_221002e5-1b40-48a1-8688-4295b6344895.jpg?v=1605715265"},"aspect_ratio":1.0,"height":1000,"media_type":"image","src":"https:\/\/cdn.shopify.com\/s\/files\/1\/2781\/6416\/products\/black6_221002e5-1b40-48a1-8688-4295b6344895.jpg?v=1605715265","width":1000},{"alt":"Eva-KWH Electric Fireplace Modern 71\" TV Stand - Meble Furniture","id":12545605566626,"position":16,"preview_image":{"aspect_ratio":1.0,"height":1000,"width":1000,"src":"https:\/\/cdn.shopify.com\/s\/files\/1\/2781\/6416\/products\/white_72248f95-a038-4d2d-8b63-36a856703b4a.jpg?v=1605793870"},"aspect_ratio":1.0,"height":1000,"media_type":"image","src":"https:\/\/cdn.shopify.com\/s\/files\/1\/2781\/6416\/products\/white_72248f95-a038-4d2d-8b63-36a856703b4a.jpg?v=1605793870","width":1000},{"alt":"Eva-KWH Electric Fireplace Modern 71\" TV Stand - Meble Furniture","id":12545605599394,"position":17,"preview_image":{"aspect_ratio":1.0,"height":1000,"width":1000,"src":"https:\/\/cdn.shopify.com\/s\/files\/1\/2781\/6416\/products\/white5.jpg?v=1605793870"},"aspect_ratio":1.0,"height":1000,"media_type":"image","src":"https:\/\/cdn.shopify.com\/s\/files\/1\/2781\/6416\/products\/white5.jpg?v=1605793870","width":1000},{"alt":"Eva-KWH Electric Fireplace Modern 71\" TV Stand - Meble Furniture","id":12597885141154,"position":18,"preview_image":{"aspect_ratio":1.0,"height":1000,"width":1000,"src":"https:\/\/cdn.shopify.com\/s\/files\/1\/2781\/6416\/products\/Eva-KBL-KWH_9a6b844d-2075-47ed-ae32-89b7600876a4.png?v=1606088033"},"aspect_ratio":1.0,"height":1000,"media_type":"image","src":"https:\/\/cdn.shopify.com\/s\/files\/1\/2781\/6416\/products\/Eva-KBL-KWH_9a6b844d-2075-47ed-ae32-89b7600876a4.png?v=1606088033","width":1000},{"alt":"Eva-KWH Electric Fireplace Modern 71\" TV Stand - Meble Furniture","id":12528236658850,"position":19,"preview_image":{"aspect_ratio":1.0,"height":1000,"width":1000,"src":"https:\/\/cdn.shopify.com\/s\/files\/1\/2781\/6416\/products\/gray_7afec979-e5e0-4fae-9a05-97873e480e8f.jpg?v=1605715266"},"aspect_ratio":1.0,"height":1000,"media_type":"image","src":"https:\/\/cdn.shopify.com\/s\/files\/1\/2781\/6416\/products\/gray_7afec979-e5e0-4fae-9a05-97873e480e8f.jpg?v=1605715266","width":1000},{"alt":"Eva-KWH Electric Fireplace Modern 71\" TV Stand - Meble Furniture","id":12528236691618,"position":20,"preview_image":{"aspect_ratio":1.0,"height":1000,"width":1000,"src":"https:\/\/cdn.shopify.com\/s\/files\/1\/2781\/6416\/products\/gray2_cd955276-f62a-4d1b-8b64-4ae983f74774.jpg?v=1605715265"},"aspect_ratio":1.0,"height":1000,"media_type":"image","src":"https:\/\/cdn.shopify.com\/s\/files\/1\/2781\/6416\/products\/gray2_cd955276-f62a-4d1b-8b64-4ae983f74774.jpg?v=1605715265","width":1000},{"alt":"Eva-KWH Electric Fireplace Modern 71\" TV Stand - Meble Furniture","id":12528236724386,"position":21,"preview_image":{"aspect_ratio":1.0,"height":1000,"width":1000,"src":"https:\/\/cdn.shopify.com\/s\/files\/1\/2781\/6416\/products\/gray3_8bb31cbf-73a1-4477-9471-591353725934.jpg?v=1605715265"},"aspect_ratio":1.0,"height":1000,"media_type":"image","src":"https:\/\/cdn.shopify.com\/s\/files\/1\/2781\/6416\/products\/gray3_8bb31cbf-73a1-4477-9471-591353725934.jpg?v=1605715265","width":1000},{"alt":"Eva-KWH Electric Fireplace Modern 71\" TV Stand - Meble Furniture","id":12528236757154,"position":22,"preview_image":{"aspect_ratio":1.0,"height":1000,"width":1000,"src":"https:\/\/cdn.shopify.com\/s\/files\/1\/2781\/6416\/products\/gray4_08505e7a-316f-4d8d-b55d-7f1d78c897ca.jpg?v=1605715267"},"aspect_ratio":1.0,"height":1000,"media_type":"image","src":"https:\/\/cdn.shopify.com\/s\/files\/1\/2781\/6416\/products\/gray4_08505e7a-316f-4d8d-b55d-7f1d78c897ca.jpg?v=1605715267","width":1000},{"alt":"Eva-KWH Electric Fireplace Modern 71\" TV Stand - Meble Furniture","id":12528236789922,"position":23,"preview_image":{"aspect_ratio":1.0,"height":1000,"width":1000,"src":"https:\/\/cdn.shopify.com\/s\/files\/1\/2781\/6416\/products\/gray5_dffd2d4f-5750-47d1-94ff-6b1052c5691c.jpg?v=1605715265"},"aspect_ratio":1.0,"height":1000,"media_type":"image","src":"https:\/\/cdn.shopify.com\/s\/files\/1\/2781\/6416\/products\/gray5_dffd2d4f-5750-47d1-94ff-6b1052c5691c.jpg?v=1605715265","width":1000},{"alt":"Eva-KWH Electric Fireplace Modern 71\" TV Stand - Meble Furniture","id":12528236822690,"position":24,"preview_image":{"aspect_ratio":1.0,"height":1000,"width":1000,"src":"https:\/\/cdn.shopify.com\/s\/files\/1\/2781\/6416\/products\/gray6_36823a53-f2e9-4b8d-83b5-6046b380a295.jpg?v=1605715265"},"aspect_ratio":1.0,"height":1000,"media_type":"image","src":"https:\/\/cdn.shopify.com\/s\/files\/1\/2781\/6416\/products\/gray6_36823a53-f2e9-4b8d-83b5-6046b380a295.jpg?v=1605715265","width":1000},{"alt":"Eva-KWH Electric Fireplace Modern 71\" TV Stand - Meble Furniture","id":12545605763234,"position":25,"preview_image":{"aspect_ratio":1.0,"height":1000,"width":1000,"src":"https:\/\/cdn.shopify.com\/s\/files\/1\/2781\/6416\/products\/white_184b4c9b-568a-46dd-98a1-94ea832c4de4.jpg?v=1605793873"},"aspect_ratio":1.0,"height":1000,"media_type":"image","src":"https:\/\/cdn.shopify.com\/s\/files\/1\/2781\/6416\/products\/white_184b4c9b-568a-46dd-98a1-94ea832c4de4.jpg?v=1605793873","width":1000},{"alt":"Eva-KWH Electric Fireplace Modern 71\" TV Stand - Meble Furniture","id":12545605796002,"position":26,"preview_image":{"aspect_ratio":1.0,"height":1000,"width":1000,"src":"https:\/\/cdn.shopify.com\/s\/files\/1\/2781\/6416\/products\/white5_ec9f5398-b3db-45bf-9c92-f12cae304366.jpg?v=1605793873"},"aspect_ratio":1.0,"height":1000,"media_type":"image","src":"https:\/\/cdn.shopify.com\/s\/files\/1\/2781\/6416\/products\/white5_ec9f5398-b3db-45bf-9c92-f12cae304366.jpg?v=1605793873","width":1000},{"alt":"Eva-KWH Electric Fireplace Modern 71\" TV Stand - Meble Furniture","id":12597885304994,"position":27,"preview_image":{"aspect_ratio":1.0,"height":1000,"width":1000,"src":"https:\/\/cdn.shopify.com\/s\/files\/1\/2781\/6416\/products\/Eva-KBL-KWH_7f946697-fd2c-479a-8feb-71e33fe0f763.png?v=1606088036"},"aspect_ratio":1.0,"height":1000,"media_type":"image","src":"https:\/\/cdn.shopify.com\/s\/files\/1\/2781\/6416\/products\/Eva-KBL-KWH_7f946697-fd2c-479a-8feb-71e33fe0f763.png?v=1606088036","width":1000}],"requires_selling_plan":false,"selling_plan_groups":[],"content":"\u003cul\u003e\n\u003cli\u003eEva-KWH Electric Fireplace Modern 71\" TV Stand - Modern TV Stand \/ TV Console \/ TV Cabinet \/ Central Entertainment Center\u003c\/li\u003e\n\u003cli\u003eFits up to 80 inch TVs\u003c\/li\u003e\n\u003cli\u003eHigh gloss fronts with matte body and high gloss top\u003c\/li\u003e\n\u003cli\u003e31.5\" wide electric fireplace insert included with remote control and on\/off control, 3 changeable flame colors, temperature control, timer setting, and dimmer\u003c\/li\u003e\n\u003cli\u003e16 color LED light system included with color control and on\/off remote\u003c\/li\u003e\n\u003cli\u003eManufactured in and imported from the European Union\u003c\/li\u003e\n\u003cli\u003eModern and unique contemporary design\u003c\/li\u003e\n\u003cli\u003ePerfect for those in need of living room storage space\u003c\/li\u003e\n\u003cli\u003eFlat packed and ready to ship\u003c\/li\u003e\n\u003cli\u003eDimensions: 22 inches height x 71 inches width x 15.75 inches depth\u003c\/li\u003e\n\u003c\/ul\u003e\n\u003cdetails open=\"\"\u003e \u003csummary\u003eInformation for California Residents\u003c\/summary\u003e\n\u003cp\u003eCalifornia Proposition 65 Warning: This product can expose you to chemicals including Diisodecyl phthalate (DIDP) and Diisononyl phthalate (DINP), which are known to the State of California to cause cancer and\/or birth defects or other reproductive harm. For more information go to www.P65Warnings.ca.gov.\u003c\/p\u003e\n\u003c\/details\u003e"}
Eva-KWH Electric Fireplace Modern 71" TV Stand
Ratings & Reviews
Customer Reviews
Write a Review
Ask a Question
Filter Reviews:
Jackie
surgery
hospital
remote
pilas
control
único
luces
Todo
someone
04/17/2021
Anonymous

United States
Some issues
I purchased the EVA-KWA in white with fireplace. It took a while to put together but that was not the issue. The issues started coming when we had to drill holes into the cabinet for the fireplace. The fireplace is short for the cabinet and it was hard not to drill into the inner cabinet and to keep the fireplace even. It should say to close the cabinet doors and make marks first. We had to re-drill holes and it's not great. Further, the "white" glass that looks invisible in the pictures actually has a tint of blue. Not great. For this they sent me a black cover as a "fix". Not really what I was going forward though.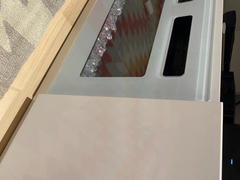 04/15/2021
Janet M. Hamvas

United States
Very happy
Everything was excellent. It's rare that someone actually delivers as advertised these days, but Meble did.
12/26/2020
Anonymous

United States
I love it
Lovely I received it so fast, the only thing I wish I could pay for having it assembled before it comes. The guy I paid he is ok but the remote is not working.I don't know if he didn't attach something, any how I could live with that I love my fire place and tv stand. Thank you very much it got here right in time after my surgery in the hospital. Thank you again. Jackie
11/16/2020
Javier L.

United States
Todo todo perfectamente.. lo único que el control de las luces no funcionó ya le cambié pilas nuevas y no funcionó .