{"id":1541186093098,"title":"Bari 160 Wall Mounted Floating 63\" TV Stand","handle":"bari-160-wall-mounted-floating-tv-stand","description":"\u003cul\u003e\n\u003cli\u003eBari 160 Wall Mounted Floating 63\" TV Stand - Modern TV Stand \/ TV Console \/ TV Cabinet \/ Central Entertainment Center\u003c\/li\u003e\n\u003cli\u003eFits up to 70 inch TVs\u003c\/li\u003e\n\u003cli\u003eHigh gloss fronts with matte body\u003c\/li\u003e\n\u003cli\u003eOptional wall mounting kit included\u003c\/li\u003e\n\u003cli\u003e16 color LED light system included with color control and on\/off remote\u003c\/li\u003e\n\u003cli\u003eManufactured in and imported from the European Union\u003c\/li\u003e\n\u003cli\u003eModern and unique contemporary design\u003c\/li\u003e\n\u003cli\u003ePerfect for those in need of living room storage space\u003c\/li\u003e\n\u003cli\u003eFlat packed and ready to ship\u003c\/li\u003e\n\u003cli\u003eEasy wall installation with included bracket, pins, and eccentric type connections\u003c\/li\u003e\n\u003cli\u003eDimensions: 17.7 inches height x 63 inches width x 13.8 inches depth\u003c\/li\u003e\n\u003c\/ul\u003e\n\u003cdetails\u003e \u003csummary\u003eInformation for California Residents\u003c\/summary\u003e\n\u003cp\u003eCalifornia Proposition 65 Warning: This product can expose you to chemicals including Diisodecyl phthalate (DIDP) and Diisononyl phthalate (DINP), which are known to the State of California to cause cancer and\/or birth defects or other reproductive harm. For more information go to www.P65Warnings.ca.gov.\u003c\/p\u003e\n\u003c\/details\u003e","published_at":"2018-06-26T00:48:12-04:00","created_at":"2018-06-26T00:48:12-04:00","vendor":"Meble Furniture","type":"Entertainment Centers \u0026 TV Stands","tags":["dimensions-17.7\" H x 63\" W x 13.8\" D","spo-default","spo-enabled","TV Stands for TVs up to 60 inches","TV Stands for TVs up to 65 inches","TV Stands for TVs up to 70 inches","Wall Mounted Floating TV Stands"],"price":19900,"price_min":19900,"price_max":19900,"available":true,"price_varies":false,"compare_at_price":null,"compare_at_price_min":0,"compare_at_price_max":0,"compare_at_price_varies":false,"variants":[{"id":14730353082410,"title":"Black","option1":"Black","option2":null,"option3":null,"sku":"BARI160BLACK","requires_shipping":true,"taxable":true,"featured_image":{"id":18939170259106,"product_id":1541186093098,"position":1,"created_at":"2020-09-01T20:41:31-04:00","updated_at":"2022-03-01T13:53:36-05:00","alt":"Bari 160 Wall Mounted Floating Modern 63\" TV Stand - Meble Furniture","width":1000,"height":1000,"src":"https:\/\/cdn.shopify.com\/s\/files\/1\/2781\/6416\/products\/black_c101e6f3-3f04-4005-9063-5dc92353c496.png?v=1646160816","variant_ids":[14730353082410]},"available":true,"name":"Bari 160 Wall Mounted Floating 63\" TV Stand - Black","public_title":"Black","options":["Black"],"price":19900,"weight":29483,"compare_at_price":null,"inventory_management":"shopify","barcode":"00840227600467","featured_media":{"alt":"Bari 160 Wall Mounted Floating Modern 63\" TV Stand - Meble Furniture","id":11113974825122,"position":1,"preview_image":{"aspect_ratio":1.0,"height":1000,"width":1000,"src":"https:\/\/cdn.shopify.com\/s\/files\/1\/2781\/6416\/products\/black_c101e6f3-3f04-4005-9063-5dc92353c496.png?v=1646160816"}},"requires_selling_plan":false,"selling_plan_allocations":[]},{"id":35965475455138,"title":"Gray","option1":"Gray","option2":null,"option3":null,"sku":"BARI160GRAY","requires_shipping":true,"taxable":true,"featured_image":{"id":18939169833122,"product_id":1541186093098,"position":8,"created_at":"2020-09-01T20:41:31-04:00","updated_at":"2022-03-01T13:53:36-05:00","alt":"Bari 160 Wall Mounted Floating Modern 63\" TV Stand - Meble Furniture","width":1000,"height":1000,"src":"https:\/\/cdn.shopify.com\/s\/files\/1\/2781\/6416\/products\/gray_ab43fd7a-2562-4e73-b06c-e001206134ce.png?v=1646160816","variant_ids":[35965475455138]},"available":true,"name":"Bari 160 Wall Mounted Floating 63\" TV Stand - Gray","public_title":"Gray","options":["Gray"],"price":19900,"weight":29483,"compare_at_price":null,"inventory_management":"shopify","barcode":"00840227600474","featured_media":{"alt":"Bari 160 Wall Mounted Floating Modern 63\" TV Stand - Meble Furniture","id":11113975054498,"position":8,"preview_image":{"aspect_ratio":1.0,"height":1000,"width":1000,"src":"https:\/\/cdn.shopify.com\/s\/files\/1\/2781\/6416\/products\/gray_ab43fd7a-2562-4e73-b06c-e001206134ce.png?v=1646160816"}},"requires_selling_plan":false,"selling_plan_allocations":[]},{"id":14730353147946,"title":"White","option1":"White","option2":null,"option3":null,"sku":"BARI160WHITE","requires_shipping":true,"taxable":true,"featured_image":{"id":18939170226338,"product_id":1541186093098,"position":15,"created_at":"2020-09-01T20:41:31-04:00","updated_at":"2022-03-01T13:53:36-05:00","alt":"Bari 160 Wall Mounted Floating Modern 63\" TV Stand - Meble Furniture","width":1000,"height":1000,"src":"https:\/\/cdn.shopify.com\/s\/files\/1\/2781\/6416\/products\/white_3185a6f8-346e-4dbe-a8be-36fd0bbe6574.png?v=1646160816","variant_ids":[14730353147946]},"available":true,"name":"Bari 160 Wall Mounted Floating 63\" TV Stand - White","public_title":"White","options":["White"],"price":19900,"weight":29483,"compare_at_price":null,"inventory_management":"shopify","barcode":"00840227600481","featured_media":{"alt":"Bari 160 Wall Mounted Floating Modern 63\" TV Stand - Meble Furniture","id":11113975382178,"position":15,"preview_image":{"aspect_ratio":1.0,"height":1000,"width":1000,"src":"https:\/\/cdn.shopify.com\/s\/files\/1\/2781\/6416\/products\/white_3185a6f8-346e-4dbe-a8be-36fd0bbe6574.png?v=1646160816"}},"requires_selling_plan":false,"selling_plan_allocations":[]},{"id":14730353115178,"title":"White\/Black","option1":"White\/Black","option2":null,"option3":null,"sku":"BARI160WHITEBLACK","requires_shipping":true,"taxable":true,"featured_image":{"id":18939171438754,"product_id":1541186093098,"position":22,"created_at":"2020-09-01T20:41:31-04:00","updated_at":"2020-09-01T20:41:37-04:00","alt":"Bari 160 Wall Mounted Floating Modern 63\" TV Stand - Meble Furniture","width":1000,"height":1000,"src":"https:\/\/cdn.shopify.com\/s\/files\/1\/2781\/6416\/products\/whiteblack_80085fd5-56d4-40c6-b69f-c6d36a55a7d5.png?v=1599007297","variant_ids":[14730353115178]},"available":true,"name":"Bari 160 Wall Mounted Floating 63\" TV Stand - White\/Black","public_title":"White\/Black","options":["White\/Black"],"price":19900,"weight":29483,"compare_at_price":null,"inventory_management":"shopify","barcode":"00840227600498","featured_media":{"alt":"Bari 160 Wall Mounted Floating Modern 63\" TV Stand - Meble Furniture","id":11113975775394,"position":22,"preview_image":{"aspect_ratio":1.0,"height":1000,"width":1000,"src":"https:\/\/cdn.shopify.com\/s\/files\/1\/2781\/6416\/products\/whiteblack_80085fd5-56d4-40c6-b69f-c6d36a55a7d5.png?v=1599007297"}},"requires_selling_plan":false,"selling_plan_allocations":[]}],"images":["\/\/cdn.shopify.com\/s\/files\/1\/2781\/6416\/products\/black_c101e6f3-3f04-4005-9063-5dc92353c496.png?v=1646160816","\/\/cdn.shopify.com\/s\/files\/1\/2781\/6416\/products\/black2.png?v=1646160816","\/\/cdn.shopify.com\/s\/files\/1\/2781\/6416\/products\/black3.png?v=1646160816","\/\/cdn.shopify.com\/s\/files\/1\/2781\/6416\/products\/black4.png?v=1646160816","\/\/cdn.shopify.com\/s\/files\/1\/2781\/6416\/products\/black5_f9da69d7-705c-43a6-a36a-adb761ef73b1.png?v=1646160816","\/\/cdn.shopify.com\/s\/files\/1\/2781\/6416\/products\/black6.png?v=1646160816","\/\/cdn.shopify.com\/s\/files\/1\/2781\/6416\/products\/Bari160.png?v=1646160816","\/\/cdn.shopify.com\/s\/files\/1\/2781\/6416\/products\/gray_ab43fd7a-2562-4e73-b06c-e001206134ce.png?v=1646160816","\/\/cdn.shopify.com\/s\/files\/1\/2781\/6416\/products\/gray2_e62539f2-cb5f-47f8-b6ed-19eea204cee7.png?v=1646160816","\/\/cdn.shopify.com\/s\/files\/1\/2781\/6416\/products\/gray3_8a329d7e-2e02-4f0d-ab6a-0c07049033bd.png?v=1646160816","\/\/cdn.shopify.com\/s\/files\/1\/2781\/6416\/products\/gray4_063fe8c8-4235-4a00-9642-c9aad55db742.png?v=1646160816","\/\/cdn.shopify.com\/s\/files\/1\/2781\/6416\/products\/gray5_372e17bd-c241-4151-8b26-d8a9f0ca729a.png?v=1646160816","\/\/cdn.shopify.com\/s\/files\/1\/2781\/6416\/products\/gray6_b2d601e0-8a1b-4909-a196-e3866239b9d8.png?v=1646160816","\/\/cdn.shopify.com\/s\/files\/1\/2781\/6416\/products\/Bari160_f4c39aa7-fbcd-48eb-bcc9-f5b318568b98.png?v=1646160816","\/\/cdn.shopify.com\/s\/files\/1\/2781\/6416\/products\/white_3185a6f8-346e-4dbe-a8be-36fd0bbe6574.png?v=1646160816","\/\/cdn.shopify.com\/s\/files\/1\/2781\/6416\/products\/white2.png?v=1646160816","\/\/cdn.shopify.com\/s\/files\/1\/2781\/6416\/products\/white3.png?v=1646160816","\/\/cdn.shopify.com\/s\/files\/1\/2781\/6416\/products\/white4.png?v=1646160816","\/\/cdn.shopify.com\/s\/files\/1\/2781\/6416\/products\/white5_a9165643-55d0-4326-8129-77b473b751b1.png?v=1646160816","\/\/cdn.shopify.com\/s\/files\/1\/2781\/6416\/products\/white6.png?v=1646160816","\/\/cdn.shopify.com\/s\/files\/1\/2781\/6416\/products\/Bari160_be34441b-4a26-484c-8e8b-19c96dc893ef.png?v=1646160816","\/\/cdn.shopify.com\/s\/files\/1\/2781\/6416\/products\/whiteblack_80085fd5-56d4-40c6-b69f-c6d36a55a7d5.png?v=1599007297","\/\/cdn.shopify.com\/s\/files\/1\/2781\/6416\/products\/whiteblack2.png?v=1599007297","\/\/cdn.shopify.com\/s\/files\/1\/2781\/6416\/products\/whiteblack3.png?v=1599007293","\/\/cdn.shopify.com\/s\/files\/1\/2781\/6416\/products\/whiteblack4.png?v=1599007293","\/\/cdn.shopify.com\/s\/files\/1\/2781\/6416\/products\/whiteblack5_1b88e5bb-0879-4382-b954-864d74a00691.png?v=1599007297","\/\/cdn.shopify.com\/s\/files\/1\/2781\/6416\/products\/whiteblack6.png?v=1599007295","\/\/cdn.shopify.com\/s\/files\/1\/2781\/6416\/products\/Bari160_fcd59a71-60a9-4055-ac0d-985844e2cc69.png?v=1606087229"],"featured_image":"\/\/cdn.shopify.com\/s\/files\/1\/2781\/6416\/products\/black_c101e6f3-3f04-4005-9063-5dc92353c496.png?v=1646160816","options":["Color"],"media":[{"alt":"Bari 160 Wall Mounted Floating Modern 63\" TV Stand - Meble Furniture","id":11113974825122,"position":1,"preview_image":{"aspect_ratio":1.0,"height":1000,"width":1000,"src":"https:\/\/cdn.shopify.com\/s\/files\/1\/2781\/6416\/products\/black_c101e6f3-3f04-4005-9063-5dc92353c496.png?v=1646160816"},"aspect_ratio":1.0,"height":1000,"media_type":"image","src":"https:\/\/cdn.shopify.com\/s\/files\/1\/2781\/6416\/products\/black_c101e6f3-3f04-4005-9063-5dc92353c496.png?v=1646160816","width":1000},{"alt":"Bari 160 Wall Mounted Floating Modern 63\" TV Stand - Meble Furniture","id":11113974857890,"position":2,"preview_image":{"aspect_ratio":1.0,"height":1000,"width":1000,"src":"https:\/\/cdn.shopify.com\/s\/files\/1\/2781\/6416\/products\/black2.png?v=1646160816"},"aspect_ratio":1.0,"height":1000,"media_type":"image","src":"https:\/\/cdn.shopify.com\/s\/files\/1\/2781\/6416\/products\/black2.png?v=1646160816","width":1000},{"alt":"Bari 160 Wall Mounted Floating Modern 63\" TV Stand - Meble Furniture","id":11113974890658,"position":3,"preview_image":{"aspect_ratio":1.0,"height":1000,"width":1000,"src":"https:\/\/cdn.shopify.com\/s\/files\/1\/2781\/6416\/products\/black3.png?v=1646160816"},"aspect_ratio":1.0,"height":1000,"media_type":"image","src":"https:\/\/cdn.shopify.com\/s\/files\/1\/2781\/6416\/products\/black3.png?v=1646160816","width":1000},{"alt":"Bari 160 Wall Mounted Floating Modern 63\" TV Stand - Meble Furniture","id":11113974923426,"position":4,"preview_image":{"aspect_ratio":1.0,"height":1000,"width":1000,"src":"https:\/\/cdn.shopify.com\/s\/files\/1\/2781\/6416\/products\/black4.png?v=1646160816"},"aspect_ratio":1.0,"height":1000,"media_type":"image","src":"https:\/\/cdn.shopify.com\/s\/files\/1\/2781\/6416\/products\/black4.png?v=1646160816","width":1000},{"alt":"Bari 160 Wall Mounted Floating Modern 63\" TV Stand - Meble Furniture","id":11113974956194,"position":5,"preview_image":{"aspect_ratio":1.0,"height":1000,"width":1000,"src":"https:\/\/cdn.shopify.com\/s\/files\/1\/2781\/6416\/products\/black5_f9da69d7-705c-43a6-a36a-adb761ef73b1.png?v=1646160816"},"aspect_ratio":1.0,"height":1000,"media_type":"image","src":"https:\/\/cdn.shopify.com\/s\/files\/1\/2781\/6416\/products\/black5_f9da69d7-705c-43a6-a36a-adb761ef73b1.png?v=1646160816","width":1000},{"alt":"Bari 160 Wall Mounted Floating Modern 63\" TV Stand - Meble Furniture","id":11113975021730,"position":6,"preview_image":{"aspect_ratio":1.0,"height":1000,"width":1000,"src":"https:\/\/cdn.shopify.com\/s\/files\/1\/2781\/6416\/products\/black6.png?v=1646160816"},"aspect_ratio":1.0,"height":1000,"media_type":"image","src":"https:\/\/cdn.shopify.com\/s\/files\/1\/2781\/6416\/products\/black6.png?v=1646160816","width":1000},{"alt":"Bari 160 Wall Mounted Floating Modern 63\" TV Stand - Meble Furniture","id":12597756854434,"position":7,"preview_image":{"aspect_ratio":1.0,"height":1000,"width":1000,"src":"https:\/\/cdn.shopify.com\/s\/files\/1\/2781\/6416\/products\/Bari160.png?v=1646160816"},"aspect_ratio":1.0,"height":1000,"media_type":"image","src":"https:\/\/cdn.shopify.com\/s\/files\/1\/2781\/6416\/products\/Bari160.png?v=1646160816","width":1000},{"alt":"Bari 160 Wall Mounted Floating Modern 63\" TV Stand - Meble Furniture","id":11113975054498,"position":8,"preview_image":{"aspect_ratio":1.0,"height":1000,"width":1000,"src":"https:\/\/cdn.shopify.com\/s\/files\/1\/2781\/6416\/products\/gray_ab43fd7a-2562-4e73-b06c-e001206134ce.png?v=1646160816"},"aspect_ratio":1.0,"height":1000,"media_type":"image","src":"https:\/\/cdn.shopify.com\/s\/files\/1\/2781\/6416\/products\/gray_ab43fd7a-2562-4e73-b06c-e001206134ce.png?v=1646160816","width":1000},{"alt":"Bari 160 Wall Mounted Floating Modern 63\" TV Stand - Meble Furniture","id":11113975087266,"position":9,"preview_image":{"aspect_ratio":1.0,"height":1000,"width":1000,"src":"https:\/\/cdn.shopify.com\/s\/files\/1\/2781\/6416\/products\/gray2_e62539f2-cb5f-47f8-b6ed-19eea204cee7.png?v=1646160816"},"aspect_ratio":1.0,"height":1000,"media_type":"image","src":"https:\/\/cdn.shopify.com\/s\/files\/1\/2781\/6416\/products\/gray2_e62539f2-cb5f-47f8-b6ed-19eea204cee7.png?v=1646160816","width":1000},{"alt":"Bari 160 Wall Mounted Floating Modern 63\" TV Stand - Meble Furniture","id":11113975185570,"position":10,"preview_image":{"aspect_ratio":1.0,"height":1000,"width":1000,"src":"https:\/\/cdn.shopify.com\/s\/files\/1\/2781\/6416\/products\/gray3_8a329d7e-2e02-4f0d-ab6a-0c07049033bd.png?v=1646160816"},"aspect_ratio":1.0,"height":1000,"media_type":"image","src":"https:\/\/cdn.shopify.com\/s\/files\/1\/2781\/6416\/products\/gray3_8a329d7e-2e02-4f0d-ab6a-0c07049033bd.png?v=1646160816","width":1000},{"alt":"Bari 160 Wall Mounted Floating Modern 63\" TV Stand - Meble Furniture","id":11113975283874,"position":11,"preview_image":{"aspect_ratio":1.0,"height":1000,"width":1000,"src":"https:\/\/cdn.shopify.com\/s\/files\/1\/2781\/6416\/products\/gray4_063fe8c8-4235-4a00-9642-c9aad55db742.png?v=1646160816"},"aspect_ratio":1.0,"height":1000,"media_type":"image","src":"https:\/\/cdn.shopify.com\/s\/files\/1\/2781\/6416\/products\/gray4_063fe8c8-4235-4a00-9642-c9aad55db742.png?v=1646160816","width":1000},{"alt":"Bari 160 Wall Mounted Floating Modern 63\" TV Stand - Meble Furniture","id":11113975316642,"position":12,"preview_image":{"aspect_ratio":1.0,"height":1000,"width":1000,"src":"https:\/\/cdn.shopify.com\/s\/files\/1\/2781\/6416\/products\/gray5_372e17bd-c241-4151-8b26-d8a9f0ca729a.png?v=1646160816"},"aspect_ratio":1.0,"height":1000,"media_type":"image","src":"https:\/\/cdn.shopify.com\/s\/files\/1\/2781\/6416\/products\/gray5_372e17bd-c241-4151-8b26-d8a9f0ca729a.png?v=1646160816","width":1000},{"alt":"Bari 160 Wall Mounted Floating Modern 63\" TV Stand - Meble Furniture","id":11113975349410,"position":13,"preview_image":{"aspect_ratio":1.0,"height":1000,"width":1000,"src":"https:\/\/cdn.shopify.com\/s\/files\/1\/2781\/6416\/products\/gray6_b2d601e0-8a1b-4909-a196-e3866239b9d8.png?v=1646160816"},"aspect_ratio":1.0,"height":1000,"media_type":"image","src":"https:\/\/cdn.shopify.com\/s\/files\/1\/2781\/6416\/products\/gray6_b2d601e0-8a1b-4909-a196-e3866239b9d8.png?v=1646160816","width":1000},{"alt":"Bari 160 Wall Mounted Floating Modern 63\" TV Stand - Meble Furniture","id":12597757149346,"position":14,"preview_image":{"aspect_ratio":1.0,"height":1000,"width":1000,"src":"https:\/\/cdn.shopify.com\/s\/files\/1\/2781\/6416\/products\/Bari160_f4c39aa7-fbcd-48eb-bcc9-f5b318568b98.png?v=1646160816"},"aspect_ratio":1.0,"height":1000,"media_type":"image","src":"https:\/\/cdn.shopify.com\/s\/files\/1\/2781\/6416\/products\/Bari160_f4c39aa7-fbcd-48eb-bcc9-f5b318568b98.png?v=1646160816","width":1000},{"alt":"Bari 160 Wall Mounted Floating Modern 63\" TV Stand - Meble Furniture","id":11113975382178,"position":15,"preview_image":{"aspect_ratio":1.0,"height":1000,"width":1000,"src":"https:\/\/cdn.shopify.com\/s\/files\/1\/2781\/6416\/products\/white_3185a6f8-346e-4dbe-a8be-36fd0bbe6574.png?v=1646160816"},"aspect_ratio":1.0,"height":1000,"media_type":"image","src":"https:\/\/cdn.shopify.com\/s\/files\/1\/2781\/6416\/products\/white_3185a6f8-346e-4dbe-a8be-36fd0bbe6574.png?v=1646160816","width":1000},{"alt":"Bari 160 Wall Mounted Floating Modern 63\" TV Stand - Meble Furniture","id":11113975447714,"position":16,"preview_image":{"aspect_ratio":1.0,"height":1000,"width":1000,"src":"https:\/\/cdn.shopify.com\/s\/files\/1\/2781\/6416\/products\/white2.png?v=1646160816"},"aspect_ratio":1.0,"height":1000,"media_type":"image","src":"https:\/\/cdn.shopify.com\/s\/files\/1\/2781\/6416\/products\/white2.png?v=1646160816","width":1000},{"alt":"Bari 160 Wall Mounted Floating Modern 63\" TV Stand - Meble Furniture","id":11113975611554,"position":17,"preview_image":{"aspect_ratio":1.0,"height":1000,"width":1000,"src":"https:\/\/cdn.shopify.com\/s\/files\/1\/2781\/6416\/products\/white3.png?v=1646160816"},"aspect_ratio":1.0,"height":1000,"media_type":"image","src":"https:\/\/cdn.shopify.com\/s\/files\/1\/2781\/6416\/products\/white3.png?v=1646160816","width":1000},{"alt":"Bari 160 Wall Mounted Floating Modern 63\" TV Stand - Meble Furniture","id":11113975644322,"position":18,"preview_image":{"aspect_ratio":1.0,"height":1000,"width":1000,"src":"https:\/\/cdn.shopify.com\/s\/files\/1\/2781\/6416\/products\/white4.png?v=1646160816"},"aspect_ratio":1.0,"height":1000,"media_type":"image","src":"https:\/\/cdn.shopify.com\/s\/files\/1\/2781\/6416\/products\/white4.png?v=1646160816","width":1000},{"alt":"Bari 160 Wall Mounted Floating Modern 63\" TV Stand - Meble Furniture","id":11113975677090,"position":19,"preview_image":{"aspect_ratio":1.0,"height":1000,"width":1000,"src":"https:\/\/cdn.shopify.com\/s\/files\/1\/2781\/6416\/products\/white5_a9165643-55d0-4326-8129-77b473b751b1.png?v=1646160816"},"aspect_ratio":1.0,"height":1000,"media_type":"image","src":"https:\/\/cdn.shopify.com\/s\/files\/1\/2781\/6416\/products\/white5_a9165643-55d0-4326-8129-77b473b751b1.png?v=1646160816","width":1000},{"alt":"Bari 160 Wall Mounted Floating Modern 63\" TV Stand - Meble Furniture","id":11113975742626,"position":20,"preview_image":{"aspect_ratio":1.0,"height":1000,"width":1000,"src":"https:\/\/cdn.shopify.com\/s\/files\/1\/2781\/6416\/products\/white6.png?v=1646160816"},"aspect_ratio":1.0,"height":1000,"media_type":"image","src":"https:\/\/cdn.shopify.com\/s\/files\/1\/2781\/6416\/products\/white6.png?v=1646160816","width":1000},{"alt":"Bari 160 Wall Mounted Floating Modern 63\" TV Stand - Meble Furniture","id":12597757083810,"position":21,"preview_image":{"aspect_ratio":1.0,"height":1000,"width":1000,"src":"https:\/\/cdn.shopify.com\/s\/files\/1\/2781\/6416\/products\/Bari160_be34441b-4a26-484c-8e8b-19c96dc893ef.png?v=1646160816"},"aspect_ratio":1.0,"height":1000,"media_type":"image","src":"https:\/\/cdn.shopify.com\/s\/files\/1\/2781\/6416\/products\/Bari160_be34441b-4a26-484c-8e8b-19c96dc893ef.png?v=1646160816","width":1000},{"alt":"Bari 160 Wall Mounted Floating Modern 63\" TV Stand - Meble Furniture","id":11113975775394,"position":22,"preview_image":{"aspect_ratio":1.0,"height":1000,"width":1000,"src":"https:\/\/cdn.shopify.com\/s\/files\/1\/2781\/6416\/products\/whiteblack_80085fd5-56d4-40c6-b69f-c6d36a55a7d5.png?v=1599007297"},"aspect_ratio":1.0,"height":1000,"media_type":"image","src":"https:\/\/cdn.shopify.com\/s\/files\/1\/2781\/6416\/products\/whiteblack_80085fd5-56d4-40c6-b69f-c6d36a55a7d5.png?v=1599007297","width":1000},{"alt":"Bari 160 Wall Mounted Floating Modern 63\" TV Stand - Meble Furniture","id":11113975840930,"position":23,"preview_image":{"aspect_ratio":1.0,"height":1000,"width":1000,"src":"https:\/\/cdn.shopify.com\/s\/files\/1\/2781\/6416\/products\/whiteblack2.png?v=1599007297"},"aspect_ratio":1.0,"height":1000,"media_type":"image","src":"https:\/\/cdn.shopify.com\/s\/files\/1\/2781\/6416\/products\/whiteblack2.png?v=1599007297","width":1000},{"alt":"Bari 160 Wall Mounted Floating Modern 63\" TV Stand - Meble Furniture","id":11113975939234,"position":24,"preview_image":{"aspect_ratio":1.0,"height":1000,"width":1000,"src":"https:\/\/cdn.shopify.com\/s\/files\/1\/2781\/6416\/products\/whiteblack3.png?v=1599007293"},"aspect_ratio":1.0,"height":1000,"media_type":"image","src":"https:\/\/cdn.shopify.com\/s\/files\/1\/2781\/6416\/products\/whiteblack3.png?v=1599007293","width":1000},{"alt":"Bari 160 Wall Mounted Floating Modern 63\" TV Stand - Meble Furniture","id":11113975972002,"position":25,"preview_image":{"aspect_ratio":1.0,"height":1000,"width":1000,"src":"https:\/\/cdn.shopify.com\/s\/files\/1\/2781\/6416\/products\/whiteblack4.png?v=1599007293"},"aspect_ratio":1.0,"height":1000,"media_type":"image","src":"https:\/\/cdn.shopify.com\/s\/files\/1\/2781\/6416\/products\/whiteblack4.png?v=1599007293","width":1000},{"alt":"Bari 160 Wall Mounted Floating Modern 63\" TV Stand - Meble Furniture","id":11113976004770,"position":26,"preview_image":{"aspect_ratio":1.0,"height":1000,"width":1000,"src":"https:\/\/cdn.shopify.com\/s\/files\/1\/2781\/6416\/products\/whiteblack5_1b88e5bb-0879-4382-b954-864d74a00691.png?v=1599007297"},"aspect_ratio":1.0,"height":1000,"media_type":"image","src":"https:\/\/cdn.shopify.com\/s\/files\/1\/2781\/6416\/products\/whiteblack5_1b88e5bb-0879-4382-b954-864d74a00691.png?v=1599007297","width":1000},{"alt":"Bari 160 Wall Mounted Floating Modern 63\" TV Stand - Meble Furniture","id":11113974661282,"position":27,"preview_image":{"aspect_ratio":1.0,"height":1000,"width":1000,"src":"https:\/\/cdn.shopify.com\/s\/files\/1\/2781\/6416\/products\/whiteblack6.png?v=1599007295"},"aspect_ratio":1.0,"height":1000,"media_type":"image","src":"https:\/\/cdn.shopify.com\/s\/files\/1\/2781\/6416\/products\/whiteblack6.png?v=1599007295","width":1000},{"alt":"Bari 160 Wall Mounted Floating Modern 63\" TV Stand - Meble Furniture","id":12597757640866,"position":28,"preview_image":{"aspect_ratio":1.0,"height":1000,"width":1000,"src":"https:\/\/cdn.shopify.com\/s\/files\/1\/2781\/6416\/products\/Bari160_fcd59a71-60a9-4055-ac0d-985844e2cc69.png?v=1606087229"},"aspect_ratio":1.0,"height":1000,"media_type":"image","src":"https:\/\/cdn.shopify.com\/s\/files\/1\/2781\/6416\/products\/Bari160_fcd59a71-60a9-4055-ac0d-985844e2cc69.png?v=1606087229","width":1000}],"requires_selling_plan":false,"selling_plan_groups":[],"content":"\u003cul\u003e\n\u003cli\u003eBari 160 Wall Mounted Floating 63\" TV Stand - Modern TV Stand \/ TV Console \/ TV Cabinet \/ Central Entertainment Center\u003c\/li\u003e\n\u003cli\u003eFits up to 70 inch TVs\u003c\/li\u003e\n\u003cli\u003eHigh gloss fronts with matte body\u003c\/li\u003e\n\u003cli\u003eOptional wall mounting kit included\u003c\/li\u003e\n\u003cli\u003e16 color LED light system included with color control and on\/off remote\u003c\/li\u003e\n\u003cli\u003eManufactured in and imported from the European Union\u003c\/li\u003e\n\u003cli\u003eModern and unique contemporary design\u003c\/li\u003e\n\u003cli\u003ePerfect for those in need of living room storage space\u003c\/li\u003e\n\u003cli\u003eFlat packed and ready to ship\u003c\/li\u003e\n\u003cli\u003eEasy wall installation with included bracket, pins, and eccentric type connections\u003c\/li\u003e\n\u003cli\u003eDimensions: 17.7 inches height x 63 inches width x 13.8 inches depth\u003c\/li\u003e\n\u003c\/ul\u003e\n\u003cdetails\u003e \u003csummary\u003eInformation for California Residents\u003c\/summary\u003e\n\u003cp\u003eCalifornia Proposition 65 Warning: This product can expose you to chemicals including Diisodecyl phthalate (DIDP) and Diisononyl phthalate (DINP), which are known to the State of California to cause cancer and\/or birth defects or other reproductive harm. For more information go to www.P65Warnings.ca.gov.\u003c\/p\u003e\n\u003c\/details\u003e"}
Bari 160 Wall Mounted Floating 63" TV Stand
Ratings & Reviews
Customer Reviews
Write a Review
Ask a Question
Filter Reviews:
installer
being
estimate
pandemic
hand
problems
rock
middle
stars
challenge
05/18/2021
Anonymous

United States
Love it!
It took 3 months to arrive, but I'm guessing being in the middle of a global pandemic had a hand in that. The instructions could have better, but I figured it out. It took longer than their estimate of 90 minutes. That being said, we love the look, and it's solid as a rock. We had it professionally installed, so I can't speak to that. Going by how much we like it, I'm giving it 5 stars. Was everything perfect? No. But it did arrive, I got it together, and the professional installer had no problems. It looks better than I thought it would, so 5 stars.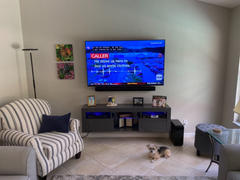 11/18/2020
Anonymous

United States
Finally!
Finally received the unit after being on back order. Assembly was simple and the unit looks great. Still have to mount it to the wall. We'll see how it goes
09/10/2020
Anonymous

United States
Looks great, difficult to assemble
It was a challenge to assemble the tv stand, but looked beautiful once it was finally put together
Well-designed with sleek lines. We were able to hang it pretty easily! Don't forget to take off the blue protective film they put on during shipping!
Product is rock solid, installation was a snap, building instructions were perfect just follow the steps and you are all set. Super happy with my purchase.