{"id":3959330209834,"title":"Aria 3 Door 71\" Wardrobe with Mirror","handle":"aria-3-door-wardrobe-with-mirror","description":"\u003cul\u003e\n\u003cli\u003eAria 3 Door 71\" Wide Wardrobe Armoire with Mirror\u003c\/li\u003e\n\u003cli\u003eGlass fronts with matte body\u003c\/li\u003e\n\u003cli\u003eManufactured in and imported from the European Union\u003c\/li\u003e\n\u003cli\u003eModern and unique contemporary design\u003c\/li\u003e\n\u003cli\u003ePerfect for those in need of living room storage space\u003c\/li\u003e\n\u003cli\u003eFlat packed and ready to ship\u003c\/li\u003e\n\u003cli\u003eDimensions: 82 inches height x 71 inches width x 26 inches depth\u003c\/li\u003e\n\u003c\/ul\u003e","published_at":"2019-09-10T15:33:39-04:00","created_at":"2019-09-10T15:35:24-04:00","vendor":"Meble Furniture","type":"Armoires \u0026 Wardrobes","tags":["3 Door Wardrobes","dimensions-82\" H x 71\" W x 26\" D","spo-default","spo-enabled","Wardrobes with Mirror"],"price":129900,"price_min":129900,"price_max":129900,"available":true,"price_varies":false,"compare_at_price":null,"compare_at_price_min":0,"compare_at_price_max":0,"compare_at_price_varies":false,"variants":[{"id":29563897544746,"title":"Black","option1":"Black","option2":null,"option3":null,"sku":"ARIA3DBLACKMIRR","requires_shipping":true,"taxable":true,"featured_image":{"id":12128705740842,"product_id":3959330209834,"position":5,"created_at":"2019-09-10T15:35:29-04:00","updated_at":"2020-11-22T18:10:38-05:00","alt":"Aria 3 Door Modern 71\" Wardrobe with Mirror - Meble Furniture","width":1000,"height":1000,"src":"https:\/\/cdn.shopify.com\/s\/files\/1\/2781\/6416\/products\/3door_blackmirror.jpg?v=1606086638","variant_ids":[29563897544746]},"available":true,"name":"Aria 3 Door 71\" Wardrobe with Mirror - Black","public_title":"Black","options":["Black"],"price":129900,"weight":0,"compare_at_price":null,"inventory_management":"shopify","barcode":"00840227600436","featured_media":{"alt":"Aria 3 Door Modern 71\" Wardrobe with Mirror - Meble Furniture","id":3396588699690,"position":5,"preview_image":{"aspect_ratio":1.0,"height":1000,"width":1000,"src":"https:\/\/cdn.shopify.com\/s\/files\/1\/2781\/6416\/products\/3door_blackmirror.jpg?v=1569492033"}},"requires_selling_plan":false,"selling_plan_allocations":[]},{"id":30726588727338,"title":"Gray","option1":"Gray","option2":null,"option3":null,"sku":"ARIA3DGRAYMIRR","requires_shipping":true,"taxable":true,"featured_image":{"id":12128705871914,"product_id":3959330209834,"position":9,"created_at":"2019-09-10T15:35:32-04:00","updated_at":"2020-11-22T18:10:38-05:00","alt":"Aria 3 Door Modern 71\" Wardrobe with Mirror - Meble Furniture","width":1000,"height":1000,"src":"https:\/\/cdn.shopify.com\/s\/files\/1\/2781\/6416\/products\/3door_graymirror.jpg?v=1606086638","variant_ids":[30726588727338]},"available":true,"name":"Aria 3 Door 71\" Wardrobe with Mirror - Gray","public_title":"Gray","options":["Gray"],"price":129900,"weight":0,"compare_at_price":null,"inventory_management":"shopify","barcode":"00840227600443","featured_media":{"alt":"Aria 3 Door Modern 71\" Wardrobe with Mirror - Meble Furniture","id":3396588830762,"position":9,"preview_image":{"aspect_ratio":1.0,"height":1000,"width":1000,"src":"https:\/\/cdn.shopify.com\/s\/files\/1\/2781\/6416\/products\/3door_graymirror.jpg?v=1569492033"}},"requires_selling_plan":false,"selling_plan_allocations":[]},{"id":29563897577514,"title":"White","option1":"White","option2":null,"option3":null,"sku":"ARIA3DWHITEMIRR","requires_shipping":true,"taxable":true,"featured_image":{"id":12128705708074,"product_id":3959330209834,"position":1,"created_at":"2019-09-10T15:35:27-04:00","updated_at":"2020-04-17T13:55:01-04:00","alt":"Aria 3 Door Modern 71\" Wardrobe with Mirror - Meble Furniture","width":1000,"height":1000,"src":"https:\/\/cdn.shopify.com\/s\/files\/1\/2781\/6416\/products\/3door_whitemirror.jpg?v=1587146101","variant_ids":[29563897577514]},"available":true,"name":"Aria 3 Door 71\" Wardrobe with Mirror - White","public_title":"White","options":["White"],"price":129900,"weight":0,"compare_at_price":null,"inventory_management":"shopify","barcode":"00840227600450","featured_media":{"alt":"Aria 3 Door Modern 71\" Wardrobe with Mirror - Meble Furniture","id":3396588666922,"position":1,"preview_image":{"aspect_ratio":1.0,"height":1000,"width":1000,"src":"https:\/\/cdn.shopify.com\/s\/files\/1\/2781\/6416\/products\/3door_whitemirror.jpg?v=1569492033"}},"requires_selling_plan":false,"selling_plan_allocations":[]}],"images":["\/\/cdn.shopify.com\/s\/files\/1\/2781\/6416\/products\/3door_whitemirror.jpg?v=1587146101","\/\/cdn.shopify.com\/s\/files\/1\/2781\/6416\/products\/3door_whitemirror2.jpg?v=1602125369","\/\/cdn.shopify.com\/s\/files\/1\/2781\/6416\/products\/3door_whitemirror3.jpg?v=1602125369","\/\/cdn.shopify.com\/s\/files\/1\/2781\/6416\/products\/Aria3Door_7499350a-3e7c-4a27-ae8b-3d1de50b2cf4.png?v=1606244333","\/\/cdn.shopify.com\/s\/files\/1\/2781\/6416\/products\/3door_blackmirror.jpg?v=1606086638","\/\/cdn.shopify.com\/s\/files\/1\/2781\/6416\/products\/3door_blackmirror2.jpg?v=1606086638","\/\/cdn.shopify.com\/s\/files\/1\/2781\/6416\/products\/3door_blackmirror3.jpg?v=1606086638","\/\/cdn.shopify.com\/s\/files\/1\/2781\/6416\/products\/Aria3Door_794c0a57-9a4e-4d2d-a1e5-c76011008903.png?v=1606244333","\/\/cdn.shopify.com\/s\/files\/1\/2781\/6416\/products\/3door_graymirror.jpg?v=1606086638","\/\/cdn.shopify.com\/s\/files\/1\/2781\/6416\/products\/3door_graymirror2.jpg?v=1606086638","\/\/cdn.shopify.com\/s\/files\/1\/2781\/6416\/products\/3door_graymirror3.jpg?v=1606086638","\/\/cdn.shopify.com\/s\/files\/1\/2781\/6416\/products\/Aria3Door_8cba9b5e-f836-4a42-9f6a-95c87e358af8.png?v=1606244334"],"featured_image":"\/\/cdn.shopify.com\/s\/files\/1\/2781\/6416\/products\/3door_whitemirror.jpg?v=1587146101","options":["Color"],"media":[{"alt":"Aria 3 Door Modern 71\" Wardrobe with Mirror - Meble Furniture","id":3396588666922,"position":1,"preview_image":{"aspect_ratio":1.0,"height":1000,"width":1000,"src":"https:\/\/cdn.shopify.com\/s\/files\/1\/2781\/6416\/products\/3door_whitemirror.jpg?v=1569492033"},"aspect_ratio":1.0,"height":1000,"media_type":"image","src":"https:\/\/cdn.shopify.com\/s\/files\/1\/2781\/6416\/products\/3door_whitemirror.jpg?v=1569492033","width":1000},{"alt":"Aria 3 Door Modern 71\" Wardrobe with Mirror - Meble Furniture","id":3396588961834,"position":2,"preview_image":{"aspect_ratio":1.0,"height":1000,"width":1000,"src":"https:\/\/cdn.shopify.com\/s\/files\/1\/2781\/6416\/products\/3door_whitemirror2.jpg?v=1569492033"},"aspect_ratio":1.0,"height":1000,"media_type":"image","src":"https:\/\/cdn.shopify.com\/s\/files\/1\/2781\/6416\/products\/3door_whitemirror2.jpg?v=1569492033","width":1000},{"alt":"Aria 3 Door Modern 71\" Wardrobe with Mirror - Meble Furniture","id":3396589092906,"position":3,"preview_image":{"aspect_ratio":1.0,"height":1000,"width":1000,"src":"https:\/\/cdn.shopify.com\/s\/files\/1\/2781\/6416\/products\/3door_whitemirror3.jpg?v=1569492033"},"aspect_ratio":1.0,"height":1000,"media_type":"image","src":"https:\/\/cdn.shopify.com\/s\/files\/1\/2781\/6416\/products\/3door_whitemirror3.jpg?v=1569492033","width":1000},{"alt":"Aria 3 Door Modern 71\" Wardrobe with Mirror - Meble Furniture","id":12597674082466,"position":4,"preview_image":{"aspect_ratio":1.0,"height":1000,"width":1000,"src":"https:\/\/cdn.shopify.com\/s\/files\/1\/2781\/6416\/products\/Aria3Door_7499350a-3e7c-4a27-ae8b-3d1de50b2cf4.png?v=1606086632"},"aspect_ratio":1.0,"height":1000,"media_type":"image","src":"https:\/\/cdn.shopify.com\/s\/files\/1\/2781\/6416\/products\/Aria3Door_7499350a-3e7c-4a27-ae8b-3d1de50b2cf4.png?v=1606086632","width":1000},{"alt":"Aria 3 Door Modern 71\" Wardrobe with Mirror - Meble Furniture","id":3396588699690,"position":5,"preview_image":{"aspect_ratio":1.0,"height":1000,"width":1000,"src":"https:\/\/cdn.shopify.com\/s\/files\/1\/2781\/6416\/products\/3door_blackmirror.jpg?v=1569492033"},"aspect_ratio":1.0,"height":1000,"media_type":"image","src":"https:\/\/cdn.shopify.com\/s\/files\/1\/2781\/6416\/products\/3door_blackmirror.jpg?v=1569492033","width":1000},{"alt":"Aria 3 Door Modern 71\" Wardrobe with Mirror - Meble Furniture","id":3396588863530,"position":6,"preview_image":{"aspect_ratio":1.0,"height":1000,"width":1000,"src":"https:\/\/cdn.shopify.com\/s\/files\/1\/2781\/6416\/products\/3door_blackmirror2.jpg?v=1569492033"},"aspect_ratio":1.0,"height":1000,"media_type":"image","src":"https:\/\/cdn.shopify.com\/s\/files\/1\/2781\/6416\/products\/3door_blackmirror2.jpg?v=1569492033","width":1000},{"alt":"Aria 3 Door Modern 71\" Wardrobe with Mirror - Meble Furniture","id":3396589027370,"position":7,"preview_image":{"aspect_ratio":1.0,"height":1000,"width":1000,"src":"https:\/\/cdn.shopify.com\/s\/files\/1\/2781\/6416\/products\/3door_blackmirror3.jpg?v=1569492033"},"aspect_ratio":1.0,"height":1000,"media_type":"image","src":"https:\/\/cdn.shopify.com\/s\/files\/1\/2781\/6416\/products\/3door_blackmirror3.jpg?v=1569492033","width":1000},{"alt":"Aria 3 Door Modern 71\" Wardrobe with Mirror - Meble Furniture","id":12597674246306,"position":8,"preview_image":{"aspect_ratio":1.0,"height":1000,"width":1000,"src":"https:\/\/cdn.shopify.com\/s\/files\/1\/2781\/6416\/products\/Aria3Door_794c0a57-9a4e-4d2d-a1e5-c76011008903.png?v=1606086632"},"aspect_ratio":1.0,"height":1000,"media_type":"image","src":"https:\/\/cdn.shopify.com\/s\/files\/1\/2781\/6416\/products\/Aria3Door_794c0a57-9a4e-4d2d-a1e5-c76011008903.png?v=1606086632","width":1000},{"alt":"Aria 3 Door Modern 71\" Wardrobe with Mirror - Meble Furniture","id":3396588830762,"position":9,"preview_image":{"aspect_ratio":1.0,"height":1000,"width":1000,"src":"https:\/\/cdn.shopify.com\/s\/files\/1\/2781\/6416\/products\/3door_graymirror.jpg?v=1569492033"},"aspect_ratio":1.0,"height":1000,"media_type":"image","src":"https:\/\/cdn.shopify.com\/s\/files\/1\/2781\/6416\/products\/3door_graymirror.jpg?v=1569492033","width":1000},{"alt":"Aria 3 Door Modern 71\" Wardrobe with Mirror - Meble Furniture","id":3396588929066,"position":10,"preview_image":{"aspect_ratio":1.0,"height":1000,"width":1000,"src":"https:\/\/cdn.shopify.com\/s\/files\/1\/2781\/6416\/products\/3door_graymirror2.jpg?v=1569492033"},"aspect_ratio":1.0,"height":1000,"media_type":"image","src":"https:\/\/cdn.shopify.com\/s\/files\/1\/2781\/6416\/products\/3door_graymirror2.jpg?v=1569492033","width":1000},{"alt":"Aria 3 Door Modern 71\" Wardrobe with Mirror - Meble Furniture","id":3396589060138,"position":11,"preview_image":{"aspect_ratio":1.0,"height":1000,"width":1000,"src":"https:\/\/cdn.shopify.com\/s\/files\/1\/2781\/6416\/products\/3door_graymirror3.jpg?v=1569492033"},"aspect_ratio":1.0,"height":1000,"media_type":"image","src":"https:\/\/cdn.shopify.com\/s\/files\/1\/2781\/6416\/products\/3door_graymirror3.jpg?v=1569492033","width":1000},{"alt":"Aria 3 Door Modern 71\" Wardrobe with Mirror - Meble Furniture","id":12597674442914,"position":12,"preview_image":{"aspect_ratio":1.0,"height":1000,"width":1000,"src":"https:\/\/cdn.shopify.com\/s\/files\/1\/2781\/6416\/products\/Aria3Door_8cba9b5e-f836-4a42-9f6a-95c87e358af8.png?v=1606086638"},"aspect_ratio":1.0,"height":1000,"media_type":"image","src":"https:\/\/cdn.shopify.com\/s\/files\/1\/2781\/6416\/products\/Aria3Door_8cba9b5e-f836-4a42-9f6a-95c87e358af8.png?v=1606086638","width":1000}],"requires_selling_plan":false,"selling_plan_groups":[],"content":"\u003cul\u003e\n\u003cli\u003eAria 3 Door 71\" Wide Wardrobe Armoire with Mirror\u003c\/li\u003e\n\u003cli\u003eGlass fronts with matte body\u003c\/li\u003e\n\u003cli\u003eManufactured in and imported from the European Union\u003c\/li\u003e\n\u003cli\u003eModern and unique contemporary design\u003c\/li\u003e\n\u003cli\u003ePerfect for those in need of living room storage space\u003c\/li\u003e\n\u003cli\u003eFlat packed and ready to ship\u003c\/li\u003e\n\u003cli\u003eDimensions: 82 inches height x 71 inches width x 26 inches depth\u003c\/li\u003e\n\u003c\/ul\u003e"}
Aria 3 Door 71" Wardrobe with Mirror
Ratings & Reviews
Customer Reviews
Write a Review
Ask a Question
Filter Reviews:
Milano TV Stand
Connor
sectional
Aria
3door
mirror
clothing
space
Brooklyn
lifesaver
11/13/2020
Jordan

United States
No space wasted, thoughtful design!
Living in a small Brooklyn apartment Meble Furniture has been a lifesaver! Not only are the products super stylish, but they are also incredibly functional. There is little to no wasted space, especially in the Aria 3door. The fact that it can store all my clothing AND help me eliminate space wasted with a mirror is a game-changer. We have also purchased the Milano TV Stand and the Connor sectional. Each piece brings more and more storage into our home, and I could not be happier! Thanks, Meble Furniture!!!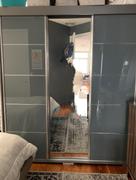 12/19/2020
Admir M.

United States
Very Good, follow both YouTube and planogram directions to save time
Really beautiful armoire, got it in black. It is tall, wide, and spacious. The glass sliding doors really add to the sleek modern look it has. It was a little hard putting it together (instructions said it would take 1 hr, it took us 4 because instructions weren't always clear). Would definately recommend more than one person to put it together because of its weight and size. Other than that, it is an eye-catching addition to any room! Am very satisfied with it.
This Armoire is gorgeous, well made and offers plenty of space! My client loves it and couldn't be happier. My only complaint: I don't have enough room to get one for myself and have been jealous ever since, Lol! Would absolutely recommend, came very well packaged, nothing broken and nothing was missing. Once we figured out what goes where and laid it all out it took about an hour and a half to assemble. I'd strongly recommend putting it together where it's going to go, it's extremely sturdy and heavy and will be difficult to move. If you absolutely can't assemble it in it's dedicated space, you'll need sliders for sure and a minimum of 2-3 people to put the sliders under and to move it. We also opted for the In-House delivery, can't stress enough how heavy the boxes are. The delivery guys were on time, very professional and super friendly.
I love how it looks in my own lady nook. It's my extended closet and the front looks like an modern art. My room looks very eclectic now. Tips: two people need to assemble this with strong arms. If you put this future in a fairly small room it better be empty and you need to use your imagination how to assemble this. To lift this from the floor to standing position 3 people are required!!! The most easy part for me, was to put doors in the the front! if you put it right you should have a sliding effect right the way, if you do it wrong it would not slide. Note to manufacture: I would like to have an option to buy all pine wood instead crumbling manufactured wood! Instructions could be better marked. Parts were not easy to find, it took much of extra time to figure it out. One more thing please send me a video of your team assembling that piece of furniture in one hour as the instructions advised...:) My son and I are still laughing about this. It took 6-6 hours of work.