{"id":3959331160106,"title":"Aria 3 Door 71\" Wardrobe with All Mirror Fronts","handle":"aria-3-door-wardrobe-with-all-mirror-fronts","description":"\u003cul\u003e\n\u003cli\u003eAria 3 Door 71\" Wide Wardrobe Armoire with All Mirror Fronts\u003c\/li\u003e\n\u003cli\u003eGlass fronts with matte body\u003c\/li\u003e\n\u003cli\u003eManufactured in and imported from the European Union\u003c\/li\u003e\n\u003cli\u003eModern and unique contemporary design\u003c\/li\u003e\n\u003cli\u003ePerfect for those in need of living room storage space\u003c\/li\u003e\n\u003cli\u003eFlat packed and ready to ship\u003c\/li\u003e\n\u003cli\u003eDimensions: 82 inches height x 71 inches width x 26 inches depth\u003c\/li\u003e\n\u003c\/ul\u003e","published_at":"2019-09-10T15:36:38-04:00","created_at":"2019-09-10T15:38:19-04:00","vendor":"Meble Furniture","type":"Armoires \u0026 Wardrobes","tags":["3 Door Wardrobes","dimensions-82\" H x 71\" W x 26\" D","spo-default","spo-enabled","Wardrobes with Mirror"],"price":129900,"price_min":129900,"price_max":129900,"available":true,"price_varies":false,"compare_at_price":null,"compare_at_price_min":0,"compare_at_price_max":0,"compare_at_price_varies":false,"variants":[{"id":29563901313066,"title":"Black","option1":"Black","option2":null,"option3":null,"sku":"ARIA3DBLACKMIRRMIRR","requires_shipping":true,"taxable":true,"featured_image":{"id":12128708132906,"product_id":3959331160106,"position":5,"created_at":"2019-09-26T06:00:33-04:00","updated_at":"2019-09-26T06:00:33-04:00","alt":"Aria 3 Door Modern 71\" Wardrobe with All Mirror Fronts - Meble Furniture","width":1000,"height":1000,"src":"https:\/\/cdn.shopify.com\/s\/files\/1\/2781\/6416\/products\/3door_blackallmirror.jpg?v=1569492033","variant_ids":[29563901313066]},"available":true,"name":"Aria 3 Door 71\" Wardrobe with All Mirror Fronts - Black","public_title":"Black","options":["Black"],"price":129900,"weight":0,"compare_at_price":null,"inventory_management":"shopify","barcode":"00840227600405","featured_media":{"alt":"Aria 3 Door Modern 71\" Wardrobe with All Mirror Fronts - Meble Furniture","id":3396590174250,"position":5,"preview_image":{"aspect_ratio":1.0,"height":1000,"width":1000,"src":"https:\/\/cdn.shopify.com\/s\/files\/1\/2781\/6416\/products\/3door_blackallmirror.jpg?v=1569492033"}},"requires_selling_plan":false,"selling_plan_allocations":[]},{"id":30726588137514,"title":"Gray","option1":"Gray","option2":null,"option3":null,"sku":"ARIA3DGRAYMIRRMIRR","requires_shipping":true,"taxable":true,"featured_image":{"id":12128708198442,"product_id":3959331160106,"position":9,"created_at":"2019-09-26T06:00:33-04:00","updated_at":"2019-09-26T06:00:33-04:00","alt":"Aria 3 Door Modern 71\" Wardrobe with All Mirror Fronts - Meble Furniture","width":1000,"height":1000,"src":"https:\/\/cdn.shopify.com\/s\/files\/1\/2781\/6416\/products\/3door_grayallmirror.jpg?v=1569492033","variant_ids":[30726588137514]},"available":true,"name":"Aria 3 Door 71\" Wardrobe with All Mirror Fronts - Gray","public_title":"Gray","options":["Gray"],"price":129900,"weight":0,"compare_at_price":null,"inventory_management":"shopify","barcode":"00840227600412","featured_media":{"alt":"Aria 3 Door Modern 71\" Wardrobe with All Mirror Fronts - Meble Furniture","id":3396590239786,"position":9,"preview_image":{"aspect_ratio":1.0,"height":1000,"width":1000,"src":"https:\/\/cdn.shopify.com\/s\/files\/1\/2781\/6416\/products\/3door_grayallmirror.jpg?v=1569492033"}},"requires_selling_plan":false,"selling_plan_allocations":[]},{"id":29563901345834,"title":"White","option1":"White","option2":null,"option3":null,"sku":"ARIA3DWHITEMIRRMIRR","requires_shipping":true,"taxable":true,"featured_image":{"id":12128708067370,"product_id":3959331160106,"position":1,"created_at":"2019-09-26T06:00:33-04:00","updated_at":"2019-09-26T06:00:33-04:00","alt":"Aria 3 Door Modern 71\" Wardrobe with All Mirror Fronts - Meble Furniture","width":1000,"height":1000,"src":"https:\/\/cdn.shopify.com\/s\/files\/1\/2781\/6416\/products\/3door_whiteallmirror.jpg?v=1569492033","variant_ids":[29563901345834]},"available":true,"name":"Aria 3 Door 71\" Wardrobe with All Mirror Fronts - White","public_title":"White","options":["White"],"price":129900,"weight":0,"compare_at_price":null,"inventory_management":"shopify","barcode":"00840227600429","featured_media":{"alt":"Aria 3 Door Modern 71\" Wardrobe with All Mirror Fronts - Meble Furniture","id":3396590108714,"position":1,"preview_image":{"aspect_ratio":1.0,"height":1000,"width":1000,"src":"https:\/\/cdn.shopify.com\/s\/files\/1\/2781\/6416\/products\/3door_whiteallmirror.jpg?v=1569492033"}},"requires_selling_plan":false,"selling_plan_allocations":[]}],"images":["\/\/cdn.shopify.com\/s\/files\/1\/2781\/6416\/products\/3door_whiteallmirror.jpg?v=1569492033","\/\/cdn.shopify.com\/s\/files\/1\/2781\/6416\/products\/3door_whiteallmirror2.jpg?v=1569492033","\/\/cdn.shopify.com\/s\/files\/1\/2781\/6416\/products\/3door_whiteallmirror3.jpg?v=1569492047","\/\/cdn.shopify.com\/s\/files\/1\/2781\/6416\/products\/Aria3Door_96fdd52f-5558-4082-b287-6df6657db8d6.png?v=1606086594","\/\/cdn.shopify.com\/s\/files\/1\/2781\/6416\/products\/3door_blackallmirror.jpg?v=1569492033","\/\/cdn.shopify.com\/s\/files\/1\/2781\/6416\/products\/3door_blackallmirror2.jpg?v=1569492033","\/\/cdn.shopify.com\/s\/files\/1\/2781\/6416\/products\/3door_blackallmirror3.jpg?v=1569492033","\/\/cdn.shopify.com\/s\/files\/1\/2781\/6416\/products\/Aria3Door_6a635ea7-817c-4fd1-8da0-b2712cb3e645.png?v=1606086594","\/\/cdn.shopify.com\/s\/files\/1\/2781\/6416\/products\/3door_grayallmirror.jpg?v=1569492033","\/\/cdn.shopify.com\/s\/files\/1\/2781\/6416\/products\/3door_grayallmirror2.jpg?v=1569492033","\/\/cdn.shopify.com\/s\/files\/1\/2781\/6416\/products\/3door_grayallmirror3.jpg?v=1569492033","\/\/cdn.shopify.com\/s\/files\/1\/2781\/6416\/products\/Aria3Door_b8447575-a872-4b50-ac05-ec4772eb1dc5.png?v=1606086597"],"featured_image":"\/\/cdn.shopify.com\/s\/files\/1\/2781\/6416\/products\/3door_whiteallmirror.jpg?v=1569492033","options":["Color"],"media":[{"alt":"Aria 3 Door Modern 71\" Wardrobe with All Mirror Fronts - Meble Furniture","id":3396590108714,"position":1,"preview_image":{"aspect_ratio":1.0,"height":1000,"width":1000,"src":"https:\/\/cdn.shopify.com\/s\/files\/1\/2781\/6416\/products\/3door_whiteallmirror.jpg?v=1569492033"},"aspect_ratio":1.0,"height":1000,"media_type":"image","src":"https:\/\/cdn.shopify.com\/s\/files\/1\/2781\/6416\/products\/3door_whiteallmirror.jpg?v=1569492033","width":1000},{"alt":"Aria 3 Door Modern 71\" Wardrobe with All Mirror Fronts - Meble Furniture","id":3396590338090,"position":2,"preview_image":{"aspect_ratio":1.0,"height":1000,"width":1000,"src":"https:\/\/cdn.shopify.com\/s\/files\/1\/2781\/6416\/products\/3door_whiteallmirror2.jpg?v=1569492033"},"aspect_ratio":1.0,"height":1000,"media_type":"image","src":"https:\/\/cdn.shopify.com\/s\/files\/1\/2781\/6416\/products\/3door_whiteallmirror2.jpg?v=1569492033","width":1000},{"alt":"Aria 3 Door Modern 71\" Wardrobe with All Mirror Fronts - Meble Furniture","id":3396720459818,"position":3,"preview_image":{"aspect_ratio":1.0,"height":1000,"width":1000,"src":"https:\/\/cdn.shopify.com\/s\/files\/1\/2781\/6416\/products\/3door_whiteallmirror3.jpg?v=1569492047"},"aspect_ratio":1.0,"height":1000,"media_type":"image","src":"https:\/\/cdn.shopify.com\/s\/files\/1\/2781\/6416\/products\/3door_whiteallmirror3.jpg?v=1569492047","width":1000},{"alt":"Aria 3 Door Modern 71\" Wardrobe with All Mirror Fronts - Meble Furniture","id":12597666513058,"position":4,"preview_image":{"aspect_ratio":1.0,"height":1000,"width":1000,"src":"https:\/\/cdn.shopify.com\/s\/files\/1\/2781\/6416\/products\/Aria3Door_96fdd52f-5558-4082-b287-6df6657db8d6.png?v=1606086594"},"aspect_ratio":1.0,"height":1000,"media_type":"image","src":"https:\/\/cdn.shopify.com\/s\/files\/1\/2781\/6416\/products\/Aria3Door_96fdd52f-5558-4082-b287-6df6657db8d6.png?v=1606086594","width":1000},{"alt":"Aria 3 Door Modern 71\" Wardrobe with All Mirror Fronts - Meble Furniture","id":3396590174250,"position":5,"preview_image":{"aspect_ratio":1.0,"height":1000,"width":1000,"src":"https:\/\/cdn.shopify.com\/s\/files\/1\/2781\/6416\/products\/3door_blackallmirror.jpg?v=1569492033"},"aspect_ratio":1.0,"height":1000,"media_type":"image","src":"https:\/\/cdn.shopify.com\/s\/files\/1\/2781\/6416\/products\/3door_blackallmirror.jpg?v=1569492033","width":1000},{"alt":"Aria 3 Door Modern 71\" Wardrobe with All Mirror Fronts - Meble Furniture","id":3396590272554,"position":6,"preview_image":{"aspect_ratio":1.0,"height":1000,"width":1000,"src":"https:\/\/cdn.shopify.com\/s\/files\/1\/2781\/6416\/products\/3door_blackallmirror2.jpg?v=1569492033"},"aspect_ratio":1.0,"height":1000,"media_type":"image","src":"https:\/\/cdn.shopify.com\/s\/files\/1\/2781\/6416\/products\/3door_blackallmirror2.jpg?v=1569492033","width":1000},{"alt":"Aria 3 Door Modern 71\" Wardrobe with All Mirror Fronts - Meble Furniture","id":3396590370858,"position":7,"preview_image":{"aspect_ratio":1.0,"height":1000,"width":1000,"src":"https:\/\/cdn.shopify.com\/s\/files\/1\/2781\/6416\/products\/3door_blackallmirror3.jpg?v=1569492033"},"aspect_ratio":1.0,"height":1000,"media_type":"image","src":"https:\/\/cdn.shopify.com\/s\/files\/1\/2781\/6416\/products\/3door_blackallmirror3.jpg?v=1569492033","width":1000},{"alt":"Aria 3 Door Modern 71\" Wardrobe with All Mirror Fronts - Meble Furniture","id":12597666807970,"position":8,"preview_image":{"aspect_ratio":1.0,"height":1000,"width":1000,"src":"https:\/\/cdn.shopify.com\/s\/files\/1\/2781\/6416\/products\/Aria3Door_6a635ea7-817c-4fd1-8da0-b2712cb3e645.png?v=1606086594"},"aspect_ratio":1.0,"height":1000,"media_type":"image","src":"https:\/\/cdn.shopify.com\/s\/files\/1\/2781\/6416\/products\/Aria3Door_6a635ea7-817c-4fd1-8da0-b2712cb3e645.png?v=1606086594","width":1000},{"alt":"Aria 3 Door Modern 71\" Wardrobe with All Mirror Fronts - Meble Furniture","id":3396590239786,"position":9,"preview_image":{"aspect_ratio":1.0,"height":1000,"width":1000,"src":"https:\/\/cdn.shopify.com\/s\/files\/1\/2781\/6416\/products\/3door_grayallmirror.jpg?v=1569492033"},"aspect_ratio":1.0,"height":1000,"media_type":"image","src":"https:\/\/cdn.shopify.com\/s\/files\/1\/2781\/6416\/products\/3door_grayallmirror.jpg?v=1569492033","width":1000},{"alt":"Aria 3 Door Modern 71\" Wardrobe with All Mirror Fronts - Meble Furniture","id":3396590305322,"position":10,"preview_image":{"aspect_ratio":1.0,"height":1000,"width":1000,"src":"https:\/\/cdn.shopify.com\/s\/files\/1\/2781\/6416\/products\/3door_grayallmirror2.jpg?v=1569492033"},"aspect_ratio":1.0,"height":1000,"media_type":"image","src":"https:\/\/cdn.shopify.com\/s\/files\/1\/2781\/6416\/products\/3door_grayallmirror2.jpg?v=1569492033","width":1000},{"alt":"Aria 3 Door Modern 71\" Wardrobe with All Mirror Fronts - Meble Furniture","id":3396590403626,"position":11,"preview_image":{"aspect_ratio":1.0,"height":1000,"width":1000,"src":"https:\/\/cdn.shopify.com\/s\/files\/1\/2781\/6416\/products\/3door_grayallmirror3.jpg?v=1569492033"},"aspect_ratio":1.0,"height":1000,"media_type":"image","src":"https:\/\/cdn.shopify.com\/s\/files\/1\/2781\/6416\/products\/3door_grayallmirror3.jpg?v=1569492033","width":1000},{"alt":"Aria 3 Door Modern 71\" Wardrobe with All Mirror Fronts - Meble Furniture","id":12597667135650,"position":12,"preview_image":{"aspect_ratio":1.0,"height":1000,"width":1000,"src":"https:\/\/cdn.shopify.com\/s\/files\/1\/2781\/6416\/products\/Aria3Door_b8447575-a872-4b50-ac05-ec4772eb1dc5.png?v=1606086597"},"aspect_ratio":1.0,"height":1000,"media_type":"image","src":"https:\/\/cdn.shopify.com\/s\/files\/1\/2781\/6416\/products\/Aria3Door_b8447575-a872-4b50-ac05-ec4772eb1dc5.png?v=1606086597","width":1000}],"requires_selling_plan":false,"selling_plan_groups":[],"content":"\u003cul\u003e\n\u003cli\u003eAria 3 Door 71\" Wide Wardrobe Armoire with All Mirror Fronts\u003c\/li\u003e\n\u003cli\u003eGlass fronts with matte body\u003c\/li\u003e\n\u003cli\u003eManufactured in and imported from the European Union\u003c\/li\u003e\n\u003cli\u003eModern and unique contemporary design\u003c\/li\u003e\n\u003cli\u003ePerfect for those in need of living room storage space\u003c\/li\u003e\n\u003cli\u003eFlat packed and ready to ship\u003c\/li\u003e\n\u003cli\u003eDimensions: 82 inches height x 71 inches width x 26 inches depth\u003c\/li\u003e\n\u003c\/ul\u003e"}
Aria 3 Door 71" Wardrobe with All Mirror Fronts
Ratings & Reviews
Customer Reviews
Write a Review
Ask a Question
Filter Reviews:
transportation
mirrors
issues
packaging
screws
stars
purchase
design
instructions
look
03/24/2021
Anonymous

United States
Great looking wardrobe!
Giving 5 stars for the look, design and quality of packaging. I worried about big mirrors can be crashed during transportation but they were very well packed. We had some issues with instructions and missed a few screws but replaced with our own. Overall, very satisfied with purchase!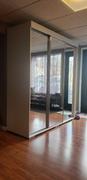 We thought the instructions where wrong, but just upside down! Really pretty at the end.
I'm so happy! It's beautiful and was pretty easy to get installed.
Took a little time to look into the video instructions that were available to help assemble it. Turned out to be a good idea. It took a few extra hours to get it done, but it ensured that I have a perfect and beautiful mirrored wardrobe.