{"id":3959325917226,"title":"Aria 2 Door 47\"\/59\" Wardrobe with Mirror","handle":"aria-2-door-wardrobe-with-mirror","description":"\u003cul\u003e\n\u003cli\u003eAria 2 Door 47\"\/59\" Wide Wardrobe Armoire with Mirror\u003c\/li\u003e\n\u003cli\u003eGlass fronts with matte body\u003c\/li\u003e\n\u003cli\u003eManufactured in and imported from the European Union\u003c\/li\u003e\n\u003cli\u003eModern and unique contemporary design\u003c\/li\u003e\n\u003cli\u003ePerfect for those in need of living room storage space\u003c\/li\u003e\n\u003cli\u003eFlat packed and ready to ship\u003c\/li\u003e\n\u003cli\u003eDimensions: 80 inches height x 47\/59 inches width x 26 inches depth\u003c\/li\u003e\n\u003c\/ul\u003e","published_at":"2019-09-10T15:19:46-04:00","created_at":"2019-09-10T15:22:03-04:00","vendor":"Meble Furniture","type":"Wardrobe","tags":["2 Door Wardrobes","dimensions-80\" H x 47\"\/59\" W x 26\" D","spo-default","spo-enabled","Wardrobes with Mirror"],"price":99900,"price_min":99900,"price_max":109900,"available":true,"price_varies":true,"compare_at_price":null,"compare_at_price_min":0,"compare_at_price_max":0,"compare_at_price_varies":false,"variants":[{"id":29563884142634,"title":"Black \/ 47\"","option1":"Black","option2":"47\"","option3":null,"sku":"ARIA2D120BLACKMIRR","requires_shipping":true,"taxable":true,"featured_image":{"id":12128694206506,"product_id":3959325917226,"position":6,"created_at":"2019-09-10T15:22:08-04:00","updated_at":"2020-11-22T18:08:40-05:00","alt":"Aria 2 Door Modern 47\"\/59\" Wardrobe with Mirror - Meble Furniture","width":1000,"height":1000,"src":"https:\/\/cdn.shopify.com\/s\/files\/1\/2781\/6416\/products\/2door_blackmirror.jpg?v=1606086520","variant_ids":[29563884142634,31540910653492]},"available":true,"name":"Aria 2 Door 47\"\/59\" Wardrobe with Mirror - Black \/ 47\"","public_title":"Black \/ 47\"","options":["Black","47\""],"price":99900,"weight":0,"compare_at_price":null,"inventory_management":"shopify","barcode":"00840227600313","featured_media":{"alt":"Aria 2 Door Modern 47\"\/59\" Wardrobe with Mirror - Meble Furniture","id":3396571103274,"position":6,"preview_image":{"aspect_ratio":1.0,"height":1000,"width":1000,"src":"https:\/\/cdn.shopify.com\/s\/files\/1\/2781\/6416\/products\/2door_blackmirror.jpg?v=1569492031"}},"requires_selling_plan":false,"selling_plan_allocations":[]},{"id":31540910653492,"title":"Black \/ 59\"","option1":"Black","option2":"59\"","option3":null,"sku":"ARIA2DBLACKMIRR","requires_shipping":true,"taxable":true,"featured_image":{"id":12128694206506,"product_id":3959325917226,"position":6,"created_at":"2019-09-10T15:22:08-04:00","updated_at":"2020-11-22T18:08:40-05:00","alt":"Aria 2 Door Modern 47\"\/59\" Wardrobe with Mirror - Meble Furniture","width":1000,"height":1000,"src":"https:\/\/cdn.shopify.com\/s\/files\/1\/2781\/6416\/products\/2door_blackmirror.jpg?v=1606086520","variant_ids":[29563884142634,31540910653492]},"available":true,"name":"Aria 2 Door 47\"\/59\" Wardrobe with Mirror - Black \/ 59\"","public_title":"Black \/ 59\"","options":["Black","59\""],"price":109900,"weight":0,"compare_at_price":null,"inventory_management":"shopify","barcode":"00840227600320","featured_media":{"alt":"Aria 2 Door Modern 47\"\/59\" Wardrobe with Mirror - Meble Furniture","id":3396571103274,"position":6,"preview_image":{"aspect_ratio":1.0,"height":1000,"width":1000,"src":"https:\/\/cdn.shopify.com\/s\/files\/1\/2781\/6416\/products\/2door_blackmirror.jpg?v=1569492031"}},"requires_selling_plan":false,"selling_plan_allocations":[]},{"id":30726587088938,"title":"Gray \/ 47\"","option1":"Gray","option2":"47\"","option3":null,"sku":"ARIA2D120GRAYMIRR","requires_shipping":true,"taxable":true,"featured_image":{"id":12128694239274,"product_id":3959325917226,"position":11,"created_at":"2019-09-10T15:22:10-04:00","updated_at":"2020-11-22T18:08:40-05:00","alt":"Aria 2 Door Modern 47\"\/59\" Wardrobe with Mirror - Meble Furniture","width":1000,"height":1000,"src":"https:\/\/cdn.shopify.com\/s\/files\/1\/2781\/6416\/products\/2door_graymirror.jpg?v=1606086520","variant_ids":[30726587088938,31540912160820]},"available":true,"name":"Aria 2 Door 47\"\/59\" Wardrobe with Mirror - Gray \/ 47\"","public_title":"Gray \/ 47\"","options":["Gray","47\""],"price":99900,"weight":0,"compare_at_price":null,"inventory_management":"shopify","barcode":"00840227600337","featured_media":{"alt":"Aria 2 Door Modern 47\"\/59\" Wardrobe with Mirror - Meble Furniture","id":3396571136042,"position":11,"preview_image":{"aspect_ratio":1.0,"height":1000,"width":1000,"src":"https:\/\/cdn.shopify.com\/s\/files\/1\/2781\/6416\/products\/2door_graymirror.jpg?v=1569492031"}},"requires_selling_plan":false,"selling_plan_allocations":[]},{"id":31540912160820,"title":"Gray \/ 59\"","option1":"Gray","option2":"59\"","option3":null,"sku":"ARIA2DGRAYMIRR","requires_shipping":true,"taxable":true,"featured_image":{"id":12128694239274,"product_id":3959325917226,"position":11,"created_at":"2019-09-10T15:22:10-04:00","updated_at":"2020-11-22T18:08:40-05:00","alt":"Aria 2 Door Modern 47\"\/59\" Wardrobe with Mirror - Meble Furniture","width":1000,"height":1000,"src":"https:\/\/cdn.shopify.com\/s\/files\/1\/2781\/6416\/products\/2door_graymirror.jpg?v=1606086520","variant_ids":[30726587088938,31540912160820]},"available":true,"name":"Aria 2 Door 47\"\/59\" Wardrobe with Mirror - Gray \/ 59\"","public_title":"Gray \/ 59\"","options":["Gray","59\""],"price":109900,"weight":0,"compare_at_price":null,"inventory_management":"shopify","barcode":"00840227600344","featured_media":{"alt":"Aria 2 Door Modern 47\"\/59\" Wardrobe with Mirror - Meble Furniture","id":3396571136042,"position":11,"preview_image":{"aspect_ratio":1.0,"height":1000,"width":1000,"src":"https:\/\/cdn.shopify.com\/s\/files\/1\/2781\/6416\/products\/2door_graymirror.jpg?v=1569492031"}},"requires_selling_plan":false,"selling_plan_allocations":[]},{"id":29563884175402,"title":"White \/ 47\"","option1":"White","option2":"47\"","option3":null,"sku":"ARIA2D120WHITEMIRR","requires_shipping":true,"taxable":true,"featured_image":{"id":12128694173738,"product_id":3959325917226,"position":1,"created_at":"2019-09-10T15:22:06-04:00","updated_at":"2020-04-17T13:54:58-04:00","alt":"Aria 2 Door Modern 47\"\/59\" Wardrobe with Mirror - Meble Furniture","width":1000,"height":1000,"src":"https:\/\/cdn.shopify.com\/s\/files\/1\/2781\/6416\/products\/2door_whitemirror.jpg?v=1587146098","variant_ids":[29563884175402,31540912586804]},"available":true,"name":"Aria 2 Door 47\"\/59\" Wardrobe with Mirror - White \/ 47\"","public_title":"White \/ 47\"","options":["White","47\""],"price":99900,"weight":0,"compare_at_price":null,"inventory_management":"shopify","barcode":"00840227600351","featured_media":{"alt":"Aria 2 Door Modern 47\"\/59\" Wardrobe with Mirror - Meble Furniture","id":3396571070506,"position":1,"preview_image":{"aspect_ratio":1.0,"height":1000,"width":1000,"src":"https:\/\/cdn.shopify.com\/s\/files\/1\/2781\/6416\/products\/2door_whitemirror.jpg?v=1569492031"}},"requires_selling_plan":false,"selling_plan_allocations":[]},{"id":31540912586804,"title":"White \/ 59\"","option1":"White","option2":"59\"","option3":null,"sku":"ARIA2DWHITEMIRR","requires_shipping":true,"taxable":true,"featured_image":{"id":12128694173738,"product_id":3959325917226,"position":1,"created_at":"2019-09-10T15:22:06-04:00","updated_at":"2020-04-17T13:54:58-04:00","alt":"Aria 2 Door Modern 47\"\/59\" Wardrobe with Mirror - Meble Furniture","width":1000,"height":1000,"src":"https:\/\/cdn.shopify.com\/s\/files\/1\/2781\/6416\/products\/2door_whitemirror.jpg?v=1587146098","variant_ids":[29563884175402,31540912586804]},"available":true,"name":"Aria 2 Door 47\"\/59\" Wardrobe with Mirror - White \/ 59\"","public_title":"White \/ 59\"","options":["White","59\""],"price":109900,"weight":0,"compare_at_price":null,"inventory_management":"shopify","barcode":"00840227600368","featured_media":{"alt":"Aria 2 Door Modern 47\"\/59\" Wardrobe with Mirror - Meble Furniture","id":3396571070506,"position":1,"preview_image":{"aspect_ratio":1.0,"height":1000,"width":1000,"src":"https:\/\/cdn.shopify.com\/s\/files\/1\/2781\/6416\/products\/2door_whitemirror.jpg?v=1569492031"}},"requires_selling_plan":false,"selling_plan_allocations":[]}],"images":["\/\/cdn.shopify.com\/s\/files\/1\/2781\/6416\/products\/2door_whitemirror.jpg?v=1587146098","\/\/cdn.shopify.com\/s\/files\/1\/2781\/6416\/products\/2door_whitemirror2.jpg?v=1602125154","\/\/cdn.shopify.com\/s\/files\/1\/2781\/6416\/products\/2door_whitemirror3.jpg?v=1602125154","\/\/cdn.shopify.com\/s\/files\/1\/2781\/6416\/products\/Aria2Door47_a26e0c98-b833-45f8-8b16-bb2036640e83.png?v=1606244332","\/\/cdn.shopify.com\/s\/files\/1\/2781\/6416\/products\/Aria2Door59_68463d6f-fb07-4920-a338-2ab581ed1ce1.png?v=1606244332","\/\/cdn.shopify.com\/s\/files\/1\/2781\/6416\/products\/2door_blackmirror.jpg?v=1606086520","\/\/cdn.shopify.com\/s\/files\/1\/2781\/6416\/products\/2door_blackmirror2.jpg?v=1606086520","\/\/cdn.shopify.com\/s\/files\/1\/2781\/6416\/products\/2door_blackmirror3.jpg?v=1606086520","\/\/cdn.shopify.com\/s\/files\/1\/2781\/6416\/products\/Aria2Door47_2bd11388-b4b0-4841-b3f9-6c6dcd571ada.png?v=1606244332","\/\/cdn.shopify.com\/s\/files\/1\/2781\/6416\/products\/Aria2Door59_ad328811-83d9-435f-93ad-f531feaa2a35.png?v=1606244332","\/\/cdn.shopify.com\/s\/files\/1\/2781\/6416\/products\/2door_graymirror.jpg?v=1606086520","\/\/cdn.shopify.com\/s\/files\/1\/2781\/6416\/products\/2door_graymirror2.jpg?v=1606086520","\/\/cdn.shopify.com\/s\/files\/1\/2781\/6416\/products\/2door_graymirror3.jpg?v=1606086520","\/\/cdn.shopify.com\/s\/files\/1\/2781\/6416\/products\/Aria2Door47_386601d6-d5d3-4024-920a-f14afd200420.png?v=1606244332","\/\/cdn.shopify.com\/s\/files\/1\/2781\/6416\/products\/Aria2Door59_f94e8acc-8cfb-4e64-9059-71ed7eafe477.png?v=1606244332"],"featured_image":"\/\/cdn.shopify.com\/s\/files\/1\/2781\/6416\/products\/2door_whitemirror.jpg?v=1587146098","options":["Color","Width"],"media":[{"alt":"Aria 2 Door Modern 47\"\/59\" Wardrobe with Mirror - Meble Furniture","id":3396571070506,"position":1,"preview_image":{"aspect_ratio":1.0,"height":1000,"width":1000,"src":"https:\/\/cdn.shopify.com\/s\/files\/1\/2781\/6416\/products\/2door_whitemirror.jpg?v=1569492031"},"aspect_ratio":1.0,"height":1000,"media_type":"image","src":"https:\/\/cdn.shopify.com\/s\/files\/1\/2781\/6416\/products\/2door_whitemirror.jpg?v=1569492031","width":1000},{"alt":"Aria 2 Door Modern 47\"\/59\" Wardrobe with Mirror - Meble Furniture","id":3396571234346,"position":2,"preview_image":{"aspect_ratio":1.0,"height":1000,"width":1000,"src":"https:\/\/cdn.shopify.com\/s\/files\/1\/2781\/6416\/products\/2door_whitemirror2.jpg?v=1569492031"},"aspect_ratio":1.0,"height":1000,"media_type":"image","src":"https:\/\/cdn.shopify.com\/s\/files\/1\/2781\/6416\/products\/2door_whitemirror2.jpg?v=1569492031","width":1000},{"alt":"Aria 2 Door Modern 47\"\/59\" Wardrobe with Mirror - Meble Furniture","id":3396571332650,"position":3,"preview_image":{"aspect_ratio":1.0,"height":1000,"width":1000,"src":"https:\/\/cdn.shopify.com\/s\/files\/1\/2781\/6416\/products\/2door_whitemirror3.jpg?v=1569492031"},"aspect_ratio":1.0,"height":1000,"media_type":"image","src":"https:\/\/cdn.shopify.com\/s\/files\/1\/2781\/6416\/products\/2door_whitemirror3.jpg?v=1569492031","width":1000},{"alt":"Aria 2 Door Modern 47\"\/59\" Wardrobe with Mirror - Meble Furniture","id":12597648162978,"position":4,"preview_image":{"aspect_ratio":1.0,"height":1000,"width":1000,"src":"https:\/\/cdn.shopify.com\/s\/files\/1\/2781\/6416\/products\/Aria2Door47_a26e0c98-b833-45f8-8b16-bb2036640e83.png?v=1606086459"},"aspect_ratio":1.0,"height":1000,"media_type":"image","src":"https:\/\/cdn.shopify.com\/s\/files\/1\/2781\/6416\/products\/Aria2Door47_a26e0c98-b833-45f8-8b16-bb2036640e83.png?v=1606086459","width":1000},{"alt":"Aria 2 Door Modern 47\"\/59\" Wardrobe with Mirror - Meble Furniture","id":12597648130210,"position":5,"preview_image":{"aspect_ratio":1.0,"height":1000,"width":1000,"src":"https:\/\/cdn.shopify.com\/s\/files\/1\/2781\/6416\/products\/Aria2Door59_68463d6f-fb07-4920-a338-2ab581ed1ce1.png?v=1606086459"},"aspect_ratio":1.0,"height":1000,"media_type":"image","src":"https:\/\/cdn.shopify.com\/s\/files\/1\/2781\/6416\/products\/Aria2Door59_68463d6f-fb07-4920-a338-2ab581ed1ce1.png?v=1606086459","width":1000},{"alt":"Aria 2 Door Modern 47\"\/59\" Wardrobe with Mirror - Meble Furniture","id":3396571103274,"position":6,"preview_image":{"aspect_ratio":1.0,"height":1000,"width":1000,"src":"https:\/\/cdn.shopify.com\/s\/files\/1\/2781\/6416\/products\/2door_blackmirror.jpg?v=1569492031"},"aspect_ratio":1.0,"height":1000,"media_type":"image","src":"https:\/\/cdn.shopify.com\/s\/files\/1\/2781\/6416\/products\/2door_blackmirror.jpg?v=1569492031","width":1000},{"alt":"Aria 2 Door Modern 47\"\/59\" Wardrobe with Mirror - Meble Furniture","id":3396571168810,"position":7,"preview_image":{"aspect_ratio":1.0,"height":1000,"width":1000,"src":"https:\/\/cdn.shopify.com\/s\/files\/1\/2781\/6416\/products\/2door_blackmirror2.jpg?v=1569492031"},"aspect_ratio":1.0,"height":1000,"media_type":"image","src":"https:\/\/cdn.shopify.com\/s\/files\/1\/2781\/6416\/products\/2door_blackmirror2.jpg?v=1569492031","width":1000},{"alt":"Aria 2 Door Modern 47\"\/59\" Wardrobe with Mirror - Meble Furniture","id":3396571267114,"position":8,"preview_image":{"aspect_ratio":1.0,"height":1000,"width":1000,"src":"https:\/\/cdn.shopify.com\/s\/files\/1\/2781\/6416\/products\/2door_blackmirror3.jpg?v=1569492031"},"aspect_ratio":1.0,"height":1000,"media_type":"image","src":"https:\/\/cdn.shopify.com\/s\/files\/1\/2781\/6416\/products\/2door_blackmirror3.jpg?v=1569492031","width":1000},{"alt":"Aria 2 Door Modern 47\"\/59\" Wardrobe with Mirror - Meble Furniture","id":12597648490658,"position":9,"preview_image":{"aspect_ratio":1.0,"height":1000,"width":1000,"src":"https:\/\/cdn.shopify.com\/s\/files\/1\/2781\/6416\/products\/Aria2Door47_2bd11388-b4b0-4841-b3f9-6c6dcd571ada.png?v=1606086462"},"aspect_ratio":1.0,"height":1000,"media_type":"image","src":"https:\/\/cdn.shopify.com\/s\/files\/1\/2781\/6416\/products\/Aria2Door47_2bd11388-b4b0-4841-b3f9-6c6dcd571ada.png?v=1606086462","width":1000},{"alt":"Aria 2 Door Modern 47\"\/59\" Wardrobe with Mirror - Meble Furniture","id":12597649080482,"position":10,"preview_image":{"aspect_ratio":1.0,"height":1000,"width":1000,"src":"https:\/\/cdn.shopify.com\/s\/files\/1\/2781\/6416\/products\/Aria2Door59_ad328811-83d9-435f-93ad-f531feaa2a35.png?v=1606086465"},"aspect_ratio":1.0,"height":1000,"media_type":"image","src":"https:\/\/cdn.shopify.com\/s\/files\/1\/2781\/6416\/products\/Aria2Door59_ad328811-83d9-435f-93ad-f531feaa2a35.png?v=1606086465","width":1000},{"alt":"Aria 2 Door Modern 47\"\/59\" Wardrobe with Mirror - Meble Furniture","id":3396571136042,"position":11,"preview_image":{"aspect_ratio":1.0,"height":1000,"width":1000,"src":"https:\/\/cdn.shopify.com\/s\/files\/1\/2781\/6416\/products\/2door_graymirror.jpg?v=1569492031"},"aspect_ratio":1.0,"height":1000,"media_type":"image","src":"https:\/\/cdn.shopify.com\/s\/files\/1\/2781\/6416\/products\/2door_graymirror.jpg?v=1569492031","width":1000},{"alt":"Aria 2 Door Modern 47\"\/59\" Wardrobe with Mirror - Meble Furniture","id":3396571201578,"position":12,"preview_image":{"aspect_ratio":1.0,"height":1000,"width":1000,"src":"https:\/\/cdn.shopify.com\/s\/files\/1\/2781\/6416\/products\/2door_graymirror2.jpg?v=1569492031"},"aspect_ratio":1.0,"height":1000,"media_type":"image","src":"https:\/\/cdn.shopify.com\/s\/files\/1\/2781\/6416\/products\/2door_graymirror2.jpg?v=1569492031","width":1000},{"alt":"Aria 2 Door Modern 47\"\/59\" Wardrobe with Mirror - Meble Furniture","id":3396571299882,"position":13,"preview_image":{"aspect_ratio":1.0,"height":1000,"width":1000,"src":"https:\/\/cdn.shopify.com\/s\/files\/1\/2781\/6416\/products\/2door_graymirror3.jpg?v=1569492031"},"aspect_ratio":1.0,"height":1000,"media_type":"image","src":"https:\/\/cdn.shopify.com\/s\/files\/1\/2781\/6416\/products\/2door_graymirror3.jpg?v=1569492031","width":1000},{"alt":"Aria 2 Door Modern 47\"\/59\" Wardrobe with Mirror - Meble Furniture","id":12597649113250,"position":14,"preview_image":{"aspect_ratio":1.0,"height":1000,"width":1000,"src":"https:\/\/cdn.shopify.com\/s\/files\/1\/2781\/6416\/products\/Aria2Door47_386601d6-d5d3-4024-920a-f14afd200420.png?v=1606086462"},"aspect_ratio":1.0,"height":1000,"media_type":"image","src":"https:\/\/cdn.shopify.com\/s\/files\/1\/2781\/6416\/products\/Aria2Door47_386601d6-d5d3-4024-920a-f14afd200420.png?v=1606086462","width":1000},{"alt":"Aria 2 Door Modern 47\"\/59\" Wardrobe with Mirror - Meble Furniture","id":12597648457890,"position":15,"preview_image":{"aspect_ratio":1.0,"height":1000,"width":1000,"src":"https:\/\/cdn.shopify.com\/s\/files\/1\/2781\/6416\/products\/Aria2Door59_f94e8acc-8cfb-4e64-9059-71ed7eafe477.png?v=1606086462"},"aspect_ratio":1.0,"height":1000,"media_type":"image","src":"https:\/\/cdn.shopify.com\/s\/files\/1\/2781\/6416\/products\/Aria2Door59_f94e8acc-8cfb-4e64-9059-71ed7eafe477.png?v=1606086462","width":1000}],"requires_selling_plan":false,"selling_plan_groups":[],"content":"\u003cul\u003e\n\u003cli\u003eAria 2 Door 47\"\/59\" Wide Wardrobe Armoire with Mirror\u003c\/li\u003e\n\u003cli\u003eGlass fronts with matte body\u003c\/li\u003e\n\u003cli\u003eManufactured in and imported from the European Union\u003c\/li\u003e\n\u003cli\u003eModern and unique contemporary design\u003c\/li\u003e\n\u003cli\u003ePerfect for those in need of living room storage space\u003c\/li\u003e\n\u003cli\u003eFlat packed and ready to ship\u003c\/li\u003e\n\u003cli\u003eDimensions: 80 inches height x 47\/59 inches width x 26 inches depth\u003c\/li\u003e\n\u003c\/ul\u003e"}
Aria 2 Door 47"/59" Wardrobe with Mirror
Ratings & Reviews
Customer Reviews
Write a Review
Ask a Question
Filter Reviews:
instructions
shipping
need
daughter
pallet
crate
FedEx
steps
wardrobe
manual
02/23/2021
Anne C.

United States
01/17/2021
Peter A.

United States
Very nice wardrobe!
The buying experience was good and having lived in Poland, where this is made, I pretty much knew what to expect. Shipping was via Fedex freight (500 lb pallet) so someone needs to be available to take delivery, but no biggie. Instructions are almost there, but not quite, so you'll need to be careful on some steps. If assembling yourself, you will probably want two people for certain steps. Fasteners were all included and well marked, but be aware that the included track rolling hardware is really low budget and difficult to adjust - for this price they should have upgraded that hardware on the export version to something with a screw adjustment. Once adjusted, the doors slide very nicely and the soft close mechanism works great. It all looks good once it's together and our daughter is very happy with her new wardrobe!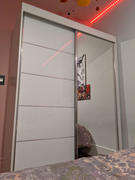 09/09/2021
Anonymous

United States
White wardrobe
Very good it arrived soon
This is a modern and elegant armoire that accommodates most of my husband's wardrobe, including both hanging and folded items. It also enhances the room decor and comes in two sizes to fit different room spaces and budgets. All in all it's a great furniture piece at a reasonable price.